The dishwasher is full of dirty dishes. The beds are unmade and all linens need to be washed. The laundry detergent is close to empty. If you don't use checklists to maintain your vacation rental, your guests are likely to encounter these kinds of problems when they first arrive.
With just a few checks in boxes, your guests are more likely to walk into a place that's spotless — and your cleaning company knows exactly what they're responsible for.
These tools make it easy to avoid human error, cleanliness complaints, and unwelcome surprises. Because we've applied the expertise we've picked up managing thousands of properties and created three free cleaning checklists we know will become a go-to resource for you.
WHY USE A RENTAL CHECKLIST?
As we all know, it's natural to forget things from time to time. That's why people in high-stakes careers, like surgeons and pilots, rely on checklists to make sure things go according to plan. As a vacation rental homeowner, checklists can help you create a great guest experience, avoid unpleasant phone calls or complaints, and get the reviews you deserve.
These cleaning checklists can also be used to help support your maintenance team. Clearly set expectations of your cleaning service by using the checklists to specify what areas of the home need the most attention. Then encourage your cleaning service to fully complete each checklist at the appropriate time (i.e. before guests arrive or after they leave). This will save you the hassle of worrying about what condition the vacation rental is in when your guests arrive.
CLEANING CHECKLIST
Guests pay a fee for the professional cleaning services that happen between each stay. This means they're expecting standards similar to a hotel: a spotless home, free of personal clutter, that looks just like the pictures they saw online.
We analyzed the most common cleaning snafus and created a list that will make sure they don't happen. You can download your free cleaning checklist here.
PRE-STAY RENTAL CHECKLIST
While it's important that things are clean at your vacation rental, ensuring you have the right supplies and setup for every guest is just as important. Have your local contact or someone from your maintenance team perform a pre-stay walkthrough of your property — you can even do it yourself if you're in the area – on the day your guest is arriving.
This checklist will ensure that nothing has happened to the property between the guest's check-in and the last cleaning.
Download the pre-stay checklist here.
POST-STAY CHECKLIST
Sometimes, guests leave things in less than ideal condition. Make sure that everything is back in order as soon guests leave using the post-stay checklist. If something is broken, determine when it was broken and swiftly receive reimbursement from your insurance.
A post-stay checklist includes many of the same things as the pre-stay list, but it also helps you note issues that have come up during the guest's stay — before the next one arrives.
Your cleaning service can send you the finished checklist or hold on to it for their records. If you have a guest complaint about cleanliness, you'll have proof that your cleaning service went through each task.
Download the post-stay checklist here.
CATCH ISSUES BEFORE YOUR GUESTS DO
Just like any small business, vacation rentals occasionally run into problems. But with these lists, you'll be able to prevent cleaning issues, detect damage, and make sure your property lives up to the standards guests expect of your home.
When you have back-to-back reservations, use all three checklists to ensure your turnover process is seamless and minimize the potential that an issue will be overlooked in the quick turn.
Download our FREE templates below! This download includes all three checklists: pre-stay, post-stay, and cleaning.
A BETTER WAY
Evolve believes that maintaining your vacation rental should be as easy as checking a few boxes.
That's one reason we're constantly blogging about the industry and offering free information, tips, and market reports to anyone who's interested. We genuinely want every vacation rental homeowner to succeed.
In fact, we can charge an industry-low 10% booking fee because our success is tied to the property's performance. We only succeed when you do. If that sounds like a pretty different approach, you're right. Let's chat and see if you qualify today.
So you're thinking about hiring a property management company for your vacation rental.

Maybe you've got an extra home, you just purchased a new property, or you're exploring ways to make some extra income. It could be your first time dealing with vacation rentals, or maybe you've been burned by property management companies before.

A question you might be wondering is — why shouldn't I just do this myself?

While there are owners who handle management themselves, it can be incredibly time-consuming to promote your rental, field traveler inquiries, take quality photos, write and revise the listing, answer questions about your property, vet potential guests, juggle on-the-ground services like cleaning and maintenance, and follow up for reviews.

There's a better way. Hiring the right vacation rental management company for your home can take the stress, endless tasks, extra time, and marketing responsibilities off your plate.
But before you hire a traditional or local property manager, make sure to ask these seven questions to know you're getting everything you need.

1. HOW IS VACATION RENTAL PERFORMANCE IN THE AREA?

You're looking for a manager who has a good feel for the local market. A great property manager will know the ins and outs of your location — high season, low season, competing rates, what types of property are most popular in the area, and how local regulations and trends are affecting vacation rentals. You can prep for your conversation with our market-by-market vacation rental performance reports.

Ask your potential manager questions about the local market and feel out their responses. If the vacation rental manager has reasonable answers to those questions, you've probably found a solid manager who spends a good amount of time thinking about how to help their clients succeed.

If they seem uncertain or their answers seem off, you may want to keep looking. Be particularly wary if you know about regulations in the area that they don't; every manager should be fully aware of the status of local short-term rental regulations. And don't base their experience on years in the business. There are quite a few longtime property managers out there who haven't kept up with changes in the industry and don't perform well as a result.

2. WHAT ARE YOUR FEES AND CONTRACT TERMS?

Many vacation rental property management fees range from 25-50% of your rental income. And, in some areas, the rates continue to rise.

Before hiring a local property manager, do the math to determine whether you can afford to pay that high of a fee and still meet your rental income goals.

Contracts are the biggest sticking point for owners who have wound up with a poor property manager. If you figure out in the first two months that the property manager isn't doing their job well, but you're locked in for a year-long contract, you're going to be very unhappy for the remaining ten months of that year. You'll also want to know the payment terms and timing. Some managers can take months to pay and, if you're caught in an unfavorable contract, it can be a long time until you get paid.

If a management company requires a contract, ask whether there are any out clauses based on performance or poor service. For example, if the management company fails to clean the property three times in one year, or only gets you two bookings in six months, you should be able to leave their service without a penalty.

Above all, make sure any fees and agreements help you build a vacation rental business that prioritizes guest experience over short-term profit.
3. WHAT SERVICES ARE INCLUDED IN YOUR MANAGEMENT FEES?

You're hiring a vacation rental management company for the high level of services they provide. You'll want to know exactly what services are included in their fee.

Specifically ask whether the fee covers marketing, photography, writing the listing, updating the listing, observing market trends, cleaning, maintenance, pre-stay walkthroughs, or in-person visits for any issues that arise during a guest's stay.

You should also ask about any services that are not included in their fee – for example, some property management companies will charge an additional fee if one of their employees has to visit the property outside of business hours to address a problem the guest is having. Excellent guest support should not cost more.

Once you know what services the fee does and does not cover, ask yourself if you're getting enough bang for your buck. If your management company covers everything from marketing to maintenance, the fee may be worthwhile. If it only covers cleaning and all other services are a la carte, you should probably keep shopping for a better deal.

4. HOW DO YOU MARKET MY PROPERTY?

This is an important one. Ask them how and where they'll market your property.

Many vacation rental management companies prefer to market their clients' properties only on their own website. These days, that's not enough. You want to be on all the major websites with highly professional listings. No matter how popular a local manager's site is, it's never going to get the same amount of traffic as major online listing sites like Vrbo, HomeAway or Airbnb – which means you'll be missing out on a lot of potential guests if you're limited to one website. Make sure you understand their marketing plan.

Marketing is a big word that includes the photography of your rental, a high-converting property listing, framing your rental for current trends and the market, and how it is promoted.

A vacation rental manager's 25-50% ought to cover the cost of marketing your property on at least one major listing site in addition to any marketing efforts they make to raise the profile of their own site. Listen for words like "appear high in the search results" or "search engine marketing" – these are good indicators your manager has put effort into raising and maintaining their website's profile online.

Your manager should also actively solicit reviews from happy guests and follow up with guests who have already stayed at the property to see if they want to book again next year. Ask your vacation rental manager what they do to ensure repeat business and 5-star reviews to entice new guests to come and stay at your property.

5. WHEN AND HOW ARE GUESTS ABLE TO BOOK MY PROPERTY?

Vacation rental managers aren't awake around the clock, (which is just fine, because most guests aren't either) but they should be available when people are likely to be making their travel plans: before work, after work, and on weekends.

If your manager is only available to make bookings from 9-5 on weekdays, the odds are very good you'll be missing out on bookings from people who work standard office jobs at those hours. Believe it or not, the ideal response time for inquiries is 15 minutes, so the bar is pretty high for providing the kind of service that turns into bookings.

You should also ask if guests are able to book online and use a credit card. The vast majority of guests prefer to book online, and very few are willing to get on the phone or send a paper check in the mail. If your potential manager doesn't offer any way for those guests to book online, you'll again miss out on bookings.

6. HOW OFTEN CAN WE EXPECT UPDATES ON OUR PROPERTY'S CONDITION?

After every stay, you should confirm that your guests left your property in good condition and that any accidental damage was documented and addressed. Be sure to ask your potential vacation rental manager how they handle issues like broken dishes or missing items after a guest's stay.

You're looking for a manager who performs a post-stay walkthrough after every guest leaves, takes photos of any damages for your records, and takes steps to bring the property back up to good condition for the next guests.

Your property manager isn't expected to pay for damages out of pocket – that cost will come from the guest's deposit or a damage protection program like Property Protection Plus (included as part of Evolve's lightweight vacation rental management approach). However, your manager should notice the damage, report it, and speak to the guest about retaining their deposit to cover the damage if necessary.

7. CAN I SPEAK TO SOME OF YOUR CURRENT CLIENTS?

Always ask to speak with a few existing clients prior to signing a contract. Previous and current owners can share details about working with the vacation rental managers and exactly what to expect from your arrangement.

If a manager is reluctant to give you references or isn't enthusiastic about current clients speaking about their experience, that's a sign this manager isn't going to be a good fit for you. You should be able to hear or read success stories from customers who endorse the company.

On the other hand, if their current clients rave about this vacation rental manager and give you lots of insider tips they've learned since working with them on navigating the local market, full speed ahead! This manager may well be just the business partner you're looking for.

IT'S TIME TO RETHINK VACATION RENTAL MANAGEMENT.

The traditional models of vacation rental management are outdated. Doing it yourself is a LOT of work and, as we've covered, working with traditional property management companies means less control with fees that are hard to justify.

But there's a better way. You don't have to do it all yourself. And you don't have to sign a contract with an overpriced property manager. Evolve is different.

BOOK MORE NIGHTS WITH YOUR RENTAL

Evolve's lightweight management approach gives you total marketing, booking, and customer support, plus the power to choose your own "home team" to clean and monitor your property.

Basically, we drive more guests to your property for maximum income, while giving you more choices with fewer rules – all for an industry-low 10% booking fee.

We've helped 10,000+ homeowners earn more than $500 million in rental income. And we'd love to help you.

See if you qualify or call one of our Homeowner Consultants today at 877.881.7584 (and if you have more questions, take a quick look at this FAQ about Evolve).

One thing that every vacation rental owner wants is an idea of how much they can expect to make. So to help you escape the unknown — and crunch the numbers — we created a rental income calculator that will give you an estimate.
FIRST, CALCULATE YOUR MONTHLY INCOME
This is approximately what you'll make before you pull out extra expenses. Income can vary based on seasonality and other factors, so be sure to use averages for your calculation.

NIGHTLY RATE: Here's where you enter what you expect to charge on average, per night. Get an overview of the local market by checking out our Vacation Rental Performance Reports, or browse listing sites to see how much other owners in your area charge.

NIGHTS BOOKED: Use the average number of nights you think you'll book per month.

MONTHLY REVENUE: This number is your extra income before things like taxes, utilities, and property management fees.

NEXT, SUBTRACT YOUR EXPENSES
Just like any other income, the lower you can keep your expenses, the more money you'll have in your pocket.

INSURANCE AND PROPERTY TAXES: Enter what you'll spend on insurance, property taxes, and short-term insurance (optional, but highly recommended for peace of mind).

MORTGAGE PAYMENT: This is how much you pay for your vacation rental every month.

UTILITIES: Estimate how much you might pay for electricity, wifi, cable, AC, and heating every month. Be generous with the number.

OTHER EXPENSES: Toiletries and linens. Furniture and decorations. HOA and maintenance costs. There are a lot of little expenses — and hidden costs — you'll want to factor in to build your budget.

LASTLY, FACTOR IN YOUR MANAGEMENT AND MARKETING COSTS

Property managers take up to half of everything you earn (30-50% on every booking). Slide the property management fee bar to the right to estimate these fees if you plan to use a manager.

Even if you choose to manage your own property, it still costs a separate fee to list on every single online marketplace. Find your marketing cost by adding together the percentages of marketplaces you think you'll use.

Airbnb – 3%
HomeAway/Vrbo pay per booking – 5%
HomeAway/Vrbo subscription – NA
TripAdvisor/FlipKey – 3%
Booking.com – 15%
If you're like most homeowners, this section will take the most money out of your vacation rental income potential. It will probably also seem a little overwhelming — but it doesn't have to. Because Evolve handles the hardest parts of property management for you, including listing your home on all of the sites for free.
So go ahead: try crunching the numbers again with 10% in the property management slider, and zero marketing costs. That's the Evolve difference.
You may not be able to change your mortgage payments or HOA fees, but you can make sure you're earning as much rental income as possible with your vacation home when you choose Evolve.
See if your home qualifies today.

"Aren't you just like Airbnb and Vrbo?"

We get that question a lot from people who haven't worked with us yet. It's easy to see why. We're all in the same industry, short-term property rentals. You can find and book great properties on our website or on theirs. And the fact that every Evolve property appears on Airbnb, Vrbo, and other online marketplaces just adds a little more to the confusion.
So let's clear things up and outline exactly how Evolve is NOT Airbnb, Vrbo, HomeAway, TripAdvisor, or any other online marketplace.
They're marketplaces. We're a management company.
Airbnb, Vrbo, and similar websites are online "marketplaces" where guests find properties and homeowners find guests. Essentially, they act as a distribution channel for owners or property managers, attracting potential guests to their website but leaving the management of the properties and listings to the owners (or whoever is representing the property) themselves.

Evolve is a vacation rental management company. That means we actively manage our properties on behalf of our owners, ensuring maximum bookings and eliminating the stress of the traditional vacation rental process.

Here's where it gets interesting. Evolve is a BIG customer of the online marketplaces. We have more than 11,000 properties listed on their sites, and we constantly take advantage of the latest strategies to ensure our owners' properties are always positioned for maximum traffic and conversion.

Behind the scenes, we have teams of specialists working on the hardest parts of managing a vacation rental: marketing, booking, and customer service. Our teams do everything from creating search-topping property listings to dynamically setting rates to answering guest questions and asking for online reviews. We even hire professional photographers at no cost to owners to show each property in the best possible light.

As a result of our approach, Evolve properties outperform most others on the online marketplaces. So we don't compete with Airbnb, Vrbo and the rest. We work with them–and everybody wins.
Our homes are different, too. Always perfect for vacation.
Unlike most marketplaces, we don't offer home sharing, extended stays, campsites, trailers, or other mobile structures. Each Evolve property has its own entrance and kitchen (typically a house or condominium). A lot of Evolve guests appreciate having the comforts of home when they travel, and our properties reflect that.
We take even more guesswork out of vacation rental by making sure our properties meet our four core standards. We believe guests simply won't have the experience they're looking for unless the property they've booked is:
Safe
Clean
Exactly as advertised
Ready for guests upon arrival
By focusing on properties ideally suited for vacationing and making sure each one lives up to our standards, we're building a brand that guests can trust to have the time of their lives.
A different experience for owners and guests.
Since Airbnb, Vrbo, and the like don't handle property management, homeowners have traditionally been forced to either hire a local company to do it or fend for themselves. Evolve is different.

We give homeowners performance-focused marketing and booking support, plus the flexibility to choose their own partner(s) to clean the property and greet guests. Evolve handles all guest inquiries, bookings, and pre-stay communications. We can also connect owners with hundreds of vetted partners nationwide that can handle cleaning and guests.

With Evolve's help, every guest enjoys a booking experience that feels as professional as the world's top hospitality brands. We handle all inquiries directly, resolve guest and owners questions, and communicate directly with cleaners to ensure the property is ready for every guest. Our unique approach makes vacation rental actually feel like vacation for owners and guests.

So we're not Airbnb or Vrbo. But we're all friends.
Once you work with Evolve, you quickly discover the difference between our service and all of the others. It starts with the way we charge owners nothing to join (plus an industry-low 10% management fee) and list properties on all the major online marketplaces––not just Evolve's site. It continues with the way we market your listing and promptly handle every query, seven days a week. And it becomes clear in all the ways we make vacation rental easy for everyone.

Owners should be able to relax, trusting that their property is living up to its potential. And guests should be able to relax with an experience that feels like a big hospitality brand. That's the Evolve difference.

Learn more about Evolve and how we can help you find success with Airbnb, Vrbo, and other online marketplaces.
Your Free Welcome Book Template is Here!
Sure, your property listing covers a lot of info about your home — but guests will still have some questions when they arrive. Like, which local coffee shop has the best ambiance? What's that one trick to getting the dishwasher started? How should they handle check-out?
Your welcome book is the perfect place to answer common questions, and it's also one of the most searched for vacation rental amenities. By providing essential info up front, you can free guests from encountering snags during their stay.
We think that putting together this important resource should feel easy — which is why we made you a free welcome book template. All you have to do is download it and plug in your home's info!
WHY MAKE A WELCOME BOOK?
Welcome books have a big impact on your guests' experience. Here are some reasons to block off a few minutes and fill in this template.
Welcome books help others navigate your rental property and treat it the right way.
Guests want to know how to watch a movie at night or adjust the temperature in your house. Giving them a resource on how to get comfortable living in your rental is sure to make their vacation stress-free for both of you.
Welcome books provide local highlights and a sense of your personality.
The reason many guests book vacation rental properties is to immerse themselves in the location. Recommending restaurants, coffee shops, stores, and more can turn a good trip into the best trip ever. Lead your guests to the most delicious slice in town — or teach them how to avoid crowds at a local attraction — and they'll want to book with you again in the future.
Welcome books show guests that you care.
Your advice on how to make the most of your property gives guests the friendly engagement they're looking for. It also protects their personal space and privacy by providing valuable information without requiring personal interaction.
Welcome books help you get great reviews.
Your guests are likely to reward your thoughtfulness in their reviews. Even better, you or your guest contact may get fewer questions during their stay, and you'll be sending new customers to your favorite local shops and restaurants, ensuring they thrive!
Sounds pretty great, right? But where should you start?
WHAT TO INCLUDE IN YOUR WELCOME BOOK
From a friendly "hello" letter to your home's policies, these are the sections you'll need to put together the most useful welcome book.
A PERSONAL WELCOME NOTE
Guests who choose vacation rental are looking for a unique home with a real person behind it. Writing a note to personally welcome them to your property is another way to separate yourself from a hotel — and reinforce their decision to stay with you.
HELPFUL LOCAL CONTACTS
Make sure your welcome book provides at least one name, telephone number, and email for a local contact near your property. This person can be you, a local property manager, or even a neighbor — but they should be easily reachable, and available to come to the home on short notice. Nobody wants unanswered guest complaints to derail a pleasant stay.
You'll also want to include contact details and addresses for the following emergency resources, just in case:
Nearest Medical Clinic or Hospital
Fire Department
Police Department
Remember, guests don't have all of the resources they'd typically have at home. They'll feel more at ease if they know you have their safety in mind.
YOUR PROPERTY'S POLICIES
Even if you send your policies in a pre-stay email, (Evolve does!) it's still important to reiterate them at the property. Including policies in your welcome book can help you resolve common vacation rental issues and complaints because guests will have a difficult time arguing that they weren't aware of the rules.
You should include all of the following information in your welcome book:
Check-In Procedures
House Rules (smoking policy, pet policy, quiet hours)
Parking Instructions
Check-Out Procedures
Subdivision/Complex/Community Rules
An in-home reference guide will help remind guests how best to enjoy your home and leave it in good shape for the next guests. Another perk of including your policies: you're way less likely to find broken or misused items after a stay!
HOW-TO INSTRUCTIONS
When your guests can't figure out simple things like how to turn on the hot tub, they can get frustrated and wind up taking out that frustration in their review of your property. Even if every appliance works perfectly, spending valuable relaxation time figuring out how to use it is no one's idea of a fun vacation.
Include helpful instructions for your:
Property Access (lockbox code, garage code, gate)
Thermostat
Hot tub or Fireplace
Washer and Dryer
Kitchen Appliances
Wireless Internet Access (including the password!)
TV or DVD Player Remote Control
This is also a good place to note any quirks of your property. For example, if the Wifi works very well all over the house, but not in the family room downstairs, make sure your guests know that. If they aren't expecting an issue, they'll be annoyed by it, but with a little forewarning, they'll feel like they know exactly what they can expect, and it's less likely to trouble them.
WHERE TO GO AND WHAT TO DO
You know all of the insights you've collected about your neighborhood? Now's the time to share your expertise — because everyone loves a good recommendation from a local! Try to suggest activities that would appeal to a range of guest types, such as family-friendly museums or romantic places for a dinner out.
Be sure to give addresses and phone numbers for each of your recommendations. Adding the amount of time it takes to get to the destination is a great idea, too. Include at least a suggestion or two in each of the following categories:
Grocery Stores
Restaurants
Shopping
Nightlife
Activities (hikes, golf, snorkeling, skiing)
Attractions (museums, monuments, parks, beaches)
Places of Worship
And share places where you personally enjoy going. This isn't to say you can't include popular attractions you haven't visited in person. Just let your guests know that you haven't tried them yourself, but you've heard good things and you hope they'll tell you how they liked them! You can then use the guest feedback to gauge whether that activity merits a mention in your Welcome Book.
HOW TO GET AROUND
Help guests explore your area by creating a section devoted to local transit. Be sure to include contact info, directions, schedules and any other details that guests might find helpful, like:
Taxi & Shuttle Services
Bus Routes
Car Rentals
Airports and Train Stations
Area Maps
READY TO CREATE YOUR BOOK?
Here's the good news: we've already created one for you.To make things easier for you and your guests we created a free downloadable template. Enter your email in the form below to get your free, customizable copy. Then, type your information into our template, print the completed welcome book, and display it in an obvious area of your rental property, such as the kitchen counter. And if you're looking to start booking more nights on your vacation rental, we can help with that, too.
Vacation rentals can be lucrative investments. They offer rental income in the short term and build equity in the long term. It's an exciting proposition attracting more investors, especially as travelers embrace vacation rentals as their preferred accommodations.
For the third year in a row, we're happy to share our list of the ten best places to buy a vacation rental. Our experience working with over 10,000 vacation rental properties across the United States has given us insight into more than 500 markets and how they perform.

This year, we're including our estimated capitalization rate (cap rate) to help with rankings. Cap rate compares the net rental income generated per year against the purchase price of the property. It's a good indicator of a property's earning power and a reliable way to determine where you might get a better return on your investment.

To calculate our cap rates, we started by looking at the median annual rental revenue for Evolve properties in 500+ markets. We also applied yearly expenses of 30% to reflect the costs associated with operating a vacation rental. We then divided that by the median home price on Zillow for properties in each market.

If you're looking to purchase a vacation rental property, make sure you take a closer look at these areas. Your numbers may differ based on operating costs, property values, and other factors, but this list helps shine a light on promising locations for investors.
1.Maggie Valley, North Carolina
Median annual rental revenue: $38,949
Median Home Price: $155,500
Cap Rate: 17.5%
A new addition to our list, Maggie Valley is in the Smoky Mountains area outside of Asheville, North Carolina.
It tops our list with a strong cap rate of 17.5%. Driven by low real estate costs with a median price of $155,500 and a median income of $38,949 per year, the Maggie Valley area presents an appealing investment option.
Proximity to the region's famed mountain range is the primary tourism draw in this area. And the natural resources provide year-round activities, with hiking in the summer, leaf peeping in the autumn, and skiing in the winter.
If you're looking at this area for a potential investment, shop around for a property that has a nice outdoor area where guests can enjoy the surrounding mountain views. Our data also shows that homes with hot tubs, fire pits, and decks typically perform better than average.

2. Saint Augustine, Florida
Median annual rental revenue: $50,989
Median Home Price: $209,100
Cap Rate: 17%
Consistently a top vacation destination for American and international travelers, Florida is an obvious frontrunner for short-term rentals. The warm weather allows for year-round tourism and lower real estate costs leave plenty of room to generate a sizable rental income.
But with so many beach towns, where is the best place to buy in Florida?
St. Augustine rises above the rest in our research with a cap rate of 17%. The median home price is $209,100 and you can earn an estimated median revenue of $50,989 in this area.
That's an attractive rate of return, and it has the potential to increase further when you have top amenities like a private pool, hot tub, and proximity to the beach.
Rich in history, outdoor recreation, and prime beach access, St. Augustine offers great vacation rental potential for investors.
3. Gatlinburg Area, Tennessee
Median annual rental revenue: $42,751
Median home price: $182,950
Cap Rate: 16.3%
Gatlinburg, Pigeon Forge, and Sevierville have been proving their weight in gold for years. These family-friendly vacation rental destinations have a high demand for accommodations ten months out of the year and they provide a steady source of rental income.
With relatively low housing prices and few restrictions for short-term rentals, it's no surprise that this area has become a top destination for vacation rental investors. Cabins are the preferred type of housing for regional visitors, and we found that the median home price ranges from $162,000 to $202,300 across Sevierville, Pigeon Forge, and Gatlinburg.

While the area is generally affordable, you might run into prices as high as $800,000 for larger (five bedrooms+) and more luxurious properties. Essential amenities for the Gatlinburg area are hot tubs, mountain views, and game rooms.

While the median for rental revenue is around $42,751, we do see six-figure revenue potential for larger properties in the area. If your rental is in good shape, with a desirable location and popular amenities, you stand a high chance of earning even more.
4. Surfside Beach, Texas
Median annual rental revenue: $29,321
Median Home Price: $136,500
Cap Rate: 15%
An hour down the coast from Galveston, this Texas town is known for beautiful beaches and a laid-back community. With few tourist traps or boardwalk shops, most Surfside Beach visitors spend their evenings cooking family dinners at home rather than hitting the town. That makes fully equipped vacation rentals all the more successful in this area.
We found the median home price for Surfside Beach was $136,500, which is a bargain compared to the stilted homes in the Galveston area that range from $200,000 to $400,000.
A median revenue of $29,321 gives this lesser-known area on the Gulf Coast an impressive cap rate of 15%.
If this coastal Texas town checks all the boxes for you, look for a property that offers ocean views and proximity to the beach. Fortunately, Seaside Beach is situated on a narrow tract of land, so beachfront real estate is not too hard to come by.

5. The Poconos, Pennsylvania
Median annual rental revenue: $25,058
Median Home Price: $118,300
Cap Rate: 14.8%
The Pocono Mountain region has been drawing tourists to its lakes and ski resorts for more than 100 years. With a strong demand for accommodations and a large inventory of real estate at affordable prices, it's easy to see why this region is one of our top five places to buy a vacation rental.
The median home price in the Poconos ranges from $118,300 on the low end to $144,300 on the high end. With a property that has an open calendar, the median rental income you can expect to generate ranges from $25,058 all the way up to $40,278 per year.
We found that results vary from town to town, but we see the strongest returns with properties in Tunkhannock Township, Tannersville, and Pocono Lake.
Large lakefront properties that can accommodate a group perform best in this market. It's also a good idea to look for houses that are updated or that you can renovate after purchasing. This traditional market has many outdated properties, and you can beat out the competition and charge a higher nightly rate with a home that has modern kitchens, bathrooms, and furnishings.

6. Pequot Lakes, Minnesota
Median annual rental revenue: $36,291
Median Home Price: $204,600
Cap Rate: 12.4%
Situated in the Brainerd Lakes area north of the Twin Cities, vacation rentals in the Pequot Lakes area are hugely popular in summer months. Even better, they get bookings during the slow winter season for holidays and weekend retreats.
This market provides advantages to buyers in the Midwest because it's a great investment opportunity where you can make strong returns, but it's also close to home. That makes regular maintenance easier and offers the added benefit of having a second home for your personal use when you don't have guests in residence.
While the median home price is $204,600 for properties in this area, larger homes that sleep eight or more people tend to see the best success. So it pays to invest in a larger property if you have the budget.
Something to consider with an investment in the Pequot Lakes area or a similar market is that rentals here tend to have a shorter season. With cold winter months, you face some pressure to hit your revenue goals during the high season, which requires smart pricing and aggressive marketing strategies.
7. Shenandoah Valley Area, Virginia
Median annual rental revenue: $37,763
Median Home Price: $227,500
Cap Rate: 11.6%
Spanning two hundred miles across the Blue Ridge and Allegheny Mountains, the Shenandoah Valley is an outdoor oasis. Visitors enjoy exploring National Parks and Forests, outdoor sports (skiing, fishing, golfing, canoeing and more) and a segment of the famed Appalachian Trail.
With an area that large, home prices and rental income will obviously vary. Still, the median home price in the markets that made our list is $227,500, earning $37,763 per year in estimated annual revenue.
To increase your income potential, look closely at the four-season resort areas of Massanutten and Wintergreen. They can expand your booking season via snow sports in the winter and water parks during the peak summer booking window.
Profit-driving amenities include hot tubs, a deck with a view (and a grill), and game tables like billiards and foosball. If you're looking to invest in this area, the closer a property is to Massanutten Resort or Shenandoah National Park, the better.

8. Branson, Missouri
Median annual rental revenue: $24,062
Median Home Price: $145,000
Cap Rate: 11.6%
With theme parks, specialty museums, shopping, and hundreds of shows per year, there's no shortage of things to do in Branson. This Ozark getaway is a family-friendly vacation spot that has caught the eye of investors who want reliable returns and a lower price point.
The median home price hovers around $145,000, making this an affordable place to buy a vacation home. Our data revealed that rentals in Branson generate $24,062 in rental revenue per year at the median for a 11.6% cap rate.
The tourism season spans from March to December, so you have the opportunity to book ten months out of the year and reach an impressive occupancy.
Another benefit of investing in this area is that there are few regulations standing in the way of vacation rentals. Some areas west of Branson may come with restrictions, but the area is generally friendly toward short-term rentals.
The vacation rental inventory is a mix of condos, cabins, and homes. So no matter your budget, you can find something in this market that will perform well. Amenities that can help you succeed include proximity to popular attractions (the Shows District, Table Rock Lake, and Silver Dollar City), decks, and lake or mountain views.
9. Myrtle Beach, South Carolina
Median annual rental revenue: $23,881
Median Home Price: $144,700
Cap Rate: 11.5%
For the third year in a row, Myrtle Beach makes our top-ten list. The seaside town is known for its 60-mile stretch of beaches, as well as theme parks, museums, and shopping. It's also home to festivals, bike rallies, car shows and other events that draw crowds and drive up demand for accommodations.
Yet, Myrtle Beach is a budget-friendly place to invest. Condos frequently sell for under $100,000, and Zillow data shows the median home price is around $144,700.
If you buy in this market, beach proximity is important. However, unlike Surfside Beach, you don't have to be on the water to be successful. Rental properties within one or two miles of the beach will also book and perform well.
When you're buying a condo in a resort or community, be careful with association fees and restrictions. Higher fees typically get you nice facilities, upkeep, pools, and other amenities that are attractive to guests, but you may pay a lot for those add-ons.
10. Hot Springs, Arkansas
Median annual rental revenue: $24,425
Median Home Price: $148,800
Cap Rate: 11.4%
Hot Springs, Arkansas is named for Hot Springs National Park, a treasured natural feature that draws visitors for its mineral-rich water.
A prime benefit of investing in this market is that your money stretches here. The median home price is $148,800 and generates a healthy $24,425 per year at the median for estimated annual revenue. That leaves plenty of flexibility to pocket the income or pay off your investment quickly.
For the best returns in this market, look for properties close to downtown Hot Springs or on Lake Hamilton. In our experience, waterfront homes tend to achieve higher occupancy rates and command better nightly rates than properties farther from the action.
Lake views, updated interiors, and dock access are additional amenities that can improve your performance in Hot Springs.
So, where should you invest?
As always, the answer depends on your budget, your revenue goals, and your personal preferences.
You might want to purchase in a proven market like Gatlinburg or Poconos even if that means stiffer competition to get bookings. Or, you might want to buy in an area that isn't as saturated, like Hot Springs or Surfside Beach, where you get more for your money.
We always encourage investors to think about where they'd like to visit. One of the key benefits you get from a vacation rental is that you get a second home for yourself. Where would you want to stay?
This list is a great place to start your consideration process, but it's by no means definitive. There are many popular destinations that didn't make our list. Think of this as a snapshot of the markets that you might want to explore if you're looking to get the biggest return on your investment.
If you want more information, Evolve is constantly updating resources like these to help you better understand the vacation rental market:
If you've already chosen a property and need to get your vacation rental off the ground, let us help.
With Evolve, you get everything you need to start a successful vacation rental: professional photos, a custom listing, competitive rates, vacation rental expertise, and full-time teams to support you.
There are no upfront costs and you pay just a low 10% fee per booking. Learn more about our services and contact us to see if your home qualifies.

Have you ever thought about investing in a vacation home to use a short-term rental? We asked Daniela Andreevska at Mashvisor to share some insight on why real estate investors are wise to consider this avenue as they get started with their first real estate investments.
Looking for the best way to make money outside your 9-to-5 job? How about real estate investing?
It can be intimidating to dive headfirst into the world of real estate investment, but buying a vacation rental home is one avenue that's gaining a lot of popularity. We think it might just be the best way to enter the real estate business and become a property investor.
There are many benefits to buying a vacation rental and we have put together a list of the top reasons that we think you should consider this as your first step in real estate investment.
1. Own a Dual-Purpose Property
If you're a first-time real estate investor, you are probably considering all the options and thinking about what's best for you.
Buying a vacation rental home has one clear advantage: It can serve dual purposes. You can use it as a second home and spend your own vacations there with your family, and then rent it out to guests the rest of the year.
Buying an investment property for the sole purpose of renting it out long-term does not give you this option.
2. Generate Rental Income
One of the major advantages of real estate investing in general, and investing in rental properties in particular, is the fact that you gain a source of steady income.
How? Through rental income.
The idea is that you will be renting out your second home to guests when you aren't using it. You'll be making money without having to necessarily buy an "investment" property. After all, your vacation home is your second home. It just happens to make money on the side.
When you buy a vacation home and use it as a short-term rental, the money you make from bookings actually helps you pay the mortgage and other expenses (property tax, insurance, maintenance, and repairs) for the place where you spend your vacations.
3. Build Value through Appreciation
In addition to making money in the short run, a vacation rental home also makes money – potentially a lot of it – in the long term.
A second home is a real estate property, and real estate generally appreciates in value over time. When you are ready to sell your vacation rental property, you can usually sell it at a higher price and cash in on the profit. The best part is that you don't have to do anything to enjoy this benefit. Natural real estate appreciation will take care of it.
If you want to make even more money when selling your property, you can make modifications and improvements to push up the market value of your vacation rental (known as forced appreciation).
4. Earn Tax Deductions
Similar to your primary home or an investment property, a second home also provides tax deductions. These apply to mortgage payments, property tax, rental income, insurance premium, utilities, and other rental expenses.
However, the situation with a vacation rental can get somewhat complicated depending on the number of days you live in your property and the number of days you rent it out to guests. So, if you decide to buy a vacation rental, we recommend that you work with a professional accountant and/or a real estate attorney to assure that you are taking maximum advantage of tax deductions without breaking any tax laws.
5. Take on Less Risk
Investing in vacation rental exposes you to lower risk than other types of real estate investment. First, vacation homes are in top tourist destinations, so you can attract lots of guests, reach high occupancy rates, and charge a high nightly rate.
The combined effect is high rental income. And rental income is how investors make money from their rental properties.
One way to reduce your risk even further is to choose a location and a property that works as either a traditional, long-term rental or as a short-term rental. If you find that you have a low occupancy rate, low rental income, and negative cash flow, you have the option to switch strategies and become a traditional landlord.
And in the worst case scenario, if a long-term rental strategy also fails to bring you a positive cash flow, you still have a second home to use with your family. This will save you the cost of renting hotels or other people's vacation homes until your property has appreciated enough in value to sell it. After all, if your vacation rental is located in a popular destination, appreciation should not take more than a few years to kick in.
6. Learn About Real Estate
No matter how many real estate books you read or how many real estate classes you attend, you will not become an expert real estate investor until you actually buy an income property and start managing it.
Buying a vacation rental home provides you with an easy entry into the world of real estate investment because it's often less stressful than other real estate investment strategies, such as becoming a full-time landlord, fix-and-flip, wholesaling, etc.
7. They're Easy to Manage
While some people take on vacation rental management as a full-time job, you don't have to do this in order to start making money in real estate. It's feasible to make owning a vacation rental a part-time job that doesn't take up too much of your time, especially if you use a vacation rental management service.
Management is a major concern for inexperienced investors, and it can potentially turn into a real nightmare for first-time vacation rental owners. Imagine having to clean your property, change the sheets, wash the towels, and refill the toiletries between each guest – sometimes multiple times a week – all the while working your 9-to-5 job.
Most owners don't have time for that. Instead of handling it themselves, they're hiring property managers or vacation rental management services to take over those time-consuming duties. Then they are free to oversee the aspects of vacation rental management they want, like talking to guests, making recommendations, and collecting rental income.
You're interested – now what?
Investing in a vacation rental home is an easy entry point to real estate investment that provides endless opportunities to learn and carries lower risk than other options. But if you are a beginner real estate investor, you might be wondering how to go about the whole process of buying a vacation home as an investment property.
Here's a list of the main factors you need to consider as you look for vacation rental properties:
Choose a popular location
Experts say that "location, location, and location" are the three most important factors in a successful real estate investment, and they are not mistaken. When buying a vacation rental home, choose places where other travelers – besides you and your family and friends – would enjoy. To check out some of the best places to buy a vacation home to start investing in real estate in 2018 based on data from Mashvisor, click here.
Learn local short-term rentals legislation
Regulations on short-term rentals have been tightening in many places around the U.S., so once you've chosen a location for buying your second home, make sure you will be allowed to use the property as a short-term rental and make sure you won't be taxed too heavily for it.
Conduct comparative market analysis
Before buying your income property, conduct some real estate market analysis to make sure you're not overpaying for your second home. Real estate comps are the only way to assure you can get positive cash flow from renting out your vacation home on a short-term basis.
Perform investment property analysis
Compare the rental property you're considering buying with other vacation rentals around the area to see how you can stay competitive while making money in real estate. Predictive analytics can also help.
Mashvisor's rental income calculator allows you to conduct all the necessary analyses you need in order to make the best real estate investment decisions quickly and easily.
More people are buying vacation rentals as their first real estate investments because it's a sound financial decision. The demand for vacation rentals is at an all-time high and continues to grow. There's low risk, because at the end of the day, you have a second home where you can vacation for free. And with new cost-effective vacation rental management systems, you have access to the help you maximize the return on your investment.
Daniela Andreevska is the Content Marketing Director at Mashvisor. Mashvisor helps real estate investors quickly find traditional and Airbnb investment properties.
Proof that travelers are choosing vacation rentals like never before.
Evolve Vacation Rental was founded nine years ago on the simple idea that renting private, clean, and fully-equipped homes is the best way to travel. All that was needed was a better approach to helping owners manage their homes and support their guests. Fast forward to today and travelers are agreeing wholeheartedly, booking Evolve homes at a furious pace as the country reopens for the summer.
It's not surprising that people would prefer private homes in response to an outbreak. What is surprising, though, is the speed of recovery. At our low point in March, no one would have predicted that trips would be up more than 700% by the end of May. In just two months, Evolve has moved from rock-bottom to a record-breaking volume of bookings.
As always, thank you to everyone on the front lines of the COVID-19 crisis and essential workers everywhere. Special thanks to the professional cleaning companies we work with every day to help keep our homes clean and our guests safe. We appreciate you and hope that the data below reinforces how vital your efforts are and how quickly we all may recover from this crisis.
All-time booking records shattered in May
As April ended, we saw promising growth in traveler inquiries and gross bookings while cancellations continued to decrease. The May numbers leave no doubt that we've turned it around, at least for the foreseeable future.
Traveler inquiries have stayed elevated throughout the month of May. It's no surprise based on the growth in demand, but the acceleration has been challenging. We're already shifting some of our existing team members to help with traveler inquiries and will be adding new hires to traveler and guest teams so we can help everyone as quickly as possible.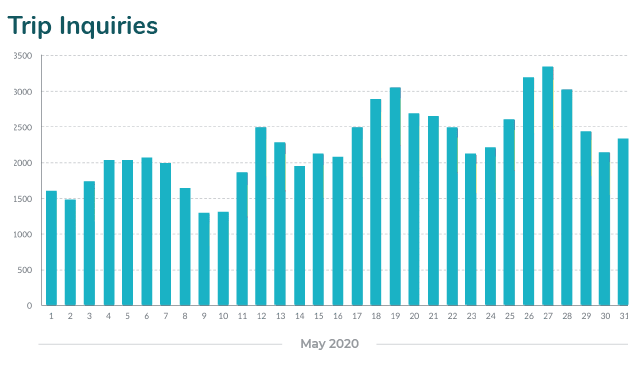 We've already broken the all-time record for gross bookings in a week by more than 25% and every week builds on the previous success. Our peak was May 15 when bookings were up 218% compared to the same date last year.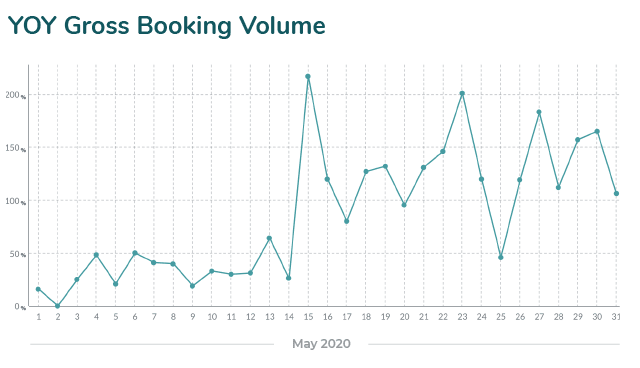 As cancellations continue to decline (especially for trips booked after March 14, which are at normal cancellation levels), we expect more records to be broken as summer bookings increase.
And the bookings are widespread, as we see a huge increase in bookings per property overall compared to the same time frame last year. We're now seeing twice as many bookings per property as we did at this time in 2019.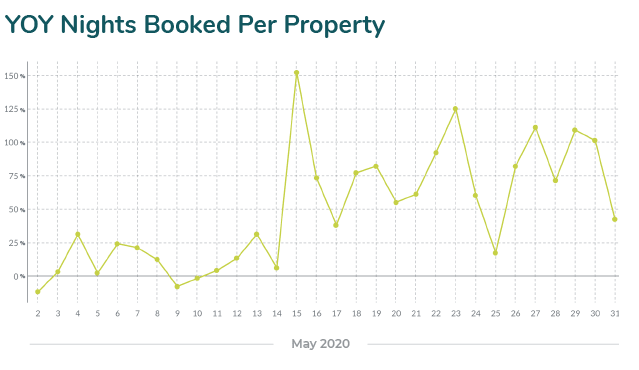 Best of all, average daily rates for Evolve homes are actually up 3% compared to a year ago. As we tell all of our new owners, higher rates follow higher demand; this trend happily proves it.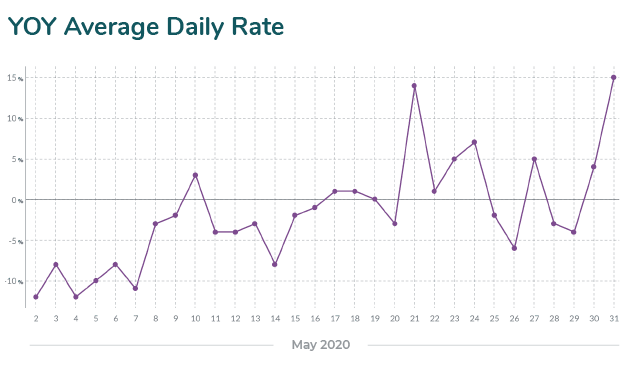 More trips, less time: How behaviors are changing
The other clear changes we've seen are the length of time before booking and the length of the stay. Basically, travelers are booking shorter stays in a more last-minute fashion.
Shorter booking windows may be due to simple cabin fever as people are allowed to finally venture out after staying at home. Also, a lot of uncertainty surrounds the opening of the country, so travelers may not want to book too far ahead and, as a result, are asking for more flexibility for canceling and/or changing plans than ever before. Part of the trend is seasonal, too, but overall the average booking window continues to drop and is already 45% shorter than it was in 2019.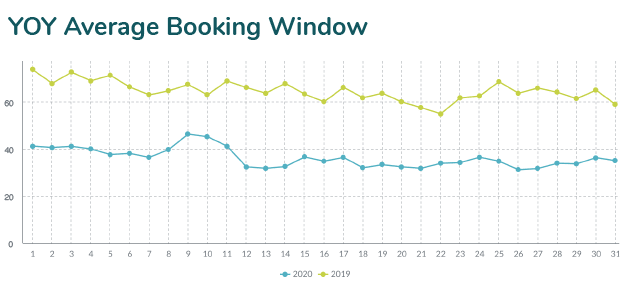 The reasons for shorter stays are less clear. We've all heard of city dwellers escaping for long-term sheltering, but the trend we're seeing supports shorter stays than usual.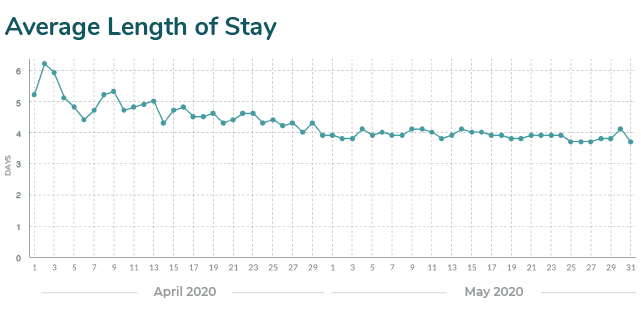 Lastly, cancellations are finally stabilizing. As we mentioned earlier, trips booked after March 14 (with full awareness of COVID-related restrictions being implemented), have been at relatively normal rates for a while, but cancellations of trips booked before March 14 are still elevated. Overall, our average cancellation rate is now around 30% which is still higher than normal, but it's a far cry from March's punishing 80%+ cancellation rates.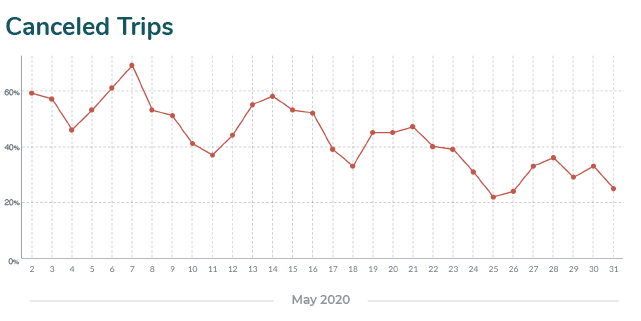 What's next? How Evolve is taking action
It's clear now that our focus on offering only fully-equipped, private vacation homes will speed recovery for our owners in the second half of the year. Here are some of the ways we're helping:
With a spike in last-minute demand, we're still asking owners to opt-in to next day bookings (where allowed and appropriate). This policy change has been an instant success with more than 1,000 next-day trips booked in May.
To address the spike in demand, we're shifting more existing staff toward traveler and guest inquiries and hiring more team members to increase our capacity.
We continue to use our proprietary SmartRates technology to monitor and instantly adjust to ever-changing circumstances in any given area. As demand returns, owners should begin to notice a steady increase in their nightly rates.
To say that our company has been stress-testing over the last few months would be an understatement. But the late April to May time frame has shown that our business strategy is the right one. More than ever, people want to escape to private, professionally cleaned homes that are fully-equipped for their stay. And everyone at Evolve is still working every day from their homes to make that happen for our owners and guests.
If you're an existing Evolve owner, rest easy knowing that we're proactively working on your behalf to make the most of this surge in demand. If you're thinking about partnering with Evolve and have questions about this or any other aspect of managing your rental property, feel free to schedule a call with one of our Vacation Rental Advisors to learn more. There's no pressure at all and we genuinely want to help you if we can.
Stay well and let's take care of each other.
Small towns invite you to amble their enchanting, colorful streets and spoon cold ice cream on hot summer days. When you're away from it all, you can crack your window open and hear the crickets singing or ocean waves lapping the shore. These destinations offer the chance to slow down and celebrate the simple things — and that's just why they hold so much allure to travelers.
Now, we invite you to indulge your wanderlust and travel into the heart of America's best small towns.
TAOS, NEW MEXICO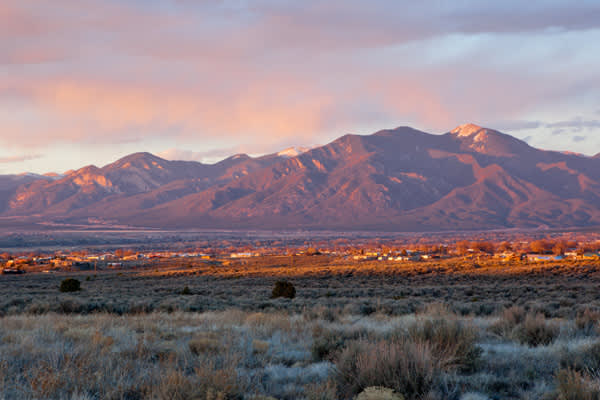 Taos is a vibrant community where art is alive — a place where you can toast to the sun as it drapes over the terracotta buildings. Head to Taos for bold flavors, rich history, and sweeping views of the Sangre de Cristo mountains.
SEE: If you want to feel your stomach drop while towering over your surroundings, visit the Rio Grande Gorge Bridge, the fifth highest bridge in the United States. Another stop you'll want to experience is the Taos Pueblo, where you can tour a Pueblo that has been inhabited for over 1,000 years. No trip to Taos, New Mexico is complete without a visit to the forbidden art gallery by D.H. Lawrence located at the Hotel La Fonda de Taos). While you're in town, spend an afternoon touring the Taos Historic District on foot. When you're ready for a nightcap, follow the neon sign into Taos Inn and ask the bartender to deliver your favorite tequila.
Traveling with a car? Take the road trip down to another small town — Santa Fe, New Mexico (approximately 90 minutes away) — and experience Meow Wolf, a gallery that begins in a Victorian house and transports you into a surreal wonderland. Before you head back to Taos, stop to admire the Georgia O'Keeffe Museum for a study of the iconic painter's work.
MOVE: Despite its eclectic, desert ambiance, Taos is a destination for skiing, and Taos Ski Valley is the place to hit the slopes. You can also find outdoor activities like hiking, mountain biking, or hot air ballooning at the scenic Rio Grande del Norte National Monument. For those looking for an uphill challenge, Williams Lake hike makes for an unforgettable climb. After a long day in the sun, wind down at Ojo Caliente Spa's hot springs, perfect for anyone over the age of 13.
EAT + DRINK: Authentic mole, homemade guacamole, and New Mexico's renowned chili await you at La Cueva Cafe. Once you're ready for something sweet, satiate your sugar fix at Chokola, a small-batch chocolatier famous for sipping chocolate. Lattes are a form of art at Elevation Coffee, so be sure to indulge in one as you wander the town.
SLEEP: Find your dream vacation rental and rest your head at the base of the Sangre de Cristo mountains.
BRECKENRIDGE, COLORADO
Breckenridge is one of the best small towns in America, and it's anything but sleepy. Come winter, skiers and snowboarders flock here to fly down fresh powder at lightning speeds. In summer, Breckenridge transforms into a natural playground for spotting wildlife, hiking, biking, and experiencing a pocket of the mountain that hums with energy.
SEE: If you've ever wanted to meet a real-life fairytale character, say hello to The Breckenridge Troll, also known as Isak Heartstone. The downtown area of this mountain town is home to a classic Main Street perfect for passing an afternoon with apple cider in hand as you stroll quaint shops, charming coffee houses, and bars and restaurants. 
MOVE: Travelers from all over the world come to hit the slopes at Breckenridge Ski Resort and the nearby Keystone and Copper Mountain — and if you want to fly the mountain by way of sledding or tubing, there are plenty of places nearby to do it. Those who are looking for more tranquil outdoor adventures can head out for a hike at the wildflower-lined Cucumber Gulch (check for trail closures). 
EAT + DRINK: After a day of adventure, you might be craving something hearty like a burger or mac and cheese — both of which are on the menu at The Canteen. To drink in local flavor, head to a local brewery like Broken Compass for a pint or two. And whether you're in search of a sweet or savory snack, Crepes a La Cart serves up irresistible crepes — you can even order a s'mores crepe here. 
SLEEP: Take in the area's best views and sip cocoa in one of these Breckenridge vacation rentals.
ST. AUGUSTINE, FLORIDA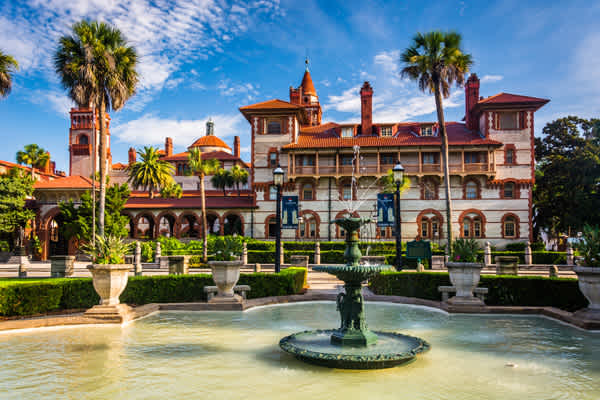 The oldest city in the United States is also one of the most memorable. History buffs and beach dwellers fill their days here with museums, decadent food and drink, and tranquil afternoon naps along the Atlantic.
SEE: Grab an afternoon history lesson at the Castillo de San Marcos Monument, where you can explore a fort rich with centuries of history. Overcome your fear of alligators at the St. Augustine Alligator Farm, the only place in the world that's home to every living species of crocodilian. For a quick offbeat stop, make way to the storied Love Trees, which are said to bring everlasting romance to their visitors.
LOUNGE: St. Augustine is more about slowing down than moving around — letting the sun cast over you and the waves tickle your feet, or diving right into the water as the sun goes down. Visit St. Augustine Beach for uninterrupted views of white sand and take a long walk, collecting shells along the way. If you're still looking to bike the coast, Crescent Beach has hard-packed sand perfect for getting a sweat on. 
EAT + DRINK: Coffee is best when it's paired with a snack, and at The Kookaburra Coffee, that snack is a delectable Aussie Pie. If you've got a hankering for a big breakfast, find a seat at Maple Street and spread some housemade jam over rich, buttery biscuits. Dig your fork into a fresh catch at Catch 27, where seafood is the star, accompanied by local produce.
SLEEP: Make dinner and open your window up to the ocean breeze in St. Augustine. We think you'll love these great places to stay.
TRAVERSE CITY, MICHIGAN
Traverse City, Michigan is the cherry capital of the world, and with it comes all the charm you might expect. Summer brings long days on the edge of the lake and refreshing local microbrews. In winter, Traverse City is the place to find your holiday spirit while skiing, sledding, and playing board games next to the flicker of a fire.
PLAY OUTSIDE: Traverse City is a destination for that timeless summer lake trip — where a day easily slips by as you sit near the edge of the dock. You can find your private view of the lake on the Empire Bluff Trail, which will lead you up to a perch where you can marvel over a coastline that you might mistake for a tropical beach. This trail is a part of The Sleeping Bear Sand Dunes, so if you're ready to channel your inner child, you can climb your way up the dune itself (it's harder than it looks).
If you're looking for something a little more low-key, you can lounge out in the sand along the waterfront at Clinch Park and bask in the views of Lake Michigan. But after a day of admiring the lake, you might be itching to get out on the water. At TC Watersports, you can rent jet skis or a boat for the whole group. You can also kayak your way to some of Traverse City's best beers on a Kayak Brewery Tour.
When winter sets in, you'll feel like you're walking inside of a holiday movie filled with snow-covered trees and warm, cozy coffee shops. Spend the day at Shanty Creek and race down the slopes on skis, spin your way down them on an alpine sled, or admire your surroundings from a flat path on cross country skis.
When you're ready to take a break, sip microbrews in a lit igloo or next to a heated campfire at Hop Lot (winter only). 
SEE: Dive beneath the surface of Traverse City by walking through a brick steam tunnel crafted in 1883 on a tour of what used to be the Traverse City State Hospital (currently known as The Village at Grand Traverse Commons). After the tour is over, head to another place that will let you venture beyond surface appearances at Teetotallers Wholesome Refreshment, a hidden tea shop speakeasy.
If you consider yourself a cinephile, be sure to plan your trip around the Traverse City Film Festival and catch the next big hit on a small-town screen.
EAT + DRINK: One Traverse City old-fashioned candy stop has something that makes it hard to miss: An oversized, welcoming fudge box on the roof. Step inside Doug Murdick's Fudge for a slice of local history that comes with irresistible smells. 
While you're in town, there's a trail you'll definitely want to follow — the Old Mission Peninsula Wine Trail. Michigan shares a latitude with celebrated grape-growing legends like Burgundy, Alsace, and Bordeaux, which means you can toast to the day with a glass that will become a memory.
When you're ready to wind down the day over a nightcap and some conversation, head to Trattoria Stella for irresistible burrata and hand-rolled pasta.
SLEEP: Find your place on the lake and start relaxing as soon as you check in. These Traverse City vacation homes give you a luxurious way to enjoy your surroundings.
HOT SPRINGS, ARKANSAS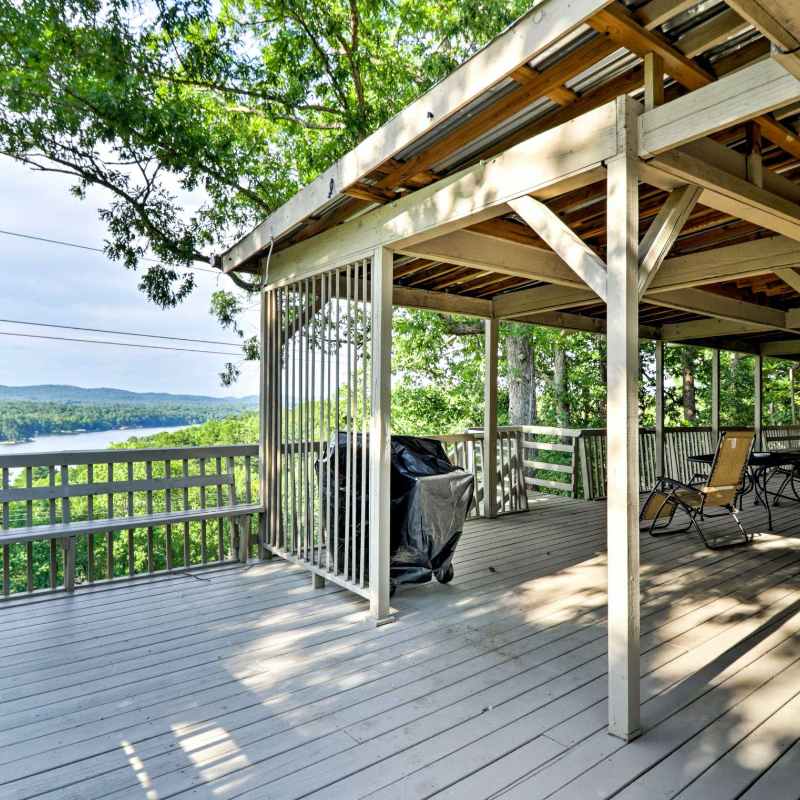 Hot Springs, Arkansas is filled with historic hangouts, natural beauty, architectural marvels, and geothermal waters. It's rare to get a full vacation experience amid the humble roots of a small town, but here, you will.
SEE: History lives in every room of the old-school cool Arlington Hotel, a hallmark of the city that used to be frequented by Babe Ruth and Joe DeMaggio. Head to Bathhouse Row to admire the architecture of antique bathhouses (you can even drink a beer in the Superior Bathhouse) or indulge in a dip and a spa day at Quapaw Baths. 
GET OUTSIDE: One of the best photos of your trip can be snapped at Garvan Woodland Gardens. The gardens are home to Anthony Chapel, an architectural marvel that soars into the surrounding oak trees with floor-to-ceiling glass walls. 
Once you've snapped a few photos, hike your way around Hot Springs National Park, where the geothermal temperatures climb to 143 degrees. If this heat has you craving something more refreshing, Hill Wheatley Park is a well-loved spot to go for a swim in Lake Hamilton.
EAT + DRINK: The cupcakes at Fat Bottomed Girl's Cupcakes are so celebrated that they've appeared on the Food Network — so you'll want to grab one as your midday snack (or hey, even breakfast). If you've got a hankering for pizza, Deluca's is the best stop in town. By night, find a seat at Arkansas' oldest bar called The Ohio Club, which formerly served as a haunt for gangsters like Al Capone.
SLEEP: Choose a casual hangout overlooking Lake Hamilton, or book a place with a hot tub and slow down under the stars. These Hot Springs vacation rentals offer something for everyone.
MYSTIC, CONNECTICUT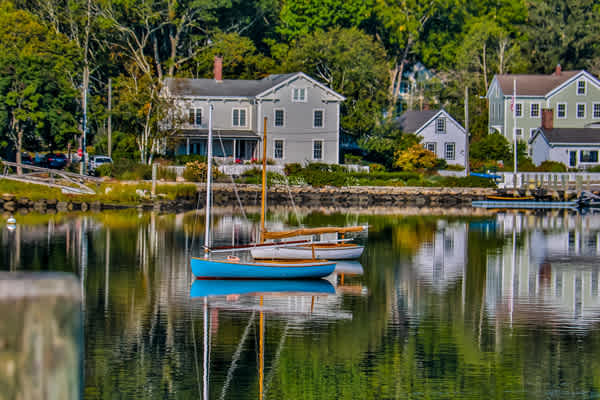 Fall under the spell of Mystic, Connecticut, which still feels untouched by time. This is the place to soak in quaint New England, celebrate maritime culture, and trade the bustle of the city for a peaceful way of life.
SEE: Start the day by strolling this seaside village's historic downtown, home to independent shops and restaurants like Main Street Soap Emporium. Then, gather some picnic supplies and a bottle of rosè and rent out a Mystic River Cruise to get out on the water.
Once you're ready to wind down, lounge on the sand at Williams Beach Park or cool off inside the Mystic Seaport Museum, an interactive museum where you can see the last wooden whaleship in the world.
ATTEND: If you're headed to Mystic, plan your trip around one of this small town's charming festivals to get a real taste of local life. Grab a coffee at the Green Marble Coffee House and celebrate St. Patrick's Day at the Mystic Irish Parade, where bagpipes sound through the streets.
Wander downtown Mystic and support local artists at the Mystic Outdoor Art Festival. If you're looking for your holiday spirit, it's waiting at the Holiday Lighted Boat Parade, where colorful lights illuminate the river and Santa arrives by tugboat.
EAT + DRINK: Before you even leave, you'll want to watch Mystic Pizza starring Julia Roberts — and once you unpack, you can visit the real Mystic Pizza for a slice. Grass and Bone is also a must, where you can stock up on fresh meats and sourdough bread from the market or grab lunch to go. For dinner, eat oysters out of a darling blue house called Oyster Club and let New England charm enchant you.
SLEEP: Rest in an adorable Mystic vacation home that's big on charm.
STAY EVOLVE
After a day exploring America's best small towns, you'll want a hot shower and a place to enjoy the view. Evolve has vacation homes near these places and beyond — and our Rest Easy Promise gives you the confidence that every home will be as good as you saw online.
EXPLORE ALL VACATION HOMES HERE
As the country considers reopening, travelers reconsider vacation rentals
As the first full month of spring, April showed surprising signs of life in the vacation rental space. It's a remarkable contrast to March, which now seems to be the brunt of the cancellation crush. Before we dive into the data, we once again thank those on the front lines of the COVID-19 health crisis and offer our condolences to anyone suffering from the virus. We appreciate and support everyone working to keep us all safe.
As much of America (and the world) stayed home in April, something shifted. Whether it was the beginning of the end of stay-at-home orders, the national conversation about reopening the country, or just isolated people dreaming of future travel, inquiries and bookings started to come back — very suddenly. If March was a slide, then the back half of April was a trampoline for Evolve. During the month, we saw:
Inquiries from travelers increase by 317%
Gross bookings increase by 432%
Cancellations decrease by 52%
It's already a cliche to say that we live in unprecedented times. But the speed of change in the vacation rental space has been just that. In March, the massive volume of guest cancellations strained our resources. Now, the flood of inquiries for new bookings in our homes is threatening to be just as disruptive.
We're not complaining at all. Recovery in any form is everyone's goal. We just didn't anticipate it beginning so quickly after such a difficult March. It's dizzying, but also heartening. Let's look at the larger short-term rental travel trends we saw this month.
COVID-19 and short-term rental: April data and trends
The short story here is that traveler demand has suddenly reappeared. The first half of April was a continuation of March, down by almost every measure. Midway through the month, everything changed. Let's look closer.
An about-face in traveler inquiries
The slump of new travel inquiries that began in March continued into the first half of April. In fact, April 11 was actually the lowest point of the year so far with guest inquiries down 280% compared to the same date last year. Surprisingly, it became a completely different story just two weeks later.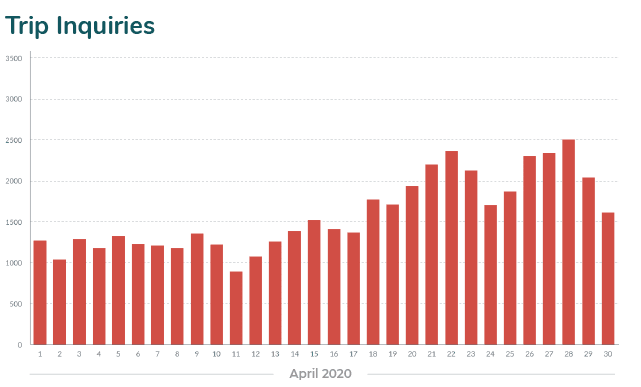 In just a four-day span (April 17 – April 20), guest inquiries to our Travel Advisor team saw a dizzying rebound, from being down 88% compared to last year to being up 94% compared to last year. That trend has continued and inquiries have consistently outpaced last year's volume since then.
While the speed of recovery has been unexpected, we always assumed the appeal of booking a private home would allow the vacation rental industry to rebound quickly when the demand for travel returned. The second half of April is a strong sign that it might already be here.
More questions than conversions
As positive as that about-face is, inquiries are just that. A potential guest who calls or submits a question about a property isn't guaranteed to commit to booking it. True recovery needs more than inquiries; it needs inquiries that convert to confirmed bookings. So far, we're getting more questions than conversions from potential guests.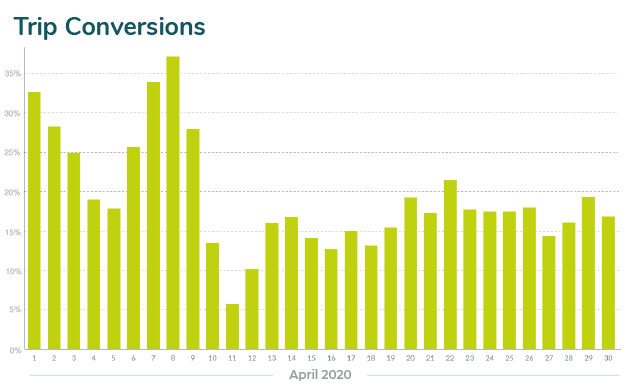 Historically, a healthy conversion rate is above 20% of inquiries for Evolve (at least one out of five inquiries books a stay). The conversion rate at the end of April of 2020 was averaging below 15%. The feedback from our Travel Advisor team fielding the spike in inquiries is that potential guests have a lot of questions about flexibility for cancellations, cleanliness in our homes, and how to find the lowest rates.
So it looks like the demand for travel is growing, but people are understandably being more cautious in planning. The unpredictability of travel and/or short term rental restrictions means guests want reassurances about cancellation policies. Lingering questions about virus transmission means guests want information about cleanliness. And rates are always a year-round concern.
Our team is working very hard to answer every question, build confidence in our homes and cleaning standards, and convert more inquiries into stays when appropriate.
Bookings go bigger, but cancellations continue
Similarly, the second half of April was a reversal from the previous weeks for gross bookings. In early April, gross bookings were continuing at the low levels from March, with April 4 as the low point for booking volume for the month.
Sure enough, the second week of April was the turning point. Gross bookings steadily increased starting on April 13 and continued throughout the month, ballooning 432% from the low on April 4 to the high on April 29. Even better, during the last few days of April, gross bookings were actually up by about 30% on a year-over-year basis.
While this is good news, the total gross booking volume for the full month of April is still well below what it was last year. The increase in new bookings is a great start, but we likely won't see "normal" occupancy rates until cancellations return to historical levels.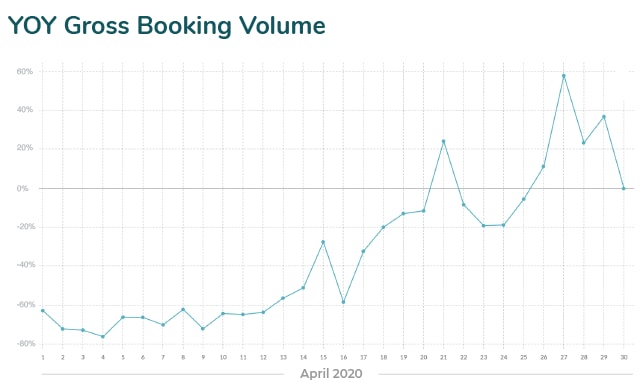 The trend of cancellations in April is less surprising.
Cancellation volume was still extremely high in the beginning of April. Not only was April 2 our lowest point for guest inquiries; it was our highest cancellation volume for the month. Not a healthy or sustainable combination. Fortunately, it didn't last.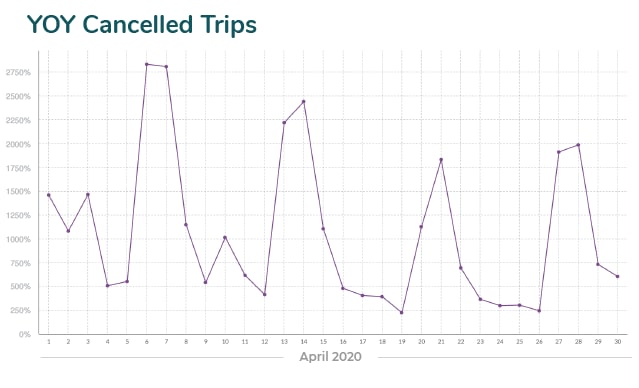 You can see that by month's end, cancellation volume had eased up to less than half of the early high point. The easing of some stay-at-home orders nationwide and more clarity on those orders that remained seem to have been a factor, making more guests comfortable that they could leave their plans in place.
There's also a general consensus in the travel industry that road trips and private accommodations will be the near-term future of vacations — a good sign for vacation rental owners.
So we're not out of the woods yet. Cancellation rates are still well above normal as travel bans and event cancellations continue to impact plans. For example, Florida made the baffling decision to extend restrictions on short-term rentals "indefinitely" while allowing hotels to open. As long as uncertainty like that exists, cancellations will remain elevated. But the numbers are improving.
What's next? How Evolve is taking action
As always, Evolve's main goal for owners is to position them for success. We're starting to see positive signs that our focus on offering only fully-equipped, private vacation homes might speed recovery for our owners in the second half of the year. Here are some of the ways we're helping:
With a spike in last-minute demand, we're asking owners to opt-in to next day bookings (where allowed and appropriate). This policy change has been an instant success, already delivering incremental bookings to create a new source of revenue.
Florida ended the month extending their ban on short-term rentals "indefinitely" while allowing hotels to remain open. We're working with our owners and partners to encourage Governor DiSantis to reconsider this unfairly extended ban.
We continue to use our proprietary SmartRates technology to monitor and instantly adjust to ever-changing circumstances in any given area. As demand returns, owners should begin to notice a steady increase in their nightly rates.
All in all, it's a tale of two Aprils. We're glad that some recovery has begun and that heaviness of March has lifted. Everyone at Evolve is still working every day from their homes to do the most for our owners and guests. So it's nice to see some positive trends.
If you're an existing Evolve owner, rest easy knowing that we're proactively working on your behalf to navigate this crisis successfully. If you're thinking about partnering with Evolve and have questions about this or any other aspect of managing your rental property, feel free to schedule a call with one of our Vacation Rental Advisors to learn more. There's no pressure at all and we genuinely want to help you if we can.
Stay well and let's take care of each other.
A guide to new standards of cleanliness — and confidence — needed right now
Since day one, Evolve Vacation Rental has required that all of the properties we manage meet four standards: safe, clean, as-advertised, and ready for guests. These days, the ongoing challenges of the COVID-19 outbreak make cleanliness and safety even more important. In fact, we need to raise our standards to create the right experiences for our guests. Our success depends on it.
No one is certain how the COVID-19 crisis will unfold. We do know, however, that the impulse to travel is strong and will return. When travel resumes, guests will likely have higher expectations. We believe that they'll see private homes as a reassuring choice for lodging — but they'll also want to know our homes are cleaner and safer than ever. It's up to all of us to make that happen.
We've asked our owners and cleaning partners to prioritize safety for every guest experience. Every guest who books an Evolve home should understand immediately that we're taking cleanliness very seriously and feel confident that they can count on our homes to be 100% ready for their arrival.
Learn and apply all local requirements for cleaning and safety
Whether you're a homeowner or a professional cleaning provider, it's important for you to understand what restrictions or guidelines are in place in your area. For example, cleaning staff may be required to wear a mask while working in the home.
As you know, rules and recommendations differ by area and are updated frequently, so there's no one correct answer nationwide. It's up to you to know the local guidelines, apply them correctly and consistently, and stay up to date on changes. As a foundation, please review this CDC guide to cleaning and disinfecting a home. Then check with your local government for specific guidelines in your rental area. Owners, be sure to consult with your cleaning partner to make sure everyone is on the same page.
Plan now for the return of travel and bookings
There's a lot of uncertainty about travel right now, making bookings more unpredictable. Combine that with the reported shortages and longer delivery times of cleaning and safety products and you need to start planning now for later bookings.
Take inventory now so you can replace supplies as needed before bookings bounce back. If you're a cleaning business, think about if and when you want to add new homes to your roster; that may mean more supplies. Most of all, be sure everyone understands the difference between disinfecting and sanitizing chemicals.
Again, there's no one-size-fits-all recommendation for cleaning products. However, this list of disinfectants from the EPA and frequently asked questions about disinfectants are a good place to start. Your local suppliers may also have recommendations for you. Be sure that everyone cleaning a home understands:
The instructions for use on the label of the product
Any precautions needed for safe use and application
How long product needs to stay on surface for effective disinfection (dwell time)
Any potential cross contamination with other chemicals
Perform "deep disinfections" prior to every arrival
Every rental property needs a "deep disinfection" before (and between) welcoming guests. This is the most important of our standards to raise for the duration of the COVID-19 situation.
Our recommendation is that any deep disinfection be performed by professionals with the training and proper supplies for the task (owners likely do not have). Here are some things to keep in mind during any cleaning.
High-touch surfaces
Be sure to disinfect all areas likely to have been touched, including (but not limited to):
All handles: doors, cabinets, closets, windows, faucets, etc.
Any railings: stair railings, decks, etc.
Switches and buttons: lights, remote control, front door lock keypad, garage door opener, etc.
Frequently used appliances: microwave, TV, coffee maker, washing machine, etc.
Frequently used kitchen items, including supplies under the sink
Arms of chairs, sofas, and outside seating
Toys, puzzles, playing cards, etc.
Dishes and flatware
Clean all dishes and flatware (not just what was previously used) after every checkout and be sure to use any available sanitizing setting when using the dishwasher.
Bedding, blankets and pillows
Special care should be taken with bedding, linens, and other soft materials, such as:
Make sure all pillows on beds have pillow protectors
Use duvet and duvet covers or triple sheeting rather than a plain blanket on top of beds
Wash all blankets and comforters after every checkout; use commercial laundry or appropriate strength chemicals for home laundry
Eliminate all extra pillows and blankets around the home
Place extra sheets and/or blankets in a plastic zipper bag with a plastic tie so cleaners know they're already clean and are ready for use
Prioritize safety for the housekeeping team
Safety is not only for guests — it's for everyone involved in the guest experience. Make sure housekeeping teams understand that this higher standard of cleanliness is the "new normal" and that sessions may take longer, may involve personal protective equipment (PPE) like masks, and methods may change over time. It's for everyone's well-being.
Obviously, the minimum is that all cleaning team members should be trained in proper hand washing and anyone who shows symptoms of COVID-19 should not work. But Evolve standards are not about minimums; they're about professionalism. Owners, make sure your cleaning partners:
Provide cleaning teams with necessary PPE, up-to-date training on products and methods, and proper disposal
Open windows for ventilation while cleaning
Make sure cleaning team is maintaining physical distance inside the property
Do not enter a home if guests are still in-residence and distancing is not possible
Our guests are counting on us
If you're an existing Evolve homeowner or service partner, we'll be there with you, answering questions from interested travelers, coordinating check-ins, and making things right for our guests if anything is off. We're also doing all we can to minimize the COVID-related impact on your bookings and business. But none of it will matter without our owners and partners taking our core standards—safe, clean, as-advertised and ready for guests—more seriously than ever.
Thank you and stay well.

When you visit Hawaii's Big Island, you can stand at the base of waterfalls that tower above you. You can drink it all in as you walk the shoreline on beaches lapped by milky blue water. And when you're ready to wind down, you can look up into a sky of more stars than you've ever seen.
The Kona Coast is the drier side of the Big Island, made for serene beach days. Find a vacation home here and spend mornings sipping Kona coffee and evenings looking out over the shore. Here's how to make the most of your time in this tropical paradise.
Find Deep Relaxation on the Kona Coast's Beaches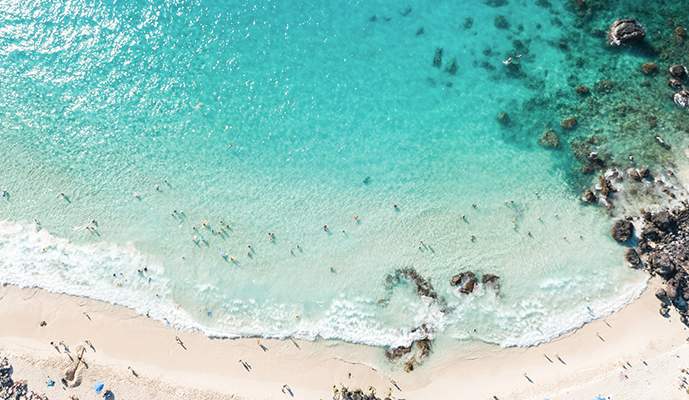 Kona Coast is home to some of the most famous beaches in the world — from accessible white-sand beaches, to remote hideaways near lava fields that can only be reached with a winding drive. You can experience a unique coast made up of black sand at Punalu'u Beach. Beaches such as Kika'ua Point, located on a still lagoon, are great for families, while others, such as Kuki'o Beach, are home to resident sea turtles. Kua Bay Beach, also known as Manini'owali Beach, offers some of the most breathtaking white sands. Whichever Kona beach you choose, don't miss the sunset — this is the best part of the day to sit in the sand and take in the views.
Play in Perfect Waters Along the Kona Coast
Snorkeling in the Kona Coast is a good excuse to dip into the ocean and peer below its surface. Watch colorful fish dance at your feet at Kealakekua Bay, an underwater marine sanctuary known as one of the best places to go snorkeling in the islands. You can also see a monument to Captain Cook, who died here in 1779. The best snorkeling spots in the bay can be hard to reach unless you want to hike, kayak, or join a snorkeling tour. Honaunau Bay and Kahaluʻu Bay also offer exceptional snorkeling. Needless to say, the Kona Coast is a diver's paradise as well.
You can choose to either snorkel or dive for one of the Kona Coast's most iconic experiences: manta ray night dives. The manta rays, whose wingspans can reach up to 20 feet or more, are attracted to the light from divers' flashlights, and you can join them for a swim.
This side of the island is more protected from trade winds, which makes for calm waters, ideal for kayaking. It's a great way to go where bigger boats can't and experience the beauty of the Kona Coast up close, from black lava fields to quiet coves, pristine beaches, colorful coral reefs and green cliffs plunging into the ocean.
If you'd rather have someone else drive, a variety of boat tours are available, from whale-watching to deep-sea fishing, parasailing, and more.
Explore Kona's Rainbow Falls and Beyond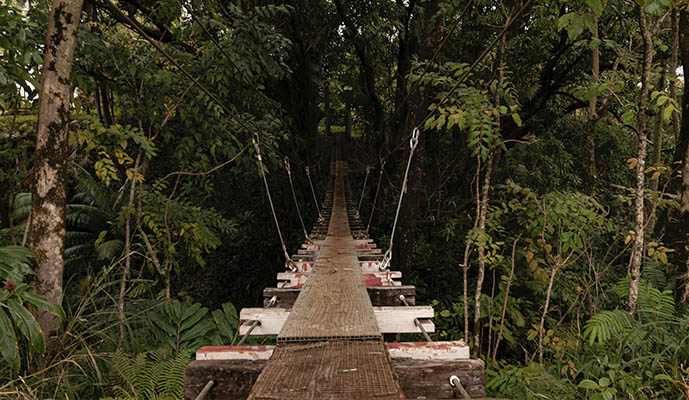 On the Big Island of Hawaii, waterfalls plummet down into crystal pools as rainbows reflect around them. You'll want to explore these natural wonders, but they are a bit of a drive as most of them are on the other side of the island (just under two hours away). Pack a lunch and make your way to Rainbow Falls, which is just a five minute drive from downtown Hilo. Akaka Falls State Park also makes for an incredible photo opp — be sure to snap this dramatic water feature from all angles. If you're feeling up to the adventure, find an adrenaline rush as you soar over a 250-foot waterfall on a Skyline Hawaii Adventure.
Embark on a Volcanic Adventure at Hawai'i Volcanoes National Park
The Big Island is home to the otherworldly Hawai'i Volcanoes National Park, which is a day trip from the Kona Coast. While there's not currently a lava flow, there's still so much to see at the park, including a cave-like lava tube you can walk in called Thurston Lava Tube. For a sweeping overview of the park, hop in the car and take Crater Rim Drive, with plenty of scenic stops along the way. When you're in need of a break, taste wine inspired by your surroundings at Volcano Winery.
Drink Kona Coffee from the Source
Find new appreciation for your morning cup when you visit a Kona coffee plantation like Heavenly Hawaiian, where vibrant red coffee cherries line the lush green valley. Take a tour to pick up insights on the drying, processing, and roasting process. Then, enjoy a cup overlooking the scenery and feel the even, calm buzz this smooth brew brings. You'll come out of your afternoon with new expertise on how coffee is made, and hopefully a few bags to bring home — the showrooms sell bags of coffee varieties and local snacks like macadamia nuts.
Stargaze at the Mauna Kea Observatory
On the Big Island, you're an ocean away from light pollution, which makes for uninterrupted night skies. Make your way to the Mauna Kea Observatory, the highest point on the island. The Visitor's Information Center sits at 9,200 feet (below the summit of 14,000). You can park here, grab a snack, and let your eyes adjust to layers and layers of stars. Be sure to pay attention to the roads as you wind up the mountain — cows like to sit on the roads here at night.
Dive into Paradise with this Trip Planner
Whether you want to walk on a black sand beach, explore botanical gardens, or anything in between, you can find your own paradise on the Kona Coast. For more details on visiting, get The Hawaiian Islands Travel Planner.
The Mammoth Lakes area rests within the Eastern Sierras and is home to rich blue waters, famous skiing, and hikes that will leave you mesmerized. This outdoor paradise is the perfect trip any time of year — summer brings luxurious days on the lake, and winters are the chance to coast down postcard-worthy slopes.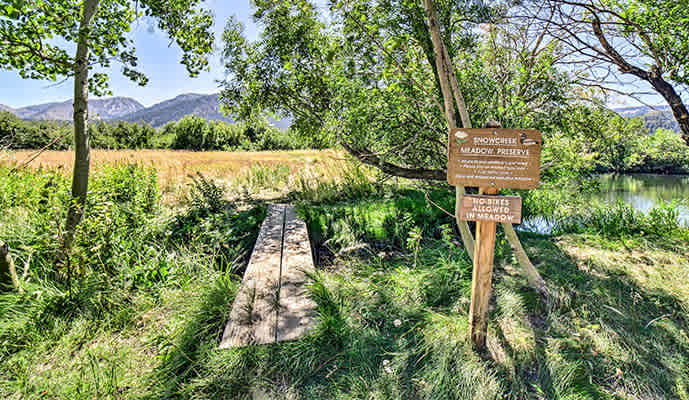 A vacation rental can provide a comfortable home away from home in the Mammoth Lakes area. Here are a few tips for making the most of your stay.
Find Winter Adventure for the Whole Family at Mammoth Mountain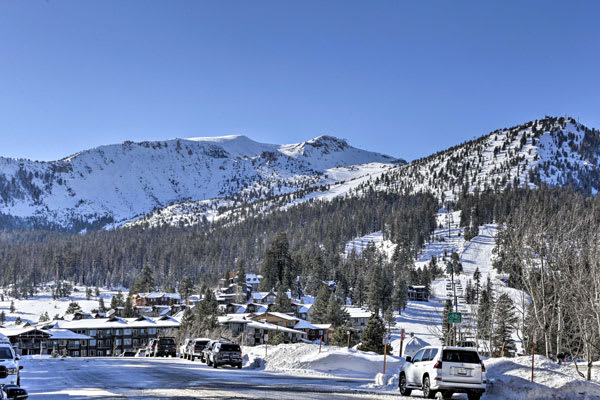 With a yearly average of more than 90 inches of snow, Mammoth Lakes turns into a winter wonderland in the cold months. Mammoth Mountain Ski Resort is a mecca for skiers and snowboarders (with a dedicated snow tube park, too). You can also explore the backcountry by way of snowcat or snowmobile, or take in the crisp mountain air at a more leisurely pace from snowshoes or cross-country skis at Tamarack Cross Country Ski Center.
Journey to Rainbow Falls and Historic Ghost Towns
Evidence of Mammoth Lakes' geologic history can be witnessed at Devils Postpile National Monument, a unique collection of striking basalt columns created by an ancient lava flow that rises up to 60-feet tall. Within the monument, you can watch the San Joaquin River drop more than 100 feet to form the spectacular Rainbow Falls, where colorful rainbows rise from the mist.
With 60 square miles of saltwater, Mono Lake is another natural wonder. Striking limestone spires called tufas — built by calcium deposits from freshwater springs — climb up from the lake bed to tower above the surface of the water in otherworldly formations.
Bodie Ghost Town, a state historic park, makes for a quirky day trip into the weathered remains of the Old West. Bodie, which produced gold and silver from 1877 to 1888, had 10,000 residents at its peak. Today, it's the largest unrestored ghost town in the West, with mine tours and a visitor center.
One of the easiest and most iconic Mammoth Lakes sights is Minaret Vista. Two miles up from the Mammoth Mountain Adventure Center, you can view the sharp-edged spires of the Minarets, part of the Ritter Range.
Find Outdoor Adventure in the Mammoth Lakes Area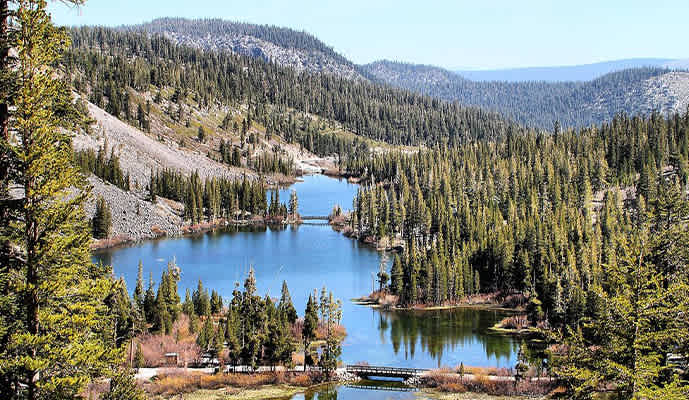 The Mammoth Lakes Basin is a sought-after summer mountain destination, complete with rugged peaks, sparkling glacier-carved lakes, and all kinds of recreation opportunities. Everything from camping and hiking, to fishing, swimming, and boating await you.
Hikers of all levels will find plenty of enticing trails throughout the Mammoth Lakes area, leading through terrain that ranges from alpine meadows to deep forest and awe-inspiring vistas. Backpackers seeking a serious challenge can delve deeper into the wilderness and test their mettle on networks such as the Pacific Crest Trail and John Muir Trail. The more approachable Convict Lake Loop offers breathtaking views of Convict Lake, an area that resembles a painting.
Once the snow melts, Mammoth Mountain becomes a different kind of outdoor playground. Enjoy bird's-eye views of the area's peaks and valleys from the gondola, which reaches more than 11,000 feet at the summit. Mountain bikers can take the lift up and fly back down the mountain's switchback trails.
Prefer four legs to two wheels? Horseback riding is also a popular pastime in Mammoth Lakes, including multi-day guided treks into the John Muir Wilderness.
Soak Your Bones in Mammoth's Hot Springs
The Mammoth Lakes area is a hotbed of geologic activity. A giant volcano exploded here around 760,000 years ago, creating an underwater reservoir of heated water that still bubbles up to the surface as hot springs. Some of these offer an opportunity to soak your cares away, including Benton Hot Springs, Travertine Hot Springs, and Keough's Hot Springs, established in 1919.
At Hot Creek, dozens of hot springs flow into a freshwater stream, creating a unique environment of mineral-rich pools within a rocky gorge. Although swimming is not allowed because of the volatile temperature changes of the water, you can walk along the creek's banks and enjoy the steamy setting.
The creek's rich waters create an environment where fish thrive, and Hot Creek is considered one of the best — and most scenic — catch-and release fly-fishing spots in the country.
Visit the Eastern Sierras Year-Round
Outdoor enthusiasts will find four seasons of fun at waiting in the stunning Mammoth Lakes area. For more details on vacationing here, get the Mammoth Lakes Visitor's Guide.
Gulf Shores, Alabama — and its neighbor, Orange Beach, Alabama — have always been hidden gems. But the word is getting out about the area's stunning beaches and multitude of ways to have seaside fun. Booking a vacation rental is a great way to experience all that Gulf Shores has to offer. Here are some tips for your stay.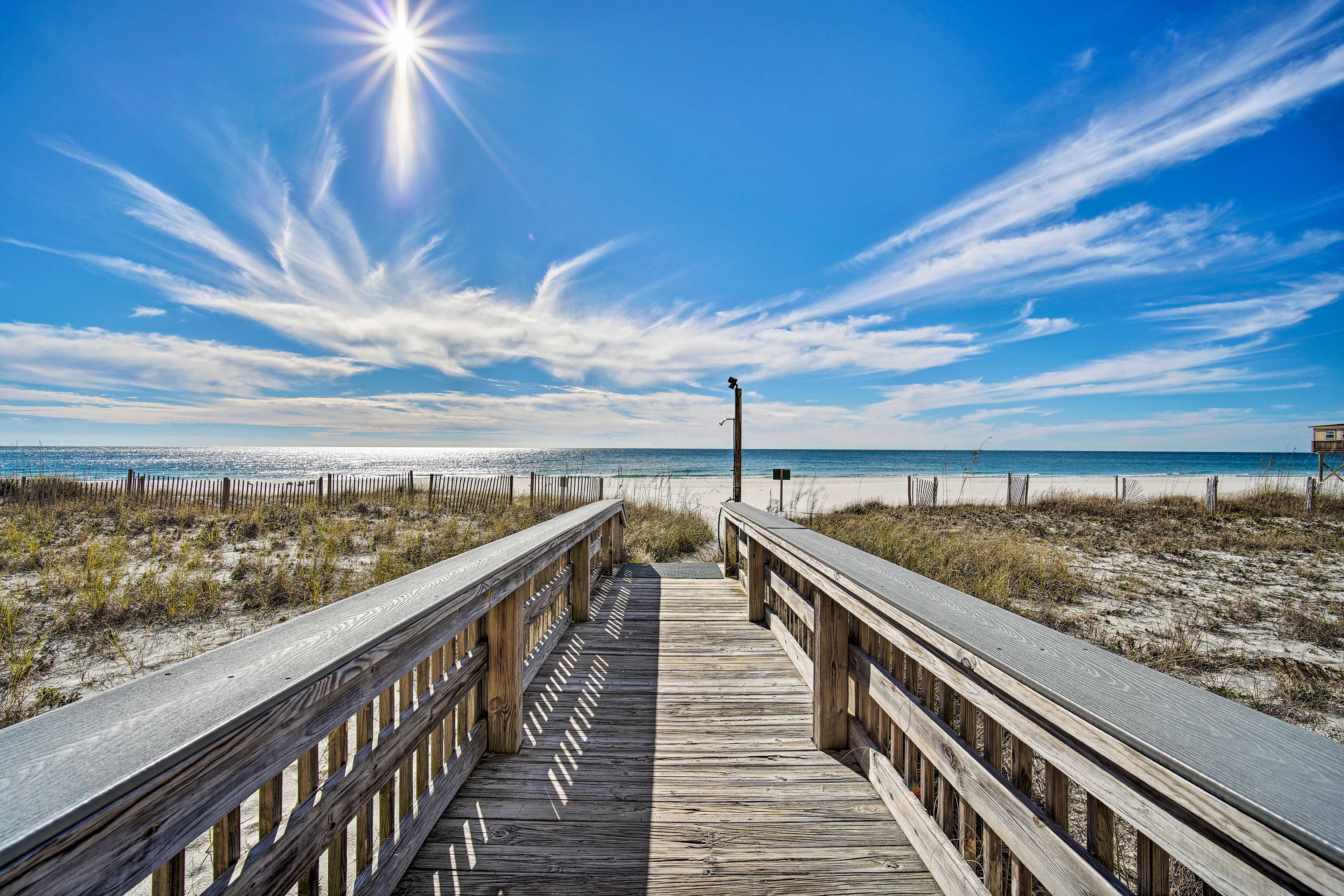 Lounge on the Beach at Gulf State Park
Beaches are the big draw in the Gulf Shores area — and they are spectacular here, with wide stretches of white quartz sand, soft as sugar. Whether you like a lively scene with all the amenities or a more secluded experience, you can find the beach for you among the 32 miles of sand. Gulf State Park and Gulf Shores Public Beach are both dreamy places to lay out and catch some rays.
Glide the Gulf of Mexico with Water Sports and Sunset Cruises
Experience the sparkling waters of the Gulf of Mexico by way of a boat that can take you into back bays and bayous. Companies like Cetacean Cruises offer sunset sailing tours of the coast — and even sunset dolphin cruises. If you're after more of an adrenaline rush, the Gulf Shores area is the prime place for some water sports, from above-surface fun like jet skiing or parasailing, to the chance to peer below the surface while diving or snorkeling.
Exploring the Gulf's Flora, Fauna, and Wildlife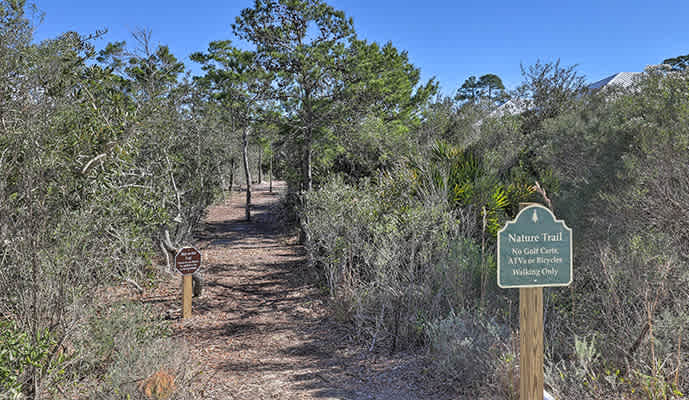 Gulf State Park is home to some of the area's best outdoor recreation, including hiking, fishing, biking, boating, and swimming. The park features two miles of beaches, a 1,540-foot-long public pier and restaurant, and access to the inland Lake Shelby. It's also home to Hugh S. Branyon Backcountry Trail, which leads hikers through nine different ecosystems over 28 miles.
The Gulf State Nature Center is a living museum of the region's native plants and animals that are native to the Gulf Coast region. The center offers a regular schedule of educational activities and programs.
Birding enthusiasts won't want to miss the Alabama Coastal Birding Trail, which offers the opportunity to see native species like the blue heron. The trail comes complete with signs that offer educational information on the birds and their habitat.
Go Angling and Deep Sea Fishing in the Gulf Shores
If fishing is your kind of fun, Gulf Shores is just the place for beginners and experts alike. You'll have plenty of options for angling, from deep-sea excursions to nighttime fishing and more — even bow fishing. Fishing in Gulf Shores includes the opportunity for a unique experience: Hook & Cook. You can have your captain fillet your fish for a small fee, then take it to a restaurant that will cook it for you just the way you like.
Experience Golf Courses Designed by the Greats
The Alabama coast's sunny weather makes it a prime spot for golf lovers — and the area offers 14 courses to choose from, each with its own character. Find the perfect course for you, whether that means a view of the surroundings or a course designed by greats such as Arnold Palmer, Jerry Pate, or Earl Stone. The popular Jim Edgemon-designed Kiva Dunes course, for example, is set in a resort that includes a pool and beach club on a private beach.
Go Out on the Gulf Shores with Local Nightlife
Fun in Gulf Shores doesn't end when the sun goes down. Get a taste of the Gulf with fresh local seafood at one of the area's many restaurants — and don't miss the chance to enjoy a sunset cocktail with a view of the water at The Flying Harpoon. Many bars — like the iconic Flora Bama — feature local live music, from Cajun to country. And every spring, the annual Hangout Music Festival brings big names like Foo Fighters and Lana Del Rey for three days of music on the beach.
Find Your Place in the Sun in the Gulf Shores Area
If you love the beach life, Gulf Shores is a getaway that's made for you. For more details on visiting Gulf Shores, get the latest Gulf Shores & Orange Beach Vacation Guide.
Step foot in Vail and you'll feel like you've been transported to a quaint Bavarian village nestled at the base of Colorado's Rocky Mountains. Walk the family-friendly streets here in the summer and listen to the crisp creek run through the town, or visit in the winter for famous ski slopes and a gondola ride through a snow-covered wonderland. Booking a Vail vacation rental is sure to make you feel even more cozy and at home during your visit. Here are some of our favorite things to do in Vail.
Soar Down the Hill at Vail Ski Resort and Beaver Creek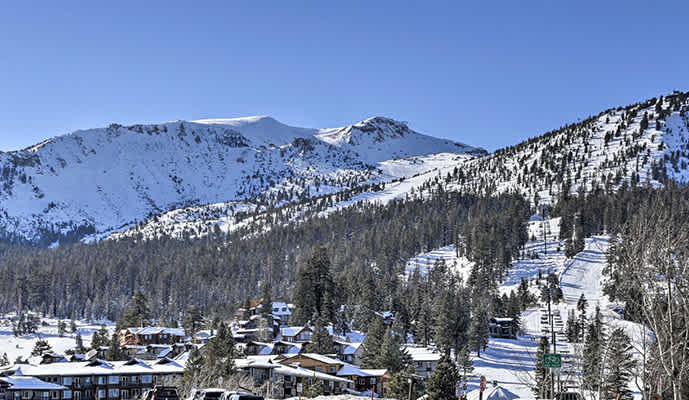 Vail is home to pristine skiing and 300 days of sunshine. Visitors come here from around the world to fly down mountains with an average of over 370 inches of snow per year. Vail Ski Resort is the heavyweight, with 5,289 skiable acres, while Beaver Creek Resort, with 1,800 acres, offers an accessible experience for all levels of skiers. Along with skiing, you find winter fun snowmobiling, cross-country skiing, snowshoeing, and even snow biking.
Find Your Outdoor Adventure in Vail
The Vail area lies within the White River National Forest in the Rocky Mountains — which means there are plenty of excellent hiking opportunities, from easy nature trails to multi-day backpacking excursions. Mountain trails lead you through deep forest and aspen meadows to roaring waterfalls, shimmering alpine lakes, and stunning views. Advanced hikers can make their way up Booth Falls Trail for picturesque waterfall views, and those newer to the climb can find easy and moderate trails right at Vail Mountain during the summer.
In the warmer months, you can climb a ropes course, ride an alpine roller coaster, fly down a zip line, or take a warm-weather tube ride down the mountain at Vail Mountain's Epic Discovery park. For a peaceful panorama of the area, ride Vail Mountain's Eagle Bahn Gondola and enjoy the Vail Valley from up high — which is especially breathtaking in the fall when the leaves turn. At the top of the mountain, the Nature Discovery Center offers guided hikes.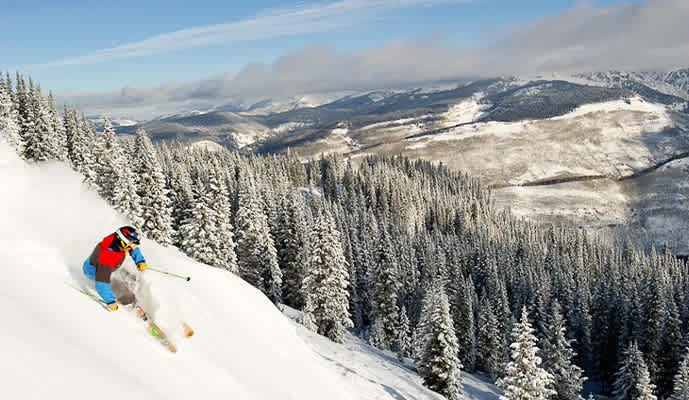 If you'd like to experience the scenery with some excitement thrown in, you can test your mettle on a mountain bike trail, plunge into rapids on a whitewater rafting trip on the Eagle, Arkansas or Colorado rivers, or go horseback riding (Vail Stables and Beaver Creek Stables both offer great options).
Vail-area rivers, creeks, and lakes also appeal to another group of adventurers — those who enjoy fishing. Fly-fishing guides can give the inside scoop for beginners and experts alike, or you can stop by a local fly shop to get tips.
Golfing enthusiasts will also find a unique experience in the Vail area. The high altitude makes balls fly farther, and the area's several golf courses offer beautiful views — and, often, the chance to spot local wildlife!
Go Out on the Town in Vail Village
While magnificent nature is a big draw in Vail, eating and drinking are also a quintessential part of the experience. Get a taste of Colorado in the area's many restaurants, which provide everything from quick skiing fuel to Michelin-starred fine dining establishments. Stop by Vintage Vail for a creative brunch fare like Huckleberry Bacon French Toast, or savor mulled wine, fondue, and unforgettable ambiance at Almresi.
When it comes to nightlife, après-ski is the name of the game in the winter, but Vail offers a lively and varied bar scene year round. You can also sip local microbrews like the Into the Wild Black IPA at Vail Brewing Company, or visit Vail's iconic 10th Mountain Whiskey Tasting Room to try some locally made spirits, including moonshine.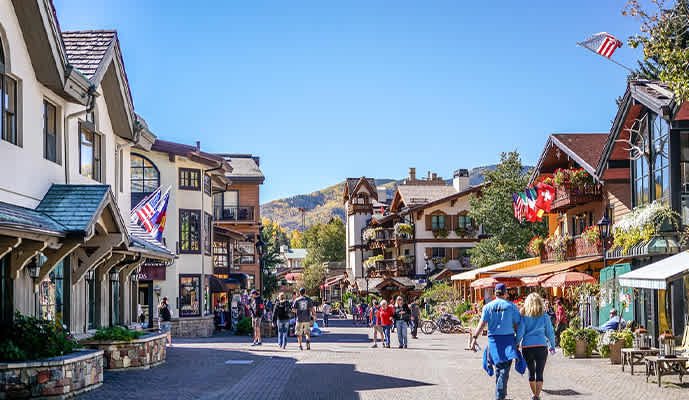 Become a Part of Vail's Rich History at a Festival
From Oktoberfest in the fall to alfresco concerts in the summer, Vail is home to several festivals and events every year. Well-known ones include the Vail Film Festival in the spring, the Gerald R. Ford Amphitheater's summer-long music series — featuring big-name acts such as Michael Franti — and the annual Burton U.S. Open Snowboarding Championships.
Experience Year-Round Magic in The Rocky Mountains
No matter when you plan to visit Vail, you're sure to be enchanted by its alpine charm and mountain views. For more ways to make the most of your trip, get the Visit Vail Valley Visitor's Guide.
Helping owners navigate an unprecedented month for vacation rentals
March was a seismic month for travel and lodging all over the world. With gratitude for those on the front lines of the COVID-19 health crisis and our condolences for anyone suffering from the virus, we're going to zoom in on the impact of COVID-19 on our corner of the world: the short-term rental industry. We'll share some data and observations to help you understand this moment.
What we once eyed from far away is now a very real part of everyday American life: coronavirus and COVID-19. And its effects on short-term rental businesses in particular have been swift and severe. In just one month–and a heavy travel month when you consider spring break–a majority of travel has been stopped voluntarily or through government action. Cancellations and changes have skyrocketed. New bookings have stalled. And most of it happened in the span of a few weeks.
Almost every company in the travel industry has been inundated with requests related to the COVID-19 situation and Evolve is no exception. Evolve has seen guest requests explode by roughly 1,200% of the typical volume. Still, our small but mighty team has already managed to support more than 50,000 requests in this condensed time period–all while working from their homes. We're not perfect by any stretch and every day we're trying to improve–but this at least illustrates the enormity of the task faced by any travel company trying to stay on top of COVID-19 related changes.
Let's look at the larger short-term rental travel trends we saw this month.
COVID-19 and short-term rental: March data and trends
The short story here is obvious: traveler demand has practically vanished. As more travel bans have been enacted and more travelers choose to stay at home, cancellations have spiked and future bookings have moved further out past May into the summer.
A mountain of guest requests
On March 12th, the number of new (unresolved) guest requests edged over the 5,000 mark and grew quickly over the next two weeks, peaking at close to 30,000 on March 25th. Throughout this time, Evolve has been processing requests around the clock and shifted more than 68 employees from their regular responsibilities to guest support. As a result, the number has been decreasing steadily since March 26th.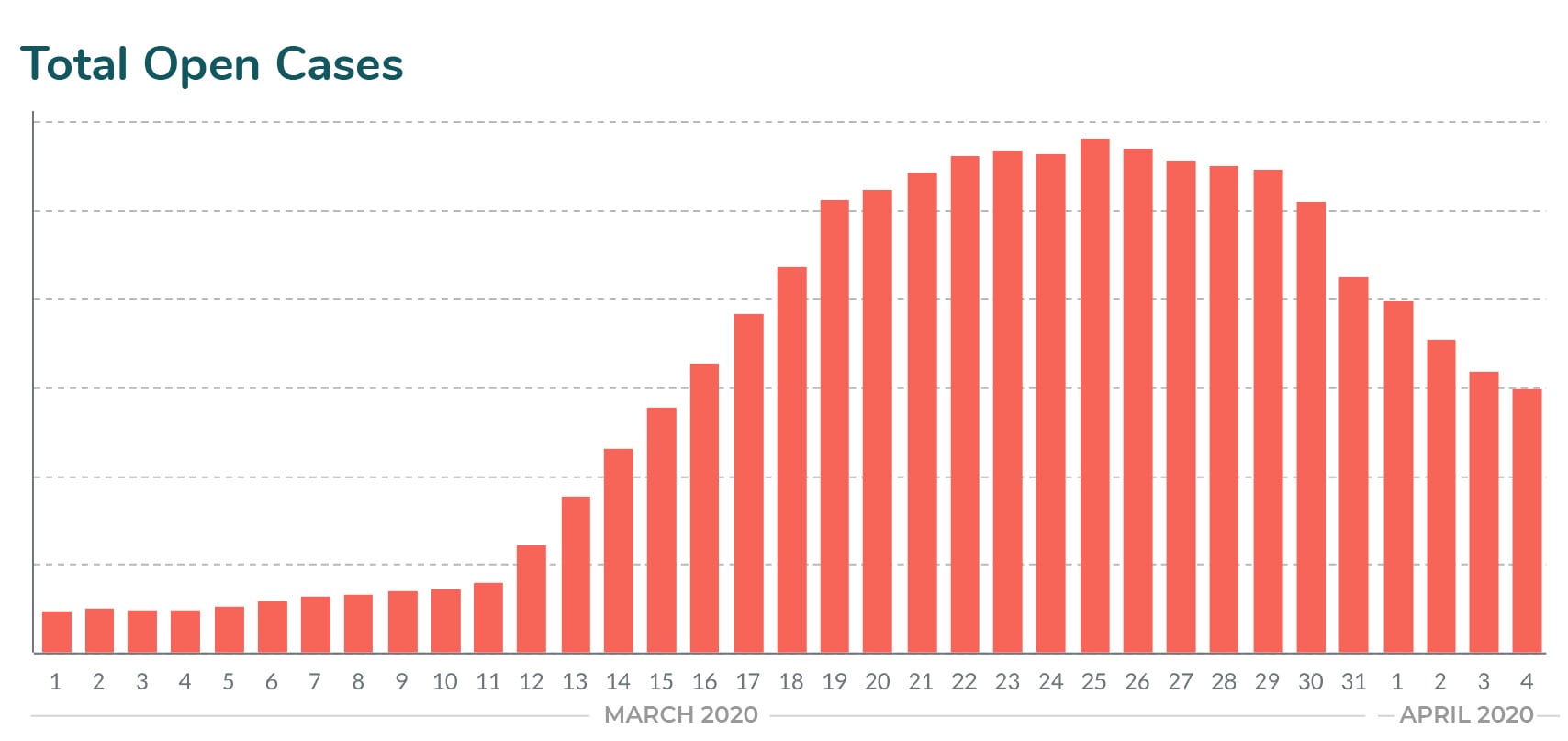 Bookings drop and cancellations spike
Once again, the second week in March was the tipping point for demand. You can see that gross bookings per day were already trending downward in the beginning of the month as fears about COVID-19 grew. Ultimately, gross booking volume in March plunged 83%.
Gross bookings stabilized a bit and have remained relatively consistent since about March 16th. Cancelled trips per day began spiking around March 11th and have continued to stay inflated throughout the last few weeks. Overall, cancellations rose 900% in just three weeks.
It's too soon to tell when we might return to "normal" levels but, for now, cancellations far outweigh the number of new trips being booked.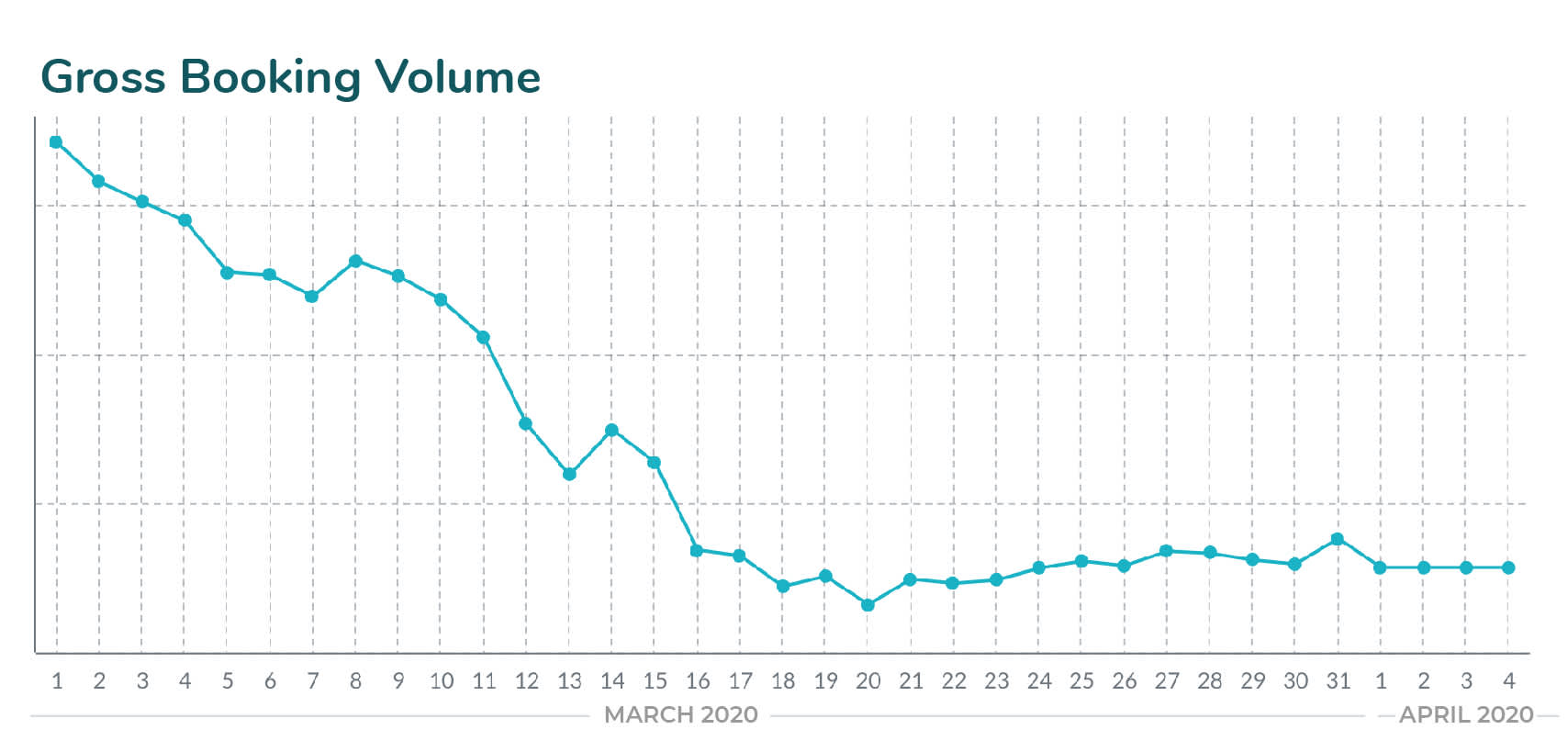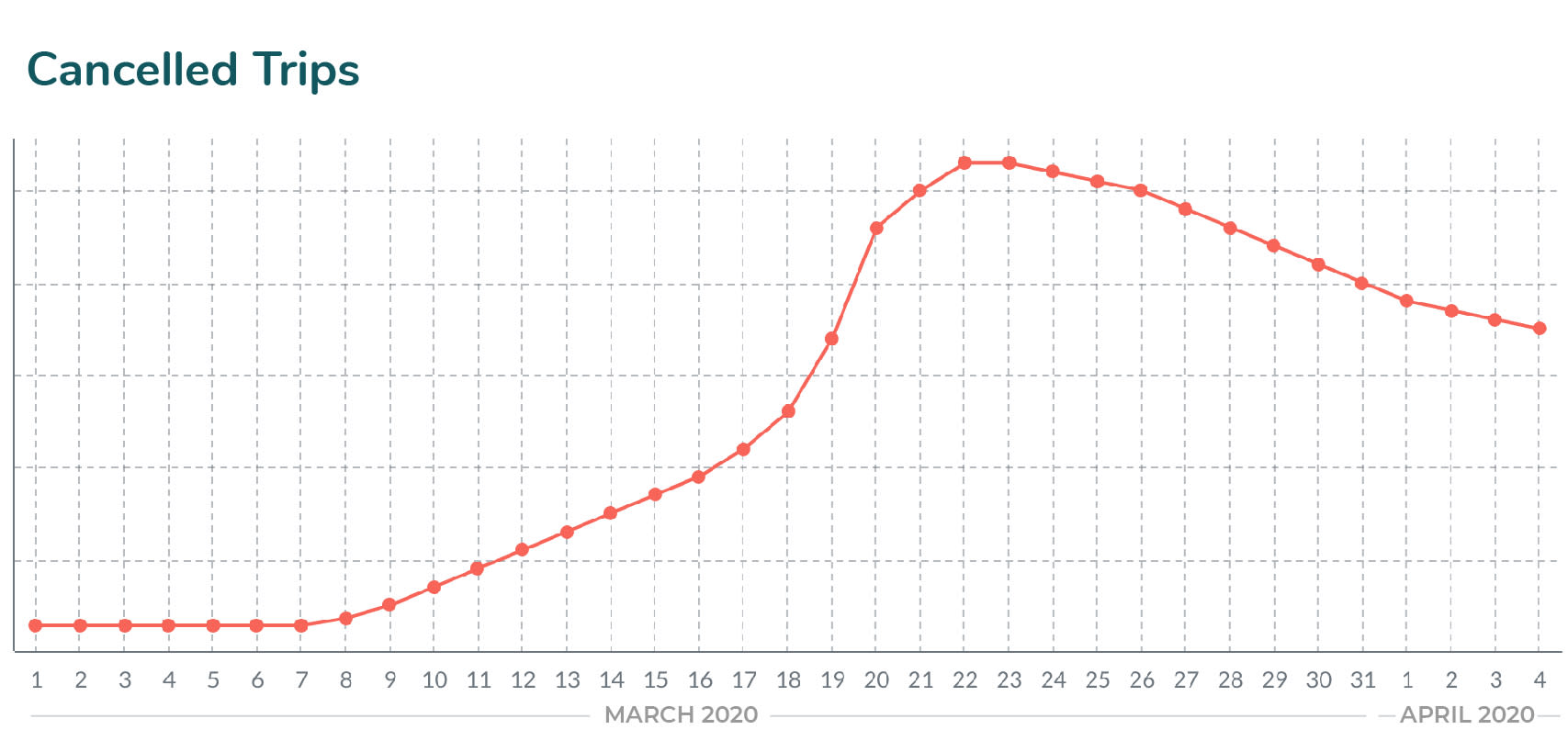 As you can see, March 2020 was anything but business as usual. That's no surprise but it happened so quickly that our guests, owners, and team members have been scrambling to understand the magnitude of the situation and react accordingly.
One big step Evolve took was relaxing our standard no-refund cancellation policy in favor of providing future travel credits to guests with near term check-ins. Our travel credit is applicable to more than 14,000 properties and gives guests two years to travel again. While we understand that many guests would prefer cash refunds, this is simply not a sustainable option for our homeowners, employees, or even our future guests who may need to cancel in the coming months. Ultimately, we believe travel credits offer the fairest solution for everyone involved.
Let's look at how else we're helping our owners adjust to the current environment
What's next? How Evolve is taking action
No one knows what comes next but Evolve's main goal for owners is to position them for success when the crisis passes and widespread travel returns. We believe the combination of pent-up travel demand and our focus on offering only fully-equipped, private vacation homes will make Evolve an even more appealing choice for guests in the second half of the year. Here are some of the tools in our toolbox:
We're using our proprietary SmartRates technology to monitor and instantly adjust to ever-changing circumstances in any given area. So far, we're seeing success lowering nightly rates about 15% over the next five months. We'll see what the future holds before changing rates more than five months out.
We're not only adjusting rates but also testing changes to policies like minimum stay requirements to increase bookings and attract long-term stays.
We're also reacting to rescheduled or cancelled events and shifting our strategy based on changes in dates or demand.
We're in constant contact with our distribution partners like Vrbo and Airbnb to make sure we stay aligned with their shifting strategies and keep our properties highly ranked on their platforms. We're being told we're already outperforming the broader market as we get ahead of changes and demand.
We're actively working with Airbnb on the behalf of our owners to understand how their $250M in support may be applied and allocated to bookings that qualify.
FYI: Owners of rental properties may have an opportunity to take advantage of the Economic Injury Disaster Loan (EIDL) which can provide up to $10,000 for "lost rents" due to COVID-19.
At the risk of making a massive understatement: it's a lot to take in. Every day, everyone at Evolve is working from their homes to do the most for our owners and guests. We've learned a lot already but we also know that we're not done. We truly believe we're on our way to becoming a better company and a better partner as a result of all this disruption.
If you're an existing Evolve owner, rest easy knowing that we're proactively working on your behalf to navigate this crisis successfully. If you're thinking about partnering with Evolve and have questions about this or any other aspect of managing your rental property, feel free to schedule a call with one of our Vacation Rental Advisors to learn more. There's no pressure at all and we genuinely want to help you if we can.
Stay well and let's take care of each other.
Helpful links for owners
We know this is a stressful time for anyone with a vacation rental. We've collected some links to information that might help owners understand the latest developments and will add more as we find them. We can't guarantee that all links will be 100% timely or accurate because things are changing practically every day, but we'll do our best.
Visit our COVID-19 Resources for Vacation Rental Owners blog post
Links to information and advice for vacation rental owners
The COVID-19 situation is constantly changing–and so is the vacation rental industry. While we've already learned a lot, there's still more to come. Luckily, lots of companies and organizations are chipping in to help us all make sense of the present and the future.
We've gathered some links to help vacation rental owners understand more about COVID-19 related policies, news, and advice. We can't guarantee that all links will be 100% timely or accurate because things are changing practically every day, but we'll do our best. Rest assured, if you're an Evolve owner, we're doing everything we can to help you succeed.
Check back regularly for updates on this broad collection of COVID-19 resources for vacation rental owners.
Economic Injury Disaster Loan (EIDL) Emergency Advance
This recently enacted loan program will provide up to $10,000 of economic relief to businesses that are currently experiencing temporary difficulties–and does not need to be repaid. Learn more about how this loan can make up for lost rental income.
Learn more and apply for Economic Injury Disaster Loan
Airbnb: $250M to support hosts impacted by cancellations
Learn more about Airbnb's extenuating circumstances policy and get answers to questions commonly asked by Airbnb hosts.
Learn more about Airbnb $250M to support hosts impacted by cancellations
Daily updates on Airbnb, Vrbo, and other refund and cancellation policies
Rental Scale Up offers a comprehensive list of current refund and cancellation policies for all major marketplaces, plus advice and best practices for owners.
Visit Rental Scale Up coronavirus update blog
The Reset: Resource hub for vacation rentals
"The Reset" is an archive of best practices from vacation rental leaders around the globe on how to survive the crisis. Get advice from vacation rental industry leaders updated hourly/daily.
Visit The Vacation Rental Reset website
Guesty COVID-19 Infocenter
Guides, articles, and other resources to help you navigate the crisis as a property management company.
Visit the Guesty COVID-19 Infocenter
Skift Research: The impact of COVID-19 on the online travel industry
This report considers how online travel is being impacted by the ongoing COVID-19 outbreak at both the industry and individual company level.