Real estate is an ever-popular — and largely safe — investment route.
While buyers have options around what type of investment property they'd like to own (long-term versus short-term rental is a common question second homeowners ask), recent traveler trends suggest investing in vacation rentals is the clear frontrunner for earning more income.
In the wake of the coronavirus pandemic, travelers are getting back on the road in staggering numbers. And 78 percent of the time, they're favoring vacation rentals over any other accommodations.
Experts also believe these new traveler preferences are here to stay, making short-term rental an impressive investment in the long run.
That said, breaking into the market might be a fleeting opportunity. With demand exploding, competition among investors is growing, too — and inventory is waning.
"You'll have to get in now or risk not getting in at all," says Louis Olds, Evolve's senior manager of Real Estate Services.
If you're still unsure about the opportunity, here are six major benefits to investing in vacation rentals that underscore exactly why it's your best option as a homebuyer.
1. Vacation Rental Creates Unmatched Income Potential
Not only is the vacation rental industry showing unprecedented income opportunity right now — Evolve homeowners, for example, are getting 23 percent more per night this summer than in seasons past — but it's also always boasted what our Real Estate Services (RES) experts consider a "high-reward profile."
Most investors look at cap rate — the ratio between a property's net income and its market value — as a key measure of success, because it indicates return on investment. Our RES team says long-term rental cap rates can hover around an average of 4 to 5 percent in metro markets (where investors are typically drawn), but short-term rental cap rates can frequently come in as high as 10 percent. (Or, in the case of hot markets like the Poconos, a whopping 14 percent.)
This means your ceiling for profitability is significantly higher when investing in vacation rentals than it is with other property options — opening up the chance for a whole lot more money to land in your pocket.
2. Market Opportunity Is Vast and Varied
While finding success in long-term rental generally requires a purchase near a major metro area, homeowners can find vacation rentals with major profit potential in virtually any market. (Evolve homeowners, for example, are successfully doing business in over 700 destinations across the U.S.)
And since vacationers' favorite travel locations are scattered in every corner from coast to coast, that means your scope of opportunity extends into more areas, wider price ranges, and bigger profit margins.
So whether you're interested in beachfront property, a ski rental, or a cozy cabin, you're absolutely spoiled for choice.
3. Owning Vacation Rental Property Offsets Homeowner Costs
Creating sizable revenue streams and growing an income property portfolio are the main investment goals for many second homeowners. But there's also massive value, particularly for first-timers, in offsetting homeowner expenses from the start.
From mortgage payments and utilities to insurance fees and maintenance costs, solid rental income can cover monthly expenses and help your home pay for itself in a shorter time frame. Vacation rental owners are also eligible for certain tax deductions, which could help close the gap between income and expenses.
Bonus benefit: partnering with a vacation rental management company that has especially low fees (ahem, hi there) helps homeowners break even and start earning profit faster, because you'll streamline the process and gain access to professional resources at a fraction of the cost.
4. Five-Star Hospitality Drives Even More Revenue
The best part about investing in vacation rentals is that great guest feedback makes your home more lucrative over time.
When new listings hit the marketplaces, they have to compete with established competitors for visibility and bookings. But the more five-star experiences you deliver, the more sites like Airbnb and Vrbo will show your property to browsing travelers — making it more likely you'll earn additional income.
Second-to-none hospitality standards also allow you to raise your nightly rates, increasing your profit margins on any given stay as you establish the value and superiority of your vacation rental.
5. Your Investment Property Can Serve Dual Purposes
Unlike long-term rental investments, a vacation rental is a place where you, the homeowner, can also escape. It gives you the luxury of carving out time to spend with family and friends, or to switch up your work-from-home space.
In other words, you earn rental income to boost profits when you're not there, but then save money when you'd like a change of scenery or time off.
6. Your Home Appreciates in Value
As with all good real estate investments, you can expect your vacation rental's market value to appreciate over time. So if and when you become ready to sell, you'd likely earn more than the previous owners did when you purchased it.
Take the Next Step Toward Investing in Vacation Rental
Getting started might feel like a big undertaking. From how much you can afford to what style and location of home you're after, there are a number of questions to answer.
And once you've actually closed on a home, there are a ton of components to vacation rental management you'll need to start thinking about for long-term success.
That's why we've put together a ton of resources to help you achieve your investment goals:
• Peek at our list of 2021's best places to buy and our Vacation Rental Performance Reports to zero in on exactly which market is best for you.

• Explore our listings for sale page to get a head start and purchase a vacation rental that's already proven to be successful.

• Use our vacation rental income calculator to understand all your income and expense variables, and confidently estimate your property's success. 
But above all else, remember that our team of real estate service experts is here to guide you. If you have questions about investing in vacation rentals or want to learn more about the process, our consultative approach can help you get the ball rolling with ease.
We'll partner with you on defining your personal and financial goals, and take the stressful parts of the process off your plate — like choosing the right market and local real estate agent — so you can move right into a thriving vacation rental business.
When you're first starting out as a vacation rental owner, there's one big question: how much money can I expect to make?
Short-term rental properties can give second homeowners solid revenue returns, and are often more profitable than long-term rentals. But that additional income doesn't come without costs. From taxes and insurance to cleaning and management fees, it's important to factor a number of expenses into your income calculations to help paint an accurate picture of your home's profit potential.
That's where our vacation rental income calculator comes in. Simply plug in your monthly revenue and expenses below, then sit back as our tool automatically churns out an annual income estimate — all factors considered.
Not sure where to pull all those numbers? Take a peek below our tool to understand your income and expense variables in more detail, and check out our bonus resources that can help you make confident estimates.
Your Income Variables, Explained
The first step in accurately predicting income? Defining each term properly. Here's a quick-reference glossary of what each variable used in our vacation rental income calculator means.
Nightly Rate
Avg rate you expect to charge/night
Nights Booked
Avg # of nights you expect to book/month
Mortgage
Your monthly mortgage payment
Utilities
Monthly costs for heat/hot water, electricity/AC, wifi & cable
Insurance & Property Taxes
Monthly costs for homeowners insurance, liability insurance & property protection plan + your state's property tax rate

Other Expenses
Monthly sum of HOA & maintenance costs + avg cost of stocking/upgrading your short-term rental
Management Costs
Monthly % of income set aside for management/marketing fees (dependent on how you choose to run your property)
Understanding Income and Expenses
Let's be real: calculating an accurate income for your investment property can be confusing. Certain elements — like mortgage and utility payments — have fairly standard numerical values you can enter into the calculator without much math. But other components require more contextual consideration, so let's walk through each step of the process in more detail.
Step 1: Calculating Monthly Revenue
To accurately estimate nightly rate and expected nights booked, it's important to understand the current market in your area.
The good news: we've analyzed thousands of listings across North America to aggregate the most influential performance metrics for you. From nightly rate and nights booked to average lengths of stay and prime booking windows throughout the year, all of the results can be found in our library of Vacation Rental Performance Reports. Each gives you a data-backed gauge of how direct competition performs — and, in turn, how much you can expect to charge and book.
You can pull the nightly rate and nights booked averages from those performance reports, then plug them into the vacation rental income calculator above to provide a solid foundation for estimating monthly income (and, ultimately, overall revenue).
But homeowners who work with Evolve also get the benefit of our proprietary SmartRates algorithm. It adjusts dynamically each night to guarantee your home always paces alongside rival listings — and outperforms in the long run. Case in point: SmartRates has earned our homeowners 24 percent more than traditionally-static pricing methods!
Step 2: Calculating Monthly Expenses
From taxes to marketing fees, your expense estimate relies heavily on custom quotes and individual choices.
First, add up the monthly costs of your different types of insurance — like homeowners insurance, liability insurance, and a property protection plan. (Fun fact: our Evolve homeowners are automatically covered for up to $3,000 in damages and $1,000,000 in liability at no additional expense.)
Then comes property taxes. How they're applied varies by state, so be aware of your particular municipal requirements. If you're not sure, you can plug your rental property's address into this complimentary tool to receive the right rate.
Once you have an estimate for both, combine the numbers and enter the sum into our vacation rental income calculator.
Next, input your monthly mortgage payment and utilities.
To incorporate what we've deemed other expenses, first combine monthly HOA and maintenance costs, cleaning fees, and the average expense of keeping your short-term rental well-stocked for guests.
If you need to make furniture or decor upgrades, put a price to those overarching updates and divide by 12 before adding to your total monthly view of those additional expenses.
Finally, there are management costs to consider. This figure will look different depending on how you choose to run your vacation rental.
If you run a vacation rental without any help:
Select the "I plan to manage my property on my own" option in our vacation rental income calculator
Add up the varying percentage costs of the marketing fees for the marketplaces you plan to use (listed below)
Move the marketing fee slider to match the sum of those percentage fees
If you use a property manager:
Select the "I plan to hire a manager" option in our vacation rental income calculator
Slide the bar to account for an average 30-50 percent fee
If you use Evolve as your property manager (P.S. we list your home on all the top short-term rental marketplaces at no additional cost):
Select the "I plan to hire a manger" option in our vacation rental income calculator
Slide the bar to our industry-low 10 percent fee
Maximize Your Income Potential with Evolve
Between the steep fees of traditional property managers and the overwhelming responsibility of a DIY approach, it's hard to strike a cost-benefit balance that guarantees your success. At least, it was until Evolve came into the picture.

For the lowest management fees around, we'll apply a data-proven marketing and booking strategy to your vacation rental, boosting your revenue potential while keeping costs (and stress levels) down. It's how we've helped over 14,000 homeowners earn more than $1 billion in rental income — and we're ready to help you.

See if you qualify or call one of our Vacation Rental Advisors today at 877.881.7584.
Imagine: after a long travel day, a guest arrives at your vacation rental and — ugh — spots a glass in the sink, an unswept floor, or even a ruffled bedspread. It's enough to make them wonder: is the place just a bit messy, or are the cleanliness standards at this home not quite up to their expectations?
As a vacation rental owner, a situation like this could be the difference between a five-star review and a two- or three-star rating. And the stakes are even higher amidst a global pandemic. Safety precautions and total sanitation are critical as travelers want to responsibly escape reality. Which means guests won't — and shouldn't — look past cleaning snafus.
To make sure your vacation rental is totally spotless and giving off those safe-and-comfy vibes, download our three easy-to-use vacation rental cleaning checklists. Available in both English and Spanish, they'll make your pre- and post-guest cleaning routine comprehensive and foolproof.
Download Our Vacation Rental Cleaning Checklists
Why Are Vacation Rental Cleaning Checklists Important?
When establishing best practices for your vacation rental management, adding organization to processes helps standardize them. With codified documentation, you'll spend less time handling mishaps and more time nurturing (and scaling) your business.
With a vacation rental cleaning checklist in hand, you'll:
1. Eliminate Guesswork and Human Error
Even when a cleaning routine is tried and true, it's natural to overlook a step in the process — or think you've done something you haven't.
With checklists, you effectively eliminate (or at least drastically reduce) that risk. Having your cleaners initial each box as they go is a super easy way to ensure the service is as thorough as intended.
2. Set Expectations for Your Maintenance Team
When you onboard cleaning services, it's important to outline expectations from the jump. Providing comprehensive cleaning checklists helps teams not only navigate the areas of your home that obviously need attention, but also tackle tasks that may be less obvious to the naked eye (like, say, sanitizing surfaces and handles).
Certain cleaning services may also have different people coming through your home between each guest visit. Requiring every team to fill out the same checklists mitigates discrepancies, so you can rest easy knowing consistent standards are applied every time. (Just remember to get those completed checklists back for recordkeeping.)
3. Collect the Reviews You Deserve
Guests pay a professional cleaning fee when they book your property, so they're expecting an impeccable home that looks just like the pictures online.
By utilizing cleaning checklists, you make the turnover process between bookings seamless. This helps avoid unpleasant phone calls or complaints while giving guests peace of mind that their health, safety, and comfort is top of mind.
Plus, if you do receive concerns from guests, you'll have a record of everything your cleaning services covered before their stay.
All of this makes for a happy guest. Happy guests write great reviews, and great reviews mean more trust-backed bookings.
Find a Better Way Forward With Evolve
Evolve believes maintaining your vacation rental should be as easy as checking a few boxes. Download our cleaning checklists today (available in English and Spanish), which include additional pre- and post-stay checklists for an even more robust set of processes.
And don't forget, we're here to support you in more ways than one. Our fresh approach to vacation rental management gives you total marketing, booking, and customer support across popular websites like Airbnb, Vrbo, and Booking.com.
We'll also connect you with trusted cleaning and support partners, so you can decide who to work with to create the Home Team of your dreams.
It's our job to drive more guests to your property for maximum income, so you can focus on providing an incredible guest experience — all for an industry-low 10% management fee.
We've helped 14,000+ homeowners earn more than $1 billion in rental income. And we'd love to help you.
See if you qualify or call one of our Vacation Rental Advisors today at 877.881.7584.
Digital nomads, rejoice: Work and play no longer have to be separate. While you're still remote, get some fresh air without using all of your vacation days. Switching up your routine a little can inspire new thinking and deepen your focus — all while you enjoy all the luxuries of vacation on your off-time.
Ready to get out of the house? Pick one of these places based on how you like to feel at work and change up the scenery.
Bust Stress: Vacation Rentals With A Pool
Make your co-workers jealous by joining the company meeting poolside. Lounge in the sun while you knock projects off your list, then enjoy a crisp plunge in the water. Bonus: all of our homes are vetted in person, which means these pools are as good as they look.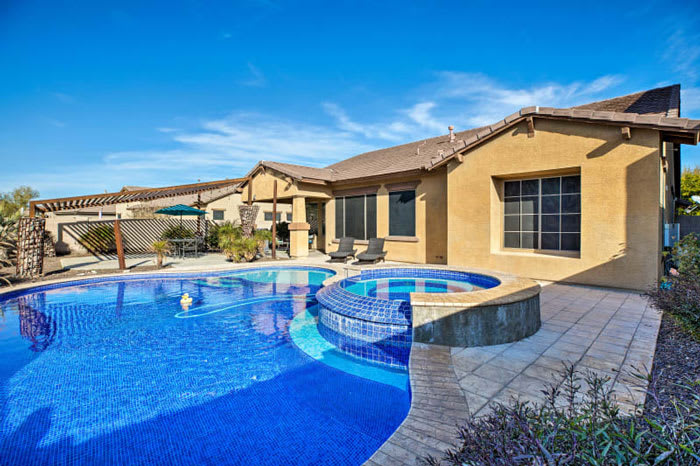 Private Swimmer's Paradise in Goodyear, AZ
Soak in the desert sun from this Goodyear home with a resort-style hot tub and pool combo. Work on your tan while you work from the sprawling patio, complete with a fully shaded outdoor area. The interior's open layout and farmhouse furnishings are so beautiful that you'll want to stay in and make meals at home — but when you're ready to get out, grab ice cream at The Frozen Monkey and take a stroll around South Lake Park.
Palatial Luxury Home In Homestead, FL
If you're feeling fancy, this Florida short-term rental is like stepping into a palace you can call your own. Here, 6,500 square feet of space is yours — meaning you can find a new place to work remotely every day. Sit al fresco in the expansive outdoor cabana or lounge by the palm-tree lined pool worthy of a magazine shoot. On weekends, day trip to the Florida Keys or take it easy with a bottle of local wine from Schnebly Winery.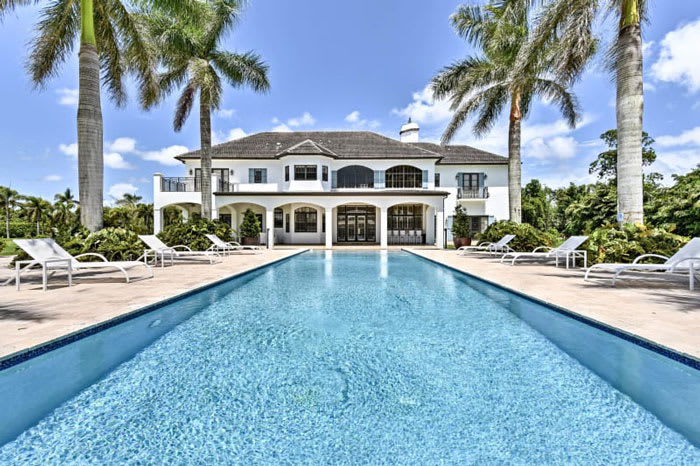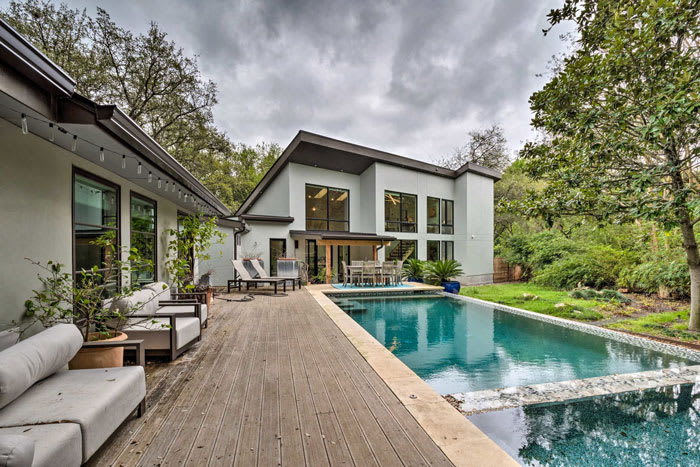 Modern Poolside Oasis In Austin, TX
The moment you set your bag down, the cerulean waters of this backyard pool will invite you to take a dip. Catch up with your group beneath the pergola, then swim laps in this sophisticated marvel as the sun goes down. Enormous windows let the light in here and make it feel like you're by the pool, even when you're hard at work inside. When you need to get out, experience the big city feeling by taking a walk through downtown Austin.
Honorable Mentions: Enjoy views of your own private lake and private pool at this luxurious vacation rental in Norman, OK, visit this meticulously decorated home with its own mini golf putting green and awe-inspiring pool in the Coachella Valley, or swim by day, stream movies in the home theater by night from this Pigeon Forge vacation rental.
Get Energized: Vacation Rentals With A Gym
Exercise helps mental health and increases productivity — and companies are encouraging their teams to work out more than ever. These vacation rentals are perfect for a getaway that blends work-life balance, with a home gym to break up your day.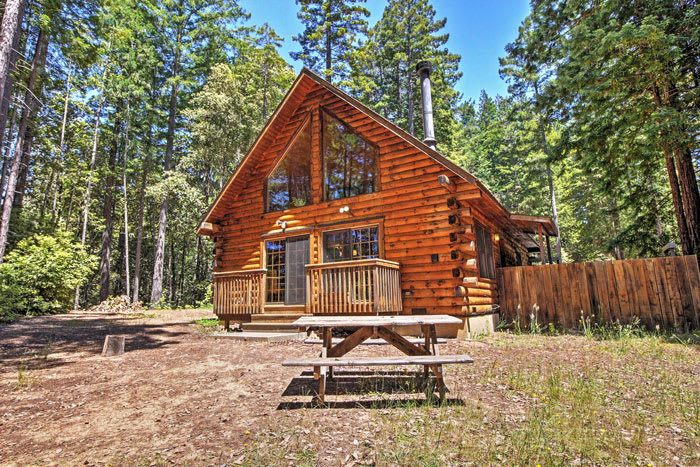 Enchanting Log Cabin In Sonoma County, CA
Redwoods and red wine are waiting for you in Sonoma County. This charming cabin is the place to go glamping in the woods while still keeping a wi-fi signal. Nature is your gym here in a home that's surrounded by trails and a few minutes from the beach, but if you want a more traditional place to exercise, hit the cabin's small home gym. After a long work week, hop in the car, soak in ocean views, and savor wines from famous vineyards.
Private Forest Mansion In Acworth, GA
Turn your workday into a fairytale at this welcoming Acworth mansion, complete with a pool and its own movie theater. Take your lunch break in the home gym, catch up on emails from the gazebo, and toast to the day by the outdoor fire pit once five o'clock hits. There are so many ways to clear your head — whether it's playing billiards, or cooking a meal for your group and enjoying it in the sprawling dining areas.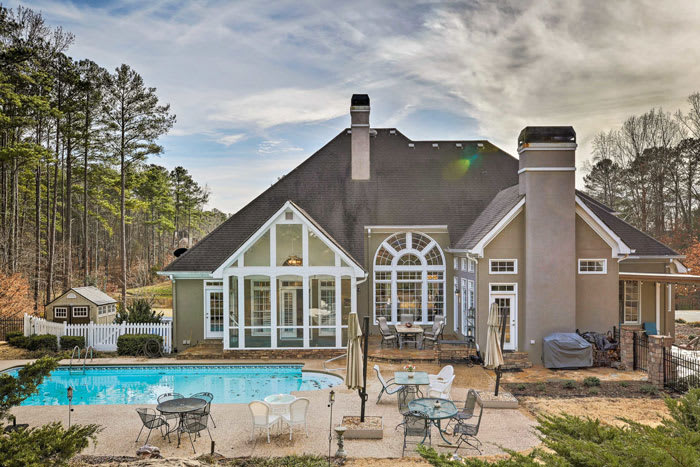 Honorable Mentions: This budget-friendly vacation home in Glendale, AZ offers all the perks of a private resort, including a pool and a putting green. Or, go big and work remotely from this enormous vacation home sitting over the lake in Kaiser, MO. You can also sit out by your own private creek and access some of Colorado's most pristine trails from this home amid the treetops in Evergreen, CO.
Find Quiet: Vacation Rentals With An Office
Evolve only rents homes with private entrances, which means that every place on our site is perfect for finding focus. But if you're looking for a getaway where you can separate your 9-5 from your night of relaxation, these picks come with a home office and the bliss of complete quiet.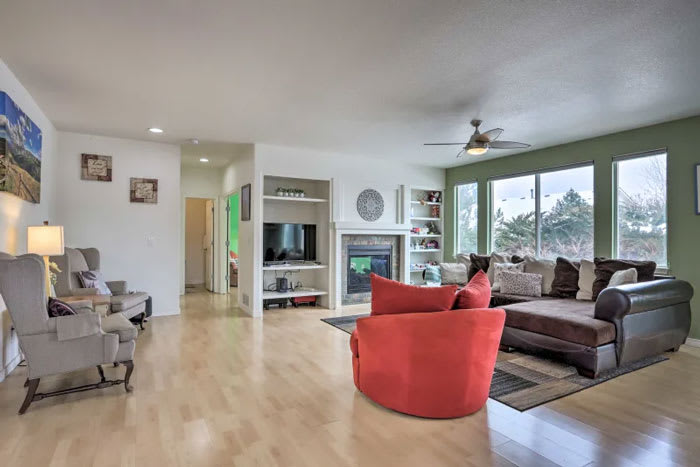 Enormous Retreat In Erie, CO
This vacation rental is made for remote work retreats with multiple offices, plenty of separate seating areas, and a boardroom-style table. Travel with friends and tackle the workday separately from your own private spaces, then reconnect over a game night in the living room. Wind down while strolling downtown Boulder (just a short drive away) with the Flatiron mountains as your backdrop.
Upscale Cabin In Show Low, AZ
Enjoy a life of luxury from this scenic cabin equipped with its own lofted office for working remotely. Catch up about the day around the outdoor fire pit or sip wine on the sprawling wood patio immersed in the forest. If you feel like getting outside, explore the easy Show Low Bluff Trail on foot or spend a leisurely day fishing at Fool Hollow Lake.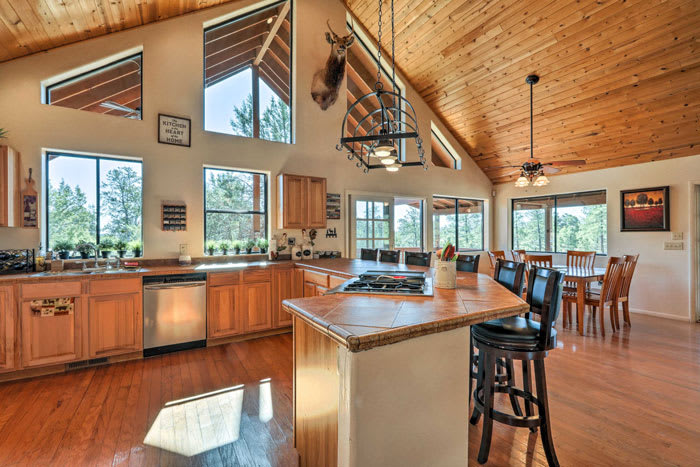 Honorable Mention: Work remotely from this vacation rental in Fairplay, CO, and enjoy a cozy, log cabin exterior with a clean, modern interior.
Cozy Up: Vacation Rentals With A Fireplace
Good books are meant to be enjoyed next to a crackling fireplace. After a long day at the (virtual) office, sink into the couch at one of these places and find your cozy. All you need to bring is hot cider and groceries — each of our homes comes fully equipped with all the amenities you need to stay in for the night.
Dreamy Dome House In Idyllwild, CA
Hit the road and head to Idyllwild, which sits in California's San Jacinto mountains. Pets are welcome at this airy dome house that's a theater to thousands of night stars. Once you've closed up your laptop for the day, hit the trails at Mount San Jacinto State Park, then bring home a mountain pie to share from Idyllwild Pizza.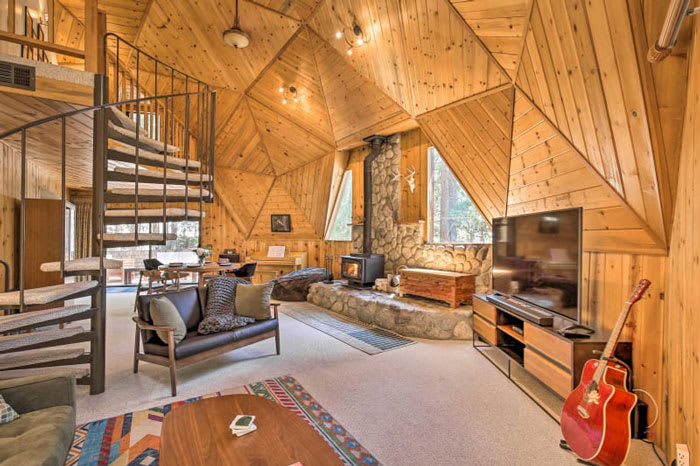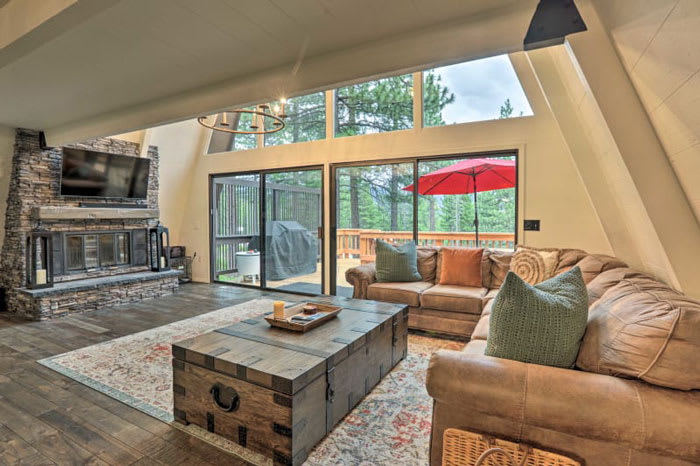 Spacious Modern Hideaway In Incline Village, NV
Rise to the sound of trees rustling out this bright property filled with natural light. Kick your feet up in the loft to get some focus, then spend happy hour in the hot tub before cooking up a feast in the gorgeous, modern kitchen. When you're ready for fresh air, take an evening bike ride along Lake Tahoe, or just sit out and enjoy the lake.
Cabin In Breckenridge, CO
Breckenridge is an outdoor paradise — and this enormous cabin that sleeps 14 is just the place to enjoy it. Take your calls from the quiet porch, indulge in a midday break to shoot some hoops in the in-home basketball court, and wind down by the fire after an evening of exploring the area's sites. Window shop along Main Street and grab takeout, or find a hike like Hoosier Pass you can do as the sun goes down over the mountain.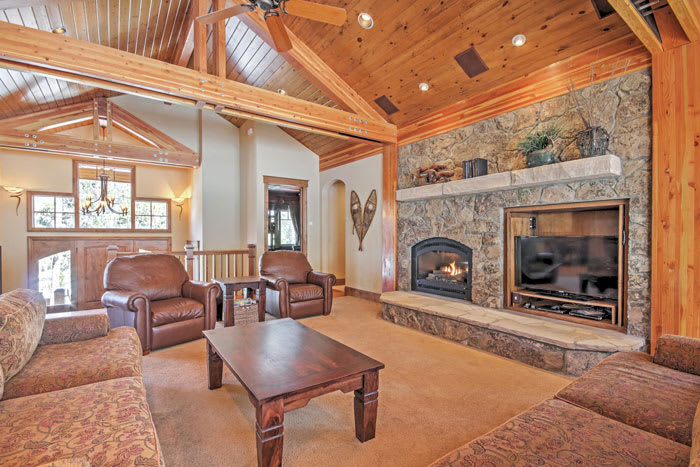 Honorable Mentions: Sip a nightcap on a porch overlooking the creek at this vacation home in Frisco, CO, or soak your bones in the hot tub surrounded by trees in this Alto, New Mexico cabin.
EXPLORE ALL HOMES WITH A FIREPLACE
Fuel Creativity: Vacation Rentals With A View
Get some new perspective on what you're working on from one of these places with a view. Find yourself thinking in new ways as you walk along the beach or sit out on the lake, free to let your mind wander. Just be sure to bring a notepad with you as you roam these houses for the moment a great idea strikes.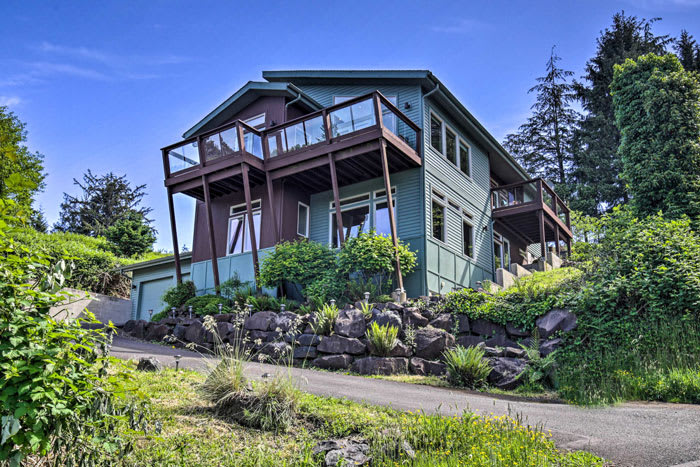 Hilltop Haven In Bay City, OR
If you've ever had the dream of looking out to the shoreline from a hot tub, this is just the place for you. This hilltop home in the Pacific Northwest is a destination for remote work, with several cozy seating areas, an unbelievable porch view looking over the coast, and a hot tub where you can dip and drink it all in. After work, take a scenic, slow drive along the Tillamook Bay and end the evening with scoops at the iconic Tillamook Creamery.
Lakeview Retreat In Albion, MI
A lake with a private dock is yours at this calming escape in Albion, MI. This home is filled with windows so you never miss the view, even when you're inside. There are so many places to work at this home on the golf course — whenever you need some fresh thinking, just pick a new room. The spacious kitchen opens right up into the living room, so you can share stories as you prepare the dinner to share. Days off can be spent on the course, dipping in the lake, or curling up next to a roaring fire while keeping the view.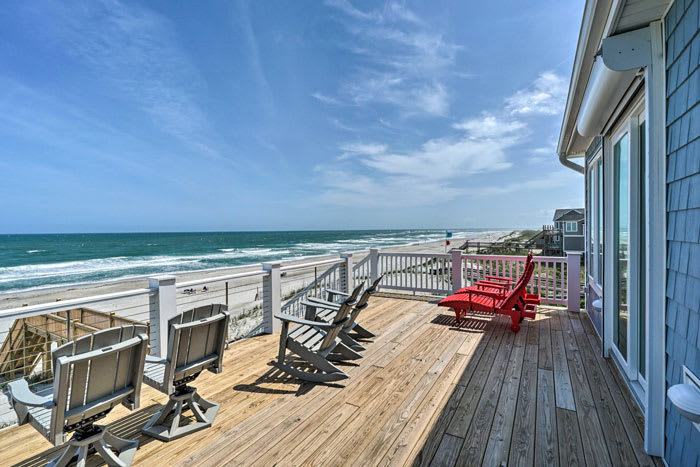 Beachfront Home In Topsail Beach, NC
Creativity is often sparked by a long walk, and here, you can take that walk out on the beach. Sit out on one of the two decks facing the waves, then step out onto the sand when you need a break. Sunsets here look like a postcard, and you can enjoy them from a bright, cheerful house that is decorated to feel like vacation in every room. Spend the weekend grilling up porch on the outdoor barbecue and catching up your beach read in the pristine sand.
Honorable Mentions: Get out into the mountains at this Jefferson, CO cabin with a verdant view of the mountains and its own game room and treehouse. Or, book this cheerful beachfront home in New Smyrna Beach, FL with ocean access and take your morning coffee in the sand.
Enjoy the freedom to work remotely from a vacation rental anywhere, with all the comforts of home. Find your perfect place to get some fresh air and rest easy knowing that it'll be professionally cleaned and ready for your arrival.
So you're thinking about hiring a property management company for your vacation rental.

Maybe you've got an extra home, you just purchased a new property, or you're exploring ways to make some extra income. It could be your first time dealing with vacation rentals, or maybe you've been burned by property management companies before.

A question you might be wondering is — why shouldn't I just do this myself?

While there are owners who handle management themselves, it can be incredibly time-consuming to promote your rental, field traveler inquiries, take quality photos, write and revise the listing, answer questions about your property, vet potential guests, juggle on-the-ground services like cleaning and maintenance, and follow up for reviews.

There's a better way. Hiring the right vacation rental management company for your home can take the stress, endless tasks, extra time, and marketing responsibilities off your plate.
But before you hire a traditional or local property manager, make sure to ask these seven questions to know you're getting everything you need.

1. HOW IS VACATION RENTAL PERFORMANCE IN THE AREA?

You're looking for a manager who has a good feel for the local market. A great property manager will know the ins and outs of your location — high season, low season, competing rates, what types of property are most popular in the area, and how local regulations and trends are affecting vacation rentals. You can prep for your conversation with our market-by-market vacation rental performance reports.

Ask your potential manager questions about the local market and feel out their responses. If the vacation rental manager has reasonable answers to those questions, you've probably found a solid manager who spends a good amount of time thinking about how to help their clients succeed.

If they seem uncertain or their answers seem off, you may want to keep looking. Be particularly wary if you know about regulations in the area that they don't; every manager should be fully aware of the status of local short-term rental regulations. And don't base their experience on years in the business. There are quite a few longtime property managers out there who haven't kept up with changes in the industry and don't perform well as a result.

2. WHAT ARE YOUR FEES AND CONTRACT TERMS?

Many vacation rental property management fees range from 25-50% of your rental income. And, in some areas, the rates continue to rise.

Before hiring a local property manager, do the math to determine whether you can afford to pay that high of a fee and still meet your rental income goals.

Contracts are the biggest sticking point for owners who have wound up with a poor property manager. If you figure out in the first two months that the property manager isn't doing their job well, but you're locked in for a year-long contract, you're going to be very unhappy for the remaining ten months of that year. You'll also want to know the payment terms and timing. Some managers can take months to pay and, if you're caught in an unfavorable contract, it can be a long time until you get paid.

If a management company requires a contract, ask whether there are any out clauses based on performance or poor service. For example, if the management company fails to clean the property three times in one year, or only gets you two bookings in six months, you should be able to leave their service without a penalty.

Above all, make sure any fees and agreements help you build a vacation rental business that prioritizes guest experience over short-term profit.
3. WHAT SERVICES ARE INCLUDED IN YOUR MANAGEMENT FEES?

You're hiring a vacation rental management company for the high level of services they provide. You'll want to know exactly what services are included in their fee.

Specifically ask whether the fee covers marketing, photography, writing the listing, updating the listing, observing market trends, cleaning, maintenance, pre-stay walkthroughs, or in-person visits for any issues that arise during a guest's stay.

You should also ask about any services that are not included in their fee – for example, some property management companies will charge an additional fee if one of their employees has to visit the property outside of business hours to address a problem the guest is having. Excellent guest support should not cost more.

Once you know what services the fee does and does not cover, ask yourself if you're getting enough bang for your buck. If your management company covers everything from marketing to maintenance, the fee may be worthwhile. If it only covers cleaning and all other services are a la carte, you should probably keep shopping for a better deal.

4. HOW DO YOU MARKET MY PROPERTY?

This is an important one. Ask them how and where they'll market your property.

Many vacation rental management companies prefer to market their clients' properties only on their own website. These days, that's not enough. You want to be on all the major websites with highly professional listings. No matter how popular a local manager's site is, it's never going to get the same amount of traffic as major online listing sites like Vrbo, HomeAway or Airbnb – which means you'll be missing out on a lot of potential guests if you're limited to one website. Make sure you understand their marketing plan.

Marketing is a big word that includes the photography of your rental, a high-converting property listing, framing your rental for current trends and the market, and how it is promoted.

A vacation rental manager's 25-50% ought to cover the cost of marketing your property on at least one major listing site in addition to any marketing efforts they make to raise the profile of their own site. Listen for words like "appear high in the search results" or "search engine marketing" – these are good indicators your manager has put effort into raising and maintaining their website's profile online.

Your manager should also actively solicit reviews from happy guests and follow up with guests who have already stayed at the property to see if they want to book again next year. Ask your vacation rental manager what they do to ensure repeat business and 5-star reviews to entice new guests to come and stay at your property.

5. WHEN AND HOW ARE GUESTS ABLE TO BOOK MY PROPERTY?

Vacation rental managers aren't awake around the clock, (which is just fine, because most guests aren't either) but they should be available when people are likely to be making their travel plans: before work, after work, and on weekends.

If your manager is only available to make bookings from 9-5 on weekdays, the odds are very good you'll be missing out on bookings from people who work standard office jobs at those hours. Believe it or not, the ideal response time for inquiries is 15 minutes, so the bar is pretty high for providing the kind of service that turns into bookings.

You should also ask if guests are able to book online and use a credit card. The vast majority of guests prefer to book online, and very few are willing to get on the phone or send a paper check in the mail. If your potential manager doesn't offer any way for those guests to book online, you'll again miss out on bookings.

6. HOW OFTEN CAN WE EXPECT UPDATES ON OUR PROPERTY'S CONDITION?

After every stay, you should confirm that your guests left your property in good condition and that any accidental damage was documented and addressed. Be sure to ask your potential vacation rental manager how they handle issues like broken dishes or missing items after a guest's stay.

You're looking for a manager who performs a post-stay walkthrough after every guest leaves, takes photos of any damages for your records, and takes steps to bring the property back up to good condition for the next guests.

Your property manager isn't expected to pay for damages out of pocket – that cost will come from the guest's deposit or a damage protection program like Property Protection Plus (included as part of Evolve's lightweight vacation rental management approach). However, your manager should notice the damage, report it, and speak to the guest about retaining their deposit to cover the damage if necessary.

7. CAN I SPEAK TO SOME OF YOUR CURRENT CLIENTS?

Always ask to speak with a few existing clients prior to signing a contract. Previous and current owners can share details about working with the vacation rental managers and exactly what to expect from your arrangement.

If a manager is reluctant to give you references or isn't enthusiastic about current clients speaking about their experience, that's a sign this manager isn't going to be a good fit for you. You should be able to hear or read success stories from customers who endorse the company.

On the other hand, if their current clients rave about this vacation rental manager and give you lots of insider tips they've learned since working with them on navigating the local market, full speed ahead! This manager may well be just the business partner you're looking for.

IT'S TIME TO RETHINK VACATION RENTAL MANAGEMENT.

The traditional models of vacation rental management are outdated. Doing it yourself is a LOT of work and, as we've covered, working with traditional property management companies means less control with fees that are hard to justify.

But there's a better way. You don't have to do it all yourself. And you don't have to sign a contract with an overpriced property manager. Evolve is different.

BOOK MORE NIGHTS WITH YOUR RENTAL

Evolve's lightweight management approach gives you total marketing, booking, and customer support, plus the power to choose your own "home team" to clean and monitor your property.

Basically, we drive more guests to your property for maximum income, while giving you more choices with fewer rules – all for an industry-low 10% booking fee.

We've helped 10,000+ homeowners earn more than $500 million in rental income. And we'd love to help you.

See if you qualify or call one of our Homeowner Consultants today at 877.881.7584 (and if you have more questions, take a quick look at this FAQ about Evolve).

"Aren't you just like Airbnb and Vrbo?"

We get that question a lot from people who haven't worked with us yet. It's easy to see why. We're all in the same industry, short-term property rentals. You can find and book great properties on our website or on theirs. And the fact that every Evolve property appears on Airbnb, Vrbo, and other online marketplaces just adds a little more to the confusion.
So let's clear things up and outline exactly how Evolve is NOT Airbnb, Vrbo, HomeAway, TripAdvisor, or any other online marketplace.
They're marketplaces. We're a management company.
Airbnb, Vrbo, and similar websites are online "marketplaces" where guests find properties and homeowners find guests. Essentially, they act as a distribution channel for owners or property managers, attracting potential guests to their website but leaving the management of the properties and listings to the owners (or whoever is representing the property) themselves.

Evolve is a vacation rental management company. That means we actively manage our properties on behalf of our owners, ensuring maximum bookings and eliminating the stress of the traditional vacation rental process.

Here's where it gets interesting. Evolve is a BIG customer of the online marketplaces. We have more than 11,000 properties listed on their sites, and we constantly take advantage of the latest strategies to ensure our owners' properties are always positioned for maximum traffic and conversion.

Behind the scenes, we have teams of specialists working on the hardest parts of managing a vacation rental: marketing, booking, and customer service. Our teams do everything from creating search-topping property listings to dynamically setting rates to answering guest questions and asking for online reviews. We even hire professional photographers at no cost to owners to show each property in the best possible light.

As a result of our approach, Evolve properties outperform most others on the online marketplaces. So we don't compete with Airbnb, Vrbo and the rest. We work with them–and everybody wins.
Our homes are different, too. Always perfect for vacation.
Unlike most marketplaces, we don't offer home sharing, extended stays, campsites, trailers, or other mobile structures. Each Evolve property has its own entrance and kitchen (typically a house or condominium). A lot of Evolve guests appreciate having the comforts of home when they travel, and our properties reflect that.
We take even more guesswork out of vacation rental by making sure our properties meet our four core standards. We believe guests simply won't have the experience they're looking for unless the property they've booked is:
Safe
Clean
Exactly as advertised
Ready for guests upon arrival
By focusing on properties ideally suited for vacationing and making sure each one lives up to our standards, we're building a brand that guests can trust to have the time of their lives.
A different experience for owners and guests.
Since Airbnb, Vrbo, and the like don't handle property management, homeowners have traditionally been forced to either hire a local company to do it or fend for themselves. Evolve is different.

We give homeowners performance-focused marketing and booking support, plus the flexibility to choose their own partner(s) to clean the property and greet guests. Evolve handles all guest inquiries, bookings, and pre-stay communications. We can also connect owners with hundreds of vetted partners nationwide that can handle cleaning and guests.

With Evolve's help, every guest enjoys a booking experience that feels as professional as the world's top hospitality brands. We handle all inquiries directly, resolve guest and owners questions, and communicate directly with cleaners to ensure the property is ready for every guest. Our unique approach makes vacation rental actually feel like vacation for owners and guests.

So we're not Airbnb or Vrbo. But we're all friends.
Once you work with Evolve, you quickly discover the difference between our service and all of the others. It starts with the way we charge owners nothing to join (plus an industry-low 10% management fee) and list properties on all the major online marketplaces––not just Evolve's site. It continues with the way we market your listing and promptly handle every query, seven days a week. And it becomes clear in all the ways we make vacation rental easy for everyone.

Owners should be able to relax, trusting that their property is living up to its potential. And guests should be able to relax with an experience that feels like a big hospitality brand. That's the Evolve difference.

Learn more about Evolve and how we can help you find success with Airbnb, Vrbo, and other online marketplaces.
Your Free Welcome Book Template is Here!
Sure, your property listing covers a lot of info about your home — but guests will still have some questions when they arrive. Like, which local coffee shop has the best ambiance? What's that one trick to getting the dishwasher started? How should they handle check-out?
Your welcome book is the perfect place to answer common questions, and it's also one of the most searched for vacation rental amenities. By providing essential info up front, you can free guests from encountering snags during their stay.
We think that putting together this important resource should feel easy — which is why we made you a free welcome book template. All you have to do is download it and plug in your home's info!
WHY MAKE A WELCOME BOOK?
Welcome books have a big impact on your guests' experience. Here are some reasons to block off a few minutes and fill in this template.
Welcome books help others navigate your rental property and treat it the right way.
Guests want to know how to watch a movie at night or adjust the temperature in your house. Giving them a resource on how to get comfortable living in your rental is sure to make their vacation stress-free for both of you.
Welcome books provide local highlights and a sense of your personality.
The reason many guests book vacation rental properties is to immerse themselves in the location. Recommending restaurants, coffee shops, stores, and more can turn a good trip into the best trip ever. Lead your guests to the most delicious slice in town — or teach them how to avoid crowds at a local attraction — and they'll want to book with you again in the future.
Welcome books show guests that you care.
Your advice on how to make the most of your property gives guests the friendly engagement they're looking for. It also protects their personal space and privacy by providing valuable information without requiring personal interaction.
Welcome books help you get great reviews.
Your guests are likely to reward your thoughtfulness in their reviews. Even better, you or your guest contact may get fewer questions during their stay, and you'll be sending new customers to your favorite local shops and restaurants, ensuring they thrive!
Sounds pretty great, right? But where should you start?
WHAT TO INCLUDE IN YOUR WELCOME BOOK
From a friendly "hello" letter to your home's policies, these are the sections you'll need to put together the most useful welcome book.
A PERSONAL WELCOME NOTE
Guests who choose vacation rental are looking for a unique home with a real person behind it. Writing a note to personally welcome them to your property is another way to separate yourself from a hotel — and reinforce their decision to stay with you.
HELPFUL LOCAL CONTACTS
Make sure your welcome book provides at least one name, telephone number, and email for a local contact near your property. This person can be you, a local property manager, or even a neighbor — but they should be easily reachable, and available to come to the home on short notice. Nobody wants unanswered guest complaints to derail a pleasant stay.
You'll also want to include contact details and addresses for the following emergency resources, just in case:
Nearest Medical Clinic or Hospital
Fire Department
Police Department
Remember, guests don't have all of the resources they'd typically have at home. They'll feel more at ease if they know you have their safety in mind.
YOUR PROPERTY'S POLICIES
Even if you send your policies in a pre-stay email, (Evolve does!) it's still important to reiterate them at the property. Including policies in your welcome book can help you resolve common vacation rental issues and complaints because guests will have a difficult time arguing that they weren't aware of the rules.
You should include all of the following information in your welcome book:
Check-In Procedures
House Rules (smoking policy, pet policy, quiet hours)
Parking Instructions
Check-Out Procedures
Subdivision/Complex/Community Rules
An in-home reference guide will help remind guests how best to enjoy your home and leave it in good shape for the next guests. Another perk of including your policies: you're way less likely to find broken or misused items after a stay!
HOW-TO INSTRUCTIONS
When your guests can't figure out simple things like how to turn on the hot tub, they can get frustrated and wind up taking out that frustration in their review of your property. Even if every appliance works perfectly, spending valuable relaxation time figuring out how to use it is no one's idea of a fun vacation.
Include helpful instructions for your:
Property Access (lockbox code, garage code, gate)
Thermostat
Hot tub or Fireplace
Washer and Dryer
Kitchen Appliances
Wireless Internet Access (including the password!)
TV or DVD Player Remote Control
This is also a good place to note any quirks of your property. For example, if the Wifi works very well all over the house, but not in the family room downstairs, make sure your guests know that. If they aren't expecting an issue, they'll be annoyed by it, but with a little forewarning, they'll feel like they know exactly what they can expect, and it's less likely to trouble them.
WHERE TO GO AND WHAT TO DO
You know all of the insights you've collected about your neighborhood? Now's the time to share your expertise — because everyone loves a good recommendation from a local! Try to suggest activities that would appeal to a range of guest types, such as family-friendly museums or romantic places for a dinner out.
Be sure to give addresses and phone numbers for each of your recommendations. Adding the amount of time it takes to get to the destination is a great idea, too. Include at least a suggestion or two in each of the following categories:
Grocery Stores
Restaurants
Shopping
Nightlife
Activities (hikes, golf, snorkeling, skiing)
Attractions (museums, monuments, parks, beaches)
Places of Worship
And share places where you personally enjoy going. This isn't to say you can't include popular attractions you haven't visited in person. Just let your guests know that you haven't tried them yourself, but you've heard good things and you hope they'll tell you how they liked them! You can then use the guest feedback to gauge whether that activity merits a mention in your Welcome Book.
HOW TO GET AROUND
Help guests explore your area by creating a section devoted to local transit. Be sure to include contact info, directions, schedules and any other details that guests might find helpful, like:
Taxi & Shuttle Services
Bus Routes
Car Rentals
Airports and Train Stations
Area Maps
READY TO CREATE YOUR BOOK?
Here's the good news: we've already created one for you.To make things easier for you and your guests we created a free downloadable template. Enter your email in the form below to get your free, customizable copy. Then, type your information into our template, print the completed welcome book, and display it in an obvious area of your rental property, such as the kitchen counter. And if you're looking to start booking more nights on your vacation rental, we can help with that, too.
Vacation rentals can be lucrative investments. They offer rental income in the short term and build equity in the long term. It's an exciting proposition attracting more investors, especially as travelers embrace vacation rentals as their preferred accommodations.
For the third year in a row, we're happy to share our list of the ten best places to buy a vacation rental. Our experience working with over 10,000 vacation rental properties across the United States has given us insight into more than 500 markets and how they perform.

This year, we're including our estimated capitalization rate (cap rate) to help with rankings. Cap rate compares the net rental income generated per year against the purchase price of the property. It's a good indicator of a property's earning power and a reliable way to determine where you might get a better return on your investment.

To calculate our cap rates, we started by looking at the median annual rental revenue for Evolve properties in 500+ markets. We also applied yearly expenses of 30% to reflect the costs associated with operating a vacation rental. We then divided that by the median home price on Zillow for properties in each market.

If you're looking to purchase a vacation rental property, make sure you take a closer look at these areas. Your numbers may differ based on operating costs, property values, and other factors, but this list helps shine a light on promising locations for investors.
1.Maggie Valley, North Carolina
Median annual rental revenue: $38,949
Median Home Price: $155,500
Cap Rate: 17.5%
A new addition to our list, Maggie Valley is in the Smoky Mountains area outside of Asheville, North Carolina.
It tops our list with a strong cap rate of 17.5%. Driven by low real estate costs with a median price of $155,500 and a median income of $38,949 per year, the Maggie Valley area presents an appealing investment option.
Proximity to the region's famed mountain range is the primary tourism draw in this area. And the natural resources provide year-round activities, with hiking in the summer, leaf peeping in the autumn, and skiing in the winter.
If you're looking at this area for a potential investment, shop around for a property that has a nice outdoor area where guests can enjoy the surrounding mountain views. Our data also shows that homes with hot tubs, fire pits, and decks typically perform better than average.

2. Saint Augustine, Florida
Median annual rental revenue: $50,989
Median Home Price: $209,100
Cap Rate: 17%
Consistently a top vacation destination for American and international travelers, Florida is an obvious frontrunner for short-term rentals. The warm weather allows for year-round tourism and lower real estate costs leave plenty of room to generate a sizable rental income.
But with so many beach towns, where is the best place to buy in Florida?
St. Augustine rises above the rest in our research with a cap rate of 17%. The median home price is $209,100 and you can earn an estimated median revenue of $50,989 in this area.
That's an attractive rate of return, and it has the potential to increase further when you have top amenities like a private pool, hot tub, and proximity to the beach.
Rich in history, outdoor recreation, and prime beach access, St. Augustine offers great vacation rental potential for investors.
3. Gatlinburg Area, Tennessee
Median annual rental revenue: $42,751
Median home price: $182,950
Cap Rate: 16.3%
Gatlinburg, Pigeon Forge, and Sevierville have been proving their weight in gold for years. These family-friendly vacation rental destinations have a high demand for accommodations ten months out of the year and they provide a steady source of rental income.
With relatively low housing prices and few restrictions for short-term rentals, it's no surprise that this area has become a top destination for vacation rental investors. Cabins are the preferred type of housing for regional visitors, and we found that the median home price ranges from $162,000 to $202,300 across Sevierville, Pigeon Forge, and Gatlinburg.

While the area is generally affordable, you might run into prices as high as $800,000 for larger (five bedrooms+) and more luxurious properties. Essential amenities for the Gatlinburg area are hot tubs, mountain views, and game rooms.

While the median for rental revenue is around $42,751, we do see six-figure revenue potential for larger properties in the area. If your rental is in good shape, with a desirable location and popular amenities, you stand a high chance of earning even more.
4. Surfside Beach, Texas
Median annual rental revenue: $29,321
Median Home Price: $136,500
Cap Rate: 15%
An hour down the coast from Galveston, this Texas town is known for beautiful beaches and a laid-back community. With few tourist traps or boardwalk shops, most Surfside Beach visitors spend their evenings cooking family dinners at home rather than hitting the town. That makes fully equipped vacation rentals all the more successful in this area.
We found the median home price for Surfside Beach was $136,500, which is a bargain compared to the stilted homes in the Galveston area that range from $200,000 to $400,000.
A median revenue of $29,321 gives this lesser-known area on the Gulf Coast an impressive cap rate of 15%.
If this coastal Texas town checks all the boxes for you, look for a property that offers ocean views and proximity to the beach. Fortunately, Seaside Beach is situated on a narrow tract of land, so beachfront real estate is not too hard to come by.

5. The Poconos, Pennsylvania
Median annual rental revenue: $25,058
Median Home Price: $118,300
Cap Rate: 14.8%
The Pocono Mountain region has been drawing tourists to its lakes and ski resorts for more than 100 years. With a strong demand for accommodations and a large inventory of real estate at affordable prices, it's easy to see why this region is one of our top five places to buy a vacation rental.
The median home price in the Poconos ranges from $118,300 on the low end to $144,300 on the high end. With a property that has an open calendar, the median rental income you can expect to generate ranges from $25,058 all the way up to $40,278 per year.
We found that results vary from town to town, but we see the strongest returns with properties in Tunkhannock Township, Tannersville, and Pocono Lake.
Large lakefront properties that can accommodate a group perform best in this market. It's also a good idea to look for houses that are updated or that you can renovate after purchasing. This traditional market has many outdated properties, and you can beat out the competition and charge a higher nightly rate with a home that has modern kitchens, bathrooms, and furnishings.

6. Pequot Lakes, Minnesota
Median annual rental revenue: $36,291
Median Home Price: $204,600
Cap Rate: 12.4%
Situated in the Brainerd Lakes area north of the Twin Cities, vacation rentals in the Pequot Lakes area are hugely popular in summer months. Even better, they get bookings during the slow winter season for holidays and weekend retreats.
This market provides advantages to buyers in the Midwest because it's a great investment opportunity where you can make strong returns, but it's also close to home. That makes regular maintenance easier and offers the added benefit of having a second home for your personal use when you don't have guests in residence.
While the median home price is $204,600 for properties in this area, larger homes that sleep eight or more people tend to see the best success. So it pays to invest in a larger property if you have the budget.
Something to consider with an investment in the Pequot Lakes area or a similar market is that rentals here tend to have a shorter season. With cold winter months, you face some pressure to hit your revenue goals during the high season, which requires smart pricing and aggressive marketing strategies.
7. Shenandoah Valley Area, Virginia
Median annual rental revenue: $37,763
Median Home Price: $227,500
Cap Rate: 11.6%
Spanning two hundred miles across the Blue Ridge and Allegheny Mountains, the Shenandoah Valley is an outdoor oasis. Visitors enjoy exploring National Parks and Forests, outdoor sports (skiing, fishing, golfing, canoeing and more) and a segment of the famed Appalachian Trail.
With an area that large, home prices and rental income will obviously vary. Still, the median home price in the markets that made our list is $227,500, earning $37,763 per year in estimated annual revenue.
To increase your income potential, look closely at the four-season resort areas of Massanutten and Wintergreen. They can expand your booking season via snow sports in the winter and water parks during the peak summer booking window.
Profit-driving amenities include hot tubs, a deck with a view (and a grill), and game tables like billiards and foosball. If you're looking to invest in this area, the closer a property is to Massanutten Resort or Shenandoah National Park, the better.

8. Branson, Missouri
Median annual rental revenue: $24,062
Median Home Price: $145,000
Cap Rate: 11.6%
With theme parks, specialty museums, shopping, and hundreds of shows per year, there's no shortage of things to do in Branson. This Ozark getaway is a family-friendly vacation spot that has caught the eye of investors who want reliable returns and a lower price point.
The median home price hovers around $145,000, making this an affordable place to buy a vacation home. Our data revealed that rentals in Branson generate $24,062 in rental revenue per year at the median for a 11.6% cap rate.
The tourism season spans from March to December, so you have the opportunity to book ten months out of the year and reach an impressive occupancy.
Another benefit of investing in this area is that there are few regulations standing in the way of vacation rentals. Some areas west of Branson may come with restrictions, but the area is generally friendly toward short-term rentals.
The vacation rental inventory is a mix of condos, cabins, and homes. So no matter your budget, you can find something in this market that will perform well. Amenities that can help you succeed include proximity to popular attractions (the Shows District, Table Rock Lake, and Silver Dollar City), decks, and lake or mountain views.
9. Myrtle Beach, South Carolina
Median annual rental revenue: $23,881
Median Home Price: $144,700
Cap Rate: 11.5%
For the third year in a row, Myrtle Beach makes our top-ten list. The seaside town is known for its 60-mile stretch of beaches, as well as theme parks, museums, and shopping. It's also home to festivals, bike rallies, car shows and other events that draw crowds and drive up demand for accommodations.
Yet, Myrtle Beach is a budget-friendly place to invest. Condos frequently sell for under $100,000, and Zillow data shows the median home price is around $144,700.
If you buy in this market, beach proximity is important. However, unlike Surfside Beach, you don't have to be on the water to be successful. Rental properties within one or two miles of the beach will also book and perform well.
When you're buying a condo in a resort or community, be careful with association fees and restrictions. Higher fees typically get you nice facilities, upkeep, pools, and other amenities that are attractive to guests, but you may pay a lot for those add-ons.
10. Hot Springs, Arkansas
Median annual rental revenue: $24,425
Median Home Price: $148,800
Cap Rate: 11.4%
Hot Springs, Arkansas is named for Hot Springs National Park, a treasured natural feature that draws visitors for its mineral-rich water.
A prime benefit of investing in this market is that your money stretches here. The median home price is $148,800 and generates a healthy $24,425 per year at the median for estimated annual revenue. That leaves plenty of flexibility to pocket the income or pay off your investment quickly.
For the best returns in this market, look for properties close to downtown Hot Springs or on Lake Hamilton. In our experience, waterfront homes tend to achieve higher occupancy rates and command better nightly rates than properties farther from the action.
Lake views, updated interiors, and dock access are additional amenities that can improve your performance in Hot Springs.
So, where should you invest?
As always, the answer depends on your budget, your revenue goals, and your personal preferences.
You might want to purchase in a proven market like Gatlinburg or Poconos even if that means stiffer competition to get bookings. Or, you might want to buy in an area that isn't as saturated, like Hot Springs or Surfside Beach, where you get more for your money.
We always encourage investors to think about where they'd like to visit. One of the key benefits you get from a vacation rental is that you get a second home for yourself. Where would you want to stay?
This list is a great place to start your consideration process, but it's by no means definitive. There are many popular destinations that didn't make our list. Think of this as a snapshot of the markets that you might want to explore if you're looking to get the biggest return on your investment.
If you want more information, Evolve is constantly updating resources like these to help you better understand the vacation rental market:
If you've already chosen a property and need to get your vacation rental off the ground, let us help.
With Evolve, you get everything you need to start a successful vacation rental: professional photos, a custom listing, competitive rates, vacation rental expertise, and full-time teams to support you.
There are no upfront costs and you pay just a low 10% fee per booking. Learn more about our services and contact us to see if your home qualifies.

It's official: road trips have experienced a resurgence in the U.S. With so many travelers taking to the open road, that inevitably means stops at unique roadside attractions.
Of course, the best roadside attractions give you the chance to witness everything from larger-than-life statues to can't-help-but-smile kitsch. So hop out of the car to stretch your legs at these whimsical sights you can find across the country — and stay at a clean, verified home right on your route.
Best California Roadside Attractions
Whether you grab breakfast burritos before hitting the open road or spend happy hour at palm tree-shaded rooftop bars, you can't go wrong with a California road trip. Make sure you stop at these unforgettable roadside attractions to make your drive even more memorable.
Randy's Donuts
805 W. Manchester Blvd, Inglewood, CA
A towering donut beckons you to stop by Randy's Donuts, which you might have seen on Arrested Development, Californication, or Entourage. Visit for a glazed midnight snack (they're open 24 hours!) or a photo opp with a 32-foot pastry.
Cabazon Dinosaurs
50770 Seminole Dr, Cabazon, CA 92230
Dinosaurs, palm trees, and ice cream await at Cabazon Dinosaurs. This former Pee Wee's Big Adventure shooting location takes you back to the Jurassic period by way of enormous steel dinosaurs that tower into clear blue skies.
International Banana Museum
98775 CA-111, Mecca, CA 92254
Gain a new appreciation for bananas at a very low price. For just one dollar, you'll get into the International Banana Museum where you can order a banana shake (OK, that costs extra), peruse over 25,000 items devoted to the namesake fruit, and dress up in banana-wear for some a-peel-ing pictures.
Integratron
2477 Belfield Blvd, Landers, CA 92285
A sound bath can be an otherworldly experience, especially when it takes place at Joshua Tree's Integratron. Once visited by Anthony Bourdain, you can follow in the celebrity chef's footsteps and soak in the ethereal soundscape created by this giant white dome surrounded by miles of desert.
Chandelier Drive-Thru Tree
67402 Drive Thru Tree Rd, Leggett, CA 95585
Sometimes you just want to visit a roadside attraction where the best part is staying in the car. The Chandelier Drive-Thru Tree is quite literally a tree you drive through. The 276-foot redwood has a gaping hole that can fit most vehicles, creating an unreal experience (and wow-worthy photos). You can also tour famous sights along the Redwood Highway, like the Avenue of Giants, home to some of the largest trees in the world.
Winchester Mystery House
525 S Winchester Blvd, San Jose, CA 95128
Staircases lead to nowhere and nooks and crannies turn to secret passages at the Winchester Mystery House. Here you can get inside the mind of Sarah Winchester, a late-1800s heiress who spent the last half of her life turning a simple house into a 160-room masterpiece.
Where to Stay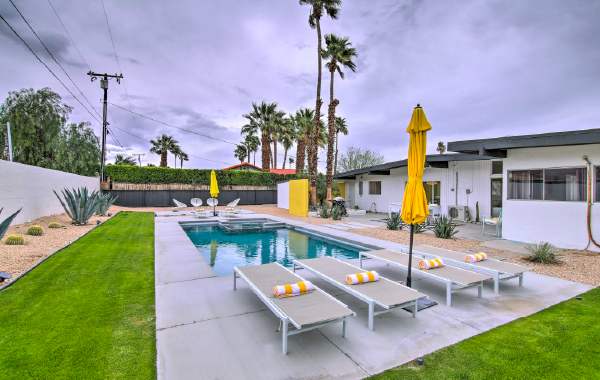 If you're touring Southern California's best roadside attractions, head to this retro mid-century hideout that sleeps four guests. You can seek solace from the heat in the resort-style pool, or spend time exploring more quirky sights right in Palm Desert, like a 26-foot-tall statue of Marilyn Monroe or the house where Elvis spent his honeymoon.
Those traveling north can rest easy in this colorful condo. It's located one block from the Golden Gate Bridge — and a short drive away from some of the best wine regions in the U.S.
Best Upper Midwest Roadside Attractions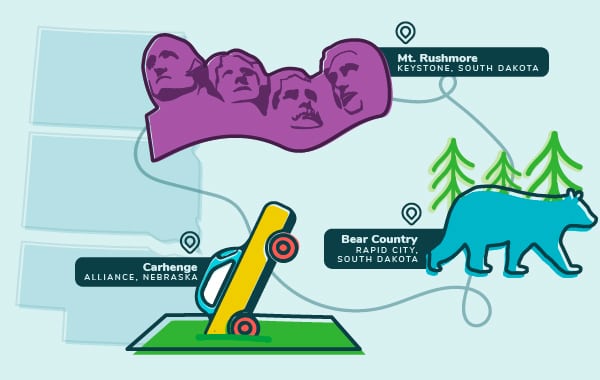 Many travelers flock to the upper Midwest to see the striking geological formations at Badlands National Park. But while visiting this area of the U.S., you'll also want to check out these eccentric roadside attractions.
Wall Drug Store
510 Main Street, Wall, SD 57790
Play on a cement jackalope, befriend an animatronic dinosaur, and shop western-themed wares — all of it is possible when you stop at Wall Drug. Be sure to try some of the free water advertised for miles on the surrounding highways, or pick up a homemade donut in the cafeteria Fern worked at in Nomadland.
Bear Country USA
13820 US-16, Rapid City, SD 57702
Don't be alarmed if a bear wanders up to your window while at Bear Country USA. Getting up close with them — along with elk, buffalo, reindeer, and more — is all part of the experience when driving through this outdoor animal park.
Carhenge
2151 Co Rd 59, Alliance, NE 69301
An homage to Stonehenge, this 38-vehicle sculpture is found in the middle of a Nebraskan farm field. Crafted from old cars, it really is a unique roadside attraction that's free to visit and impossible to forget.
Mt. Rushmore
13000 SD-244, Keystone, SD 57751
You really can see history carved into stone at Mt. Rushmore. Whether you pay to enter the park or drive the winding roads that give you a peek at Washington, Roosevelt, Lincoln, and Jefferson, it's a can't-miss national monument that's even more impressive in person.
Deadwood
18 76th Dr, Deadwood, SD 57732
The Wild West is found at Deadwood, a historic gold rush town in South Dakota. Grab a seat at a local saloon, test your luck at a local casino, or learn about the heyday of prospecting at the Days of '76 Museum.
Enchanted Highway
607 Main St, Regent, ND 58650
Pack multiple roadside attractions into one drive along North Dakota's Enchanted Highway. Impressive sculptures — including enormous pheasants, a tin family, and an oversized grasshopper — will greet you on this scenic 32-mile drive.
Where to Stay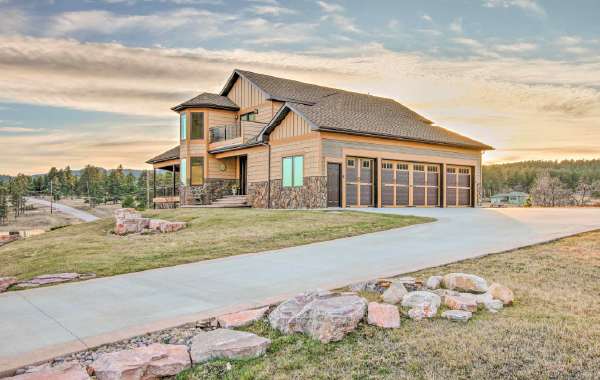 This sprawling Sturgis vacation rental peers over South Dakota's best panoramas. With 4,000 square feet, you can bring up to 20 people along, which makes this the perfect stop if you're looking to meet up with family and friends halfway.
Best Lower Midwest Roadside Attractions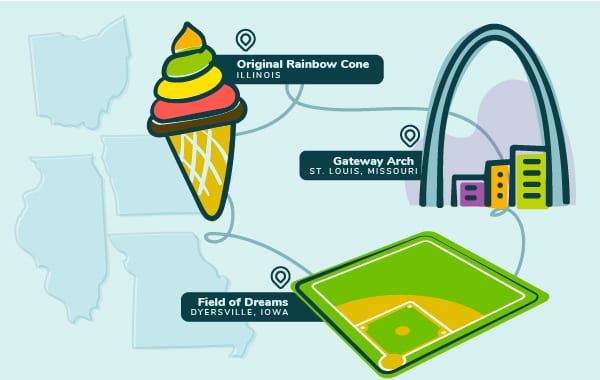 Whether you're stopping in Chicago to take in the riverfront architecture, driving to Branson for a family vacation, or spending a long weekend at Ohio's theme parks and national parks, you'll want to add these fun roadside attractions to your route.
Original Rainbow Cone
9233 S Western Avenue, Chicago, IL 60643
The Original Rainbow Cone is an essential part of any Chicago summer or fall. Stop here for stacked rainbow sherbet served out of a bright pink facade and see why it's been locally loved since 1926. (If you're up for a drive while you eat, you can check another roadside attraction off your list at the Leaning Tower of Niles.)
Hocking Hills Scenic Byway
Rockbridge, Ohio
When you're Ohio-bound and in need of new sights, take a breather in nature on the Hocking Hills Scenic Byway. Here, roadside attractions get a new definition as you'll see an array of tumbling waterfalls, bright wildflowers, and stunning vistas.
American Gothic House
300 American Gothic St, Eldon, IA 52554
Experience the place that inspired Grant Wood's 1930 painting at the American Gothic House. You can practice your most stoic face and recreate the painting with a picture in front of the white house with gothic-style windows (and yes, they'll even lend you a pitchfork).
Field of Dreams Movie Site
28995 Lansing Rd, Dyersville, IA 52040
Get some fresh air and grab baseball concessions at the field from Field of Dreams. It's free to visit (although donations are encouraged), and you're sure to feel the magic of America's favorite pastime if you take a tour of the home and surroundings, learning insider film trivia along the way.
Gateway Arch
11 N 4th St #1810, St. Louis, MO 63102
Climb 63 stories into the sky by tram at the Gateway Arch, a beacon on the St. Louis skyline. At the top, you can take in the view from 630-feet above ground.
Silver Dollar City
399 Silver Dollar City Pkwy, Branson MO 65616
Channel your thrill-seeking side at Silver Dollar City, an 1880s-style theme park in Branson that has everything from water rapids to family-friendly rides. With 31 roller coasters to choose from, there's not a chance you (or anyone on your road trip!) will be bored before getting back on the open road.

Where to Stay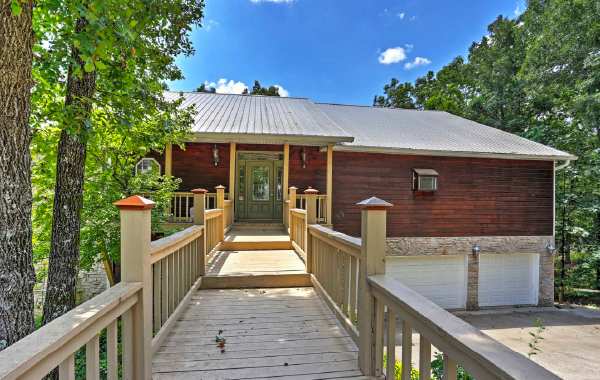 A road trip through Missouri should include a splurge on this Branson vacation home with mountain views and an indoor pool. Those looking to stay in Chicago can check out this cozy, affordable apartment that's a stone's throw from the artsy Logan Square neighborhood.
Rest Easy Touring America's Best Roadside Attractions
A big part of staying relaxed on your road trip is knowing you can check into a place that will be ready for your arrival. All of our homes are verified in person — and if something isn't right or you need to change plans, we'll be there to help make it right.
Fort Lauderdale is your ideal vacation destination for sun, sand, and seafood. With a historic riverwalk district, golden beaches, and 300 miles of canals, Southern Florida's "Venice of America" really does have something for everyone. (And with Miami only a quick 35-minute drive away, it's easy to hop over to the "Magic City" for even more beachside bliss.)
Find your home base with a Fort Lauderdale vacation rental, then plan your perfect coastal getaway around these top things to do.
The Best Beach Activities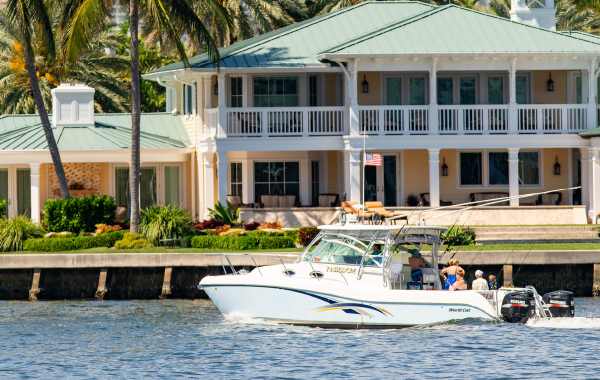 Fort Lauderdale's 23 miles of sun-kissed beaches are some of the area's best features. From reefside snorkeling to fresh-caught food, these activities make Fort Lauderdale's shores a hub for endless fun.
1. Dive Into Watersports
The beaches of Fort Lauderdale have a ton of watersports available for all experience levels. With an average year-round temperature of 72-80 degrees, one of the best is to get up close to one of the many man-made wrecks via a scuba diving adventure in the "wreck capital of Florida."
But if going deep into the sea isn't quite your style, you could stay closer to the surface and try your hand at surfing, or go on a quiet paddleboard trip for a more relaxing excursion. Add fishing charters and flyboard rentals to the mix, and there's no way you'll run out of reasons to make a splash!
2. Grab a Seaside Bite to Eat
After working up an appetite playing in the water, you can grab some grub at one of the many beachside restaurants in Fort Lauderdale boasting shimmering Atlantic views.
For starters, there's contemporary Mexican food at Lona Cocina & Tequileria. Whimsical boardwalk dining at Wild Thyme Oceanside Eatery. And an ultra-lively atmosphere awaits at Bo's Beach or Bubba Gump Shrimp Co.
If you're craving fancier fare, upscale options like 3030 Ocean or Mastro's Ocean Club (dress code required) are worth a reservation.
3. Set Sail on a Scenic Boat Tour
With miles of canals and beautiful coastal scenery, Fort Lauderdale earns its nickname as the "Venice of America." Whether you want to take in the views from a relaxing catamaran or yacht, cruise on an old-timey riverboat, or spark some romance on a gondola tour, there are plenty of ways to explore the Intracoastal Waterway.
If adventure is the name of your travel game, you can't miss out on an airboat tour of the Everglades — these thrill rides offer a unique way to experience the swamps of Southern Florida.
The Best Kid-Friendly Activities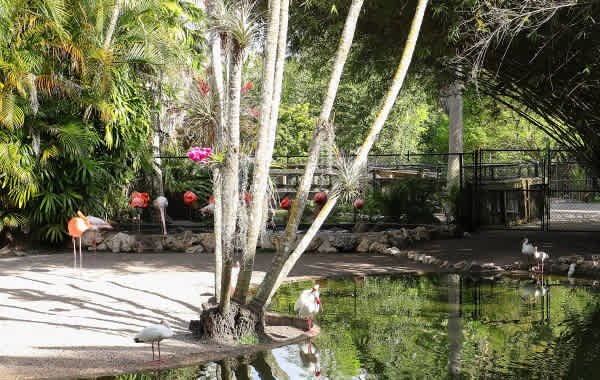 Once known as an iconic spring break destination, the greater Fort Lauderdale area is now a hotspot for family entertainment, kid-friendly resorts, and these popular all-age attractions.
1. Embrace Nature at Hugh Taylor Birch State Park
Set between the Atlantic Ocean and the Intercoastal Waterway, Hugh Taylor Birch State Park is considered the "Central Park" of Fort Lauderdale and provides a refreshing escape into nature. Take the kids on a hike along the Coastal Hammock Trail, catch a glimpse of the endangered gopher tortoise, or go on a ranger-guided tour of the park. A youth campground is even available, so the adults can relax while the young ones enjoy some supervised fun.
2. Put Your Learning Cap on at MODS
Calling all future scientists! The Museum of Discovery and Science (MODS for short) is packed to the brim with adventure. This massive museum has enough to keep the whole family entertained, including two-story live animal habitats, simulated hurricane force winds you can personally experience, and interactive augmented reality exhibits.
3. Go Botanical in the Flamingo Gardens
Settled onto 60 acres of preserved tropical land, the Flamingo Gardens feature exotic plants, some of the area's oldest trees, and a sanctuary for over 90 species of Florida-native animals. (When the kids aren't relaxing in the shade or watching the otters play, it's worth it to sneak a peek at the flamingos the gardens are named after.)
This botanical garden also hosts the Wray Home Museum, where guests can step back in time to see what life in South Florida looked like for a prominent family in the 1930s. Explore carefully-restored rooms that still feature the Wrays' personal effects, including framed family portraits and thank you letters from President and Mrs. Eisenhower for delivery of fruit to the White House.
The Best LGBTQ+-Friendly Activities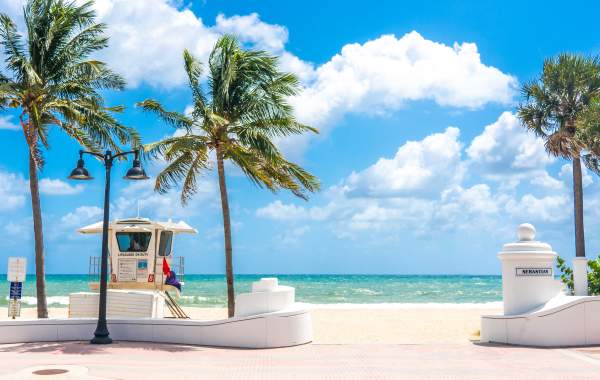 Earning a perfect score in 2020 on the Human Rights Campaign Municipal Equality Index, the greater Fort Lauderdale area is one of the most progressive destinations you can visit in the U.S. Here you'll find a variety of LGBTQ+-friendly things to do.
1. Unwind at Sebastian Street Beach
A popular gay beach on the corner of Sebastian Street and A1A, Sebastian Street Beach is easily accessible from popular resorts and the city's entertainment district. Relax and get your tan on in the welcoming atmosphere, take in the ocean views from the boardwalk, or grab a bite to eat at the trendy Casablanca Cafe right across the street.
2. Experience the Energy of Wilton Manors
Ranked the "Second Gayest City" in America, Wilton Manors is home to a variety of LGBTQ+-owned businesses and bars, as well as the vibrant-yet-peaceful community of "Island City." You can party at Georgie's Alibi Monkey Bar, one of South Florida's longest-running bars and nightclubs, and dine at the quirky (and always-bustling) Rosie's Bar and Grill. To tap into a more relaxed energy, explore quiet mangroves in Colohatchee Park.
3. Visit the Stonewall National Museum and World Aids Museum
Operating for nearly 50 years, the Stonewall National Museum & Archives is one of the largest gay archives and libraries in the United States. You can walk through exhibits that chart LGBTQ+ history, catch an author presentation, or experience the professionally-curated archive of LGBTQ+ media from around the country.
Fort Lauderdale is also home to the World Aids Museum and Education Center, the first museum dedicated to the HIV/AIDS epidemic. You can take a guided tour through the exhibits and art galleries, including Chronology of AIDS and the Colors of HIV.
Explore More of Fort Lauderdale, FL
Thanks to the inclusive community, fresh-caught seafood, and beautiful beaches, Fort Lauderdale is one of the best vacation spots for many travelers. To learn more about visiting, check out the Visit Fort Lauderdale website.
Rest Easy with Evolve
The moment you book your vacation, you should start looking forward to your trip — not worrying about the little details. When you choose Evolve for your Fort Lauderdale vacation, you can feel confident that the home you book will live up to our standards.
Every Evolve vacation rental comes with a team of hospitality experts, and we're here to make your stay comfortable 24/7. To help you feel even more confident, we created our Rest Easy Promise: if a stay doesn't match our standards, we'll make it right.
Known as the "Magic City," an escape to Miami promises everything from beachy outdoor excursions to a fusion of foodie flavors and rich culture. So no matter what your ideal vacation itinerary entails, it can be the perfect memory-making backdrop.
Plus, this Sunshine State hotspot isn't far from sunny Fort Lauderdale (about 35 minutes in the car), meaning your getaway can have double the activities and fun. Begin your search for a home-away-from-home with one of our Miami vacation rentals, then fill your days with these top things to do.
The Best Beach Activities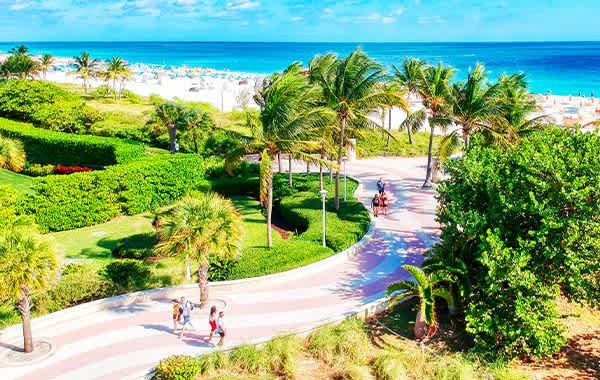 With 20 miles of Atlantic coastline, Miami is a water-lover's dream. Whether you're searching for scenic ocean views, a lively strip of sand, or a fun boating adventure, these beach activities offer an oasis for everyone.
1. Hang Loose at South Beach
Year-round, surfers can enjoy salty swells at South Beach. Perfect for beginners and seasoned waveriders alike, this popular spot boasts warm water and nonstop waves. More experienced surfers can awaken their inner thrill-seeker at Jupiter Inlet, where beach breaks and outer sand bar breaks let you hang loose! (For private lessons, check out Sobe Surf.)
2. Take in the Sights From the Miami Beach Boardwalk
A must-see in Miami, this scenic pathway stretches almost 40 blocks and offers both ocean and city views. You can break a sweat jogging the path, grab a bite at one of the many eateries, or cycle just south of 21st Street (this area is particularly bike-friendly). Regardless of your activity, the boardwalk is perfect for catching up with loved ones while seeing the sights.
3. Set Sail on a Boat Tour
After exploring Miami's best off-the-water attractions, hop on a boat to explore Everglades National Park or Biscayne Bay. While an airboat tour into the glades provides a more up-close-and-personal experience with nature, Biscayne Bay boat tours are best for those who want to see glitzy mansions and unbeatable skyline views. If an adrenaline boost is more your style, book a speedy jet boat tour. (They're safe for the kids, too!)
The Best Foodie Activities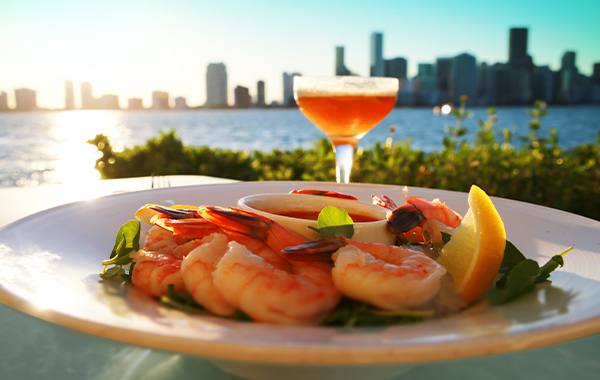 Get a taste of authentic Cuban culture, seafood feasts, and local favorites — all packed within this soul-food city. Foodies are sure to love the range of culinary goodness at these top Miami spots.
1. Dine and Shop at Bayside Marketplace
The most visited tourist attraction in Miami, this open-air marketplace features international bites in a waterfront setting. Whether you're craving spicy cajun, savory seafood, or sweets like churros and gelato, you can treat your tastebuds to a sure-to-please meal. Plus, this mecca hosts all of your favorite stores and local boutiques — making Bayside Market a one-stop shop for souvenir shopping and flavorful feasting.
2. Dig in to Legendary Seafood
A trip to Miami isn't complete without a visit to Joe's Stone Crab! The namesake stone crab is obviously a must, but keep in mind the hash browns and key lime pie shouldn't be missed, either.
If you haven't gotten your fill of fish from Joe's, follow the crowd to Garcia's Seafood Grill & Fish Market — it's a popular outdoor eatery with peaceful Miami River views and an on-site market worth perusing.
3. Savor the Flavors at the South Beach Seafood Festival
For a real culinary treat, plan your trip to align with the South Beach Seafood Festival. Deemed the best seafood festival in the U.S. by the Travel Channel, this tasty event takes place every October and has plenty of opportunity to enjoy food, drinks, games, music, and more.
The Best Arts and Culture Activities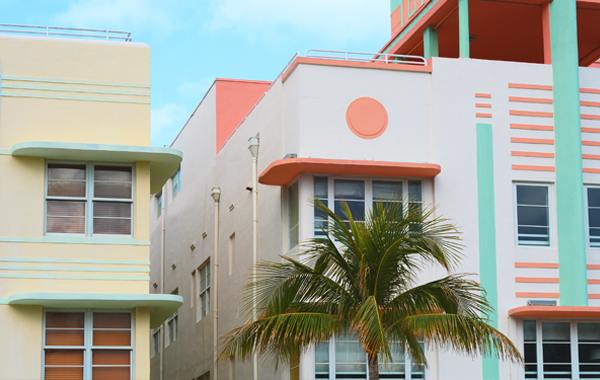 You can feel Miami's heartbeat in the city's rich cultural history and world-famous artistry. Museums, art fairs, and intricate architecture await with these top things to do.
1. Get Lost at Art Basel
North America's most robust international contemporary art fair, Art Basel is held every December during Miami Art Week at the Miami Beach Convention Center. Thousands of enthusiasts gather to celebrate art and culture with world-class galleries, panel discussions, dazzling parties, and satellite showings. While Art Basel has a few invitation-only days at its start, the fair always opens to the public.
2. Tour Vizcaya Museum and Garden
Blending art, nature, history, and sustainability into one beautiful estate, this Gilded Age attraction should be at the top of the to-do list for garden lovers and history buffs. Tour the 38,000-square-foot Main House through audio or guide books first, then stroll 10 acres of manicured, Italian-inspired gardens and the mangrove shore.
3. Soak in Art Deco Architecture
From colorful buildings to intricately-detailed decor, you can tour the glamorous historical structures — like the Colony Theatre or notably-nautical Essex House Hotel — found in Miami's famed Art Deco Historic District by segway or on foot. Located on Miami Beach between 5th and 23rd streets, the architecture here is not to be missed.
Explore More of Miami, FL
Beautiful beaches, mouthwatering munchies, and artistic adventures only begin to describe the endless activities awaiting you in Magic City. To learn more about visiting Miami, check out the city's website.
Rest Easy with Evolve
The moment you book your vacation, you should start looking forward to your trip — not worrying about the little details. When you choose Evolve for your Miami vacation, you can feel confident that the home you book will live up to our standards.
Every Evolve vacation rental comes with a team of hospitality experts, and we're here to help make your stay comfortable 24/7. To help you feel even more confident, we created our Rest Easy Promise: if a stay doesn't match our standards, we'll make it right.
The travel industry is making a major comeback, with one exciting change: traveler demand for vacation rentals is skyrocketing like never before.
In fact, a recent survey revealed that a whopping 78 percent of travelers now consider vacation rentals their top choice for accommodations — and 71 percent of that crowd plan to book trips in the next 18 months.
For second homeowners, dynamic revenue management is the key to capitalizing on all that interest.

Before deciding on the right revenue management option for your short-term rental (there are a lot available), here's a look at the game-changing impacts it can have on your home's performance (and, ahem, why we've got the best pricing tool you'll find).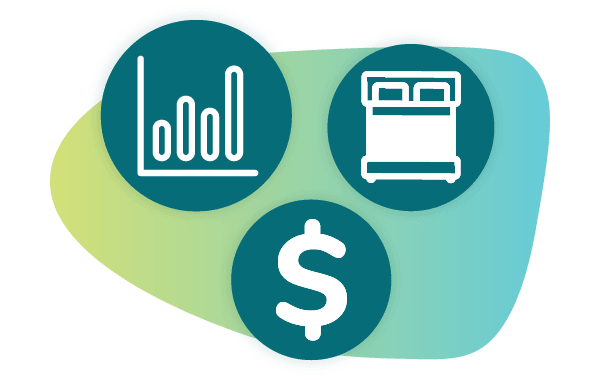 How Does Revenue Management Change the Vacation Rental Game?
As traveler interest in vacation rentals picks up, homeowners have to reframe their rates-setting mentality.
The ultimate goal is to have a competitive pricing model that gets your property seen, booked, and highly-reviewed on all major marketplaces. Historically, you may have done that by:
Setting static year-round pricing
Adjusting rates for peak- and off-seasons
Occasionally looking at how your competition has shifted their rates and tweaking yours accordingly
All of these are valid approaches that may have worked well in the past. But none of them will get you top dollar now.
In today's booming market, your pricing strategy needs to be nimble so you can maximize your home's earning potential. A professional revenue management solution delivers on that by:
1. Constantly Analyzing Your Vacation Rental Competition
While you might think you should price your home the same as your neighbor with a similar-sized property and equal number of bedrooms, the reality is what's going on inside their home could be very different from yours (like granite vs. formica countertops, or king- vs. full-size beds). This means your strategy should also look different.
Same goes for listings with five-star reviews. Even if your listing looks nearly identical to theirs, the one with tons of glowing reviews commands higher rates than a new listing without any.
Professional revenue management tools and teams can collect loads of data on rival properties and evaluate precisely where your home stands — in a fraction of the time it would take you as an individual homeowner. (Our Revenue Management team, for example, analyzes a minimum of 50 rival properties for Evolve homeowners.)
2. Keeping Up with Ever-Changing Vacation Rental Market Data
Market conditions can change daily — even hourly — depending on a host of variables. Competitor listings might get quickly booked, for example, or a bunch of similar properties might sit empty.
Ideally, your rates should pivot just as quickly as those conditions.
The best dynamic revenue management options help you do just that, as they utilize data and tools to stay on top of these constant shifts.
Without both, it's easy to default to over- or under-priced rate setting that can lower your earnings in the long run.
Comparing your annual performance to the market is also just as crucial as intimately knowing the market itself. Ideal revenue management tools track spikes and dips in personal performance, so re-calibrating with the market becomes automatic.
3. Targeting Historical Vacation Rental Trends
Vacation rental trends often focus around holidays, popular travel seasons, and interest around annual local events.
But you can get traveler intel that goes even deeper than that. There are not-as-obvious weekends that could pop in your property's area, for example, warranting a price bump. Or there might be slight dips in vacationer interest — calling for a subtle price drop — at times you'd never think about.
The right revenue management option can get you to that level of nuance.
It should have a sophisticated data collection model, along with experts who can point out predictive patterns based on years of historical information. This way you can get ahead of major income opportunities throughout the year and truly maximize your income potential.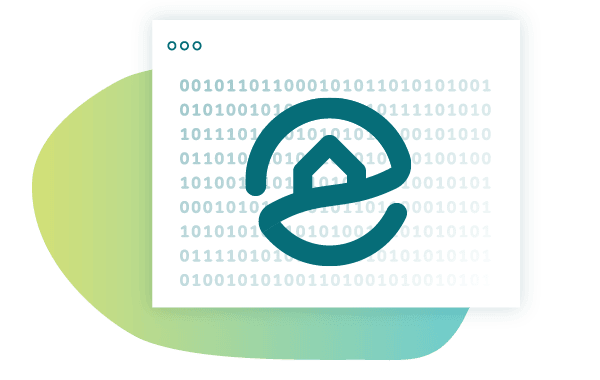 There are a ton of revenue management options on the market. But our SmartRates solution has been proven to go above and beyond, helping homeowners earn 24 percent more than traditional pricing methods. Here's how.
1. Our Exclusive Algorithm Captures Every Market Detail
Every day, SmartRates analyzes billions of data points (yes, billions) to make sure our homeowners lock in bookings from the right travelers at the right times.
It detects changes in market trends and accounts for seasonal volume fluctuations, then automatically adjusts your rates to compete.
When demand surges in your area, for example, we raise your rates to secure extra revenue from eager travelers. When it softens, our algorithm tweaks pricing to make sure you can beat out rival listings.
SmartRates also assesses how homes with similar amenities and bedroom counts are priced each day to keep you right in line with the rest of the area.
2. Our Revenue Management Experts Are Hands-On (So You Can Be Hands-Off)
Plenty of dynamic pricing tools out there are simply that: tools. They're software packages you need to learn to use.
And while they might recommend pricing adjustments — or in some cases even automate them for you — you're still the one ultimately responsible for having knowledge of the market, evaluating insights, and being able to apply the tool's recommendations strategically.
SmartRates takes that entire burden off your plate. Not only does our technology automatically adjust rates to keep your vacation rental ahead of the pack, but our team of revenue analysts also apply their industry expertise to get you to next-level optimization.
Having seasoned professionals — who are actually human! — means there's always someone who can pull out key patterns, identify the why behind fluctuations in algorithm recommendations, and give your pricing strategy an expert touch.
This approach could be the make or break your home needs during an unprecedented travel surge. Already this year, Evolve homeowners have captured rates that were 15.2 percent higher than the average Airbnb listing, and they enjoyed 126 percent more revenue per listing.
As Travel Surges, Earn More with Evolve
SmartRates isn't an isolated pricing solution, because we believe true vacation rental success requires a holistic approach. That's why we have a whole team of 500+ experts dedicated to optimizing every aspect of your property.
From revenue analysts to marketing experts and a 24/7 customer support team, an Evolve partnership unlocks access to our exclusive SmartRates technology and a stacked roster of industry professionals — all of whom work tirelessly toward one simple goal: to make vacation rental success easy for every homeowner.
Don't miss out on all the travelers booking vacation rentals. See if you qualify for a free consultation with one of our Vacation Rental Advisors to get a personal look at how we can help you start earning more today.
The best wine regions in the U.S. all offer a palate cleanser to the daily routine. They give you a chance to taste grapes from the source, to discover all the hidden notes that swirl in a single glass, and to connect with people who make wine a way of life.
Whether you're traveling to California wine country for sun-drenched days and the Pinot Noir made famous in Sideways, or you're looking for more up-and-coming regions in Michigan's wine country, we've got just the place in mind to raise your glass.
All of our scenic vacation rentals are verified, and many are near vineyards — so you can stay in the moment and crack open that new bottle you just bought.
California Wine Country: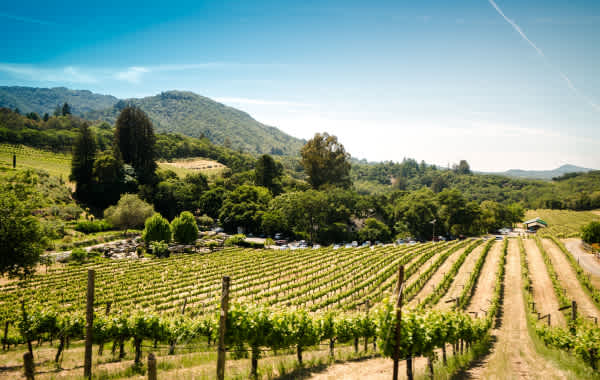 California wine country is home to many of the best wine regions in the U.S., from the rolling vineyards of Sonoma, to one of the most prominent players anywhere: Napa Valley. Splash in the blue surf by morning, sample famous wines by day, and experience the way that the area's unique weather influences every sip.
Sonoma Wine Country
Sonoma is said to be the birthplace of California's modern wine scene — and as you pull up to your vacation rental, you'll quickly discover why. Iconic, sprawling vineyards worthy of daydreams are here, life moves at a slower pace, and you can sip wines that are household names (for one, the Francis Ford Coppola Winery is in Sonoma). There's so much to explore that Keith Goldston, a Master Sommelier, said that Sonoma is "almost like a whole country in one county."
If it's Cabernet Sauvignon you're looking to try, you'll find it in Sonoma's Alexander Valley, starting with pours from Silver Oak. At this sophisticated, modern winery, simplicity reigns — and by focusing on a single varietal, Silver Oak has crafted one of the most sought-after Cabs in the country.
Zinfandels are the star in the Dry Creek Valley area. After a midday tasting at Dry Creek Vineyard, explore the picture-perfect town of Healdsburg, filled with upscale boutiques and elegant restaurants (here's a helpful round-up of how to make the most of your time there).
Chardonnay might often go overlooked, but the Russian River Valley is likely to change your mind. "What I love most about growing and producing Chardonnay in the Russian River Valley is the diversity of the fruit that is grown here," said local winemaker Giovianni Balistreri. Taste the way that seasonal fog affects the wine (in the best way possible) by finding your new favorite white at Dutton Estate. Then, head to Red Car, where every pour is phenomenal and you'll also find a photo opportunity that's too unique to pass up: a giant, well-lit wall of Rose.
Napa Valley Wine Country
Michelin-star restaurants, never-ending vineyards drenched with sun, and glasses of wine that are sure to become a memory are waiting in Napa Valley wine country. Home to over 400+ wineries, you can sip Cabernets, Merlots, Chardonnays, and more in the place that makes them famous.
Wine comes with a side of architecture at Louis M. Martini, a sleek place to sit and sip that has lawn games and upscale, private tasting options. At first glance, you might mistake Domaine Carneros for France with its Versailles-like gardens and terrace, a place where the winemaker calls their bubbles "like Audrey Hepburn in a little black dress."
Sustainability is at the heart of everything the CADE Estate does, which is why they were recognized as the first LEED Gold Certified winery (which means Leadership in Energy and Environmental Design). Drink their high-elevation Cabernet while perched above Howell Mountain.
Our pick for an enchanting afternoon is heading to Far Niente Winery, which resembles a fairytale cottage surrounded by ginkgo trees. If you're in the mood for more history, learn the story of Napa through its grapes at the nearby Beaulieu Vineyard, which has served the area for over 115 years and was recognized by Food and Wine Magazine as One of the Best Napa Valley Wineries to Visit.
There are so many choices in Napa that it can be overwhelming to find which one is right for you. Napa Valley's website breaks wines down based on what you're looking for — whether it's a breathtaking view or a storied spot.
Santa Barbara Wine Country
Take a breathtaking drive along California's Pacific Coast Highway and visit the charming vineyards of Santa Barbara's Santa Ynez Valley, Santa Maria Valley, Lompoc, and more. The ocean is in your glass here, with flavors that are shaped by the Pacific and its unique climate.
The town of Solvang is a storybook come to life, with tasting rooms around every corner, holiday shops, and Danish sweet treats (think: giant pretzels). In Los Olivos, most of the wine tasting rooms are inside of houses brimming with character. Stop by Refugio Ranch Vineyards for their organic Rhone-varietals, try biodynamic wines at Solminer, or visit a miniature shack specializing in bubbly, known as The Bubble Shack.
For that classic, sophisticated outdoor wine tasting experience, sip Sauvignon Blanc at Brander, which also has an art museum you can peruse after your tasting. Later in the day, get dressed up and go to Presqu'ile for cool-weather Pinot Noir, Chardonnay, and Syrah, which was rated one of the ten most beautiful wineries in California by Conde Nast Traveler.
You can find a round-up of outstanding places to go wine tasting in Santa Barbara right here.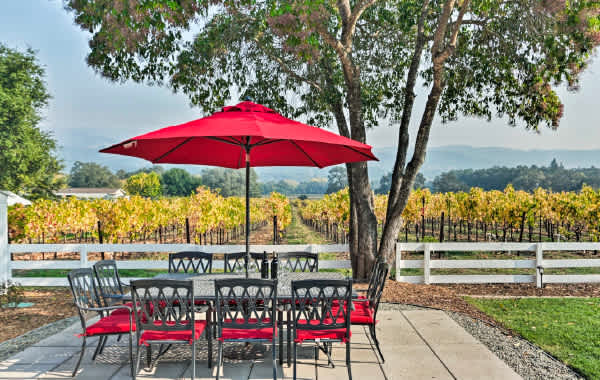 Where to Stay in California: This tranquil vacation home in Sonoma lets you stay on the vineyard — literally. The back porch is nestled in 39 miles of rolling grapes, outlined by the dramatic Mayacamas Mountains. The airy interior invites you to admire the views curled up next to the fireplace, and the elegant kitchen is the perfect place to put together a charcuterie board or two to pair with your bottle.
Oregon and Washington Wine Regions: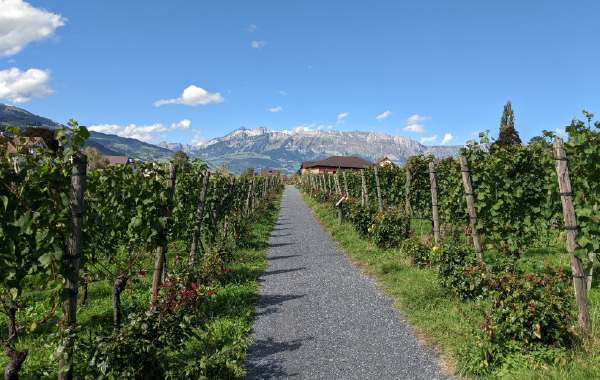 Oregon and Washington are wine drinkers' paradise. Not only are they home to some of the best wine regions in the U.S., but they also give you a chance to rent a vacation home with sweeping nature views and enjoy the best of city life out your door. Pinot Noir is one of the top grapes in Oregon, but there are twelve varieties that come out of the state, with a focus on small-batch wines. The sunshine in Washington creates bold reds like Cabernet, Merlot, and Syrah, so head here if it's reds you're looking to sip.
Rogue Valley Wineries, Oregon
Southern Oregon is a destination for flavorful wines and outdoor adventure, including Crater Lake National Park — making it the place to be if you want to combine hikes with pours. Sit overlooking the Rogue Valley's rustic charm at DANCIN Vineyards and grab a brick-oven pizza with your glass, or bring your own picnic and head to Quady North for a crisp afternoon French-style Rose. Anchor Valley Wine offers an "inclusive, welcoming, and slightly punk rock" tasting experience in a setting that feels chic and modern.
Want some al fresco music while you swirl? The Rogue Valley wine country calendar is here, often updated with events at the vineyards. This full map of Rogue Valley wineries makes it easy to plan your time away.
Walla Walla Valley Wine, Washington and Oregon
Walla Walla Valley wine country gives you the chance to taste a little of Oregon and a little of Washington (as it spans both states). Ambiance awaits at L'Ecole Wine Bar, which is nestled inside of a French schoolhouse that uses "winemaking practice that assures [their] wines will be more expressive, more aromatic, and show their individual vineyard site characteristics." For a tasting paired with mountain panoramas, fill your glass at Walla Walla Valley's Abeja, a scenic, historic farmstead worth it for the views alone.
There is no shortage of celebrated wineries in Walla Walla — but when you stay downtown, you can indulge in tasting rooms without having to drive between spots (there are over thirty tasting rooms in the central area).
Seattle-Area Wineries, Washington
Staying in the Seattle area takes you on a different kind of wine trip. The best-of-the-best from Washington are shipped right there, and you can enjoy your tastings in the city with fine dining out your door. A short drive away is Woodinville Wine Country, home to 100+ wineries that are some of the best in the state. The Hollywood District (named for a local schoolhouse, not Hollywood, CA) produces "lavish, micro, and boutique wines." Stop here to taste at Delille Cellars (if you're feeling curious, they have outlined the tasting notes in their bottles for you) or Maryhill Winery, which is located in the schoolhouse that the district was named after. For a full list of places to check out in this area, Eater has rounded up the best right here.
After a day of memorable tastings, stay in a Seattle area vacation home and pay a visit to the vibrant glass sculptures at Chihuly Garden and Glass. Then, nibble your way through Pike Place Market or grab a seat at the adorable Pink Door restaurant (and yes, the entrance is actually a pink door).
Willamette Valley Wine Region, Oregon
Flying into Portland is another way to get the best of both worlds: a city trip with incredible eats and world-class Willamette Valley wineries just a drive away. The area, which was previously named the Wine Region of the Year by Wine Enthusiast magazine, features plenty of sustainable grapes and creative pours, making it one of our picks for the best wine regions in the U.S.
Visit a micro-boutique winery for a private tasting with the owner (you'll need a reservation) at Bells Up Winery, the only stop in the area to produce a French hybrid grape called the Seyval Blanc. Sip beneath the oak trees of Yamhill Valley Vineyards for an experience you might mistake for Napa, or find something refreshing at Argyle, a sustainable vineyard loved for its sparkling wine and other varieties.
This round-up of eight wineries for newcomers to the area is the perfect place to start exploring. And while you're in Portland, be sure to pick up your next read at Powell's City of Books and a famous pink box of treats from Voodoo Doughnuts.
Where to Stay in Oregon: For a stay near Rogue Valley wineries in Oregon, book this Ashland vacation rental on its own private fishing pond. Sit out on the private patio with an outdoor fireplace and enjoy nature in style, with an interior that holds the charm of a luxury lodge. If you're looking for a family-friendly stay, there's a game loft to keep the kids busy in between hikes and wines.
Where to Stay in Washington: The best Walla Walla Valley wine is a short drive (or even walk) away when you stay at this welcoming yellow Walla Walla vacation home. Take a walk downtown, have a sip, and bring a bottle back home to crack open on the front porch. The cozy space sleeps up to twelve, offering lots of private spaces to get some rest — including a lovely backyard area.
Michigan's Wine Country: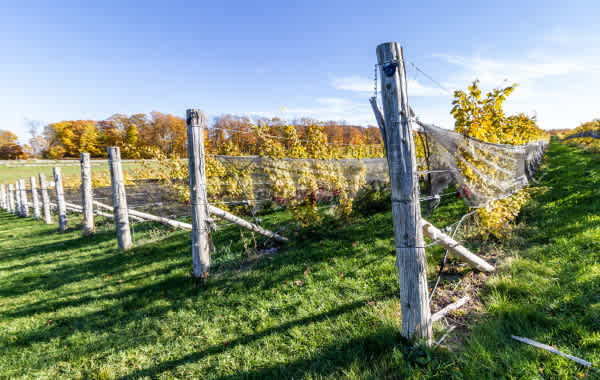 Study the notes of up-and-coming glasses at less-visited wineries that rival the west coast in Michigan, where you can also soak in the lake life. Michigan is home to both cooler-grape varieties (think: Riesling, Pinot Blanc) and warmer-weather grapes (Pinot Noirs, Cabernet Sauvignons). "If there's one word to describe Michigan wine, it's freshness," said Eduard Seitan of Chicago's One Off Hospitality group. Plus, the grapes in Michigan stay in top condition thanks to the Great Lakes, which actually keep the vineyard climate from the bitter cold, known as the Lake Effect.
Lake Michigan Shore Trail
St. Julian Winery is a prominent stop on the Lake Michigan Shore Wine Trail. The winery has been in the same family for 100 years — and if you've been looking to dive into dessert or sweet wine, this is where to do it. They even make their own spirits, which you can taste if you need a break from all of the wine.
Fenn Valley Vineyards offers a stylish bottle to bring home or grab as a gift — and has received thousands of awards from the Tasters Guild International Wine Competition. After your tasting, be sure to stop in Holland, Michigan, home to pristine beaches, an idyllic downtown, and a Dutch Tulip Festival that blooms every spring.
Want the full map of where to taste along the Lake Michigan Shore? Head here.
Old Mission Peninsula and Leelanau Peninsula
The wine at Black Star Farms is so well-loved that they have two locations. Here, you can take a tour of the winery and estate, including a stop at a centennial bar and wine cave. Rieslings are the main attraction, but you can savor anything from crisp reds to full-bodied reds.
If you're looking for that elegant California touch (in Michigan), you'll want to taste at Bonobo Winery in the Old Mission Peninsula owned by actress Amy Smart and HGTV star Carter Oosterhouse and his brother, Todd Oosterhouse. This "social gathering place" invites you to take in the scenery from outside on the patio as you try lively roses, whites, and reds.
In Michigan's Leelanau Peninsula, Chateau Fontaine is known for picking up awards and breaking new ground for the wine scene. The owners were the first to grow Syrah grapes in Michigan and to grow Cabernet Sauvignon in Leelanau. Taste here, then take your pick of any of the other 20+ vineyards in the area.
There's way more to this part of Michigan than wine. See why we named Traverse City, Michigan, one of the best small towns in America (hint: it's foodie heaven).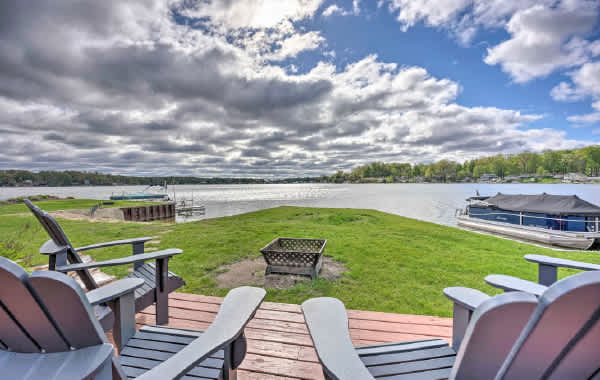 Stays as Carefree as a Day at the Vineyard
Rest easy while you sip your way through the best wine regions in the U.S. Each of Evolve's homes is verified for accuracy and sparkling clean. If something isn't what we promised or you need to change plans, we'll be there for you.
Read this next: See where else to travel this year with our 2021 trip planner or find out what we called the U.S. equivalent for Italy's vineyards with our Best Places in the U.S. That Feel International.
At the northern tip of Florida's famous A1A highway sit two of the Sunshine State's most visited cities: Jacksonville and St. Augustine.
Both of these coastal cities have to-die-for ocean views and kid-friendly activities, yet each also has their own local charm and culture — offering you so much more than the average beach trip.
Given they're less than an hour from one another, they're also the perfect pairing for an unforgettable Florida vacation. Start your trip by choosing from a wide variety of vacation rentals in Jacksonville and charming homes in St. Augustine — then plot out your adventure with these top things to do.
The Best Beach Activities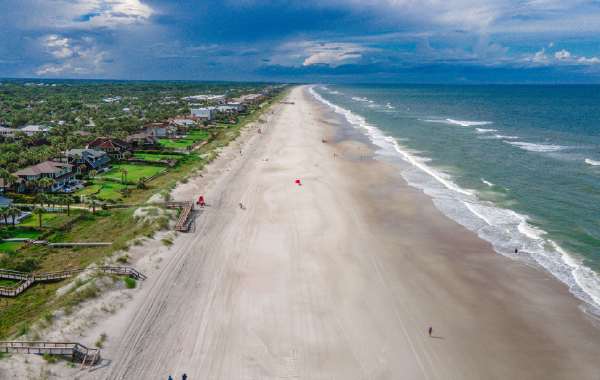 The city of Jacksonville surrounds the St. Johns River, but its beaches are just a few miles away and are known for lively beach bars and seafood restaurants. Meanwhile, St. Augustine's beaches have a more quaint, low-key vibe with plenty of fishing piers and nature trails to explore.
Whether it's a tiki bar or sand dunes sparking your interest (or both!), these are the top beach activities that'll help you fully embrace Florida's Northeast coast.
1. Enjoy a Day in the Sand at Jacksonville Beach
Known locally as "Jax Beach," Jacksonville Beach is one of the best places for a classic day of fun in the sun. Here you can relax by the water, walk on the Jacksonville Beach Fishing Pier, and experience some coastal cuisine at one of the many seafood restaurants. (Dockside Seafood Restaurant has some of the best local dishes.)
2. Explore the State Parks and Preserves at Amelia Island
For both history buffs and wildlife lovers, Amelia Island is a quieter, more preserved coastal community north of Jacksonville Beach. The island is home to two state parks: Amelia Island State Park, where you can ride horseback on the beach and admire the protected wildlife, and Fort Clinch State Park, where you can see a 19th-century fort and play in the sand dunes.
While the area is known for its natural preserves and history, it also offers luxury hotels, golf courses, and pristine waters — so there's something for everyone craving a truly custom experience.
3. Relax Near St. Augustine at Crescent Beach or Anastasia State Park
Crescent Beach, named for its natural coastline shape, is known for hard-packed sand that's ideal for beach bike rides, frisbee, and volleyball. Here you can enjoy a vibrant atmosphere and wide sands with plenty of room to play.
Anastasia State Park, on the other hand, is perfect for bird-watching or observing wildlife from a canoe or kayak. Similar to Fort Clinch State Park, it also has unspoiled beaches, tidal marshes, and ancient sand dunes to explore.
The Best Kid-Friendly Activities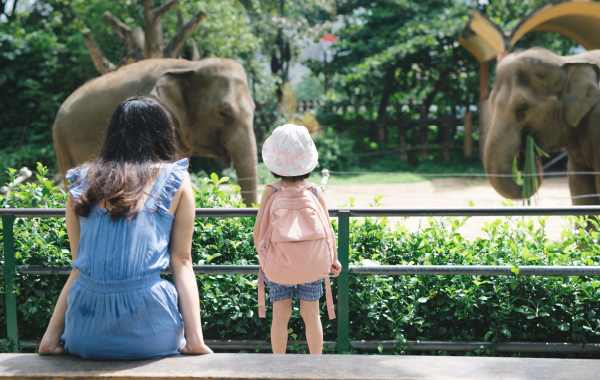 When you're ready for a break from the beach, head into town for some family fun. Both St. Augustine and Jacksonville offer a wide range of activities that will have the kids singing and jumping in delight.
1. Immerse Yourself in Nature at the Jacksonville Zoo and Gardens
If your kids are true animal lovers, Jacksonville Zoo is where the kids can learn about a range of animals, from an African bullfrog to a Malayan tiger. Plant fans can also experience a first-of-its-kind botanical garden that's integrated among the animal exhibits.
Your ticket purchase goes to a good cause, too: the Jacksonville Zoo is one of only seven U.S. zoos with an animal wellness team, and they donate a portion of every ticket sold to animal conservation efforts.
2. Observe Gators and More at an Alligator Farm Zoological Park
Reptiles, fossils, and birds, oh my! Claiming to be the only place in the world to see every living species of crocodilian, the St. Augustine Alligator Farm offers unique sightseeing of gators, along with a range of other species (think exotic birds and native snakes).
The park also has memorable wildlife shows and attractions, like the Crocodile Crossing — the kids won't forget this zipline that flies over seven acres of live alligators, tropical birds, and red-ruffed lemurs.
3. Hop on the Old Town Trolley
You can't go to St. Augustine's old town without seeing green and orange trolleys everywhere — and our bet is the kids will want to be on one. The Old Town Trolley of St. Augustine has been a traveler favorite for years, as it offers a convenient and educational way to discover the area's unique architecture and history.
If you choose to ride around, you can hop on and off as often as you'd like — and get fun educational tidbits from a tour guide along the way.
The Best Cultural Activities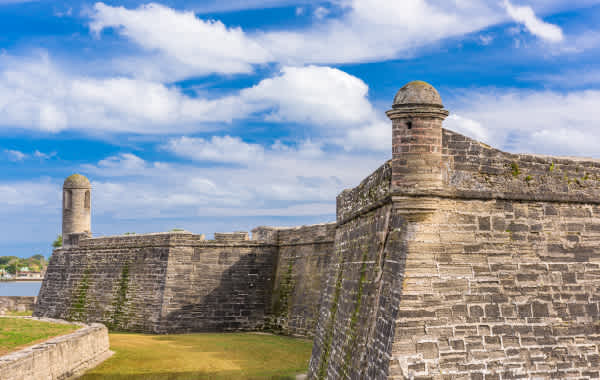 Founded in 1565, St. Augustine is the oldest continuously-occupied settlement in the United States. Its old town's rich history, unique architecture, and melting pot of cultural influences have inspired these special experiences you won't want to pass up.
1. Take a Tour of the Castillo de San Marcos Fort
Built by the Spanish to defend Florida and the Atlantic trade route, the Castillo de San Marcos National Monument has a way of making you feel like you're on the set of Pirates of the Caribbean. (Just take a look at the old cannons to really set the scene.) The fort itself is open for visitors, providing a glimpse into the oldest masonry fort in the U.S.
2. Admire Art at the Lightner Museum
No other building in town speaks to "America's oldest city" like the Lightner Museum, which is in the former Hotel Alcaza (a Gilded Age resort hotel commissioned by railroad builder Henry Flagler). While the exterior architecture alone is worth a visit, inside there's an abundance of art, architecture, history, and design worth seeing.
3. Climb the St. Augustine Lighthouse
The St. Augustine Lighthouse and Maritime Museum is a nonprofit that helps preserve the building and supports education about the port area. When visiting, you can climb the 219 spiraling steps of the lighthouse tower, view over five exhibits housed in the surrounding historic structures, or let the kids burn off energy at the shipyard play area. Whatever you do, be sure not to miss the stunning views!
Explore More of St. Augustine and Jacksonville
Enjoying the beaches, wildlife, and culture is just the beginning of things to do in St. Augustine and Jacksonville. To learn more about visiting these neighboring cities, check out the Visit St. Augustine and Visit Jacksonville websites.
Rest Easy with Evolve
The moment you book your vacation, you should start looking forward to your trip — not worrying about the little details. When you choose Evolve for your St. Augustine and Jacksonville vacation, you can feel confident that the home you book will live up to our standards.
Every Evolve vacation rental comes with a team of hospitality experts, and we're here to make your stay comfortable 24/7. To help you feel even more confident, we created our Rest Easy Promise: if a stay doesn't match our standards, we'll make it right.
Fort Worth is a city as timeless as John Wayne, and as fast-growing as the bluebonnets in April. While it may be famous for the Stockyards and rodeo season, there's so much more to the city than its "Cowtown" nickname. (Though channeling your inner cowboy is certainly encouraged.)
So dust off the cowboy boots and get your share of Texas hospitality by booking one of these vacation rentals. Then saddle up for a wild ride with these top things to do.
The Best Things to Do with Kids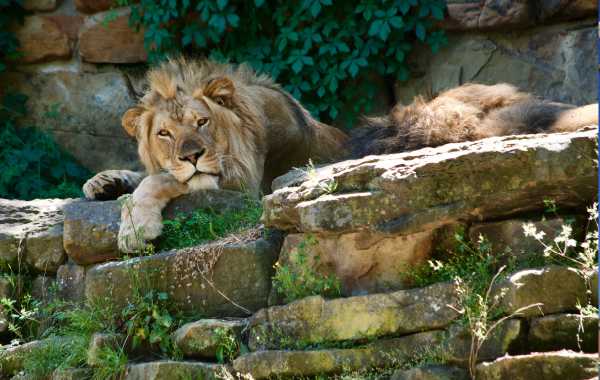 Fort Worth is a hub of excitement for little buckaroos. From local amusements to larger-than-life exhibits, kids — and kids at heart — will love spending time in Fort Worth with these family-friendly activities.
1. Find Your Wild Side at the Fort Worth Zoo
With more than 7,000 animals and attractions like the Yellow Rose Express Train, it's easy to see why the Fort Worth Zoo is ranked one of the best in the nation. When you're not busy checking out the wild elephant exhibit, take the kids to the cowboy-themed Play Barn or test your aim at the Wild West Shooting Gallery.
2. Ride High at Six Flags Over Texas
Thrill-seekers can take their trip to greater heights at Six Flags Over Texas, as it turns out even the loop-de-loops are bigger in Texas! But if heights aren't your kid's thing, the famous theme park also has live shows, rides, and Looney Tunes characters to keep them more than entertained.
3. Unearth New Discoveries at Fort Worth Museum of Science and History
Take a day to explore the Cultural District of Fort Worth — and be sure to include a visit to the Fort Worth Museum of Science and History. Whether you scout for shooting stars in the Noble Planetarium or uncover fossils at DinoDig, there's something exciting around every corner in this interactive museum for young explorers.
4. Soak in the Small-Town Charm at Lake Granbury
Tucked between Dallas and Fort Worth, Granbury is an up-and-coming vacation spot that pairs small-town charm with lakefront fun. After less than an hour's drive, you could be splashing around with the kids or walking through Historic Granbury Square, Texas' first downtown square on the National Historic Register.
The Best Activities to Channel Your Inner Cowboy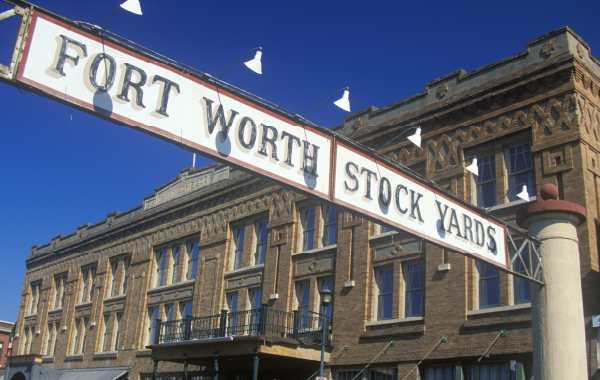 With a motto like "where the West begins," you can count on Fort Worth for a true Texas adventure. The city fully embraces its Lone Star State traditions, and with activities like these, encourages you to join in the fun.
1. Saddle Up at the Stockyards
A visit to the Stockyards District feels like stepping into Texas history. You can watch gunfight reenactments and twice-daily cattle drives, or even try driving them yourself with the weekend "Herd Experience." Be sure to bring your dancing shoes too, as you can boot-scootin boogie to live music every Friday and Saturday evening!
2. Ring Your Cowbells at the Rodeo
Many come to the Fort Worth Stock Show and Rodeo for the cowboy hats and funnel cake, but stay for the barrel racing and extreme bull riding. This legendary, 23-day event normally starts around mid-January, and is full of fun things to do for the whole family.
3. Walk in Women's Footsteps at the Cowgirl Museum
From Annie Oakley to Miranda Lambert, you can learn about the trailblazing women who shaped the West at the National Cowgirl Museum and Hall of Fame. Historical photographs, artifacts, and galleries tell the stories of these women and their influence on western culture. Just know that exhibits change, so check the calendar before you go.
The Best Arts and Culture Activities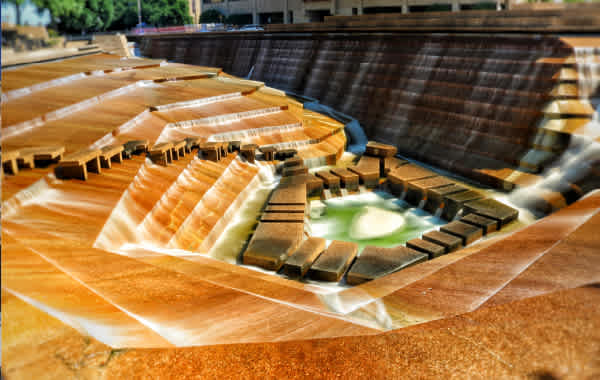 Mooo-ve over mundane. Cowtown is the perfect blend of a country western and bustling city, in large part thanks to its Cultural District. Spend some time enjoying these activities that make Fort Worth the arts-influenced hub it is today.
1. Get Inspired at Kimbell Art Museum
World-renowned for both its architecture and art, take a tour of the two buildings at the Kimbell Art Museum. There you'll find rotating special exhibitions, along with the year-round "Collections in Conversation." With a wide array of portraits and open-air sculptures, these inspiring works of art are curated across a wide span of cultures, timeframes, and mediums.
2. Relax at the Water Gardens
Find an urban oasis in the heart of downtown at the Fort Worth Water Gardens. Open year-round, this architectural space has a unique environment that's become one of the best places to unwind in between high-speed activities.
3. Hit the Town at Sundance Square and Downtown
Shopping, dining, dancing — all of it (and more!) is available at Sundance Square, a pedestrian-friendly district in the heart of downtown. You can spend the day exploring, but if you're short on time we recommend the Parfumerie Marie Antoinette for body products and art, Silver Leaf Cigar Lounge, and Riscky's Barbeque for authentic country fried steak.
Explore More of Fort Worth, TX
Whether you're visiting Texas for the first time or a long-time Dallas resident in the mood for something new, there are plenty of renowned restaurants, iconic cowboy tales, and lively downtown districts in "Cowtown."
To learn more about visiting Fort Worth, check out the Visit Fort Worth website.
Rest Easy with Evolve
The moment you book your vacation, you should start looking forward to your trip — not worrying about the little details. When you choose Evolve for your Fort Worth vacation, you can feel confident that the home you book will live up to our standards.
Every Evolve vacation rental comes with a team of hospitality experts, and we're here to help make your stay comfortable 24/7. To help you feel even more confident, we created our Rest Easy Promise: if a stay doesn't match our standards, we'll make it right.
Known as a year-round recreational haven, there's a never-ending conveyor belt of things to do in Park City, Utah. Skiing and mountain biking barely scrape the surface of the outdoor adventures that wait within this Rocky Mountain mecca, and the lively downtown scene packs a punch full of historic walks, fine dining, and flourishing cultural identity.
If that sounds like your type of destination, get your trip started by booking one of our idyllic vacation rentals (the cabins here really set the scene for a memorable experience). Then create the ultimate to-do list with these top things to do in the area.
The Best Outdoor Activities in Park City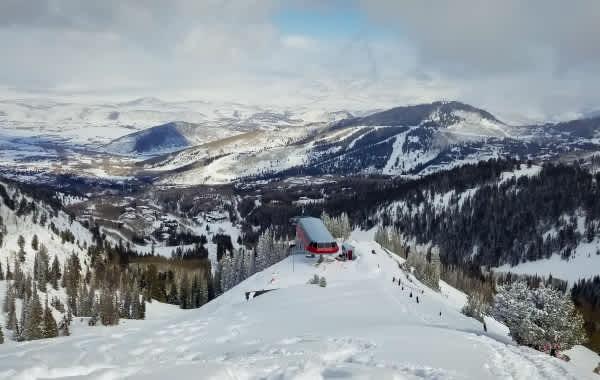 Outdoor adventure is the name of the game in Park City. From skiing and mountain biking to living out your Olympic dreams, this historic mountain town is a sports enthusiast magnet — and these are the top activities worth trying.
1. Shred Snow and Dirt at the Best Mountain Resorts
Originally Utah's silver mining hub, Park City Mountain Resort has evolved into the largest ski resort in the U.S. with 7,300+ acres of skiable slopes. An annual snowfall of 365 inches (dubbed The Greatest Snow on Earth) and world-class terrain parks are just a few of the features this mega resort offers, and it's particularly fun for families and beginner-to-intermediate skiers.
Deer Valley Resort is another option; one that's sure to suit your luxury-seeking side thanks to its thoughtfully designed terrain. Ranked a top ski resort in the U.S., it's also one of just three skier-only mountains in the country. Coupled with the soft snow and convenient location near Salt Lake City, it's no wonder it became a venue site for the 2002 Olympics.
Of course, these resorts aren't just for snow bunny activities — once the powder melts, both Park City and Deer Valley transform into a mountain biking haven. With a combined 470 miles of trails, there's plenty of singletrack, downhill, and family-friendly terrain for both novice and pro riders to shred.
2. Live Out Your Gold Medal Dreams at Utah Olympic Park
Originally built for the 2002 Winter Olympics, Utah Olympic Park has since been transformed into a dynamic multi-use facility for both elite athletes and casual visitors. You can dive into Olympic history at the museum, watch pros train on the Nordic ski jump, or test your own skills in one of the on-site adventure activities like the Comet Bobsled and zipline course.
3. Soak Up the Sun with More Mountain Sports
"The Greatest Snow on Earth" might be Park City's biggest attraction, but summertime opens you up to a whole new world of outdoor sports and adventures. For those looking to hit the water, Weber River is a go-to spot for white-water rapids. (Consider booking a guide trip with a company like Park City Rafting.)
Those seeking slightly less adrenaline-pumping thrills can find a wide variety of hiking options in the area. (Some of the most popular are listed on AllTrails.) And, of course, golfers can hit the links at Park City Golf Course — one of the best-ranked courses in the area that offers both reservations and lessons.
The Best Downtown Activities in Park City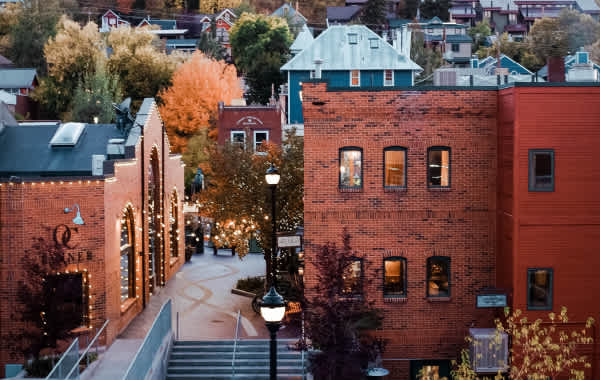 The mountains meet a mini-metropolis in downtown Park City. Hosting everything from fine dining and designer boutiques to history and local spirits, these are the must-dos that'll keep you on your toes.
1. Sip and Socialize at High West Distillery
Flaunting the title of Utah's first distillery since the American Prohibition, High West Distillery serves up small-batch, award-winning whiskeys and vodkas along with modern Western fare. But that's not all that makes it one of a kind: High West is also the only ski-in gastro-distillery in the world, so there's no delaying après-ski.
2. Explore Historic Main Street
If the Mountain Resort is the heart of Park City, Historic Main Street is definitely the soul. Chock-full of bars, restaurants, art galleries, nightlife, and undeniably great people-watching (keep your eyes peeled for a celebrity sighting), Main Street has a little something for everyone. For those short on time, be sure to put Wasatch Brewery (great local drafts) and No Name Saloon (a legendary classic) at the top of the list.
3. Dine Like a Local at Davanza's
A long-time local's hangout, Davanza's has served as the neighborhood watering hole since 1979. Offering everything from burgers and fries to pizzas and tacos, this restaurant has the grub you crave after carving turns or bombing singletrack all day. Pro tip: don't miss out on the famous fry sauce!
The Best Cultural Activities in Park City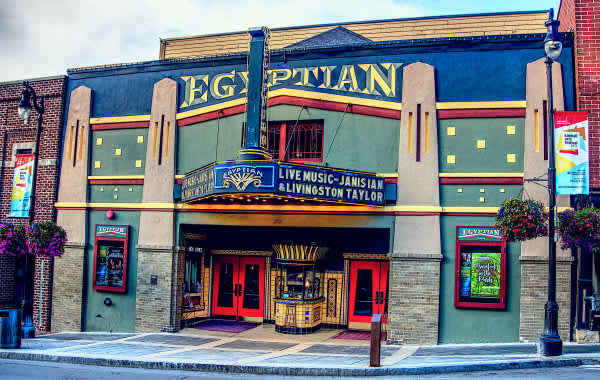 A tiny silver mining town turned ski mecca, Park City offers a rich cultural heritage amongst its world-class adventures. Tap into the city's softer side with these activities that'll infuse some spirit into your itinerary.
1. Fall in Love with Cinema at Sundance Film Festival
Cinephile or not, the Sundance Film Festival is a practically-required Park City experience. Boasting the title of largest film festival in the U.S., this 10-day spectacle — running between late January into early February — brings movie lovers from all over the world to indulge in new independent films, up-and-coming musical talent, and of course, celebrity sightings.
2. Become a History Buff at the Park City Museum
Deep dive into Park City's colorful past via the Park City Museum's interactive exhibits and century-old artifacts. Be sure not to miss the city's original basement jail, where you'll learn the ins and outs of the mining and skiing narrative this city is known for.
3. Catch a Live Performance at the Egyptian Theater
An iconic landmark, the Egyptian Theater has remained a staple of the Historic Main Street scene for nearly 100 years. Check out weekly live performances at this unique gathering place offering everything from drama and comedy to musicals and concerts.
Explore More of Park City, Utah
Park City offers a rich mix of history, outdoor adventure, and downtown action, all housed within a beautiful mountain setting. To learn more about visiting, check out the Visit Park City website.
Rest Easy with Evolve
The moment you book your vacation, you should start looking forward to your trip — not worrying about the little details. When you choose Evolve for your Park City vacation, you can feel confident that the home you book will live up to our standards.
Every Evolve vacation rental comes with a team of hospitality experts, and we're here to help make your stay comfortable 24/7. To help you feel even more confident, we created our Rest Easy Promise: if a stay doesn't match our standards, we'll make it right.
Surrounded by four mountain ranges, the Palm Springs area encompasses nine cities and offers seemingly endless amounts of sun-filled days and picturesque desert views in Southern California.
Just as impressive as its landscapes is this region's lengthy list of things to do. Whether you're looking to soak up the country's culture at a music or film festival, explore the great outdoors with friends, or take your family on a memory-making adventure, Palm Springs is sure to satisfy.
Start your adventure by booking one of our vacation rentals (we recommend one with a pool for lounging), then fill your time with these top things to do.
The Best Arts & Culture Activities in Palm Springs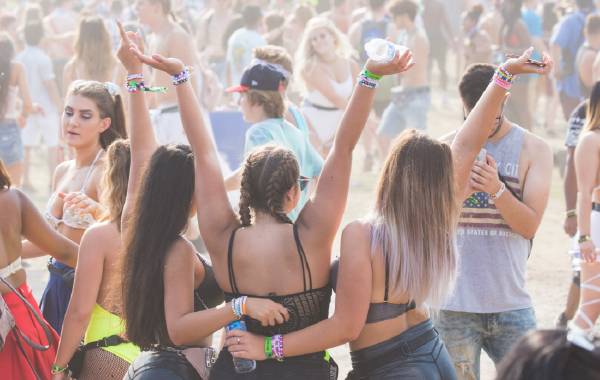 From its stunning architecture to one-of-a-kind experiential events, Palm Springs is brimming with a vast collection of art and cultural experiences. Step outside your private oasis and immerse yourself with one of these memorable activities.
1. Dance Your Feet Off at Famous Music Festivals
Undoubtedly one of the most iconic pop culture events, the Coachella Valley Music and Arts Festival takes place every April at Empire Polo Club, about 26 miles from downtown Palm Springs. Ticket holders step into a one-of-a-kind desert environment to enjoy world-famous music performances, incredible art installations, and the opportunity to bump elbows with celebs in the crowd. (The likes of Katy Perry, Will Smith, and Nina Dobrev have attended in the past.)
But Coachella isn't the only big music festival in town. While you'll find chart-topping indie rock, pop, and hip hop artists there, country music fans can get their fix at Stagecoach, Coachella's sister music festival held in the same desert location. It's common to see mainstream acts like Thomas Rhett and Carrie Underwood take the stage, but you'll also have the chance to discover lesser-known artists specializing in folk, bluegrass, roots rock, and alternative country.
Note: Coachella and Stagecoach have been reportedly postponed to 2022 due to the coronavirus pandemic.
2. Catch the Next Big Flick at a Film Festival
Founded in 1989 by Sonny Bono (yes, the Sonny of Sonny and Cher), the Palm Springs International Film Festival has become a cultural phenomenon. It's the first stop for many on the road to the Academy Awards, and has screened notable films including Bathtubs Over Broadway and Selma. With a variety of genres and lengths, this film event is one any movie buff will love.
There's also ShortFest to consider. Launched in 1995 and one of the most acclaimed short film showcases in the world, Palm Springs visitors can see films with a run-time of 40 minutes or less. Think of it as a sampler of Hollywood talent that's easy for everyone to enjoy.
Note: Palm Springs International Film Festival and ShortFest have been postponed to 2022 due to the coronavirus pandemic.
3. Admire Palm Springs Mid-Century Modern Architecture
Palm Springs is home to the world's largest collection of preserved mid-century modern architecture. Acclaimed architects such as Richard Neutra, John Lautner, and Donald Wexler have left their mark on the desert landscape, most famously captured by photographer Slim Aarons.
You can take in the city's stunning framework via an immersive architectural tour with Palm Springs Architecture Tours. You'll start in downtown Palm Springs either on foot or two wheels, and enjoy a two-and-a-half-hour peek into the architectural genius that inspires this iconic area.
The Best Outdoor Activities in This Desert Oasis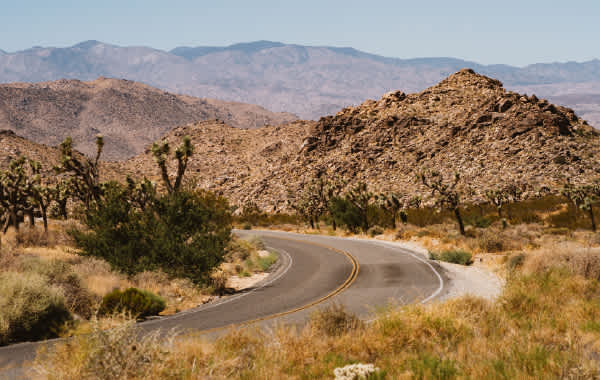 Resting on the western edge of Coachella Valley and at the base of the San Jacinto Mountains, Palm Springs offers a ton of opportunity for outdoor exploration. Whether you're hungry for laidback leisure or a wild adventure, these activities will feel like a breath of fresh air.
1. Enjoy Nature at Joshua Tree National Park
Known for its landscape of slow-growing trees by the same name, Joshua Tree National Park is the perfect place to explore Mother Nature. Those who like to venture on foot can take in the eye-catching wildflowers and southwestern birds on a variety of hikes, while those who prefer two wheels can enjoy the backcountry mountain biking trails.
Stick around for the evening, too: Joshua Tree boasts some of the darkest nights in Southern California — and it's one of only 11 International Dark Sky Parks in the U.S. — so it's ideal for a night of stargazing.
2. Soak Away Stress in Natural Hot Springs
Filled with mineral water from the warm- and cold-water aquifers beneath Desert Hot Springs, visitors flock to the area's abundance of natural pools, jacuzzis, and spas to enjoy holistic healing benefits and serious R&R vibes.
Enveloped in ancient palms and tamarisk trees (and historically known for hosting an array of celebs), Two Bunch Palms is arguably the most luxurious thanks to its expansive landscaped grounds and variety of pools to soak in. Those interested in a more simple-yet-intimate experience should visit Miracle Springs Spa, known for its eight mineral-rich pools and panoramic mountain vistas.
3. Take in Cliffside Views From the Palm Springs Aerial Tramway
Crowned the world's largest rotating tram car, the Palm Springs Aerial Tramway travels over the cliffs of Chino Canyon and offers stunningly wild views of Mt San Jacinto State Park. Once at the Tram's mountain station, you can enjoy cliffside views, hike over 50 miles of trails, or visit the natural history museum.
The Best Kid-Friendly Activities in Palm Springs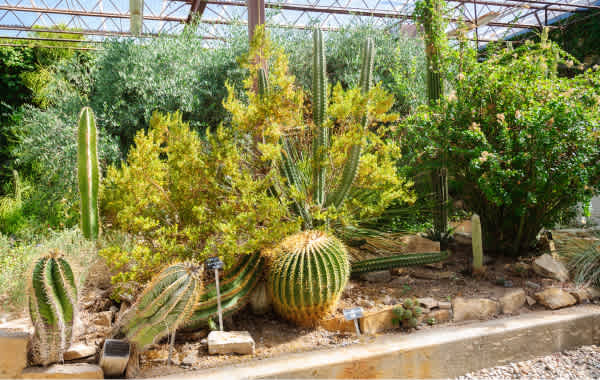 While known for its adult activities, Palm Springs also has a bunch of fun options for families traveling with kids. From venturing into the living desert to cooling off at a waterpark, these year-round activities make it easy to build lasting memories.
1. Explore Your Wild Side at The Living Desert Zoo and Gardens
Voted one of the 10 best zoos in the U.S., The Living Desert Zoo and Gardens is the ultimate kid-friendly experience with both wildlife and an abundance of flora and fauna to admire. You can learn about Australia's most treasured animals in the interactive Australian Adventures experience, feed giraffes, or hike the on-site nature trails while learning about the plants spotted along the way.
2. Kick Up Some Dust with Open-Air Jeep Tours
Safe and fun for visitors three years and older, this top-rated Palm Springs activity is great for families looking to get the whole crew outdoors. (It's a great alternative to hiking with little ones!) You can explore your desert surroundings on a tour (times range from 1.5 to 6 hours) of the San Andrea Fault, Indian Canyons, Painted Canyon, or even Joshua Tree National Park.
3. Go Back in Time Visiting the Cabazon Dinosaurs
Regarded as one of the most iconic roadside attractions and featured in cult-classic films like Pee Wee Herman's Big Adventure and The Wizard, the gigantic Cabazon Dinosaurs are all outfitted in famous paint-suits, ready to dazzle kids of all ages. You'll have a blast taking family photos here, and once tummies start to grumble you can visit the on-site 'Wafflesaurus Truck' for dino-themed ice cream treats.
Explore More of Palm Springs, CA
Whether you're looking to explore with the kiddos, immerse yourself in desert dreamscapes, or cultivate a cultural visit, Palm Springs will have you spoiled for choice when it comes to planning your visit. To learn more about visiting Palm Springs — including where to find a great vacation rental to serve as your home base — check out our vacation-made-easy guide to Palm Springs.
Rest Easy with Evolve
The moment you book your vacation, you should start looking forward to your trip — not worrying about the little details. When you choose Evolve for your Palm Springs vacation, you can feel confident that the home you book will live up to our standards.
Every Evolve vacation rental comes with a team of hospitality experts, and we're here to help make your stay comfortable 24/7. To help you feel even more confident, we created our Rest Easy Promise: if a stay doesn't match our standards, we'll make it right.