Real estate is an ever-popular — and largely safe — investment route.
While buyers have options around what type of investment property they'd like to own (long-term versus short-term rental is a common question second homeowners ask), recent traveler trends suggest investing in vacation rentals is the clear frontrunner for earning more income.
In the wake of the coronavirus pandemic, travelers are getting back on the road in staggering numbers. And 78 percent of the time, they're favoring vacation rentals over any other accommodations.
Experts also believe these new traveler preferences are here to stay, making short-term rental an impressive investment in the long run.
That said, breaking into the market might be a fleeting opportunity. With demand exploding, competition among investors is growing, too — and inventory is waning.
"You'll have to get in now or risk not getting in at all," says Louis Olds, Evolve's senior manager of Real Estate Services.
If you're still unsure about the opportunity, here are six major benefits to investing in vacation rentals that underscore exactly why it's your best option as a homebuyer.
1. Vacation Rental Creates Unmatched Income Potential
Not only is the vacation rental industry showing unprecedented income opportunity right now — Evolve homeowners, for example, are getting 23 percent more per night this summer than in seasons past — but it's also always boasted what our Real Estate Services (RES) experts consider a "high-reward profile."
Most investors look at cap rate — the ratio between a property's net income and its market value — as a key measure of success, because it indicates return on investment. Our RES team says long-term rental cap rates can hover around an average of 4 to 5 percent in metro markets (where investors are typically drawn), but short-term rental cap rates can frequently come in as high as 10 percent. (Or, in the case of hot markets like the Poconos, a whopping 14 percent.)
This means your ceiling for profitability is significantly higher when investing in vacation rentals than it is with other property options — opening up the chance for a whole lot more money to land in your pocket.
2. Market Opportunity Is Vast and Varied
While finding success in long-term rental generally requires a purchase near a major metro area, homeowners can find vacation rentals with major profit potential in virtually any market. (Evolve homeowners, for example, are successfully doing business in over 700 destinations across the U.S.)
And since vacationers' favorite travel locations are scattered in every corner from coast to coast, that means your scope of opportunity extends into more areas, wider price ranges, and bigger profit margins.
So whether you're interested in beachfront property, a ski rental, or a cozy cabin, you're absolutely spoiled for choice.
3. Owning Vacation Rental Property Offsets Homeowner Costs
Creating sizable revenue streams and growing an income property portfolio are the main investment goals for many second homeowners. But there's also massive value, particularly for first-timers, in offsetting homeowner expenses from the start.
From mortgage payments and utilities to insurance fees and maintenance costs, solid rental income can cover monthly expenses and help your home pay for itself in a shorter time frame. Vacation rental owners are also eligible for certain tax deductions, which could help close the gap between income and expenses.
Bonus benefit: partnering with a vacation rental management company that has especially low fees (ahem, hi there) helps homeowners break even and start earning profit faster, because you'll streamline the process and gain access to professional resources at a fraction of the cost.
4. Five-Star Hospitality Drives Even More Revenue
The best part about investing in vacation rentals is that great guest feedback makes your home more lucrative over time.
When new listings hit the marketplaces, they have to compete with established competitors for visibility and bookings. But the more five-star experiences you deliver, the more sites like Airbnb and Vrbo will show your property to browsing travelers — making it more likely you'll earn additional income.
Second-to-none hospitality standards also allow you to raise your nightly rates, increasing your profit margins on any given stay as you establish the value and superiority of your vacation rental.
5. Your Investment Property Can Serve Dual Purposes
Unlike long-term rental investments, a vacation rental is a place where you, the homeowner, can also escape. It gives you the luxury of carving out time to spend with family and friends, or to switch up your work-from-home space.
In other words, you earn rental income to boost profits when you're not there, but then save money when you'd like a change of scenery or time off.
6. Your Home Appreciates in Value
As with all good real estate investments, you can expect your vacation rental's market value to appreciate over time. So if and when you become ready to sell, you'd likely earn more than the previous owners did when you purchased it.
Take the Next Step Toward Investing in Vacation Rental
Getting started might feel like a big undertaking. From how much you can afford to what style and location of home you're after, there are a number of questions to answer.
And once you've actually closed on a home, there are a ton of components to vacation rental management you'll need to start thinking about for long-term success.
That's why we've put together a ton of resources to help you achieve your investment goals:
• Peek at our list of 2021's best places to buy and our Vacation Rental Performance Reports to zero in on exactly which market is best for you.

• Explore our listings for sale page to get a head start and purchase a vacation rental that's already proven to be successful.

• Use our vacation rental income calculator to understand all your income and expense variables, and confidently estimate your property's success. 
But above all else, remember that our team of real estate service experts is here to guide you. If you have questions about investing in vacation rentals or want to learn more about the process, our consultative approach can help you get the ball rolling with ease.
We'll partner with you on defining your personal and financial goals, and take the stressful parts of the process off your plate — like choosing the right market and local real estate agent — so you can move right into a thriving vacation rental business.
When you're first starting out as a vacation rental owner, there's one big question: how much money can I expect to make?
Short-term rental properties can give second homeowners solid revenue returns, and are often more profitable than long-term rentals. But that additional income doesn't come without costs. From taxes and insurance to cleaning and management fees, it's important to factor a number of expenses into your income calculations to help paint an accurate picture of your home's profit potential.
That's where our vacation rental income calculator comes in. Simply plug in your monthly revenue and expenses below, then sit back as our tool automatically churns out an annual income estimate — all factors considered.
Not sure where to pull all those numbers? Take a peek below our tool to understand your income and expense variables in more detail, and check out our bonus resources that can help you make confident estimates.
Your Income Variables, Explained
The first step in accurately predicting income? Defining each term properly. Here's a quick-reference glossary of what each variable used in our vacation rental income calculator means.
Understanding Income and Expenses
Let's be real: calculating an accurate income for your investment property can be confusing. Certain elements — like mortgage and utility payments — have fairly standard numerical values you can enter into the calculator without much math. But other components require more contextual consideration, so let's walk through each step of the process in more detail.
Step 1: Calculating Monthly Revenue
To accurately estimate nightly rate and expected nights booked, it's important to understand the current market in your area.
The good news: we've analyzed thousands of listings across North America to aggregate the most influential performance metrics for you. From nightly rate and nights booked to average lengths of stay and prime booking windows throughout the year, all of the results can be found in our library of Vacation Rental Performance Reports. Each gives you a data-backed gauge of how direct competition performs — and, in turn, how much you can expect to charge and book.
You can pull the nightly rate and nights booked averages from those performance reports, then plug them into the vacation rental income calculator above to provide a solid foundation for estimating monthly income (and, ultimately, overall revenue).
But homeowners who work with Evolve also get the benefit of our proprietary SmartRates algorithm. It adjusts dynamically each night to guarantee your home always paces alongside rival listings — and outperforms in the long run. Case in point: SmartRates has earned our homeowners 24 percent more than traditionally-static pricing methods!
Step 2: Calculating Monthly Expenses
From taxes to marketing fees, your expense estimate relies heavily on custom quotes and individual choices.
First, add up the monthly costs of your different types of insurance — like homeowners insurance, liability insurance, and a property protection plan. (Fun fact: our Evolve homeowners are automatically covered for up to $3,000 in damages and $1,000,000 in liability at no additional expense.)
Then comes property taxes. How they're applied varies by state, so be aware of your particular municipal requirements. If you're not sure, you can plug your rental property's address into this complimentary tool to receive the right rate.
Once you have an estimate for both, combine the numbers and enter the sum into our vacation rental income calculator.
Next, input your monthly mortgage payment and utilities.
To incorporate what we've deemed other expenses, first combine monthly HOA and maintenance costs, cleaning fees, and the average expense of keeping your short-term rental well-stocked for guests.
If you need to make furniture or decor upgrades, put a price to those overarching updates and divide by 12 before adding to your total monthly view of those additional expenses.
Finally, there are management costs to consider. This figure will look different depending on how you choose to run your vacation rental.
If you run a vacation rental without any help:
Select the "I plan to manage my property on my own" option in our vacation rental income calculator
Add up the varying percentage costs of the marketing fees for the marketplaces you plan to use (listed below)
Move the marketing fee slider to match the sum of those percentage fees
If you use a property manager:
Select the "I plan to hire a manager" option in our vacation rental income calculator
Slide the bar to account for an average 30-50 percent fee
If you use Evolve as your property manager (P.S. we list your home on all the top short-term rental marketplaces at no additional cost):
Select the "I plan to hire a manger" option in our vacation rental income calculator
Slide the bar to our industry-low 10 percent fee
Maximize Your Income Potential with Evolve
Between the steep fees of traditional property managers and the overwhelming responsibility of a DIY approach, it's hard to strike a cost-benefit balance that guarantees your success. At least, it was until Evolve came into the picture.

For the lowest management fees around, we'll apply a data-proven marketing and booking strategy to your vacation rental, boosting your revenue potential while keeping costs (and stress levels) down. It's how we've helped over 14,000 homeowners earn more than $1 billion in rental income — and we're ready to help you.

See if you qualify or call one of our Vacation Rental Advisors today at 877.881.7584.
Imagine: after a long travel day, a guest arrives at your vacation rental and — ugh — spots a glass in the sink, an unswept floor, or even a ruffled bedspread. It's enough to make them wonder: is the place just a bit messy, or are the cleanliness standards at this home not quite up to their expectations?
As a vacation rental owner, a situation like this could be the difference between a five-star review and a two- or three-star rating. And the stakes are even higher amidst a global pandemic. Safety precautions and total sanitation are critical as travelers want to responsibly escape reality. Which means guests won't — and shouldn't — look past cleaning snafus.
To make sure your vacation rental is totally spotless and giving off those safe-and-comfy vibes, download our three easy-to-use vacation rental cleaning checklists. Available in both English and Spanish, they'll make your pre- and post-guest cleaning routine comprehensive and foolproof.
Download Our Vacation Rental Cleaning Checklists
Why Are Vacation Rental Cleaning Checklists Important?
When establishing best practices for your vacation rental management, adding organization to processes helps standardize them. With codified documentation, you'll spend less time handling mishaps and more time nurturing (and scaling) your business.
With a vacation rental cleaning checklist in hand, you'll:
1. Eliminate Guesswork and Human Error
Even when a cleaning routine is tried and true, it's natural to overlook a step in the process — or think you've done something you haven't.
With checklists, you effectively eliminate (or at least drastically reduce) that risk. Having your cleaners initial each box as they go is a super easy way to ensure the service is as thorough as intended.
2. Set Expectations for Your Maintenance Team
When you onboard cleaning services, it's important to outline expectations from the jump. Providing comprehensive cleaning checklists helps teams not only navigate the areas of your home that obviously need attention, but also tackle tasks that may be less obvious to the naked eye (like, say, sanitizing surfaces and handles).
Certain cleaning services may also have different people coming through your home between each guest visit. Requiring every team to fill out the same checklists mitigates discrepancies, so you can rest easy knowing consistent standards are applied every time. (Just remember to get those completed checklists back for recordkeeping.)
3. Collect the Reviews You Deserve
Guests pay a professional cleaning fee when they book your property, so they're expecting an impeccable home that looks just like the pictures online.
By utilizing cleaning checklists, you make the turnover process between bookings seamless. This helps avoid unpleasant phone calls or complaints while giving guests peace of mind that their health, safety, and comfort is top of mind.
Plus, if you do receive concerns from guests, you'll have a record of everything your cleaning services covered before their stay.
All of this makes for a happy guest. Happy guests write great reviews, and great reviews mean more trust-backed bookings.
Find a Better Way Forward With Evolve
Evolve believes maintaining your vacation rental should be as easy as checking a few boxes. Download our cleaning checklists today (available in English and Spanish), which include additional pre- and post-stay checklists for an even more robust set of processes.
And don't forget, we're here to support you in more ways than one. Our fresh approach to vacation rental management gives you total marketing, booking, and customer support across popular websites like Airbnb, Vrbo, and Booking.com.
We'll also connect you with trusted cleaning and support partners, so you can decide who to work with to create the Home Team of your dreams.
It's our job to drive more guests to your property for maximum income, so you can focus on providing an incredible guest experience — all for an industry-low 10% management fee.
We've helped 14,000+ homeowners earn more than $1 billion in rental income. And we'd love to help you.
See if you qualify or call one of our Vacation Rental Advisors today at 877.881.7584.
Digital nomads, rejoice: Work and play no longer have to be separate. While you're still remote, get some fresh air without using all of your vacation days. Switching up your routine a little can inspire new thinking and deepen your focus — all while you enjoy all the luxuries of vacation on your off-time.
Ready to get out of the house? Pick one of these places based on how you like to feel at work and change up the scenery.
Bust Stress: Vacation Rentals With A Pool
Make your co-workers jealous by joining the company meeting poolside. Lounge in the sun while you knock projects off your list, then enjoy a crisp plunge in the water. Bonus: all of our homes are vetted in person, which means these pools are as good as they look.
Honorable Mentions: Enjoy views of your own private lake and private pool at this luxurious vacation rental in Norman, OK, visit this meticulously decorated home with its own mini golf putting green and awe-inspiring pool in the Coachella Valley, or swim by day, stream movies in the home theater by night from this Pigeon Forge vacation rental.
Get Energized: Vacation Rentals With A Gym
Exercise helps mental health and increases productivity — and companies are encouraging their teams to work out more than ever. These vacation rentals are perfect for a getaway that blends work-life balance, with a home gym to break up your day.
Honorable Mentions: This budget-friendly vacation home in Glendale, AZ offers all the perks of a private resort, including a pool and a putting green. Or, go big and work remotely from this enormous vacation home sitting over the lake in Kaiser, MO. You can also sit out by your own private creek and access some of Colorado's most pristine trails from this home amid the treetops in Evergreen, CO.
Find Quiet: Vacation Rentals With An Office
Evolve only rents homes with private entrances, which means that every place on our site is perfect for finding focus. But if you're looking for a getaway where you can separate your 9-5 from your night of relaxation, these picks come with a home office and the bliss of complete quiet.
Honorable Mention: Work remotely from this vacation rental in Fairplay, CO, and enjoy a cozy, log cabin exterior with a clean, modern interior.
Cozy Up: Vacation Rentals With A Fireplace
Good books are meant to be enjoyed next to a crackling fireplace. After a long day at the (virtual) office, sink into the couch at one of these places and find your cozy. All you need to bring is hot cider and groceries — each of our homes comes fully equipped with all the amenities you need to stay in for the night.
Honorable Mentions: Sip a nightcap on a porch overlooking the creek at this vacation home in Frisco, CO, or soak your bones in the hot tub surrounded by trees in this Alto, New Mexico cabin.
EXPLORE ALL HOMES WITH A FIREPLACE
Fuel Creativity: Vacation Rentals With A View
Get some new perspective on what you're working on from one of these places with a view. Find yourself thinking in new ways as you walk along the beach or sit out on the lake, free to let your mind wander. Just be sure to bring a notepad with you as you roam these houses for the moment a great idea strikes.
Honorable Mentions: Get out into the mountains at this Jefferson, CO cabin with a verdant view of the mountains and its own game room and treehouse. Or, book this cheerful beachfront home in New Smyrna Beach, FL with ocean access and take your morning coffee in the sand.
So you're thinking about hiring a property management company for your vacation rental.

Maybe you've got an extra home, you just purchased a new property, or you're exploring ways to make some extra income. It could be your first time dealing with vacation rentals, or maybe you've been burned by property management companies before.

A question you might be wondering is — why shouldn't I just do this myself?

While there are owners who handle management themselves, it can be incredibly time-consuming to promote your rental, field traveler inquiries, take quality photos, write and revise the listing, answer questions about your property, vet potential guests, juggle on-the-ground services like cleaning and maintenance, and follow up for reviews.

There's a better way. Hiring the right vacation rental management company for your home can take the stress, endless tasks, extra time, and marketing responsibilities off your plate.
But before you hire a traditional or local property manager, make sure to ask these seven questions to know you're getting everything you need.

1. HOW IS VACATION RENTAL PERFORMANCE IN THE AREA?

You're looking for a manager who has a good feel for the local market. A great property manager will know the ins and outs of your location — high season, low season, competing rates, what types of property are most popular in the area, and how local regulations and trends are affecting vacation rentals. You can prep for your conversation with our market-by-market vacation rental performance reports.

Ask your potential manager questions about the local market and feel out their responses. If the vacation rental manager has reasonable answers to those questions, you've probably found a solid manager who spends a good amount of time thinking about how to help their clients succeed.

If they seem uncertain or their answers seem off, you may want to keep looking. Be particularly wary if you know about regulations in the area that they don't; every manager should be fully aware of the status of local short-term rental regulations. And don't base their experience on years in the business. There are quite a few longtime property managers out there who haven't kept up with changes in the industry and don't perform well as a result.

2. WHAT ARE YOUR FEES AND CONTRACT TERMS?

Many vacation rental property management fees range from 25-50% of your rental income. And, in some areas, the rates continue to rise.

Before hiring a local property manager, do the math to determine whether you can afford to pay that high of a fee and still meet your rental income goals.

Contracts are the biggest sticking point for owners who have wound up with a poor property manager. If you figure out in the first two months that the property manager isn't doing their job well, but you're locked in for a year-long contract, you're going to be very unhappy for the remaining ten months of that year. You'll also want to know the payment terms and timing. Some managers can take months to pay and, if you're caught in an unfavorable contract, it can be a long time until you get paid.

If a management company requires a contract, ask whether there are any out clauses based on performance or poor service. For example, if the management company fails to clean the property three times in one year, or only gets you two bookings in six months, you should be able to leave their service without a penalty.

Above all, make sure any fees and agreements help you build a vacation rental business that prioritizes guest experience over short-term profit.
3. WHAT SERVICES ARE INCLUDED IN YOUR MANAGEMENT FEES?

You're hiring a vacation rental management company for the high level of services they provide. You'll want to know exactly what services are included in their fee.

Specifically ask whether the fee covers marketing, photography, writing the listing, updating the listing, observing market trends, cleaning, maintenance, pre-stay walkthroughs, or in-person visits for any issues that arise during a guest's stay.

You should also ask about any services that are not included in their fee – for example, some property management companies will charge an additional fee if one of their employees has to visit the property outside of business hours to address a problem the guest is having. Excellent guest support should not cost more.

Once you know what services the fee does and does not cover, ask yourself if you're getting enough bang for your buck. If your management company covers everything from marketing to maintenance, the fee may be worthwhile. If it only covers cleaning and all other services are a la carte, you should probably keep shopping for a better deal.

4. HOW DO YOU MARKET MY PROPERTY?

This is an important one. Ask them how and where they'll market your property.

Many vacation rental management companies prefer to market their clients' properties only on their own website. These days, that's not enough. You want to be on all the major websites with highly professional listings. No matter how popular a local manager's site is, it's never going to get the same amount of traffic as major online listing sites like Vrbo, HomeAway or Airbnb – which means you'll be missing out on a lot of potential guests if you're limited to one website. Make sure you understand their marketing plan.

Marketing is a big word that includes the photography of your rental, a high-converting property listing, framing your rental for current trends and the market, and how it is promoted.

A vacation rental manager's 25-50% ought to cover the cost of marketing your property on at least one major listing site in addition to any marketing efforts they make to raise the profile of their own site. Listen for words like "appear high in the search results" or "search engine marketing" – these are good indicators your manager has put effort into raising and maintaining their website's profile online.

Your manager should also actively solicit reviews from happy guests and follow up with guests who have already stayed at the property to see if they want to book again next year. Ask your vacation rental manager what they do to ensure repeat business and 5-star reviews to entice new guests to come and stay at your property.

5. WHEN AND HOW ARE GUESTS ABLE TO BOOK MY PROPERTY?

Vacation rental managers aren't awake around the clock, (which is just fine, because most guests aren't either) but they should be available when people are likely to be making their travel plans: before work, after work, and on weekends.

If your manager is only available to make bookings from 9-5 on weekdays, the odds are very good you'll be missing out on bookings from people who work standard office jobs at those hours. Believe it or not, the ideal response time for inquiries is 15 minutes, so the bar is pretty high for providing the kind of service that turns into bookings.

You should also ask if guests are able to book online and use a credit card. The vast majority of guests prefer to book online, and very few are willing to get on the phone or send a paper check in the mail. If your potential manager doesn't offer any way for those guests to book online, you'll again miss out on bookings.

6. HOW OFTEN CAN WE EXPECT UPDATES ON OUR PROPERTY'S CONDITION?

After every stay, you should confirm that your guests left your property in good condition and that any accidental damage was documented and addressed. Be sure to ask your potential vacation rental manager how they handle issues like broken dishes or missing items after a guest's stay.

You're looking for a manager who performs a post-stay walkthrough after every guest leaves, takes photos of any damages for your records, and takes steps to bring the property back up to good condition for the next guests.

Your property manager isn't expected to pay for damages out of pocket – that cost will come from the guest's deposit or a damage protection program like Property Protection Plus (included as part of Evolve's lightweight vacation rental management approach). However, your manager should notice the damage, report it, and speak to the guest about retaining their deposit to cover the damage if necessary.

7. CAN I SPEAK TO SOME OF YOUR CURRENT CLIENTS?

Always ask to speak with a few existing clients prior to signing a contract. Previous and current owners can share details about working with the vacation rental managers and exactly what to expect from your arrangement.

If a manager is reluctant to give you references or isn't enthusiastic about current clients speaking about their experience, that's a sign this manager isn't going to be a good fit for you. You should be able to hear or read success stories from customers who endorse the company.

On the other hand, if their current clients rave about this vacation rental manager and give you lots of insider tips they've learned since working with them on navigating the local market, full speed ahead! This manager may well be just the business partner you're looking for.

IT'S TIME TO RETHINK VACATION RENTAL MANAGEMENT.

The traditional models of vacation rental management are outdated. Doing it yourself is a LOT of work and, as we've covered, working with traditional property management companies means less control with fees that are hard to justify.

But there's a better way. You don't have to do it all yourself. And you don't have to sign a contract with an overpriced property manager. Evolve is different.

BOOK MORE NIGHTS WITH YOUR RENTAL

Evolve's lightweight management approach gives you total marketing, booking, and customer support, plus the power to choose your own "home team" to clean and monitor your property.

Basically, we drive more guests to your property for maximum income, while giving you more choices with fewer rules – all for an industry-low 10% booking fee.

We've helped 10,000+ homeowners earn more than $500 million in rental income. And we'd love to help you.

See if you qualify or call one of our Homeowner Consultants today at 877.881.7584 (and if you have more questions, take a quick look at this FAQ about Evolve).

"Aren't you just like Airbnb and Vrbo?"

We get that question a lot from people who haven't worked with us yet. It's easy to see why. We're all in the same industry, short-term property rentals. You can find and book great properties on our website or on theirs. And the fact that every Evolve property appears on Airbnb, Vrbo, and other online marketplaces just adds a little more to the confusion.
So let's clear things up and outline exactly how Evolve is NOT Airbnb, Vrbo, HomeAway, TripAdvisor, or any other online marketplace.
They're marketplaces. We're a management company.
Airbnb, Vrbo, and similar websites are online "marketplaces" where guests find properties and homeowners find guests. Essentially, they act as a distribution channel for owners or property managers, attracting potential guests to their website but leaving the management of the properties and listings to the owners (or whoever is representing the property) themselves.

Evolve is a vacation rental management company. That means we actively manage our properties on behalf of our owners, ensuring maximum bookings and eliminating the stress of the traditional vacation rental process.

Here's where it gets interesting. Evolve is a BIG customer of the online marketplaces. We have more than 11,000 properties listed on their sites, and we constantly take advantage of the latest strategies to ensure our owners' properties are always positioned for maximum traffic and conversion.

Behind the scenes, we have teams of specialists working on the hardest parts of managing a vacation rental: marketing, booking, and customer service. Our teams do everything from creating search-topping property listings to dynamically setting rates to answering guest questions and asking for online reviews. We even hire professional photographers at no cost to owners to show each property in the best possible light.

As a result of our approach, Evolve properties outperform most others on the online marketplaces. So we don't compete with Airbnb, Vrbo and the rest. We work with them–and everybody wins.
Our homes are different, too. Always perfect for vacation.
Unlike most marketplaces, we don't offer home sharing, extended stays, campsites, trailers, or other mobile structures. Each Evolve property has its own entrance and kitchen (typically a house or condominium). A lot of Evolve guests appreciate having the comforts of home when they travel, and our properties reflect that.
We take even more guesswork out of vacation rental by making sure our properties meet our four core standards. We believe guests simply won't have the experience they're looking for unless the property they've booked is:
Safe
Clean
Exactly as advertised
Ready for guests upon arrival
By focusing on properties ideally suited for vacationing and making sure each one lives up to our standards, we're building a brand that guests can trust to have the time of their lives.
A different experience for owners and guests.
Since Airbnb, Vrbo, and the like don't handle property management, homeowners have traditionally been forced to either hire a local company to do it or fend for themselves. Evolve is different.

We give homeowners performance-focused marketing and booking support, plus the flexibility to choose their own partner(s) to clean the property and greet guests. Evolve handles all guest inquiries, bookings, and pre-stay communications. We can also connect owners with hundreds of vetted partners nationwide that can handle cleaning and guests.

With Evolve's help, every guest enjoys a booking experience that feels as professional as the world's top hospitality brands. We handle all inquiries directly, resolve guest and owners questions, and communicate directly with cleaners to ensure the property is ready for every guest. Our unique approach makes vacation rental actually feel like vacation for owners and guests.

So we're not Airbnb or Vrbo. But we're all friends.
Once you work with Evolve, you quickly discover the difference between our service and all of the others. It starts with the way we charge owners nothing to join (plus an industry-low 10% management fee) and list properties on all the major online marketplaces––not just Evolve's site. It continues with the way we market your listing and promptly handle every query, seven days a week. And it becomes clear in all the ways we make vacation rental easy for everyone.

Owners should be able to relax, trusting that their property is living up to its potential. And guests should be able to relax with an experience that feels like a big hospitality brand. That's the Evolve difference.

Learn more about Evolve and how we can help you find success with Airbnb, Vrbo, and other online marketplaces.
Your Free Welcome Book Template is Here!
Sure, your property listing covers a lot of info about your home — but guests will still have some questions when they arrive. Like, which local coffee shop has the best ambiance? What's that one trick to getting the dishwasher started? How should they handle check-out?
Your welcome book is the perfect place to answer common questions, and it's also one of the most searched for vacation rental amenities. By providing essential info up front, you can free guests from encountering snags during their stay.
We think that putting together this important resource should feel easy — which is why we made you a free welcome book template. All you have to do is download it and plug in your home's info!
WHY MAKE A WELCOME BOOK?
Welcome books have a big impact on your guests' experience. Here are some reasons to block off a few minutes and fill in this template.
Welcome books help others navigate your rental property and treat it the right way.
Guests want to know how to watch a movie at night or adjust the temperature in your house. Giving them a resource on how to get comfortable living in your rental is sure to make their vacation stress-free for both of you.
Welcome books provide local highlights and a sense of your personality.
The reason many guests book vacation rental properties is to immerse themselves in the location. Recommending restaurants, coffee shops, stores, and more can turn a good trip into the best trip ever. Lead your guests to the most delicious slice in town — or teach them how to avoid crowds at a local attraction — and they'll want to book with you again in the future.
Welcome books show guests that you care.
Your advice on how to make the most of your property gives guests the friendly engagement they're looking for. It also protects their personal space and privacy by providing valuable information without requiring personal interaction.
Welcome books help you get great reviews.
Your guests are likely to reward your thoughtfulness in their reviews. Even better, you or your guest contact may get fewer questions during their stay, and you'll be sending new customers to your favorite local shops and restaurants, ensuring they thrive!
Sounds pretty great, right? But where should you start?
WHAT TO INCLUDE IN YOUR WELCOME BOOK
From a friendly "hello" letter to your home's policies, these are the sections you'll need to put together the most useful welcome book.
A PERSONAL WELCOME NOTE
Guests who choose vacation rental are looking for a unique home with a real person behind it. Writing a note to personally welcome them to your property is another way to separate yourself from a hotel — and reinforce their decision to stay with you.
HELPFUL LOCAL CONTACTS
Make sure your welcome book provides at least one name, telephone number, and email for a local contact near your property. This person can be you, a local property manager, or even a neighbor — but they should be easily reachable, and available to come to the home on short notice. Nobody wants unanswered guest complaints to derail a pleasant stay.
You'll also want to include contact details and addresses for the following emergency resources, just in case:
Nearest Medical Clinic or Hospital
Fire Department
Police Department
Remember, guests don't have all of the resources they'd typically have at home. They'll feel more at ease if they know you have their safety in mind.
YOUR PROPERTY'S POLICIES
Even if you send your policies in a pre-stay email, (Evolve does!) it's still important to reiterate them at the property. Including policies in your welcome book can help you resolve common vacation rental issues and complaints because guests will have a difficult time arguing that they weren't aware of the rules.
You should include all of the following information in your welcome book:
Check-In Procedures
House Rules (smoking policy, pet policy, quiet hours)
Parking Instructions
Check-Out Procedures
Subdivision/Complex/Community Rules
An in-home reference guide will help remind guests how best to enjoy your home and leave it in good shape for the next guests. Another perk of including your policies: you're way less likely to find broken or misused items after a stay!
HOW-TO INSTRUCTIONS
When your guests can't figure out simple things like how to turn on the hot tub, they can get frustrated and wind up taking out that frustration in their review of your property. Even if every appliance works perfectly, spending valuable relaxation time figuring out how to use it is no one's idea of a fun vacation.
Include helpful instructions for your:
Property Access (lockbox code, garage code, gate)
Thermostat
Hot tub or Fireplace
Washer and Dryer
Kitchen Appliances
Wireless Internet Access (including the password!)
TV or DVD Player Remote Control
This is also a good place to note any quirks of your property. For example, if the Wifi works very well all over the house, but not in the family room downstairs, make sure your guests know that. If they aren't expecting an issue, they'll be annoyed by it, but with a little forewarning, they'll feel like they know exactly what they can expect, and it's less likely to trouble them.
WHERE TO GO AND WHAT TO DO
You know all of the insights you've collected about your neighborhood? Now's the time to share your expertise — because everyone loves a good recommendation from a local! Try to suggest activities that would appeal to a range of guest types, such as family-friendly museums or romantic places for a dinner out.
Be sure to give addresses and phone numbers for each of your recommendations. Adding the amount of time it takes to get to the destination is a great idea, too. Include at least a suggestion or two in each of the following categories:
Grocery Stores
Restaurants
Shopping
Nightlife
Activities (hikes, golf, snorkeling, skiing)
Attractions (museums, monuments, parks, beaches)
Places of Worship
And share places where you personally enjoy going. This isn't to say you can't include popular attractions you haven't visited in person. Just let your guests know that you haven't tried them yourself, but you've heard good things and you hope they'll tell you how they liked them! You can then use the guest feedback to gauge whether that activity merits a mention in your Welcome Book.
HOW TO GET AROUND
Help guests explore your area by creating a section devoted to local transit. Be sure to include contact info, directions, schedules and any other details that guests might find helpful, like:
Taxi & Shuttle Services
Bus Routes
Car Rentals
Airports and Train Stations
Area Maps
READY TO CREATE YOUR BOOK?
Here's the good news: we've already created one for you.To make things easier for you and your guests we created a free downloadable template. Enter your email in the form below to get your free, customizable copy. Then, type your information into our template, print the completed welcome book, and display it in an obvious area of your rental property, such as the kitchen counter. And if you're looking to start booking more nights on your vacation rental, we can help with that, too.
Vacation rentals can be lucrative investments. They offer rental income in the short term and build equity in the long term. It's an exciting proposition attracting more investors, especially as travelers embrace vacation rentals as their preferred accommodations.
For the third year in a row, we're happy to share our list of the ten best places to buy a vacation rental. Our experience working with over 10,000 vacation rental properties across the United States has given us insight into more than 500 markets and how they perform.

This year, we're including our estimated capitalization rate (cap rate) to help with rankings. Cap rate compares the net rental income generated per year against the purchase price of the property. It's a good indicator of a property's earning power and a reliable way to determine where you might get a better return on your investment.

To calculate our cap rates, we started by looking at the median annual rental revenue for Evolve properties in 500+ markets. We also applied yearly expenses of 30% to reflect the costs associated with operating a vacation rental. We then divided that by the median home price on Zillow for properties in each market.

If you're looking to purchase a vacation rental property, make sure you take a closer look at these areas. Your numbers may differ based on operating costs, property values, and other factors, but this list helps shine a light on promising locations for investors.
1.Maggie Valley, North Carolina
Median annual rental revenue: $38,949
Median Home Price: $155,500
Cap Rate: 17.5%
A new addition to our list, Maggie Valley is in the Smoky Mountains area outside of Asheville, North Carolina.
It tops our list with a strong cap rate of 17.5%. Driven by low real estate costs with a median price of $155,500 and a median income of $38,949 per year, the Maggie Valley area presents an appealing investment option.
Proximity to the region's famed mountain range is the primary tourism draw in this area. And the natural resources provide year-round activities, with hiking in the summer, leaf peeping in the autumn, and skiing in the winter.
If you're looking at this area for a potential investment, shop around for a property that has a nice outdoor area where guests can enjoy the surrounding mountain views. Our data also shows that homes with hot tubs, fire pits, and decks typically perform better than average.

2. Saint Augustine, Florida
Median annual rental revenue: $50,989
Median Home Price: $209,100
Cap Rate: 17%
Consistently a top vacation destination for American and international travelers, Florida is an obvious frontrunner for short-term rentals. The warm weather allows for year-round tourism and lower real estate costs leave plenty of room to generate a sizable rental income.
But with so many beach towns, where is the best place to buy in Florida?
St. Augustine rises above the rest in our research with a cap rate of 17%. The median home price is $209,100 and you can earn an estimated median revenue of $50,989 in this area.
That's an attractive rate of return, and it has the potential to increase further when you have top amenities like a private pool, hot tub, and proximity to the beach.
Rich in history, outdoor recreation, and prime beach access, St. Augustine offers great vacation rental potential for investors.
3. Gatlinburg Area, Tennessee
Median annual rental revenue: $42,751
Median home price: $182,950
Cap Rate: 16.3%
Gatlinburg, Pigeon Forge, and Sevierville have been proving their weight in gold for years. These family-friendly vacation rental destinations have a high demand for accommodations ten months out of the year and they provide a steady source of rental income.
With relatively low housing prices and few restrictions for short-term rentals, it's no surprise that this area has become a top destination for vacation rental investors. Cabins are the preferred type of housing for regional visitors, and we found that the median home price ranges from $162,000 to $202,300 across Sevierville, Pigeon Forge, and Gatlinburg.

While the area is generally affordable, you might run into prices as high as $800,000 for larger (five bedrooms+) and more luxurious properties. Essential amenities for the Gatlinburg area are hot tubs, mountain views, and game rooms.

While the median for rental revenue is around $42,751, we do see six-figure revenue potential for larger properties in the area. If your rental is in good shape, with a desirable location and popular amenities, you stand a high chance of earning even more.
4. Surfside Beach, Texas
Median annual rental revenue: $29,321
Median Home Price: $136,500
Cap Rate: 15%
An hour down the coast from Galveston, this Texas town is known for beautiful beaches and a laid-back community. With few tourist traps or boardwalk shops, most Surfside Beach visitors spend their evenings cooking family dinners at home rather than hitting the town. That makes fully equipped vacation rentals all the more successful in this area.
We found the median home price for Surfside Beach was $136,500, which is a bargain compared to the stilted homes in the Galveston area that range from $200,000 to $400,000.
A median revenue of $29,321 gives this lesser-known area on the Gulf Coast an impressive cap rate of 15%.
If this coastal Texas town checks all the boxes for you, look for a property that offers ocean views and proximity to the beach. Fortunately, Seaside Beach is situated on a narrow tract of land, so beachfront real estate is not too hard to come by.

5. The Poconos, Pennsylvania
Median annual rental revenue: $25,058
Median Home Price: $118,300
Cap Rate: 14.8%
The Pocono Mountain region has been drawing tourists to its lakes and ski resorts for more than 100 years. With a strong demand for accommodations and a large inventory of real estate at affordable prices, it's easy to see why this region is one of our top five places to buy a vacation rental.
The median home price in the Poconos ranges from $118,300 on the low end to $144,300 on the high end. With a property that has an open calendar, the median rental income you can expect to generate ranges from $25,058 all the way up to $40,278 per year.
We found that results vary from town to town, but we see the strongest returns with properties in Tunkhannock Township, Tannersville, and Pocono Lake.
Large lakefront properties that can accommodate a group perform best in this market. It's also a good idea to look for houses that are updated or that you can renovate after purchasing. This traditional market has many outdated properties, and you can beat out the competition and charge a higher nightly rate with a home that has modern kitchens, bathrooms, and furnishings.

6. Pequot Lakes, Minnesota
Median annual rental revenue: $36,291
Median Home Price: $204,600
Cap Rate: 12.4%
Situated in the Brainerd Lakes area north of the Twin Cities, vacation rentals in the Pequot Lakes area are hugely popular in summer months. Even better, they get bookings during the slow winter season for holidays and weekend retreats.
This market provides advantages to buyers in the Midwest because it's a great investment opportunity where you can make strong returns, but it's also close to home. That makes regular maintenance easier and offers the added benefit of having a second home for your personal use when you don't have guests in residence.
While the median home price is $204,600 for properties in this area, larger homes that sleep eight or more people tend to see the best success. So it pays to invest in a larger property if you have the budget.
Something to consider with an investment in the Pequot Lakes area or a similar market is that rentals here tend to have a shorter season. With cold winter months, you face some pressure to hit your revenue goals during the high season, which requires smart pricing and aggressive marketing strategies.
7. Shenandoah Valley Area, Virginia
Median annual rental revenue: $37,763
Median Home Price: $227,500
Cap Rate: 11.6%
Spanning two hundred miles across the Blue Ridge and Allegheny Mountains, the Shenandoah Valley is an outdoor oasis. Visitors enjoy exploring National Parks and Forests, outdoor sports (skiing, fishing, golfing, canoeing and more) and a segment of the famed Appalachian Trail.
With an area that large, home prices and rental income will obviously vary. Still, the median home price in the markets that made our list is $227,500, earning $37,763 per year in estimated annual revenue.
To increase your income potential, look closely at the four-season resort areas of Massanutten and Wintergreen. They can expand your booking season via snow sports in the winter and water parks during the peak summer booking window.
Profit-driving amenities include hot tubs, a deck with a view (and a grill), and game tables like billiards and foosball. If you're looking to invest in this area, the closer a property is to Massanutten Resort or Shenandoah National Park, the better.

8. Branson, Missouri
Median annual rental revenue: $24,062
Median Home Price: $145,000
Cap Rate: 11.6%
With theme parks, specialty museums, shopping, and hundreds of shows per year, there's no shortage of things to do in Branson. This Ozark getaway is a family-friendly vacation spot that has caught the eye of investors who want reliable returns and a lower price point.
The median home price hovers around $145,000, making this an affordable place to buy a vacation home. Our data revealed that rentals in Branson generate $24,062 in rental revenue per year at the median for a 11.6% cap rate.
The tourism season spans from March to December, so you have the opportunity to book ten months out of the year and reach an impressive occupancy.
Another benefit of investing in this area is that there are few regulations standing in the way of vacation rentals. Some areas west of Branson may come with restrictions, but the area is generally friendly toward short-term rentals.
The vacation rental inventory is a mix of condos, cabins, and homes. So no matter your budget, you can find something in this market that will perform well. Amenities that can help you succeed include proximity to popular attractions (the Shows District, Table Rock Lake, and Silver Dollar City), decks, and lake or mountain views.
9. Myrtle Beach, South Carolina
Median annual rental revenue: $23,881
Median Home Price: $144,700
Cap Rate: 11.5%
For the third year in a row, Myrtle Beach makes our top-ten list. The seaside town is known for its 60-mile stretch of beaches, as well as theme parks, museums, and shopping. It's also home to festivals, bike rallies, car shows and other events that draw crowds and drive up demand for accommodations.
Yet, Myrtle Beach is a budget-friendly place to invest. Condos frequently sell for under $100,000, and Zillow data shows the median home price is around $144,700.
If you buy in this market, beach proximity is important. However, unlike Surfside Beach, you don't have to be on the water to be successful. Rental properties within one or two miles of the beach will also book and perform well.
When you're buying a condo in a resort or community, be careful with association fees and restrictions. Higher fees typically get you nice facilities, upkeep, pools, and other amenities that are attractive to guests, but you may pay a lot for those add-ons.
10. Hot Springs, Arkansas
Median annual rental revenue: $24,425
Median Home Price: $148,800
Cap Rate: 11.4%
Hot Springs, Arkansas is named for Hot Springs National Park, a treasured natural feature that draws visitors for its mineral-rich water.
A prime benefit of investing in this market is that your money stretches here. The median home price is $148,800 and generates a healthy $24,425 per year at the median for estimated annual revenue. That leaves plenty of flexibility to pocket the income or pay off your investment quickly.
For the best returns in this market, look for properties close to downtown Hot Springs or on Lake Hamilton. In our experience, waterfront homes tend to achieve higher occupancy rates and command better nightly rates than properties farther from the action.
Lake views, updated interiors, and dock access are additional amenities that can improve your performance in Hot Springs.
So, where should you invest?
As always, the answer depends on your budget, your revenue goals, and your personal preferences.
You might want to purchase in a proven market like Gatlinburg or Poconos even if that means stiffer competition to get bookings. Or, you might want to buy in an area that isn't as saturated, like Hot Springs or Surfside Beach, where you get more for your money.
We always encourage investors to think about where they'd like to visit. One of the key benefits you get from a vacation rental is that you get a second home for yourself. Where would you want to stay?
This list is a great place to start your consideration process, but it's by no means definitive. There are many popular destinations that didn't make our list. Think of this as a snapshot of the markets that you might want to explore if you're looking to get the biggest return on your investment.
If you want more information, Evolve is constantly updating resources like these to help you better understand the vacation rental market:
If you've already chosen a property and need to get your vacation rental off the ground, let us help.
With Evolve, you get everything you need to start a successful vacation rental: professional photos, a custom listing, competitive rates, vacation rental expertise, and full-time teams to support you.
There are no upfront costs and you pay just a low 10% fee per booking. Learn more about our services and contact us to see if your home qualifies.

Keeping an up-to-date vacation rental inventory is one of the most important operational tasks for an owner.
Why?
While your responsibilities are vast and varied — there's everything from stocking your rental and standardizing a cleaning process to collecting five-star guest reviews — keeping tabs on what's in your home is critical to making sure all of those other tasks are carried out successfully.
The great news: taking inventory doesn't need to be daunting. Our free, easy-to-use vacation rental inventory checklist helps you take stock of important household items in every room.
Inside you'll find recommended essentials that can help you deliver on seamless guest experiences, plus free space for documenting anything additional that's specific to your home. Consider it a foundational step in enhancing your vacation rental performance.
Download Our Vacation Rental Inventory Checklist
What Is a Vacation Rental Inventory Checklist?
Simply put, a vacation rental inventory checklist is a resource used to document important items in your home at any given time. It allows you to take stock of what you have, what you're running low on, and what you need to buy or replace.
An inventory checklist should cover every room in your house, and should make it easy to notate anything from pantry items to larger pieces of furniture. There should also be space to detail the quantity and condition of each documented item (think: six coffee mugs in fair condition).
From there, just how in-depth your inventory gets is up to you. You can write down every last trinket in your home if it provides peace of mind, or you can choose to only cover the supplies, amenities, and decor that contribute to your overall guest experience. Either way, you'll have a robust frame of reference for maintaining a top-tier environment.
While you can fill out a fresh checklist as often as you'd like, our experts say it's best to do a full inventory at the same time you do a bi-annual deep clean and maintenance inspection. Quick spot checks for dwindling supplies can happen more frequently to keep up with guest stays.
Why Is a Vacation Rental Inventory Checklist Important?
Keeping an accurate household inventory is key to smooth business operations, and having a checklist makes it easy to do a thorough job. It can also help:
1. Deliver Five-Star Guest Experiences
A list of existing items is the first step in providing for your guests. It exposes gaps in your supply of staples, and creates a baseline for upgrading amenities that help your home stand out to travelers.
It can also make it easy to answer inquiries from eager vacationers. If a potential guest wants to know whether you have a hair dryer in the primary bedroom, for example, you can quickly scan your checklist and provide a fast and accurate confirmation. And if an item of interest isn't available, you'll spend less time digging for an answer and more time finding a fix before those guests arrive.
2. Streamline Collaboration with On-Site Teams
Having an inventory checklist for cleaning crews and other maintenance professionals gives them a great reference point for work they need to complete. Housekeepers can make sure items are returned to their designated locations. Repair staff called in to fix the dishwasher can track what its condition was prior to the request. And your pre-organized checklist can also help familiarize new team members with your home and ensure consistency across the board.
3. Provide Reliable Documentation
With guests and crews filtering in and out of your home, keeping inventory establishes a system of checks and balances to track items of value and their condition. It's hard enough for you to walk through your property and confirm everything is where and how it should be when going off memory alone. It only becomes more difficult if you're a remote owner who can't regularly pop in and assess. So having your inventory checklist up to date and handy eliminates the what if, creating peace of mind in the process.
Plus, in the rare event that something does go missing or appears damaged, having clear documentation can help with filing an insurance claim. Our Partner Development team says supplementing with photos of valuable items (taken every six months as part of your full inventory update) can also help resolve issues faster.
Get Organized with Our Free Vacation Rental Inventory Checklist
Evolve believes every component of vacation rental management should be streamlined to help make life easy. That's why we created our vacation rental inventory checklist, giving you an easy-to-use, expert resource designed to help you take stock of what you own (and need!) for stress-free success.
Inside you'll find:
A room-by-room breakdown of essential vacation rental items
Recommended quantities of items for guest satisfaction
Free, templatized space for logging individual items in every room
Organized fields for noting details like condition and exact location
Additional pages to suit the layout and special areas in your home
Keeping a home inventory is only the start of what you need to run a successful vacation rental. Try our cleaning checklists for even more process organization, learn how dynamic revenue management can transform your booking volume, and see what little touches you can add to earn five-star reviews from your guests.
We're here to help you earn more while stressing less, and are confident our professional insights and guidance can help your home shine.
When sweater weather hits and everything needs a dash of pumpkin spice, you know fall has officially arrived. And in regions with the perfect blend of cooling temperatures and leafy trees, autumn announces itself with a vibrant shift from fresh greens to splashes of red, orange, yellow, and purple.
It's a breathtaking cycle that attracts flocks of leaf-peepers to the most colorful corners of the country. From secluded mountain peaks to sprawling city parks, we've picked the best places to see fall foliage in 15 tree-studded states. Follow our guide to discover scenic drives, outdoor activities, key stops, and places to stay in four distinct regions so you can catch the colors at their brightest.
Best Places for Leaf Peeping in New England
As the maple leaves ignite at summer's end, the northeast transforms into the epitome of autumn. These gorgeous states feel straight out of a storybook, offering everything from quaint towns peppered with historic buildings to local farms where you can pick your own produce.
1. Vermont
As the nation's leading producer of maple syrup, Vermont's forests offer delicious benefits along with their world-renowned foliage.
📅 When to go: Mid-September for northern Vermont; mid-October for southern
📍 Towns to visit: Stowe, Bennington, Plymouth, Woodstock
🍁 Things to do: Ride the forested zipline or gondola at Mount Mansfield; hike or bike the Mount Peg Trail System; stroll the Eshqua Bog Natural Area boardwalk.
🚗 Must-do drive: Scenic Route 100 Byway is Vermont's "Main Street." Its winding route through the wooded Green Mountains is a leaf peeping paradise, and there are plenty of breweries, farms, and towns to stop at along the way.
🏠 Where to stay: This picture-perfect mountain cabin in Bridgewater is the ideal group getaway — it sleeps up to 15, has a relaxing hot tub, and is close to downtown Woodstock!
2. New Hampshire
Wear your favorite flannel in the White Mountains while seeing double the trees reflected in mirror-clear lakes.
📅 When to go: Late September for northern Vermont; mid-October for southern
📍 Towns to visit: North Conway, Franconia, Sugar Hill
🍁 Things to do: Admire the woods from the Conway Scenic Railroad; take an autumn ATV tour along the interconnected trails of Ride the Wilds.
🚗 Must-do drive: The Kancamagus Highway cuts through the White Mountain National Forest, offering views of the Swift River, waterfalls, and Rocky Gorge tucked away in the trees.
🏠 Where to stay: This secluded Conway cabin combines rustic accents with a luxurious home theater room, outdoor fireplace, and forest-side hot tub.
3. Massachusetts
Take a trip back in time to historic small towns, breathe in the bay air, and get lost in the jaw-dropping landscapes.
📅 When to go: Early- to mid-October
📍 Towns to visit: Cape Cod, Lenox, Great Barrington, Concord
🍁 Things to do: Enjoy the fruits of the local trees at Berkshire Grown harvest markets; soak in the famous scenery of author Henry David Thoreau's home at Walden Woods.
🚗 Must-do drive: The Mohawk Trail follows a former Native American trade route through the Berkshire Mountains between the dense Hudson and Connecticut River valleys.
🏠 Where to stay: Look out across Lake Buel from the deck of this romantic cottage, then head out to explore nearby Great Barrington or hike a part of the Appalachian Trail.
Best Places for Leaf Peeping on the East Coast
Even though New England has earned its reputation as one of the best places to see fall foliage, its nearby neighbors offer equally gorgeous views. Covered in diverse terrain and never too far from metropolitan hubs, these states will have you seeing red (and orange, and yellow) come fall.
4. New York
Sugar maples are the New York State tree, so you can expect a dynamic display of colors from Long Island all the way to Upstate.
📅 When to go: Tail-end of September through October
📍 Towns to visit: Catskill, Canandaigua, Margaretville, Hudson
🍁 Things to do: Walk the The Hudson River School Art Trail that inspired landscape painters like Thomas Cole; take the Fall Sky Ride to the top of Bristol Mountain for views of the Finger Lakes; experience Adirondack fall foliage on a rafting tour through the Hudson River Gorge.
🚗 Must-do drive: New York State Route 42 has been deemed "The Notch" because of the way it cuts into the dense forests of the Catskill Mountains.
🏠 Where to stay: Gather friends and family to share 125 private acres of the Catskill Mountains in this rare retreat. Spend your days roaming the landscape, soaking in the views from the wraparound porch, or exploring nearby Margaretville.
5. Pennsylvania
Welcoming you to "Pursue Your Happiness," Pennsylvania's historic sites and heritage trails present its storied past in a colorful shroud of changing leaves.
📅 When to go: Early October for northern Pennsylvania; mid- to late-October for southern
📍 Towns to visit: Stroudsburg, Tobyhanna, New Hope, Wellsboro
🍁 Things to do: See fall colors from new heights while skydiving in the Poconos Mountains (or explore the same region on two feet); drive through every covered bridge on a scenic drive around town.
🚗 Must-do drive: Thanks to its unmatched views of the Allegheny National Forest, Pennsylvania's Route 6 was named "one of America's most scenic drives" by National Geographic and connects 400 miles of small towns and wondrous sights.
🏠 Where to stay: Bring the whole family (including the pup!) to this kid- and pet-friendly cabin on Pocono Lake, complete with community perks like a clubhouse, beach access, and tennis courts.
6. Maryland
Head west from the crab-catching capital of Chesapeake Bay to discover a rainbow of fall colors in the lush nearby forests.
📅 When to go: Early- to mid-October
📍 Towns to visit: Oakland, Ocean City, Anapolis
🍁 Things to do: Time your trip for the annual Autumn Glory Festival in mid-October, a five-day celebration of the changing leaves that includes craft markets, fall foliage driving tours, and a parade.
🚗 Must-do drive: Chesapeake & Ohio Canal follows the Potomac River through the state and gives you the opportunity to admire the scenery from your car, a boat, or canoe.
🏠 Where to stay: Escape to your private piece of the forest at this cozy lodge just outside Oakland. Whether you wander through two acres of woods or venture to four state parks, all are within 10 minutes of your rental.
Best Places for Leaf Peeping in the Midwest
Before winter covers the trees in notorious amounts of snow, the abundant wooded lands of the Midwest offer a bounty of places to see fall foliage. Autumn begins a bit earlier in these states, so plan ahead before the season snowballs into freezing temperatures.
7. Michigan
With over half of the state being covered in trees, you won't have to look far to find breathtaking fall foliage here.
📅 When to go: Mid-September to early October in the Upper Peninsula; late September to late October for the Lower Peninsula
📍 Towns to visit: St. Ignace, Traverse City, Port Huron
🍁 Things to do: Awe in the majesty of woods and water at Tahquamenon Falls; hop in a hot air balloon to soak in the sunrise over the leaves; drink in the apple orchards at local cider mills.
🚗 Must-do drive: M-25 whisks you along Michigan's "thumb" coast for a tour of resort towns, scenic overlooks, beaches, and forested parks.
🏠 Where to stay: Step out onto the dock of this cozy cottage in Traverse City to admire the panoramic views across from your own private beach. With room for six, it's a getaway worth sharing.
8. Wisconsin
From the deep woods of the north to the rolling hills of the Driftless south, Wisconsin's diverse landscape offers a mishmash of leaf-peeping opportunities.
📅 When to go: Early- to mid-October
📍 Towns to visit: Sturgeon Bay, Wisconsin Dells, Mercer
🍁 Things to do: Summit the limestone cliffs of the Niagara Escarpment for amazing tree-to-shore views; hike the tree-covered hills of Devil's Lake National Park; visit the majestic Northwoods in time to see the loons migrate south.
🚗 Must-do drive: Wisconsin Lake Superior Byway hugs the southern shoreline of Lake Superior and the Bayfield Peninsula, known for its apple festival.
🏠 Where to stay: Tucked away in a grove of trees, this spacious Wisconsin Dells home has accommodations for 13 guests. Fix yourself a drink at the wet bar and bask in the surrounding trees from the comfort of the fire pit and screened porch.
9. Minnesota
Make your way through forested trails and winding waterways to hit all of the best places to see fall foliage in the Land of 10,000 Lakes.
📅 When to go: Mid-September for northern Minnesota; mid-October for southern
📍 Towns to visit: Brainerd, Grand Marais, Ely
🍁 Things to do: Marvel at the brilliant paper birches and aspens of the Lake Superior Forest; explore hundreds of miles of the Paul Bunyan Trail on foot, bike, and ATV; see the clear waters of Lake Superior pop against the colorful forest from the top of the Sawtooth Mountains.
🚗 Must-do drive: Minnesota River Valley Scenic Byway meanders along the Minnesota River through six vibrant state parks and a variety of historic sites.
🏠 Where to stay: Live your best lake life at this sunny and open cabin just north of Brainerd. With colorful scenery and a shared dock, it has everything you need for a weekend on the water with your favorite fishing buddies.
Best Places for Leaf Peeping in the West
Across the Rocky Mountains to the Pacific Coast, the autumn landscape is aglow with golden aspens. Whether you're most comfortable holding a walking stick or a glass of Cabernet, these states of the wooded West provide a leaf-filled backdrop to your favorite activities.
10. Washington
Hidden gems await within Pacific Coast beaches, sage-covered hills, and of course, colorful trees.
📅 When to go: Mid-September to mid-October
📍 Towns to visit: Seattle, Bellingham, Oyster Dome
🍁 Things to do: Explore the gorgeously curated botanical gardens and parks of Seattle; discover relics of the logging industry in the old growth of Snoqualmie National Forest; peer down from scenic viewpoints of the San Juans and Skagit flats.
🚗 Must-do drive: Chuckanut Drive Scenic Byway brings you between the tree line of the Chuckanut Mountains and the white sand of the bay.
🏠 Where to stay: This remodeled A-frame cabin will make you feel like you're in a fairytale. Nestled into the magical woods outside Olympic National Forest, the lofted home with room for four even features its own tiny treehouse! (If that home isn't quite the right fit, you can also explore more A-frame cabins near you.)
11. California
In a state that's big enough to be split into 12 distinct regions, fabulous fall colors can be spotted near coasts, valleys, mountains, lakes, and just about every other kind of natural feature.
📅 When to go: Mid-October for high elevations; late October for lower elevations
📍 Towns to visit: Lake Tahoe, Napa, Mammoth Lakes
🍁 Things to do: Celebrate the Alpine Aspen Festival in Hope Valley; watch the grape leaves change hue while tasting their harvest in a renowned wine country.
🚗 Must-do drive: State Route 89 connects Lake Tahoe to June Lake with mountain views, national forests, and glimmering waters along the way.
🏠 Where to stay: Stunning Sierra Nevada views greet you from all directions in this mountainside yurt. Zen vibes meet modern convenience in the heart of the Eldorado National Forest, where hikes, lakes, and resort towns await in all directions of this South Lake Tahoe stay.
12. Colorado
Before wintertime skiers hit the slopes, head to high elevations and soak in the perfect combination of mountain majesty and exquisite fall foliage.
📅 When to go: Mid-September to early October
📍 Towns to visit: Aspen, Estes Park, Steamboat Springs
🍁 Things to do: Play among the aspens at the Lost Forest rope course; hike high-elevation trails at the massive Rocky Mountain National Park; spot tree-dwelling creatures at the North Star Nature Preserve.
🚗 Must-do drive: San Juan Skyway winds through popular mountain towns while providing stunning views of massive aspen groves.
🏠 Where to stay: Unleash your inner mountaineer in this homey log cabin found 15 miles outside of Aspen. Listen to the rushing creek from your porch swing or take your fishing pole to the nearby Roaring Fork and Frying Pan Rivers to catch some dinner.
Best Places for Leaf Peeping in the South
You may not think of The South as one of the best places to see fall foliage, but as the sweltering summer heat makes way for the milder fall, their trees change shades as brilliantly as anywhere else (though it does happen a bit later in the season). Bonus: since it may not be top-of-mind for most tree tourists, you'll have more space and peace to enjoy the sights for yourself.
13. North Carolina
Discover small towns with gorgeous hikes, delicious food, and inspiring art nestled into the Great Smoky and Blue Ridge Mountains.
📅 When to go: Mid-October to early November
📍 Towns to visit: Asheville, Bryson City, Highlands
🍁 Things to do: Marvel at over 100 tree species in the Blue Ridge Mountains; take the Great Smoky Mountains Railroad on a scenic tour; enjoy music, quilting, food, and fun at the annual Harvest Festival the third weekend in October.
🚗 Must-do drive: Blue Ridge Parkway rambles through the mountainside, with spectacular views of Linville Gorge and Mount Mitchell. With an intentionally slower speed limit, you'll have extra time to spot every little leaf.
🏠 Where to stay: You don't even need to step outside to take in the spectacle of the Smoky Mountains from every corner of this romantic Bryson City hideaway. Breathe in the mountain air from the screened-in porch and discover a new detail in the surrounding forests every time you look out the window.
14. Georgia
Even miles from the coastline, Georgia's wildlife is never too far from the water. Dip your feet in a lake, hear the roar of a waterfall, and watch the reflections of the leaves.
📅 When to go: Early- to mid-November
📍 Towns to visit: Dahlonega, Blue Ridge, Tallulah Falls
🍁 Things to do: Saddle up at a local ranch for a horseback tour of the Appalachian Trail; try your hand at geocaching in the Blue Ridge Mountains; hear the roar of Tallulah Gorge's six waterfalls echo through the forest.
🚗 Must-do drive: Russell-Brasstown Scenic Byway is wrapped in the gorgeous vistas of the Chattahoochee National Forest.
🏠 Where to stay: Head to the hills just south of Blue Ridge to the privacy of this open-concept cabin. Spend your time on the wraparound porch, soaking in the mountain views and the hot tub jets.
15. Tennessee
After visiting the leaf-filled mountains that inspired Dolly Parton in her youth, you'll be singing about their beauty to everyone you know.
📅 When to go: Late October to late November
📍 Towns to visit: Gatlinburg, Franklin, Chattanooga
🍁 Things to do: Take a fall color cruise across the Tennessee River Gorge on the Southern Belle Riverboat, complete with live narration.
🚗 Must-do drive: Cherohala Skyway takes you on a "ride above the clouds" through the Cherokee National Forest.
🏠 Where to stay: This secluded Smoky Mountain A-frame is ready for your family adventure. With access to community amenities like tennis courts, a pool, game room, and playground, there's plenty to do just around the corner or a few miles away in Gatlinburg.
Rest Easy While Catching the Changing Colors
After chasing the fleeting fall hues, you'll want to arrive at a home that's as vibrant as those autumn leaves. That's why every stay on our site is backed by our Rest Easy Promise that your vacation rental will always be safe, clean, and ready for you and your family.
If you want to create a bucket-list itinerary for every season of the year, be sure to check out our other travel blogs that are sure to spark your wanderlust. From the best places to stargaze and must-see roadside attractions to tiny houses worth visiting and dreamy desert vacations, there's a full spectrum of incredible getaways waiting to dazzle you.
Beachside bliss is the heart of Myrtle Beach, where 86 golf courses, 1,800 restaurants, and hundreds of stores, amusement parks, and live entertainment options hug 60 miles of pristine coastline.
Also known as the Grand Strand, this popular beach town consistently sees a wave of tourists every summer. In 2020, the Myrtle Beach Convention Bureau reported 12.8 million visitors despite the coronavirus pandemic, and the year prior saw 20.6 million people pass through its idyllic boardwalks and sandy shores.
It's this family-friendly destination's unique blend of thrills, sights, and relaxation that make it a beloved vacation spot to return to year after year — which, in turn, makes it a top location to own a short-term rental property. To help you understand the scope of investment opportunities within this in-demand market, we created a free downloadable vacation rental market analysis ideal for prospective buyers.
Inside our free report you'll find:
Rental income potential by property size
Top performing property types
Vacation rental inventory by property size
Occupancy rate by month
Average daily rate by property size and season
Download Our Complete Myrtle Beach Vacation Rental Investment Analysis
From the tiny, tight-knit town of Loris to the bustling boardwalk of The Beach, the 14 unique communities of Myrtle Beach offer their own attractions, atmosphere, perks, and properties, all with access to the sandy shores of the Atlantic and mild year-round temperatures. Add in the area's relatively low cost of living, and it's not surprising to see why the U.S. News and World Report has named Myrtle Beach the Fastest-Growing Place in the U.S. for 2021-2022.
For vacation rental investors who are eager to enter a hot market, that makes Myrtle Beach an ideal place to be.
While the beaches of Miami and Panama City are magnets for energetic college students, the smaller-town Southern hospitality of Myrtle Beach is more popular with East Coast families relaxing on their school breaks. According to our market analysis, Myrtle Beach has two peak seasons — spring break in April, when occupancy rates can hit an average of 60% for the top 25% of performers, and the summer vacation stretch from June through August, when occupancy rates can reach an average 90% for that group. 
But back-to-school season doesn't mean your occupancy numbers are in trouble. Myrtle Beach continues to attract a variety of visitors thanks to its golf courses, performing arts, and restaurant scene. So no matter the time of year, there are opportunities to book many kinds of guests — especially if you know what they want in a vacation rental.
It's also worth mentioning that, even with an influx of new residents and beachgoers, the real estate in Myrtle Beach is more affordable than many of its neighbors along the South Carolina coast. Zillow reports a median home value of $223,642 for the average four-bedroom home, with plenty of desirable beachfront properties available.
How Much Money Can You Earn with a Myrtle Beach Vacation Rental?
As travelers return year after year, investors in the area have the potential to earn a sizable income and secure repeat vacation rental guests. To maximize your earnings and gauge how valuable your home could be in the market, there are a number of notable factors to consider.
Property Size
Our Real Estate Services (RES) team says popular Myrtle Beach homes have the space to accommodate 10 or more people, yet the market of available properties to purchase is dominated by one- and two-bedroom condos (a combined 57% of inventory).
The good news: guests are often drawn to convenience over size, so selecting a smaller home from available inventory can still be highly profitable with the right approach. We recommend looking for a beachfront property (or beach access within walking distance) with outdoor-centric amenities (like a pool and hot tub). This way, your guests can easily get out of the house and enjoy the abundance of nearby activities that brought them to Myrtle Beach in the first place.
If you're eager to find one of those larger homes — and willing to navigate more limited inventory — consider buying off the Myrtle Beach coast. While our vacation rental market analysis says four- to five-bedroom homes only make up a combined 11% of available properties, they have less competition within the market overall.
Property Location
When a top vacation destination has "beach" in the name, it's an easy bet that the water is the biggest draw for tourists. The most booked properties in Myrtle Beach have ocean-facing balconies or easy beach access, and are often located in the heart of the community. Use the shoreline as your guide to discover lucrative properties of all kinds.

Consider finding a location near the performing arts and restaurant hubs, too. This can help owners with more inland properties offset their distance from the water, and also provides great entertainment for guests visiting in the off season.
Property Amenities
Facing the ocean and being close to the sand is still the top priority, but bringing the ocean indoors with cheerful, beach-themed accents can also create a more memorable experience for your guests. You could start small with shell-shaped soaps, patterned towels, fun accent pillows, or an ocean-themed welcome basket. To go bigger, you could also add coastal-chic furniture or beach-friendly equipment. Many available properties are in older complexes and communities, so it's up to you to add a fresh sense of flair that excites visitors of all ages.
With families at the top of your guest list, it's also important to have amenities that suit their needs — along with their furry friends! Airbnb says offering pet-friendly accomodations can increase revenue by 6%, and over 80% of Evolve homes in Myrtle Beach allow them to stay (and sit, and roll over). Offering extra sleeping spaces, cribs, and pet beds will keep everyone comfortable (along with central air conditioning), and simple touches like self check-in and a welcome book will put guests at ease.
Bookings come naturally in the peak summer and spring seasons, but to earn at your highest income potential, you'll have to stand out to travelers who are looking for more than just fun in the sun. Consider creating an inviting, upscale atmosphere that offers year-round entertainment (think entertainment system and game room) and gives local hotels some competition. (It also helps to have strategic pricing strategies in play to help get you noticed any time of year.)
Download Our Full Myrtle Beach, SC Vacation Rental Market Investment Analysis
From the busiest summer season to the quieter winter days, homeowners who provide the right accommodations to their vacation rental guests will find year-round success in the South's charming seaside. Whether you're looking to dip your toes in with a new investment property or take the plunge with your current home, download our free Myrtle Beach Area Vacation Rental Market Analysis today.
Inside there's an array of helpful insights, including:
Average daily rate by property size
Average days booked in advance
Average length of stay in high and low seasons
High and low seasons in Myrtle Beach
You don't need to channel your inner shark to make it to the top of the vacation rental food chain. Discover the details that make waves and use them to build a smarter, more lucrative investment.
Beach vacations have long been an American pastime, and vacation rentals have been emerging as the ideal hosts. At these waterfront properties, travelers can cook their fresh catches in spacious kitchens, fall asleep to the sound of crashing waves, and sink their toes in the sand as soon as they step out of their rental properties.
But the coronavirus pandemic reshaped most aspects of American life, including travel, so demand for wide-open spaces and sprawling beaches is more popular than ever. Travelers are heading to beaches and national parks en masse, which can lead to increased bookings and higher profits for those who own nearby properties.
Plus, as the vacation rental industry flourishes — it's projected to see market growth of $62.7 billion between now and 2024 — there's widespread appeal for short-term property investment in coastal communities.
All of this is why now is the time to consider buying a beach house vacation rental. From the craggy coastlines in Oregon to the sun-soaked shores of Florida, here are the best beach towns for buying an investment property in the next year.
How We Chose the Best Places to Buy a Beach House Investment Property
The By the Numbers data below is based on a combination of proprietary and public data, but the three main metrics we took into account are:
Vacation rental performance metrics for beach towns across the U.S. to learn where bookings lead to higher median revenue

Zillow's 2021 median home value to identify listing prices in beach towns

Estimated yearly expenses to run a vacation rental (approximately 30% of total revenue) to help calculate cap rate
We also evaluated a property's potential to outperform market expectations with an Evolve partnership. Below, you'll see The Evolve Difference, showcasing how we helped some of our top beach house homeowners maximize income in each area, resulting in them significantly surpassing the market's projected revenue.
1. Surfside Beach, Texas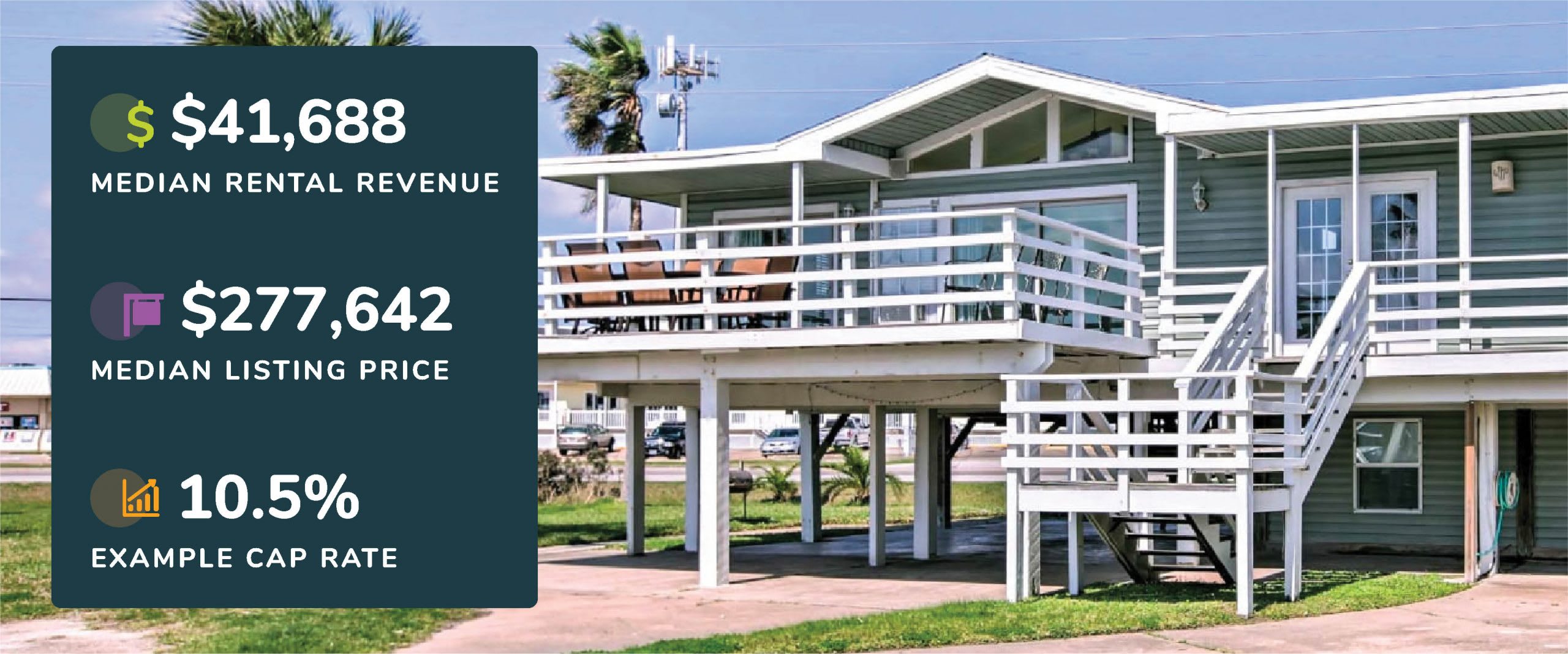 2. Traverse City, Michigan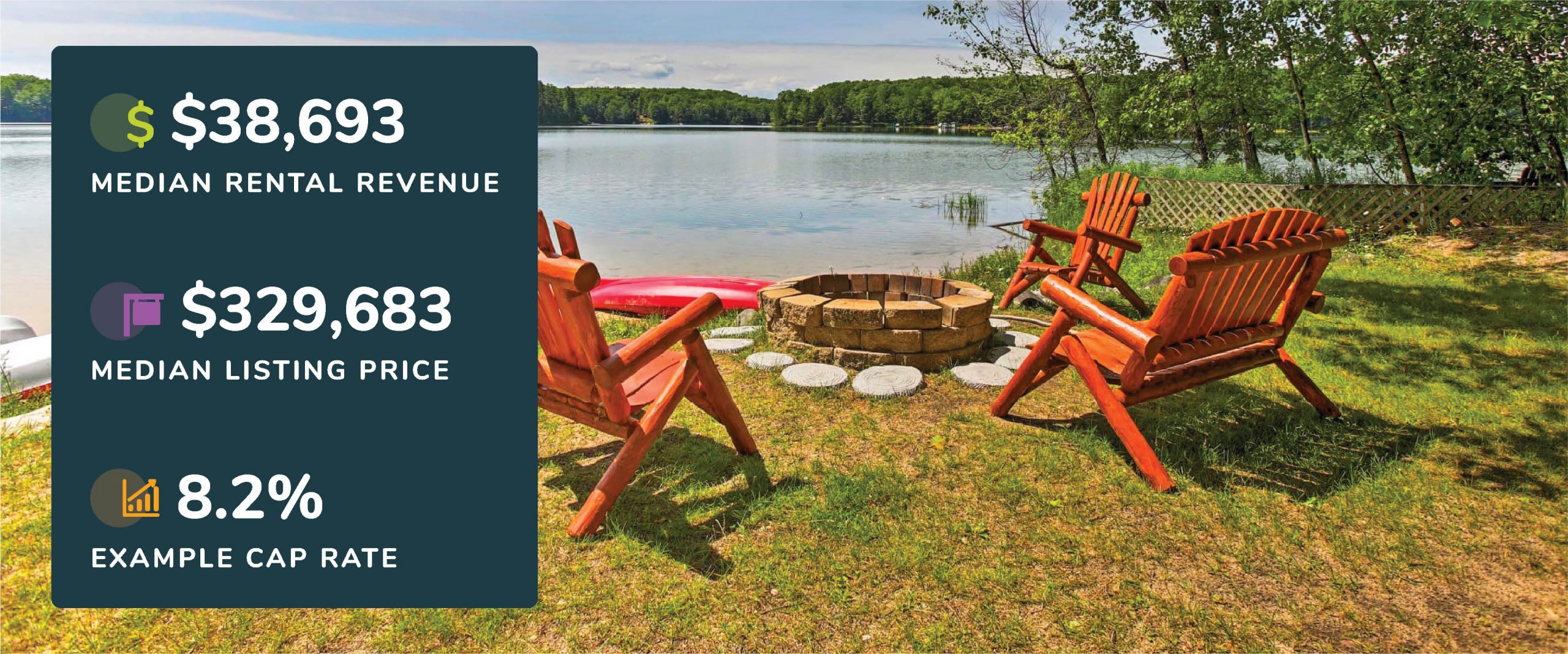 Surrounded by port towns, lighthouses, and rolling dunes, this scenic Michigan city nabbed the second spot on our list as it's a Midwest vacation magnet.
Along with its spectacular beaches (and there are a lot both big and small to explore), Traverse City has earned the reputation of being the "Cherry Capital of the World" and is gaining recognition as an up-and-coming wine destination. It also has prime leaf-peeping opportunities in autumn, and vacationers often visit come winter to glide through Sleeping Bear Dunes National Lakeshore on snowshoes.
Of course, it's smart to stock your vacation rental with beach-friendly amenities that'll help your home stand out to booking travelers. But our RES team also recommends finding a property that has amenities you can use year-round, like a fire pit. (If the home doesn't have those amenities, you'll want to look for opportunities to add value by bringing them in.)
3. Murrells Inlet, South Carolina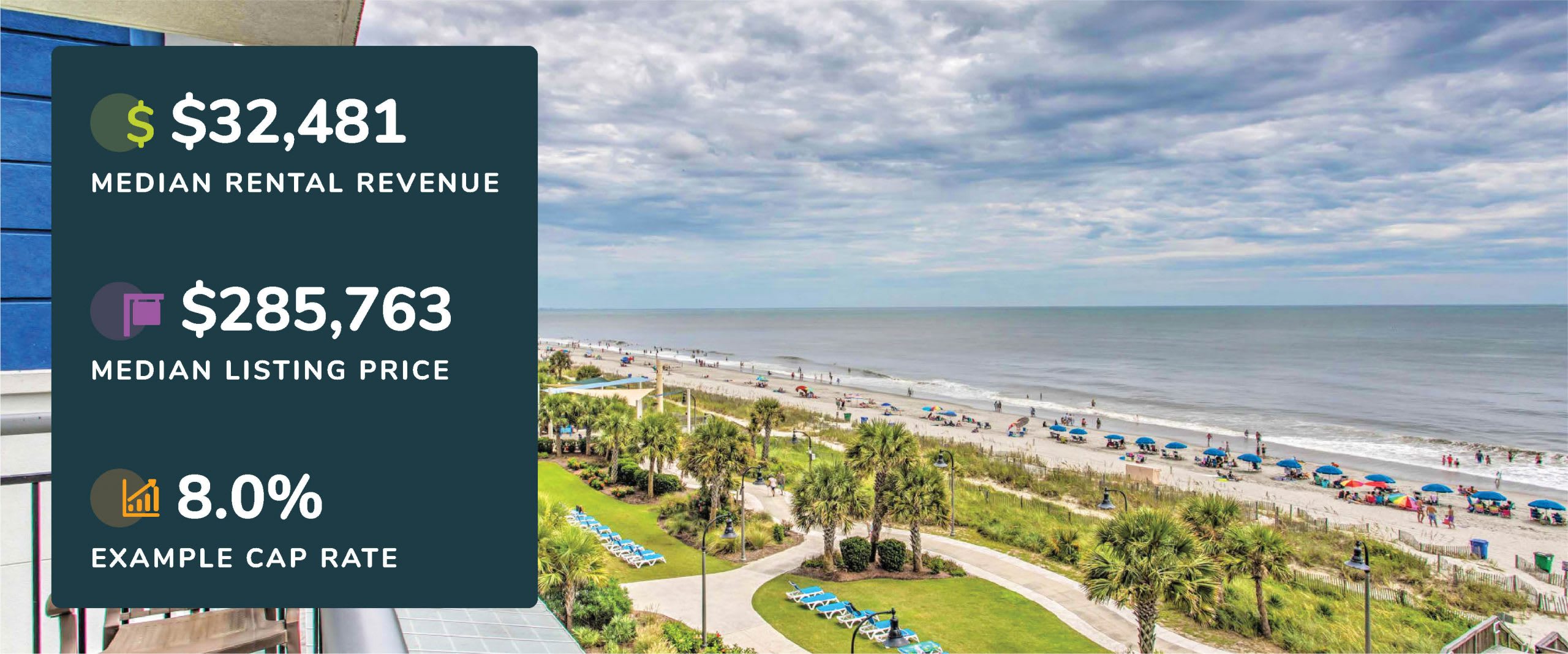 4. Cape Coral, Florida
Cape Coral lands in the fourth spot on our list of best places to buy a beach house and ninth on our overall list of where to buy a vacation rental property because of its appeal to a wide variety of travelers.
Along with the scenic Gulf Coast beaches, Cape Coral has lush golf courses and kid-friendly attractions like the Sun Splash Family Waterpark. It's also a top boating and fishing destination, and is teeming with canals boasting more than 400 miles of beautiful waterfront property.
Of course, high HOA fees can often be a deterrent to Florida investors. But our RES experts say Cape Coral remains an area without heavy regulation, so you won't have to cut through a bunch of red tape before seeing a solid ROI on your income property.
5. Ocean Shores, Washington
With a long stretch of peaceful beaches and shorelines that disappear into the horizon, Ocean Shores is a gem in the Pacific Northwest that appeals to travelers looking to avoid crowds. An ideal basecamp for day trips to Olympic National Park, tourists can gawk at the glacier-capped mountains and recharge in the Hoh Rainforest, which is billed as the quietest spot in the United States.
That level of peace and quiet can also appeal to remote workers, as scenic destinations like Ocean Shores are becoming more popular even in shoulder seasons. Look for properties that can be tailored to suit a variety of travelers, like families, business travelers, and those vacationing with pets. Once you have your home, adding low-cost amenities like beach blankets, hiking guides, and board games can help your space shine.
6. Newport, Oregon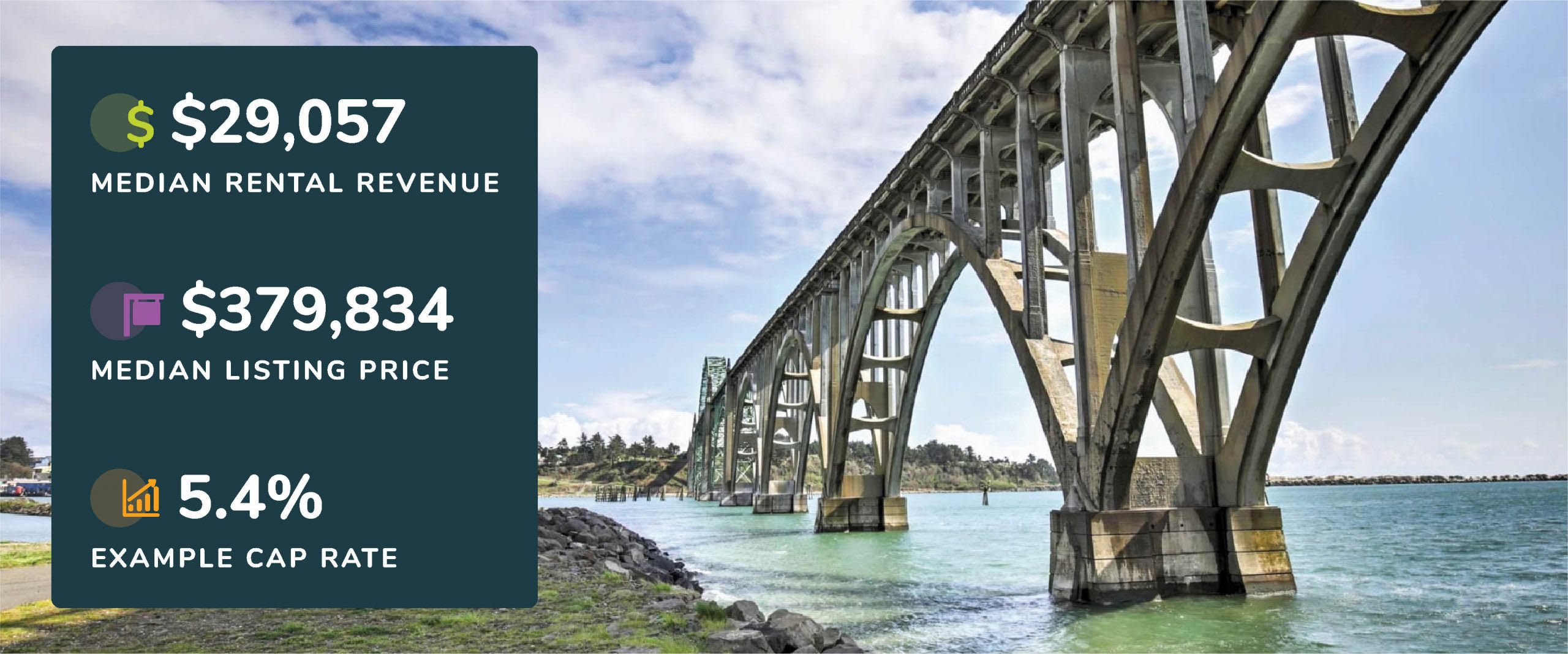 7. Gulf Shores, Alabama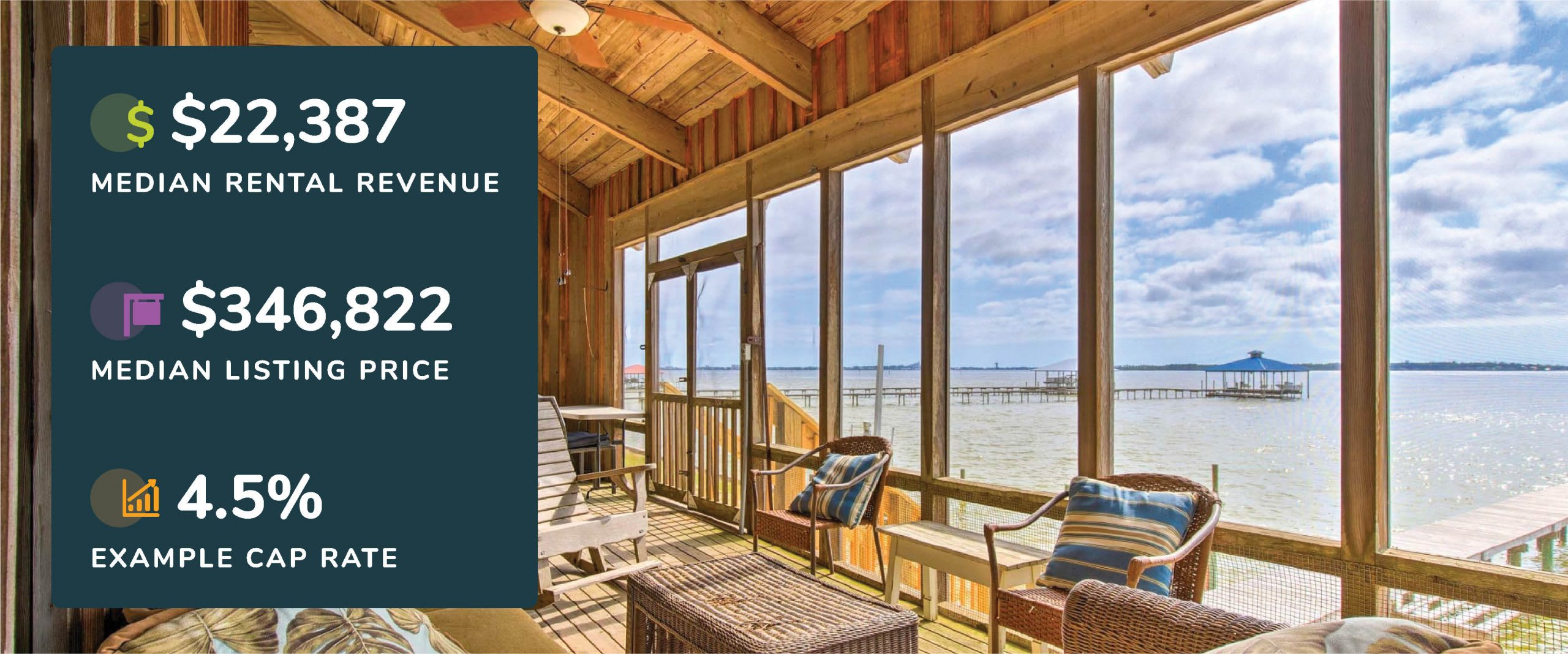 8. Lahaina, Hawaii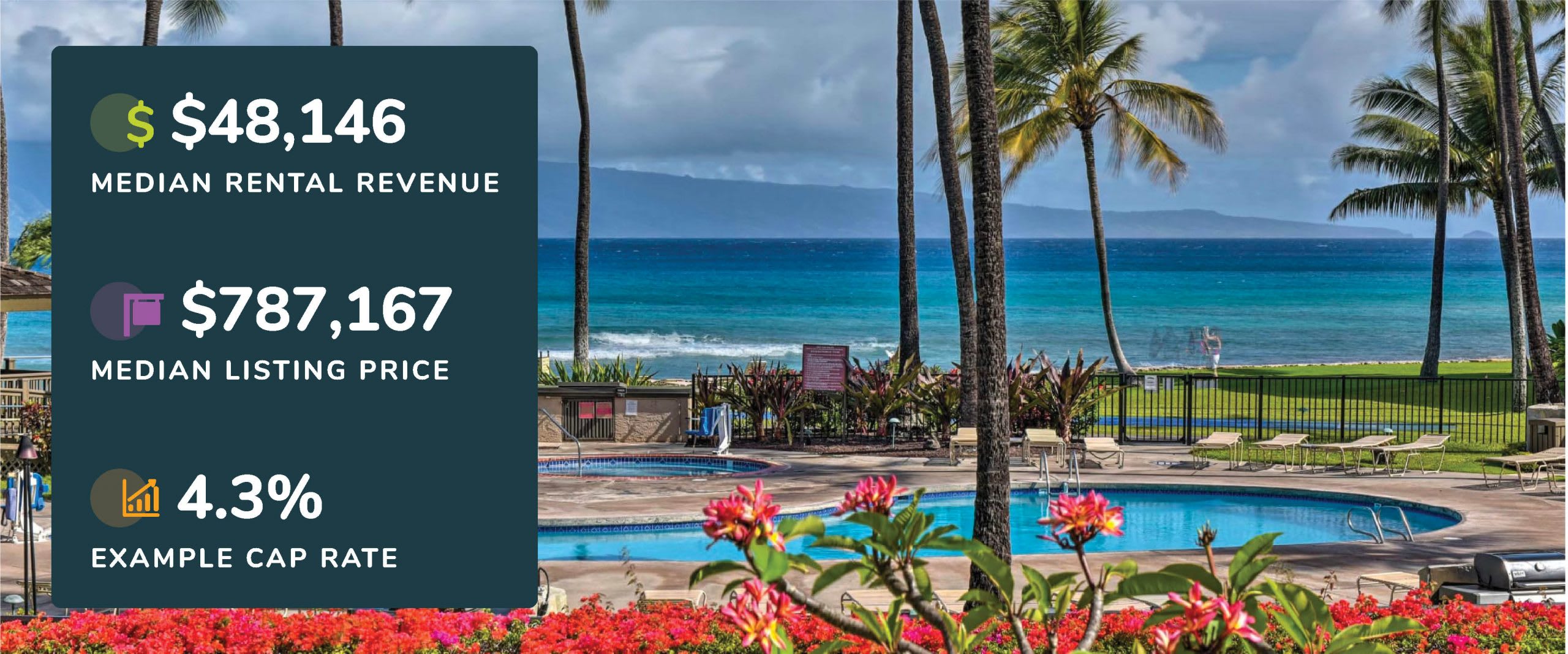 9. Ocean City, Maryland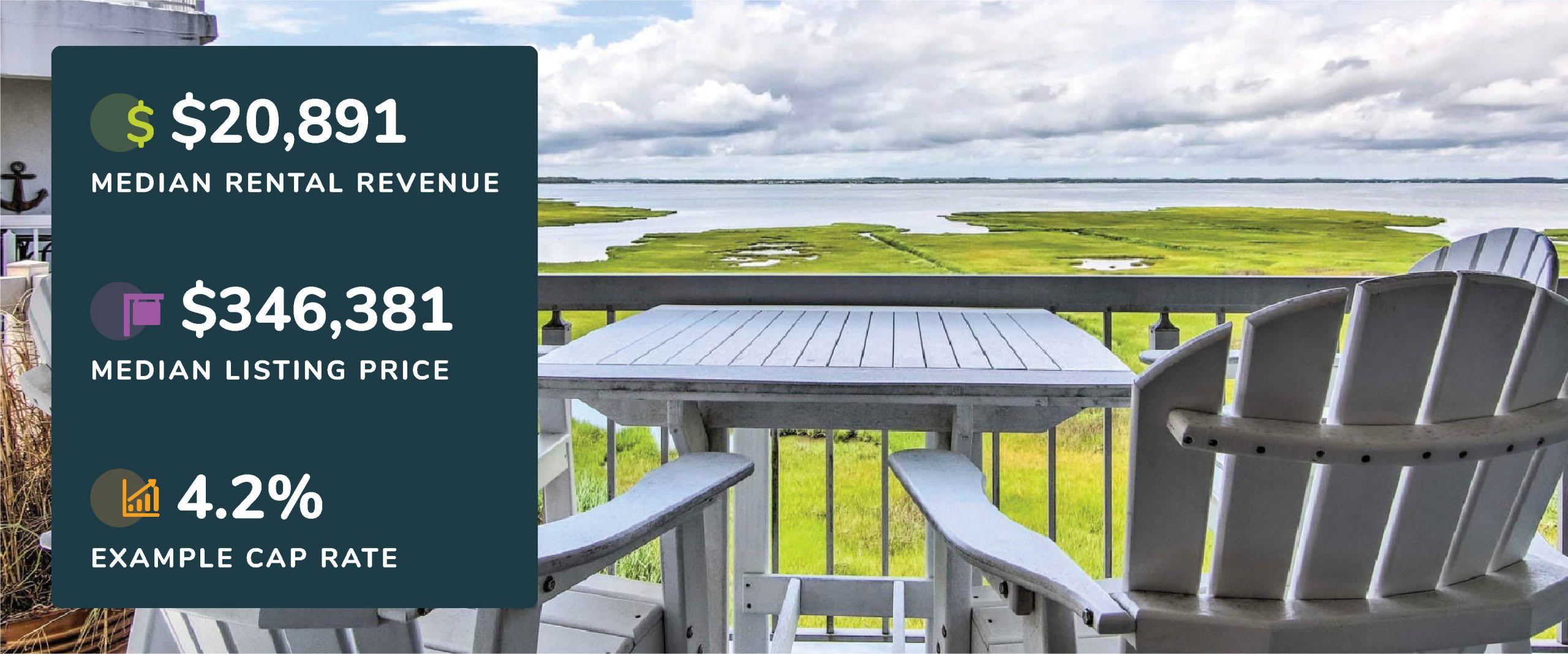 10. Destin, Florida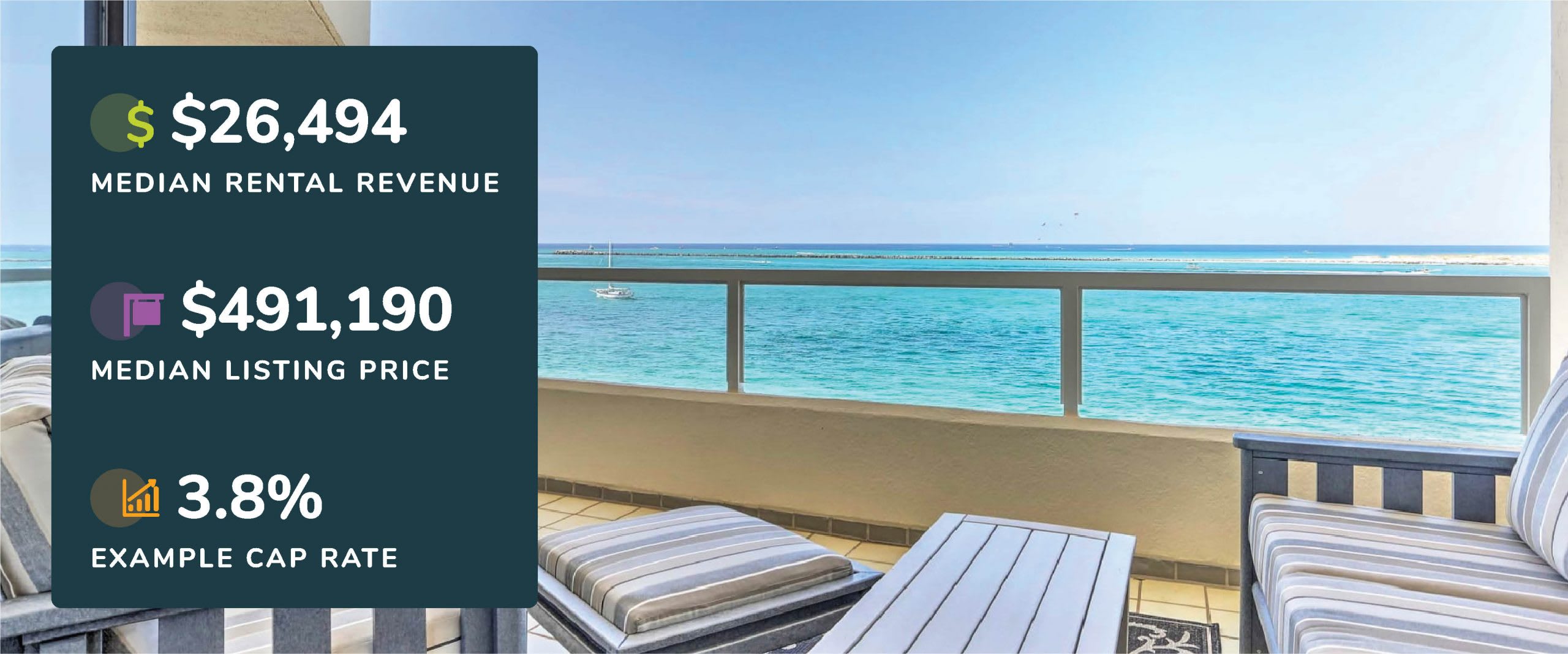 Destin is postcard-perfect with its teal waters and powdery white sand beaches. Located along the Emerald Coast where Florida's Panhandle greets the Gulf of Mexico, this sun-soaked playground has a knack for drawing multi-generation families for vacations.
For this reason, our RES team says spacious vacation rentals (usually around four to six bedrooms) tend to net the highest ROI in this beach town. That'll serve as the home base for travelers craving an array of adventure — Destin has everything from snorkeling and deep sea fishing excursions to a bustling boardwalk and excellent shopping.
11. Bethany Beach, Delaware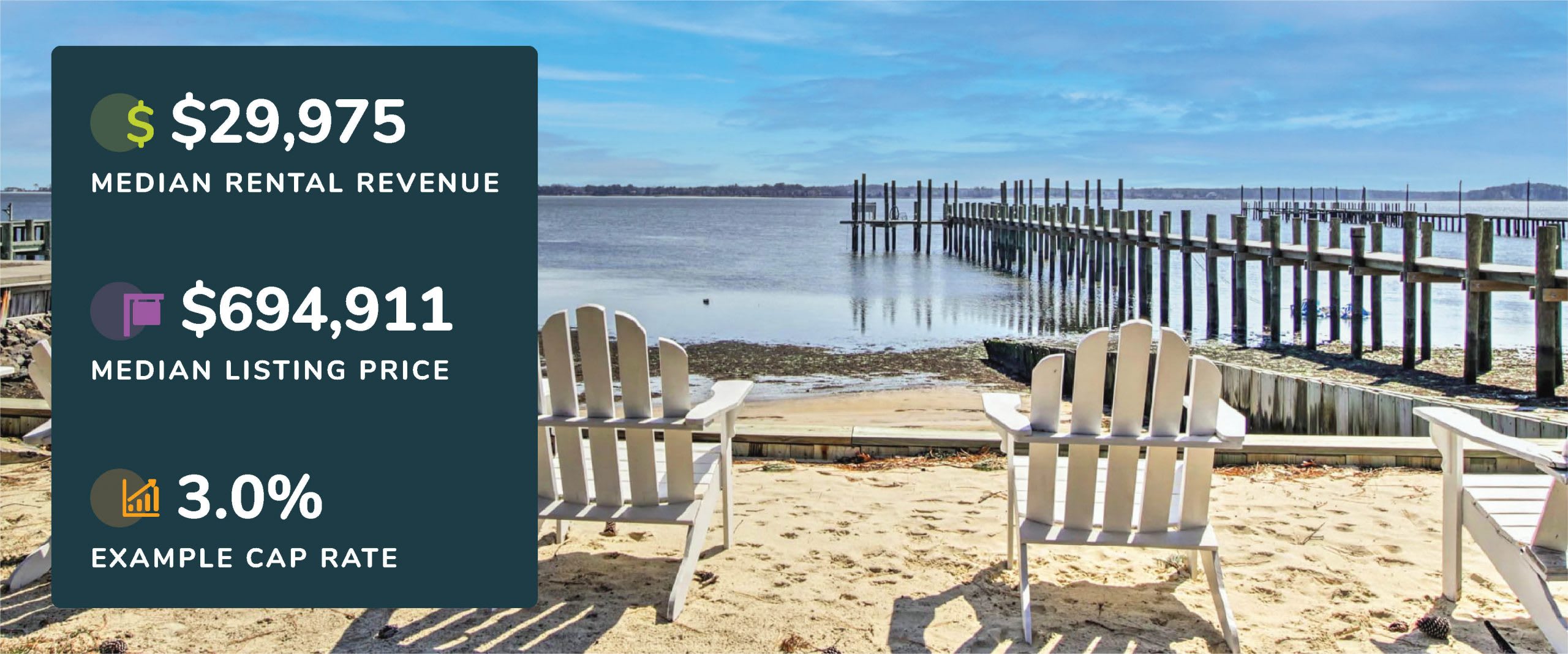 A well-kept boardwalk and pristine shorelines help Bethany Beach earn a coveted spot on our best places to buy a beach house list, despite it being a lesser-known escape (for now). This quaint and quiet mid-Atlantic enclave has everything you'd want in a beach town — from bike and surf shops to farmers markets and movies on the sand — without the overwhelmingly large crowds.
A strong inventory of luxury properties drive up the median home price to nearly $700,000 in this small beach town, so buying here does require a large upfront investment. But our RES team says finding property with close access to the beach or a private pool or hot tub can help you hit your occupancy goals and see a return on investment faster.
12. Cape Cod, Massachusetts
You may know this charming Northeastern summer vacation town for its clam shacks, lighthouses, and rolling sand dunes. But there's so much more to discover here, which is why travelers book lengthy summer vacations in Cape Cod, staying an average of five days in the high season and booking nearly three months in advance.
Average home prices hover in the $570,000 range, and unsurprisingly, our RES experts say those with private beaches, porches, and ocean views are the ones to seek out in your house-hunting journey. You could also look into adding beach-friendly amenities, like beach chairs, towels, and coolers to up the convenience factor for guests and the likelihood of them leaving a five-star review.
Take the Next Step with Evolve
Investing in a vacation rental property is a personal decision, but you don't have to navigate your options alone. Whether you're drawn to one of our tried-and-true beach towns or enticed by the untapped potential of a lesser-known up-and-comer, our Real Estate Services team can help you take the next step.
We have the data to contextualize your investment opportunities and define your objectives, preferred local real estate agents who specialize in vacation rental purchases, and an arsenal of management tools to help you reach your personal and financial goals once you've closed on your short-term rental property and are ready to jumpstart your business.
For additional research, here are some resources to help you better understand the potential of vacation rental investment:
Now that you're ready to talk about buying the beach house of your dreams, let's get the conversation started today.
Home to the land of Mickey Mouse and Disney World, world-class golf courses, fine dining, and shopping, Orlando attracts a wide variety of travelers from across the country and around the world — making record-breaking tourism numbers par for the course. Annual visitors reached a high of 75 million in 2018, accounting for nearly 60% of total visitors to the entire state of Florida.
With so much to see and explore, there's no doubt this Central Florida destination is a national tourism hub that's helped fuel a booming vacation rental industry.
To help you understand the scope of investment opportunities within this in-demand market, we created a free, downloadable Orlando vacation rental investment market analysis ideal for prospective buyers.
Inside our free report you'll find:
Rental income potential by property size
Top performing property types
Vacation rental inventory by property size
Occupancy rate by month
Average daily rate by property size and season
Download Our Complete Orlando Vacation Rental Investment
With its year-round temperate climate (it is the Sunshine State, after all) and staggering array of activities and attractions, the Orlando area is a popular destination for travelers throughout the year. And as WalletHub's Best City for Recreation for 2021, it offers consistent booking opportunities and minimal slow periods for vacation property owners.
Of course, amusement parks like Disney's Magic Kingdom are a big draw for families. Given they're equipped to welcome tens of millions of guests annually, there's high demand for affordable, spacious, and convenient accommodations in the area, be it in Orlando itself or nearby Davenport and Kissimmee. Think about it: ticket prices are steep enough, and since an expensive resort stay can be cost-prohibitive for many families, vacation rentals have gained popularity as budget-friendly alternatives.
Speaking of affordability, homebuyers can expect relatively economical prices for property in the area, with Zillow prices ranging from the mid-$200,000s in Kissimmee to around $300,000 in Orlando for an average four-bedroom home.
This up-front investment can pay off quickly once you start welcoming guests. According to our data, Orlando area vacation rentals are, on average, booked solid 41% of the year. In March, that can skyrocket to a 90% occupancy rate. Translation: a consistently-booked calendar can very easily mean more money in your pocket.
How Much Money Can You Earn with an Orlando Area Vacation Rental?
As tourists steadily flock to Orlando's one-of-a-kind entertainment opportunities and gorgeous setting, homeowners and investors in the area have the potential to earn a sizable income with vacation rental. To maximize your earnings and gauge how valuable your home could be in the market, there are a number of notable factors to consider.
Property Size
Our Real Estate Services (RES) team says the most bookable Orlando homes have the space to accommodate larger groups, so bigger is better. Per our report, five-bedroom homes earn the most on average (the top 25% of performers make $53,600 annually).

But if that feels a little too large and in charge for your investment goals, don't fret: that home size only represents 13% of the Orlando area's inventory. Three-bedroom homes are also in high demand among travelers who book with Evolve, representing 29% of our Orlando area's inventory and pulling in an average of $51,524 annually. This not only makes them the second-highest income earners behind five-bedroom homes, but it also means they could be easier to come by when looking at properties for sale without sacrificing profit potential.
Property Location
Disney World is the biggest draw to the area, so catering to Mouseketeers should be your top priority. Our RES team suggests focusing on properties within five to 10 miles of Disney World, which is optimal for traveling to and from the park. Since families are still looking to enjoy their vacation home base without missing out on Disney magic, vacation rental-friendly communities with sought-after amenities are worth looking into, too.
Property Amenities
The Orlando area is one of the most saturated vacation rental markets in the world — not just the country — so the more you can cater to Disney-bound families with children or large multi-generation reunions, the better shot you'll have at winning bookings over your competition.
With multi-generational groups traveling together, you should provide a blend of offerings to please both kids and adults. Our product marketing team suggests maximizing your property's space (and your profits) by offering family-friendly amenities like bunk beds, sleeper sofas, and cribs — a key factor in 90% of our top-grossing homes in the area.
It's also important to remember Florida is consistently hot, so keeping everyone cool with an outdoor pool and central air conditioning is another necessity. Stocking your home with a wide range of board games and equipping family rooms with smart TVs, streaming services like Disney+, and strong internet connection for both work and play can help you nab those sought-after bookings.
Of course, traveling with kids or in larger groups can be a lot of work, so make things easy for your guests by offering self check-in, providing a welcome book with recommendations for nearby restaurants and activities, and stocking your home with dishware, kitchen appliances, toiletries, and cleaning supplies. Our product marketing team says adding these amenities can increase your profits and benefit your bottom line.
Download Our Full Orlando, FL Vacation Rental Investment Market Analysis
While the Orlando-area market is highly competitive, homeowners who provide the right accommodations to their vacation rental guests can thrive in this recreational paradise. Whether you're looking to invest in a new property or optimize your current home for success, download our free Orlando Vacation Rental Investment Market Analysis today.
Inside there's an array of helpful insights, including:
Average daily rate by property size
Average days booked in advance
Average length of stay
High and low seasons in Orlando
Remember, it doesn't take a magic wand to own a successful vacation rental. Discover the details that matter and use them to build a smarter, more lucrative investment.
There's something magical about relaxing under a starry night sky.
But it's rare to find places with so little light pollution that you can truly enjoy the expanse of the Milky Way and all its constellations — particularly if you're not interested in pitching a tent or trekking with the masses to big-name dark sky sites like Death Valley National Park or Big Bend National Park.
That's why we've created a list of the best places to stargaze in the U.S. that don't require you to go too far off the beaten path. These destinations are all certified International Dark Sky Parks, but are still easily-accessible from nearby towns. It's the perfect way to enjoy the best of both worlds: the clearest, darkest skies with a comfy and convenient home base.
1. Flagstaff National Monuments
Located in: Coconino County, AZ
Established to preserve the majesty of natural landmarks and protect archeological sites, the Walnut Canyon National Monument, Sunset Crater National Monument, and Wupatki National Monument are dark sky heavyweights. Grouped together as the Flagstaff National Monuments, they earned a singular Dark Sky Park designation in 2016, thanks in part to Flagstaff's progressive legislation to prevent light pollution in the area.
Visitors to these southwestern monuments can see a glittering dome of stars expand around breathtaking red rock formations. Guided night hikes and art by starlight parties run throughout the year, and lucky guests might even get to see a meteor shower. (Visit between April 19 and May 28 to catch this celestial event!)
Where to Stay Nearby
This rustic-chic Flagstaff cabin sleeps up to 12, making it perfect for a group getaway. You can get stunning mountain views during the day, then sneak a preview of the dark skies you're after from an Adirondack chair on the expansive wrap-around deck.
2. Joshua Tree National Park
Located in: San Bernardino County, CA
Everyone knows Joshua Tree National Park is a daytime must-see on a trip to Palm Springs, but it truly lights up at night as the International Dark-Sky Association calls it the "last pool of natural darkness remaining in Southern California."
Those who venture out after dark can experience the glow of the Milky Way unobstructed. While visitors are free to explore the park at night without guidance, star parties, astronomy lectures, and guided ranger tours are also available for those seeking a little education-building alongside their stargazing activities.
Where to Stay Nearby
Add a splash of color to your desert getaway when you book this vibrant bungalow located just five miles from Joshua Tree National Park. You can get cozy around the backyard fire pit before and after your Milky Way adventure.
3. Buffalo National River
Located in: Marion County, AR
As the very first National River in the U.S., the Buffalo River received a one-of-a-kind International Dark Sky Park designation in 2019. A lush watering hole for outdoorsy travelers and locals alike, this scenic spot winds through Northern Arkansas and has misty coves, stunning cliff faces, and peaceful waterfalls.
Twinkling constellations rise over the trees to give the Buffalo National River true storybook status at night. To celebrate the area's impressive dark skies, the National Parks Service (NPS) offers a number of educational ranger-led programs. They also team up with local astrological societies to host star parties throughout the year.
Where to Stay Nearby
This quiet hideaway in Flippin, Arkansas provides an ideal home base for a more remote retreat. Rolling acreage right outside your door means little light pollution, so you'll be able to enjoy sweeping views of the Ozarks and the skies above right from your spacious deck.
4. Bryce Canyon National Park
Located in: Garfield County, UT
A favorite park of the west, Bryce Canyon National Park is known for its almost unearthly crimson rock formations and panoramic views. With open skies and unbeatable vistas, this hotspot clearly earns its rank among the best places to stargaze in the U.S. It's so renowned, in fact, that it has the highest-ranking Gold Tier status as an International Dark Sky Park.
On a moonless night, visitors can take in the magic of 7,500 stars. The park also employs dedicated Astrology Rangers and hosts tons of events throughout the year, including an annual summer festival for those who want a totally immersive stargazing experience (think: telescope viewings, constellation tours, and model rockets on display).
Where to Stay Nearby
A mere mile from Bryce Canyon National Park, this rustic cabin couldn't be better for a stargazing adventure. While modern indoor amenities make for comfortable downtime, the family-friendly backyard is the real star — you can spread out a blanket and enjoy the night sky without ever leaving home.
5. Headlands International Dark Sky Park
Located in: Emmet County, MI
Found at the northernmost tip of the Lower Michigan peninsula, Headlands International Dark Sky Park puts the proof of its stargazing power right in its name.
These waterfront woodlands offer prime viewing for everything from lunar eclipses and the Milky Way to — if you're able to time your trip just right — the Northern Lights.
The park also has dark sky activities for visitors of all ages, including nighttime storytelling, astrophotography events, and meteor shower viewings. For a romantic evening — or just a unique family outing — you can set sail on a star-studded boat cruise in the adjoining harbor. (And as you wait for nightfall, a day trip to nearby Traverse City presents even more outdoorsy fun.)
Where to Stay Nearby
Feel tucked away when you book this secluded family cabin in Harbor Springs, Michigan. The quaint and quiet screened-in porch is the perfect place to relax with loved ones as stars peek above the lush canopy of trees.
6. Black Canyon of the Gunnison National Park
Located in: Montrose County, CO
Black Canyon of the Gunnison National Park sits in the heart of Colorado, and is named for the steep gorge through which the Gunnison River cuts. Though last on our list of best places to stargaze in the U.S., this stunning natural wonder is certainly not least. With an International Dark Sky rating of 21.5 out of 23, stargazing enthusiasts flock from near and far for some unforgettable celestial views.
This park works with a local Astronomical Society to put on events and provide telescopes to visitors, and hosts an annual astronomy festival every June. The NPS also recommends planning a summer visit for the best views of the Milky Way — and the unique chance to see the International Space Station fly overhead!
Where to Stay Nearby
This cozy cabin on a working cattle ranch in Olathe, Colorado is just what a stargazer needs. With tons of outdoor space to explore and a quiet front patio to relax on, you'll feel totally immersed in your scenic surroundings.
Make Your Stargazing Adventure a Reality with Evolve
While exploring dark sky sites is most of the fun, having a comfy and convenient homebase could make or break your vacation. Our Rest Easy Promise helps you stay in the moment and travel without surprises (except for the occasional shooting star!).
If stargazing is only the start of your bucket list adventures, be sure to check out our other travel blogs that'll give you all sorts of vacation-planning ideas. From the best small towns in America and family road trip ideas to our favorite hygge cabins and renowned wine regions, an abundance of memorable getaways await.
It's official: road trips have experienced a resurgence in the U.S. With so many travelers taking to the open road, that inevitably means stops at unique roadside attractions.
Of course, the best roadside attractions give you the chance to witness everything from larger-than-life statues to can't-help-but-smile kitsch. So hop out of the car to stretch your legs at these whimsical sights you can find across the country — and stay at a clean, verified home right on your route.
Best California Roadside Attractions
Whether you grab breakfast burritos before hitting the open road or spend happy hour at palm tree-shaded rooftop bars, you can't go wrong with a California road trip. Make sure you stop at these unforgettable roadside attractions to make your drive even more memorable.
Randy's Donuts
805 W. Manchester Blvd, Inglewood, CA
A towering donut beckons you to stop by Randy's Donuts, which you might have seen on Arrested Development, Californication, or Entourage. Visit for a glazed midnight snack (they're open 24 hours!) or a photo opp with a 32-foot pastry.
Cabazon Dinosaurs
50770 Seminole Dr, Cabazon, CA 92230
Dinosaurs, palm trees, and ice cream await at Cabazon Dinosaurs. This former Pee Wee's Big Adventure shooting location takes you back to the Jurassic period by way of enormous steel dinosaurs that tower into clear blue skies.
International Banana Museum
98775 CA-111, Mecca, CA 92254
Gain a new appreciation for bananas at a very low price. For just one dollar, you'll get into the International Banana Museum where you can order a banana shake (OK, that costs extra), peruse over 25,000 items devoted to the namesake fruit, and dress up in banana-wear for some a-peel-ing pictures.
Integratron
2477 Belfield Blvd, Landers, CA 92285
A sound bath can be an otherworldly experience, especially when it takes place at Joshua Tree's Integratron. Once visited by Anthony Bourdain, you can follow in the celebrity chef's footsteps and soak in the ethereal soundscape created by this giant white dome surrounded by miles of desert.
Chandelier Drive-Thru Tree
67402 Drive Thru Tree Rd, Leggett, CA 95585
Sometimes you just want to visit a roadside attraction where the best part is staying in the car. The Chandelier Drive-Thru Tree is quite literally a tree you drive through. The 276-foot redwood has a gaping hole that can fit most vehicles, creating an unreal experience (and wow-worthy photos). You can also tour famous sights along the Redwood Highway, like the Avenue of Giants, home to some of the largest trees in the world.
Winchester Mystery House
525 S Winchester Blvd, San Jose, CA 95128
Staircases lead to nowhere and nooks and crannies turn to secret passages at the Winchester Mystery House. Here you can get inside the mind of Sarah Winchester, a late-1800s heiress who spent the last half of her life turning a simple house into a 160-room masterpiece.
Where to Stay
If you're touring Southern California's best roadside attractions, head to this retro mid-century hideout that sleeps four guests. You can seek solace from the heat in the resort-style pool, or spend time exploring more quirky sights right in Palm Desert, like a 26-foot-tall statue of Marilyn Monroe or the house where Elvis spent his honeymoon.
Those traveling north can rest easy in this colorful condo. It's located one block from the Golden Gate Bridge — and a short drive away from some of the best wine regions in the U.S.
Best Upper Midwest Roadside Attractions
Many travelers flock to the upper Midwest to see the striking geological formations at Badlands National Park. But while visiting this area of the U.S., you'll also want to check out these eccentric roadside attractions.
Wall Drug Store
510 Main Street, Wall, SD 57790
Play on a cement jackalope, befriend an animatronic dinosaur, and shop western-themed wares — all of it is possible when you stop at Wall Drug. Be sure to try some of the free water advertised for miles on the surrounding highways, or pick up a homemade donut in the cafeteria Fern worked at in Nomadland.
Bear Country USA
13820 US-16, Rapid City, SD 57702
Don't be alarmed if a bear wanders up to your window while at Bear Country USA. Getting up close with them — along with elk, buffalo, reindeer, and more — is all part of the experience when driving through this outdoor animal park.
Carhenge
2151 Co Rd 59, Alliance, NE 69301
An homage to Stonehenge, this 38-vehicle sculpture is found in the middle of a Nebraskan farm field. Crafted from old cars, it really is a unique roadside attraction that's free to visit and impossible to forget.
Mt. Rushmore
13000 SD-244, Keystone, SD 57751
You really can see history carved into stone at Mt. Rushmore. Whether you pay to enter the park or drive the winding roads that give you a peek at Washington, Roosevelt, Lincoln, and Jefferson, it's a can't-miss national monument that's even more impressive in person.
Deadwood
18 76th Dr, Deadwood, SD 57732
The Wild West is found at Deadwood, a historic gold rush town in South Dakota. Grab a seat at a local saloon, test your luck at a local casino, or learn about the heyday of prospecting at the Days of '76 Museum.
Enchanted Highway
607 Main St, Regent, ND 58650
Pack multiple roadside attractions into one drive along North Dakota's Enchanted Highway. Impressive sculptures — including enormous pheasants, a tin family, and an oversized grasshopper — will greet you on this scenic 32-mile drive.
Where to Stay
This sprawling Sturgis vacation rental peers over South Dakota's best panoramas. With 4,000 square feet, you can bring up to 20 people along, which makes this the perfect stop if you're looking to meet up with family and friends halfway.
Best Lower Midwest Roadside Attractions
Whether you're stopping in Chicago to take in the riverfront architecture, driving to Branson for a family vacation, or spending a long weekend at Ohio's theme parks and national parks, you'll want to add these fun roadside attractions to your route.
Original Rainbow Cone
9233 S Western Avenue, Chicago, IL 60643
The Original Rainbow Cone is an essential part of any Chicago summer or fall. Stop here for stacked rainbow sherbet served out of a bright pink facade and see why it's been locally loved since 1926. (If you're up for a drive while you eat, you can check another roadside attraction off your list at the Leaning Tower of Niles.)
Hocking Hills Scenic Byway
Rockbridge, Ohio
When you're Ohio-bound and in need of new sights, take a breather in nature on the Hocking Hills Scenic Byway. Here, roadside attractions get a new definition as you'll see an array of tumbling waterfalls, bright wildflowers, and stunning vistas.
American Gothic House
300 American Gothic St, Eldon, IA 52554
Experience the place that inspired Grant Wood's 1930 painting at the American Gothic House. You can practice your most stoic face and recreate the painting with a picture in front of the white house with gothic-style windows (and yes, they'll even lend you a pitchfork).
Field of Dreams Movie Site
28995 Lansing Rd, Dyersville, IA 52040
Get some fresh air and grab baseball concessions at the field from Field of Dreams. It's free to visit (although donations are encouraged), and you're sure to feel the magic of America's favorite pastime if you take a tour of the home and surroundings, learning insider film trivia along the way.
Gateway Arch
11 N 4th St #1810, St. Louis, MO 63102
Climb 63 stories into the sky by tram at the Gateway Arch, a beacon on the St. Louis skyline. At the top, you can take in the view from 630-feet above ground.
Silver Dollar City
399 Silver Dollar City Pkwy, Branson MO 65616
Channel your thrill-seeking side at Silver Dollar City, an 1880s-style theme park in Branson that has everything from water rapids to family-friendly rides. With 31 roller coasters to choose from, there's not a chance you (or anyone on your road trip!) will be bored before getting back on the open road.

Where to Stay
A road trip through Missouri should include a splurge on this Branson vacation home with mountain views and an indoor pool. Those looking to stay in Chicago can check out this cozy, affordable apartment that's a stone's throw from the artsy Logan Square neighborhood.
Rest Easy Touring America's Best Roadside Attractions
A big part of staying relaxed on your road trip is knowing you can check into a place that will be ready for your arrival. All of our homes are verified in person — and if something isn't right or you need to change plans, we'll be there to help make it right.
Fort Lauderdale is your ideal vacation destination for sun, sand, and seafood. With a historic riverwalk district, golden beaches, and 300 miles of canals, Southern Florida's "Venice of America" really does have something for everyone. (And with Miami only a quick 35-minute drive away, it's easy to hop over to the "Magic City" for even more beachside bliss.)
Find your home base with a Fort Lauderdale vacation rental, then plan your perfect coastal getaway around these top things to do.
The Best Beach Activities
Fort Lauderdale's 23 miles of sun-kissed beaches are some of the area's best features. From reefside snorkeling to fresh-caught food, these activities make Fort Lauderdale's shores a hub for endless fun.
1. Dive Into Watersports
The beaches of Fort Lauderdale have a ton of watersports available for all experience levels. With an average year-round temperature of 72-80 degrees, one of the best is to get up close to one of the many man-made wrecks via a scuba diving adventure in the "wreck capital of Florida."
But if going deep into the sea isn't quite your style, you could stay closer to the surface and try your hand at surfing, or go on a quiet paddleboard trip for a more relaxing excursion. Add fishing charters and flyboard rentals to the mix, and there's no way you'll run out of reasons to make a splash!
2. Grab a Seaside Bite to Eat
After working up an appetite playing in the water, you can grab some grub at one of the many beachside restaurants in Fort Lauderdale boasting shimmering Atlantic views.
For starters, there's contemporary Mexican food at Lona Cocina & Tequileria. Whimsical boardwalk dining at Wild Thyme Oceanside Eatery. And an ultra-lively atmosphere awaits at Bo's Beach or Bubba Gump Shrimp Co.
If you're craving fancier fare, upscale options like 3030 Ocean or Mastro's Ocean Club (dress code required) are worth a reservation.
3. Set Sail on a Scenic Boat Tour
With miles of canals and beautiful coastal scenery, Fort Lauderdale earns its nickname as the "Venice of America." Whether you want to take in the views from a relaxing catamaran or yacht, cruise on an old-timey riverboat, or spark some romance on a gondola tour, there are plenty of ways to explore the Intracoastal Waterway.
If adventure is the name of your travel game, you can't miss out on an airboat tour of the Everglades — these thrill rides offer a unique way to experience the swamps of Southern Florida.
The Best Kid-Friendly Activities
Once known as an iconic spring break destination, the greater Fort Lauderdale area is now a hotspot for family entertainment, kid-friendly resorts, and these popular all-age attractions.
1. Embrace Nature at Hugh Taylor Birch State Park
Set between the Atlantic Ocean and the Intercoastal Waterway, Hugh Taylor Birch State Park is considered the "Central Park" of Fort Lauderdale and provides a refreshing escape into nature. Take the kids on a hike along the Coastal Hammock Trail, catch a glimpse of the endangered gopher tortoise, or go on a ranger-guided tour of the park. A youth campground is even available, so the adults can relax while the young ones enjoy some supervised fun.
2. Put Your Learning Cap on at MODS
Calling all future scientists! The Museum of Discovery and Science (MODS for short) is packed to the brim with adventure. This massive museum has enough to keep the whole family entertained, including two-story live animal habitats, simulated hurricane force winds you can personally experience, and interactive augmented reality exhibits.
3. Go Botanical in the Flamingo Gardens
Settled onto 60 acres of preserved tropical land, the Flamingo Gardens feature exotic plants, some of the area's oldest trees, and a sanctuary for over 90 species of Florida-native animals. (When the kids aren't relaxing in the shade or watching the otters play, it's worth it to sneak a peek at the flamingos the gardens are named after.)
This botanical garden also hosts the Wray Home Museum, where guests can step back in time to see what life in South Florida looked like for a prominent family in the 1930s. Explore carefully-restored rooms that still feature the Wrays' personal effects, including framed family portraits and thank you letters from President and Mrs. Eisenhower for delivery of fruit to the White House.
The Best LGBTQ+-Friendly Activities
Earning a perfect score in 2020 on the Human Rights Campaign Municipal Equality Index, the greater Fort Lauderdale area is one of the most progressive destinations you can visit in the U.S. Here you'll find a variety of LGBTQ+-friendly things to do.
1. Unwind at Sebastian Street Beach
A popular gay beach on the corner of Sebastian Street and A1A, Sebastian Street Beach is easily accessible from popular resorts and the city's entertainment district. Relax and get your tan on in the welcoming atmosphere, take in the ocean views from the boardwalk, or grab a bite to eat at the trendy Casablanca Cafe right across the street.
2. Experience the Energy of Wilton Manors
Ranked the "Second Gayest City" in America, Wilton Manors is home to a variety of LGBTQ+-owned businesses and bars, as well as the vibrant-yet-peaceful community of "Island City." You can party at Georgie's Alibi Monkey Bar, one of South Florida's longest-running bars and nightclubs, and dine at the quirky (and always-bustling) Rosie's Bar and Grill. To tap into a more relaxed energy, explore quiet mangroves in Colohatchee Park.
3. Visit the Stonewall National Museum and World Aids Museum
Operating for nearly 50 years, the Stonewall National Museum & Archives is one of the largest gay archives and libraries in the United States. You can walk through exhibits that chart LGBTQ+ history, catch an author presentation, or experience the professionally-curated archive of LGBTQ+ media from around the country.
Fort Lauderdale is also home to the World Aids Museum and Education Center, the first museum dedicated to the HIV/AIDS epidemic. You can take a guided tour through the exhibits and art galleries, including Chronology of AIDS and the Colors of HIV.
Explore More of Fort Lauderdale, FL
Thanks to the inclusive community, fresh-caught seafood, and beautiful beaches, Fort Lauderdale is one of the best vacation spots for many travelers. To learn more about visiting — including where to find a great vacation rental to serve as your home base — check out our vacation-made easy guide to Fort Lauderdale.
Rest Easy with Evolve
The moment you book your vacation, you should start looking forward to your trip — not worrying about the little details. When you choose Evolve for your Fort Lauderdale vacation, you can feel confident that the home you book will live up to our standards.
Every Evolve vacation rental comes with a team of hospitality experts, and we're here to make your stay comfortable 24/7. To help you feel even more confident, we created our Rest Easy Promise: if a stay doesn't match our standards, we'll make it right.
Known as the "Magic City," an escape to Miami promises everything from beachy outdoor excursions to a fusion of foodie flavors and rich culture. So no matter what your ideal vacation itinerary entails, it can be the perfect memory-making backdrop.
Plus, this Sunshine State hotspot isn't far from sunny Fort Lauderdale (about 35 minutes in the car), meaning your getaway can have double the activities and fun. Begin your search for a home-away-from-home with one of our Miami vacation rentals, then fill your days with these top things to do.
The Best Beach Activities
With 20 miles of Atlantic coastline, Miami is a water-lover's dream. Whether you're searching for scenic ocean views, a lively strip of sand, or a fun boating adventure, these beach activities offer an oasis for everyone.
1. Hang Loose at South Beach
Year-round, surfers can enjoy salty swells at South Beach. Perfect for beginners and seasoned waveriders alike, this popular spot boasts warm water and nonstop waves. More experienced surfers can awaken their inner thrill-seeker at Jupiter Inlet, where beach breaks and outer sand bar breaks let you hang loose! (For private lessons, check out Sobe Surf.)
2. Take in the Sights From the Miami Beach Boardwalk
A must-see in Miami, this scenic pathway stretches almost 40 blocks and offers both ocean and city views. You can break a sweat jogging the path, grab a bite at one of the many eateries, or cycle just south of 21st Street (this area is particularly bike-friendly). Regardless of your activity, the boardwalk is perfect for catching up with loved ones while seeing the sights.
3. Set Sail on a Boat Tour
After exploring Miami's best off-the-water attractions, hop on a boat to explore Everglades National Park or Biscayne Bay. While an airboat tour into the glades provides a more up-close-and-personal experience with nature, Biscayne Bay boat tours are best for those who want to see glitzy mansions and unbeatable skyline views. If an adrenaline boost is more your style, book a speedy jet boat tour. (They're safe for the kids, too!)
The Best Foodie Activities
Get a taste of authentic Cuban culture, seafood feasts, and local favorites — all packed within this soul-food city. Foodies are sure to love the range of culinary goodness at these top Miami spots.
1. Dine and Shop at Bayside Marketplace
The most visited tourist attraction in Miami, this open-air marketplace features international bites in a waterfront setting. Whether you're craving spicy cajun, savory seafood, or sweets like churros and gelato, you can treat your tastebuds to a sure-to-please meal. Plus, this mecca hosts all of your favorite stores and local boutiques — making Bayside Market a one-stop shop for souvenir shopping and flavorful feasting.
2. Dig in to Legendary Seafood
A trip to Miami isn't complete without a visit to Joe's Stone Crab! The namesake stone crab is obviously a must, but keep in mind the hash browns and key lime pie shouldn't be missed, either.
If you haven't gotten your fill of fish from Joe's, follow the crowd to Garcia's Seafood Grill & Fish Market — it's a popular outdoor eatery with peaceful Miami River views and an on-site market worth perusing.
3. Savor the Flavors at the South Beach Seafood Festival
For a real culinary treat, plan your trip to align with the South Beach Seafood Festival. Deemed the best seafood festival in the U.S. by the Travel Channel, this tasty event takes place every October and has plenty of opportunity to enjoy food, drinks, games, music, and more.
The Best Arts and Culture Activities
You can feel Miami's heartbeat in the city's rich cultural history and world-famous artistry. Museums, art fairs, and intricate architecture await with these top things to do.
1. Get Lost at Art Basel
North America's most robust international contemporary art fair, Art Basel is held every December during Miami Art Week at the Miami Beach Convention Center. Thousands of enthusiasts gather to celebrate art and culture with world-class galleries, panel discussions, dazzling parties, and satellite showings. While Art Basel has a few invitation-only days at its start, the fair always opens to the public.
2. Tour Vizcaya Museum and Garden
Blending art, nature, history, and sustainability into one beautiful estate, this Gilded Age attraction should be at the top of the to-do list for garden lovers and history buffs. Tour the 38,000-square-foot Main House through audio or guide books first, then stroll 10 acres of manicured, Italian-inspired gardens and the mangrove shore.
3. Soak in Art Deco Architecture
From colorful buildings to intricately-detailed decor, you can tour the glamorous historical structures — like the Colony Theatre or notably-nautical Essex House Hotel — found in Miami's famed Art Deco Historic District by segway or on foot. Located on Miami Beach between 5th and 23rd streets, the architecture here is not to be missed.
Explore More of Miami, FL
Beautiful beaches, mouthwatering munchies, and artistic adventures only begin to describe the endless activities awaiting you in Magic City. To learn more about visiting Miami, check out the city's website.
Rest Easy with Evolve
The moment you book your vacation, you should start looking forward to your trip — not worrying about the little details. When you choose Evolve for your Miami vacation, you can feel confident that the home you book will live up to our standards.
Every Evolve vacation rental comes with a team of hospitality experts, and we're here to help make your stay comfortable 24/7. To help you feel even more confident, we created our Rest Easy Promise: if a stay doesn't match our standards, we'll make it right.