When you're first starting out as a vacation rental owner, there's one big question: how much money can I expect to make?
Short-term rental properties can give second homeowners solid revenue returns, and are often more profitable than long-term rentals. But that additional income doesn't come without costs. From taxes and insurance to cleaning and management fees, it's important to factor a number of expenses into your income calculations to help paint an accurate picture of your home's profit potential.
That's where our vacation rental income calculator comes in. Simply plug in your monthly revenue and expenses below, then sit back as our tool automatically churns out an annual income estimate — all factors considered.
Not sure where to pull all those numbers? Take a peek below our tool to understand your income and expense variables in more detail, and check out our bonus resources that can help you make confident estimates.
Your Income Variables, Explained
The first step in accurately predicting income? Defining each term properly. Here's a quick-reference glossary of what each variable used in our vacation rental income calculator means.
Nightly Rate
Avg rate you expect to charge/night
Nights Booked
Avg # of nights you expect to book/month
Mortgage
Your monthly mortgage payment
Utilities
Monthly costs for heat/hot water, electricity/AC, wifi & cable
Insurance & Property Taxes
Monthly costs for homeowners insurance, liability insurance & property protection plan + your state's property tax rate

Other Expenses
Monthly sum of HOA & maintenance costs + avg cost of stocking/upgrading your short-term rental
Management Costs
Monthly % of income set aside for management/marketing fees (dependent on how you choose to run your property)
Understanding Income and Expenses
Let's be real: calculating an accurate income for your investment property can be confusing. Certain elements — like mortgage and utility payments — have fairly standard numerical values you can enter into the calculator without much math. But other components require more contextual consideration, so let's walk through each step of the process in more detail.
Step 1: Calculating Monthly Revenue
To accurately estimate nightly rate and expected nights booked, it's important to understand the current market in your area.
The good news: we've analyzed thousands of listings across North America to aggregate the most influential performance metrics for you. From nightly rate and nights booked to average lengths of stay and prime booking windows throughout the year, all of the results can be found in our library of Vacation Rental Performance Reports. Each gives you a data-backed gauge of how direct competition performs — and, in turn, how much you can expect to charge and book.
You can pull the nightly rate and nights booked averages from those performance reports, then plug them into the vacation rental income calculator above to provide a solid foundation for estimating monthly income (and, ultimately, overall revenue).
But homeowners who work with Evolve also get the benefit of our proprietary SmartRates algorithm. It adjusts dynamically each night to guarantee your home always paces alongside rival listings — and outperforms in the long run. Case in point: SmartRates has earned our homeowners 24 percent more than traditionally-static pricing methods!
Step 2: Calculating Monthly Expenses
From taxes to marketing fees, your expense estimate relies heavily on custom quotes and individual choices.
First, add up the monthly costs of your different types of insurance — like homeowners insurance, liability insurance, and a property protection plan. (Fun fact: our Evolve homeowners are automatically covered for up to $3,000 in damages and $1,000,000 in liability at no additional expense.)
Then comes property taxes. How they're applied varies by state, so be aware of your particular municipal requirements. If you're not sure, you can plug your rental property's address into this complimentary tool to receive the right rate.
Once you have an estimate for both, combine the numbers and enter the sum into our vacation rental income calculator.
Next, input your monthly mortgage payment and utilities.
To incorporate what we've deemed other expenses, first combine monthly HOA and maintenance costs, cleaning fees, and the average expense of keeping your short-term rental well-stocked for guests.
If you need to make furniture or decor upgrades, put a price to those overarching updates and divide by 12 before adding to your total monthly view of those additional expenses.
Finally, there are management costs to consider. This figure will look different depending on how you choose to run your vacation rental.
If you run a vacation rental without any help:
Select the "I plan to manage my property on my own" option in our vacation rental income calculator
Add up the varying percentage costs of the marketing fees for the marketplaces you plan to use (listed below)
Move the marketing fee slider to match the sum of those percentage fees
If you use a property manager:
Select the "I plan to hire a manager" option in our vacation rental income calculator
Slide the bar to account for an average 30-50 percent fee
If you use Evolve as your property manager (P.S. we list your home on all the top short-term rental marketplaces at no additional cost):
Select the "I plan to hire a manger" option in our vacation rental income calculator
Slide the bar to our industry-low 10 percent fee
Maximize Your Income Potential with Evolve
Between the steep fees of traditional property managers and the overwhelming responsibility of a DIY approach, it's hard to strike a cost-benefit balance that guarantees your success. At least, it was until Evolve came into the picture.

For the lowest management fees around, we'll apply a data-proven marketing and booking strategy to your vacation rental, boosting your revenue potential while keeping costs (and stress levels) down. It's how we've helped over 14,000 homeowners earn more than $1 billion in rental income — and we're ready to help you.

See if you qualify or call one of our Vacation Rental Advisors today at 877.881.7584.
Imagine: after a long travel day, a guest arrives at your vacation rental and — ugh — spots a glass in the sink, an unswept floor, or even a ruffled bedspread. It's enough to make them wonder: is the place just a bit messy, or are the cleanliness standards at this home not quite up to their expectations?
As a vacation rental owner, a situation like this could be the difference between a five-star review and a two- or three-star rating. And the stakes are even higher amidst a global pandemic. Safety precautions and total sanitation are critical as travelers want to responsibly escape reality. Which means guests won't — and shouldn't — look past cleaning snafus.
To make sure your vacation rental is totally spotless and giving off those safe-and-comfy vibes, download our three easy-to-use vacation rental cleaning checklists. Available in both English and Spanish, they'll make your pre- and post-guest cleaning routine comprehensive and foolproof.
Download Our Vacation Rental Cleaning Checklists
Why Are Vacation Rental Cleaning Checklists Important?
When establishing best practices for your vacation rental management, adding organization to processes helps standardize them. With codified documentation, you'll spend less time handling mishaps and more time nurturing (and scaling) your business.
With a vacation rental cleaning checklist in hand, you'll:
1. Eliminate Guesswork and Human Error
Even when a cleaning routine is tried and true, it's natural to overlook a step in the process — or think you've done something you haven't.
With checklists, you effectively eliminate (or at least drastically reduce) that risk. Having your cleaners initial each box as they go is a super easy way to ensure the service is as thorough as intended.
2. Set Expectations for Your Maintenance Team
When you onboard cleaning services, it's important to outline expectations from the jump. Providing comprehensive cleaning checklists helps teams not only navigate the areas of your home that obviously need attention, but also tackle tasks that may be less obvious to the naked eye (like, say, sanitizing surfaces and handles).
Certain cleaning services may also have different people coming through your home between each guest visit. Requiring every team to fill out the same checklists mitigates discrepancies, so you can rest easy knowing consistent standards are applied every time. (Just remember to get those completed checklists back for recordkeeping.)
3. Collect the Reviews You Deserve
Guests pay a professional cleaning fee when they book your property, so they're expecting an impeccable home that looks just like the pictures online.
By utilizing cleaning checklists, you make the turnover process between bookings seamless. This helps avoid unpleasant phone calls or complaints while giving guests peace of mind that their health, safety, and comfort is top of mind.
Plus, if you do receive concerns from guests, you'll have a record of everything your cleaning services covered before their stay.
All of this makes for a happy guest. Happy guests write great reviews, and great reviews mean more trust-backed bookings.
Find a Better Way Forward With Evolve
Evolve believes maintaining your vacation rental should be as easy as checking a few boxes. Download our cleaning checklists today (available in English and Spanish), which include additional pre- and post-stay checklists for an even more robust set of processes.
And don't forget, we're here to support you in more ways than one. Our fresh approach to vacation rental management gives you total marketing, booking, and customer support across popular websites like Airbnb, Vrbo, and Booking.com.
We'll also connect you with trusted cleaning and support partners, so you can decide who to work with to create the Home Team of your dreams.
It's our job to drive more guests to your property for maximum income, so you can focus on providing an incredible guest experience — all for an industry-low 10% management fee.
We've helped 14,000+ homeowners earn more than $1 billion in rental income. And we'd love to help you.
See if you qualify or call one of our Vacation Rental Advisors today at 877.881.7584.
Digital nomads, rejoice: Work and play no longer have to be separate. While you're still remote, get some fresh air without using all of your vacation days. Switching up your routine a little can inspire new thinking and deepen your focus — all while you enjoy all the luxuries of vacation on your off-time.
Ready to get out of the house? Pick one of these places based on how you like to feel at work and change up the scenery.
Bust Stress: Vacation Rentals With A Pool
Make your co-workers jealous by joining the company meeting poolside. Lounge in the sun while you knock projects off your list, then enjoy a crisp plunge in the water. Bonus: all of our homes are vetted in person, which means these pools are as good as they look.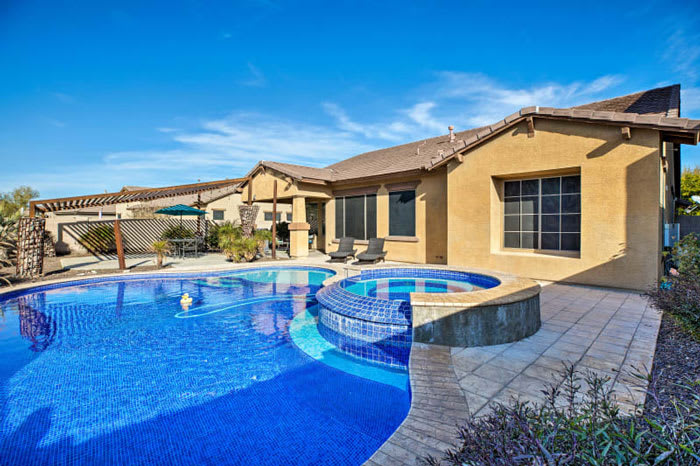 Private Swimmer's Paradise in Goodyear, AZ
Soak in the desert sun from this Goodyear home with a resort-style hot tub and pool combo. Work on your tan while you work from the sprawling patio, complete with a fully shaded outdoor area. The interior's open layout and farmhouse furnishings are so beautiful that you'll want to stay in and make meals at home — but when you're ready to get out, grab ice cream at The Frozen Monkey and take a stroll around South Lake Park.
Palatial Luxury Home In Homestead, FL
If you're feeling fancy, this Florida short-term rental is like stepping into a palace you can call your own. Here, 6,500 square feet of space is yours — meaning you can find a new place to work remotely every day. Sit al fresco in the expansive outdoor cabana or lounge by the palm-tree lined pool worthy of a magazine shoot. On weekends, day trip to the Florida Keys or take it easy with a bottle of local wine from Schnebly Winery.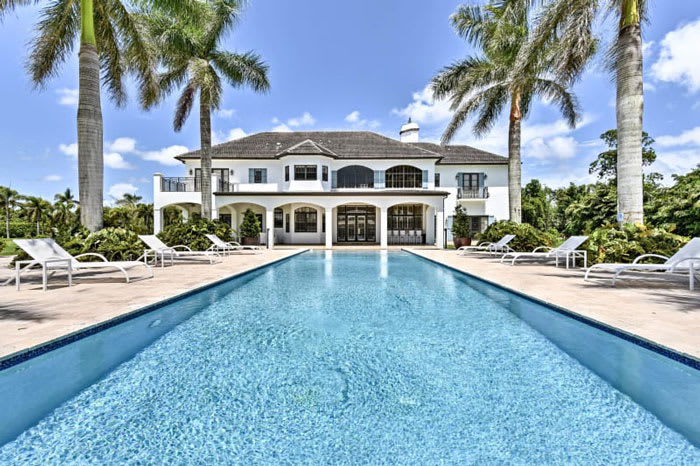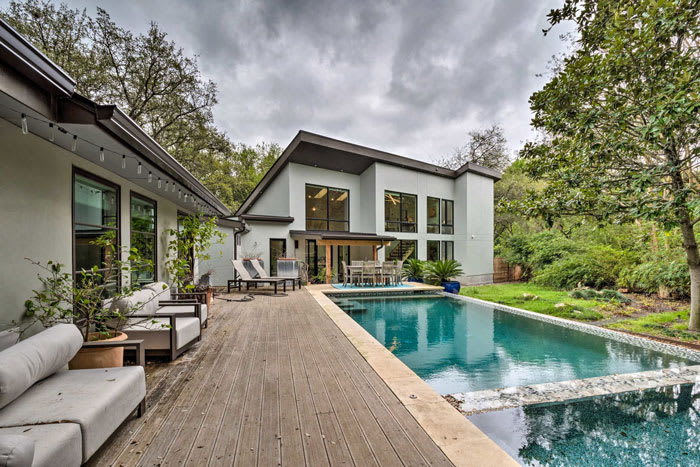 Modern Poolside Oasis In Austin, TX
The moment you set your bag down, the cerulean waters of this backyard pool will invite you to take a dip. Catch up with your group beneath the pergola, then swim laps in this sophisticated marvel as the sun goes down. Enormous windows let the light in here and make it feel like you're by the pool, even when you're hard at work inside. When you need to get out, experience the big city feeling by taking a walk through downtown Austin.
Honorable Mentions: Enjoy views of your own private lake and private pool at this luxurious vacation rental in Norman, OK, visit this meticulously decorated home with its own mini golf putting green and awe-inspiring pool in the Coachella Valley, or swim by day, stream movies in the home theater by night from this Pigeon Forge vacation rental.
Get Energized: Vacation Rentals With A Gym
Exercise helps mental health and increases productivity — and companies are encouraging their teams to work out more than ever. These vacation rentals are perfect for a getaway that blends work-life balance, with a home gym to break up your day.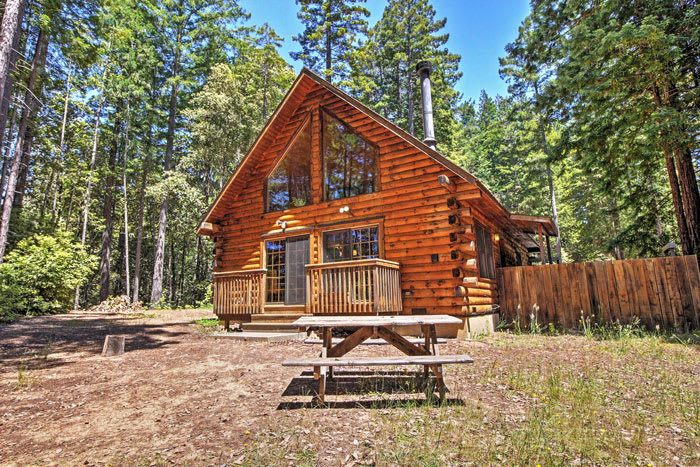 Enchanting Log Cabin In Sonoma County, CA
Redwoods and red wine are waiting for you in Sonoma County. This charming cabin is the place to go glamping in the woods while still keeping a wi-fi signal. Nature is your gym here in a home that's surrounded by trails and a few minutes from the beach, but if you want a more traditional place to exercise, hit the cabin's small home gym. After a long work week, hop in the car, soak in ocean views, and savor wines from famous vineyards.
Private Forest Mansion In Acworth, GA
Turn your workday into a fairytale at this welcoming Acworth mansion, complete with a pool and its own movie theater. Take your lunch break in the home gym, catch up on emails from the gazebo, and toast to the day by the outdoor fire pit once five o'clock hits. There are so many ways to clear your head — whether it's playing billiards, or cooking a meal for your group and enjoying it in the sprawling dining areas.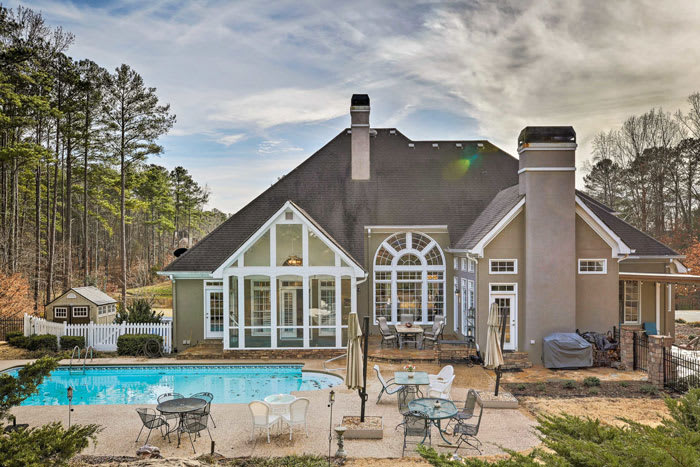 Honorable Mentions: This budget-friendly vacation home in Glendale, AZ offers all the perks of a private resort, including a pool and a putting green. Or, go big and work remotely from this enormous vacation home sitting over the lake in Kaiser, MO. You can also sit out by your own private creek and access some of Colorado's most pristine trails from this home amid the treetops in Evergreen, CO.
Find Quiet: Vacation Rentals With An Office
Evolve only rents homes with private entrances, which means that every place on our site is perfect for finding focus. But if you're looking for a getaway where you can separate your 9-5 from your night of relaxation, these picks come with a home office and the bliss of complete quiet.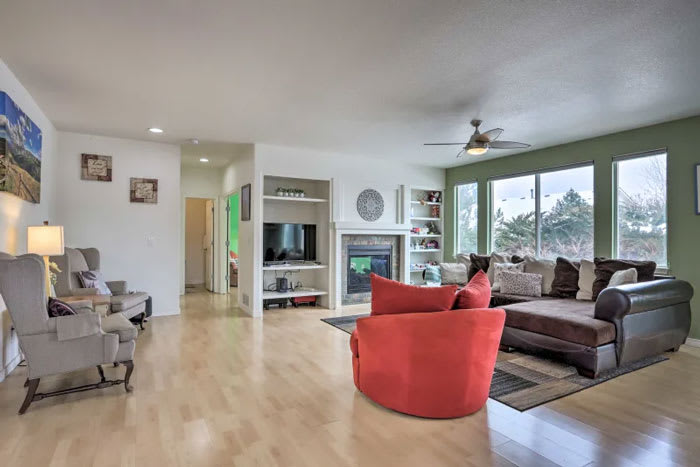 Enormous Retreat In Erie, CO
This vacation rental is made for remote work retreats with multiple offices, plenty of separate seating areas, and a boardroom-style table. Travel with friends and tackle the workday separately from your own private spaces, then reconnect over a game night in the living room. Wind down while strolling downtown Boulder (just a short drive away) with the Flatiron mountains as your backdrop.
Upscale Cabin In Show Low, AZ
Enjoy a life of luxury from this scenic cabin equipped with its own lofted office for working remotely. Catch up about the day around the outdoor fire pit or sip wine on the sprawling wood patio immersed in the forest. If you feel like getting outside, explore the easy Show Low Bluff Trail on foot or spend a leisurely day fishing at Fool Hollow Lake.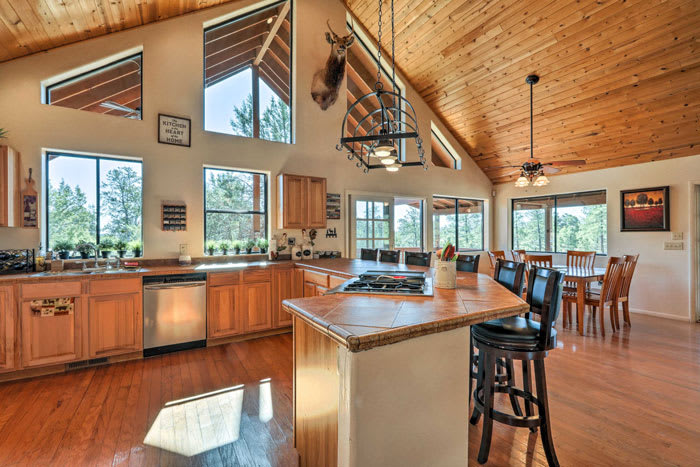 Honorable Mention: Work remotely from this vacation rental in Fairplay, CO, and enjoy a cozy, log cabin exterior with a clean, modern interior.
Cozy Up: Vacation Rentals With A Fireplace
Good books are meant to be enjoyed next to a crackling fireplace. After a long day at the (virtual) office, sink into the couch at one of these places and find your cozy. All you need to bring is hot cider and groceries — each of our homes comes fully equipped with all the amenities you need to stay in for the night.
Dreamy Dome House In Idyllwild, CA
Hit the road and head to Idyllwild, which sits in California's San Jacinto mountains. Pets are welcome at this airy dome house that's a theater to thousands of night stars. Once you've closed up your laptop for the day, hit the trails at Mount San Jacinto State Park, then bring home a mountain pie to share from Idyllwild Pizza.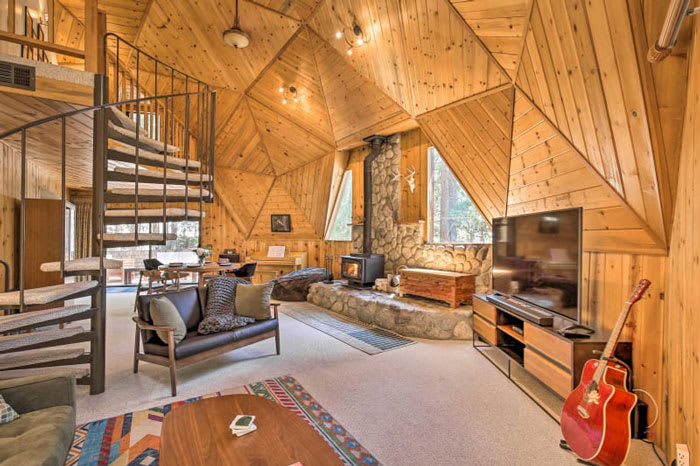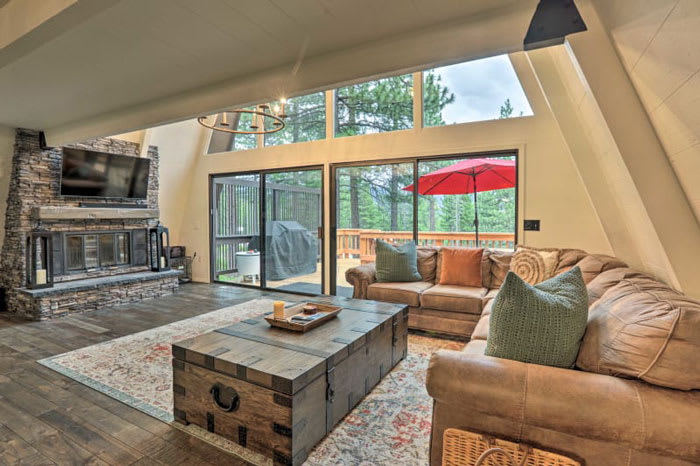 Spacious Modern Hideaway In Incline Village, NV
Rise to the sound of trees rustling out this bright property filled with natural light. Kick your feet up in the loft to get some focus, then spend happy hour in the hot tub before cooking up a feast in the gorgeous, modern kitchen. When you're ready for fresh air, take an evening bike ride along Lake Tahoe, or just sit out and enjoy the lake.
Cabin In Breckenridge, CO
Breckenridge is an outdoor paradise — and this enormous cabin that sleeps 14 is just the place to enjoy it. Take your calls from the quiet porch, indulge in a midday break to shoot some hoops in the in-home basketball court, and wind down by the fire after an evening of exploring the area's sites. Window shop along Main Street and grab takeout, or find a hike like Hoosier Pass you can do as the sun goes down over the mountain.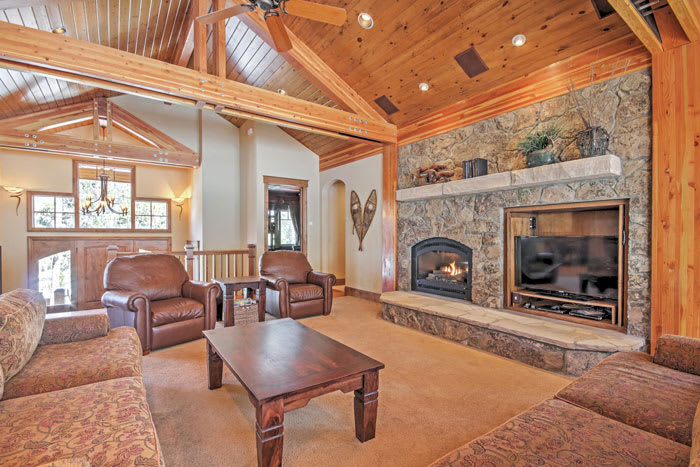 Honorable Mentions: Sip a nightcap on a porch overlooking the creek at this vacation home in Frisco, CO, or soak your bones in the hot tub surrounded by trees in this Alto, New Mexico cabin.
EXPLORE ALL HOMES WITH A FIREPLACE
Fuel Creativity: Vacation Rentals With A View
Get some new perspective on what you're working on from one of these places with a view. Find yourself thinking in new ways as you walk along the beach or sit out on the lake, free to let your mind wander. Just be sure to bring a notepad with you as you roam these houses for the moment a great idea strikes.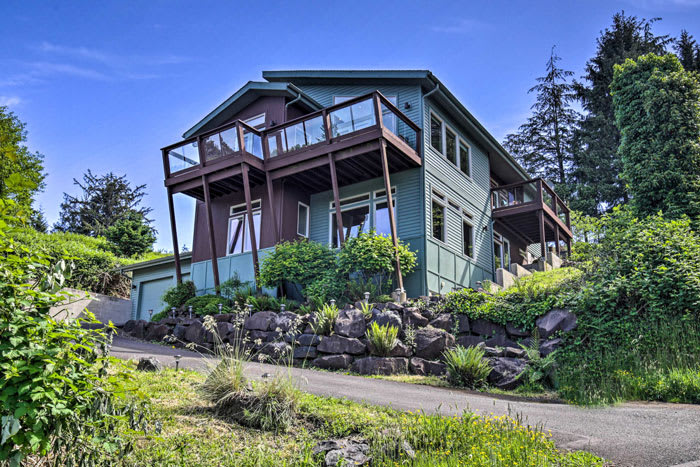 Hilltop Haven In Bay City, OR
If you've ever had the dream of looking out to the shoreline from a hot tub, this is just the place for you. This hilltop home in the Pacific Northwest is a destination for remote work, with several cozy seating areas, an unbelievable porch view looking over the coast, and a hot tub where you can dip and drink it all in. After work, take a scenic, slow drive along the Tillamook Bay and end the evening with scoops at the iconic Tillamook Creamery.
Lakeview Retreat In Albion, MI
A lake with a private dock is yours at this calming escape in Albion, MI. This home is filled with windows so you never miss the view, even when you're inside. There are so many places to work at this home on the golf course — whenever you need some fresh thinking, just pick a new room. The spacious kitchen opens right up into the living room, so you can share stories as you prepare the dinner to share. Days off can be spent on the course, dipping in the lake, or curling up next to a roaring fire while keeping the view.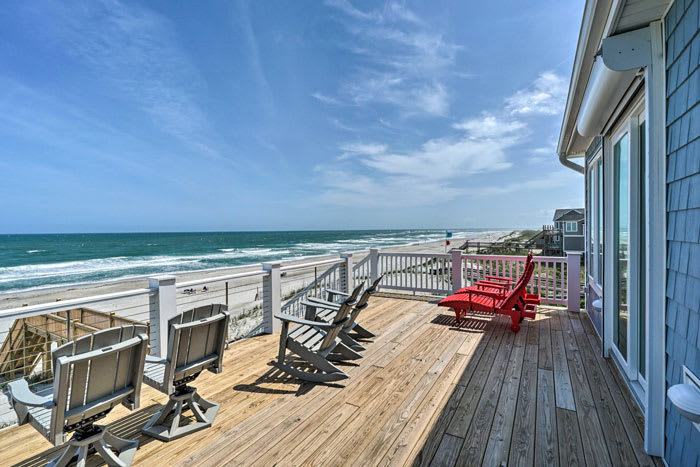 Beachfront Home In Topsail Beach, NC
Creativity is often sparked by a long walk, and here, you can take that walk out on the beach. Sit out on one of the two decks facing the waves, then step out onto the sand when you need a break. Sunsets here look like a postcard, and you can enjoy them from a bright, cheerful house that is decorated to feel like vacation in every room. Spend the weekend grilling up porch on the outdoor barbecue and catching up your beach read in the pristine sand.
Honorable Mentions: Get out into the mountains at this Jefferson, CO cabin with a verdant view of the mountains and its own game room and treehouse. Or, book this cheerful beachfront home in New Smyrna Beach, FL with ocean access and take your morning coffee in the sand.
Enjoy the freedom to work remotely from a vacation rental anywhere, with all the comforts of home. Find your perfect place to get some fresh air and rest easy knowing that it'll be professionally cleaned and ready for your arrival.
So you're thinking about hiring a property management company for your vacation rental.

Maybe you've got an extra home, you just purchased a new property, or you're exploring ways to make some extra income. It could be your first time dealing with vacation rentals, or maybe you've been burned by property management companies before.

A question you might be wondering is — why shouldn't I just do this myself?

While there are owners who handle management themselves, it can be incredibly time-consuming to promote your rental, field traveler inquiries, take quality photos, write and revise the listing, answer questions about your property, vet potential guests, juggle on-the-ground services like cleaning and maintenance, and follow up for reviews.

There's a better way. Hiring the right vacation rental management company for your home can take the stress, endless tasks, extra time, and marketing responsibilities off your plate.
But before you hire a traditional or local property manager, make sure to ask these seven questions to know you're getting everything you need.

1. HOW IS VACATION RENTAL PERFORMANCE IN THE AREA?

You're looking for a manager who has a good feel for the local market. A great property manager will know the ins and outs of your location — high season, low season, competing rates, what types of property are most popular in the area, and how local regulations and trends are affecting vacation rentals. You can prep for your conversation with our market-by-market vacation rental performance reports.

Ask your potential manager questions about the local market and feel out their responses. If the vacation rental manager has reasonable answers to those questions, you've probably found a solid manager who spends a good amount of time thinking about how to help their clients succeed.

If they seem uncertain or their answers seem off, you may want to keep looking. Be particularly wary if you know about regulations in the area that they don't; every manager should be fully aware of the status of local short-term rental regulations. And don't base their experience on years in the business. There are quite a few longtime property managers out there who haven't kept up with changes in the industry and don't perform well as a result.

2. WHAT ARE YOUR FEES AND CONTRACT TERMS?

Many vacation rental property management fees range from 25-50% of your rental income. And, in some areas, the rates continue to rise.

Before hiring a local property manager, do the math to determine whether you can afford to pay that high of a fee and still meet your rental income goals.

Contracts are the biggest sticking point for owners who have wound up with a poor property manager. If you figure out in the first two months that the property manager isn't doing their job well, but you're locked in for a year-long contract, you're going to be very unhappy for the remaining ten months of that year. You'll also want to know the payment terms and timing. Some managers can take months to pay and, if you're caught in an unfavorable contract, it can be a long time until you get paid.

If a management company requires a contract, ask whether there are any out clauses based on performance or poor service. For example, if the management company fails to clean the property three times in one year, or only gets you two bookings in six months, you should be able to leave their service without a penalty.

Above all, make sure any fees and agreements help you build a vacation rental business that prioritizes guest experience over short-term profit.
3. WHAT SERVICES ARE INCLUDED IN YOUR MANAGEMENT FEES?

You're hiring a vacation rental management company for the high level of services they provide. You'll want to know exactly what services are included in their fee.

Specifically ask whether the fee covers marketing, photography, writing the listing, updating the listing, observing market trends, cleaning, maintenance, pre-stay walkthroughs, or in-person visits for any issues that arise during a guest's stay.

You should also ask about any services that are not included in their fee – for example, some property management companies will charge an additional fee if one of their employees has to visit the property outside of business hours to address a problem the guest is having. Excellent guest support should not cost more.

Once you know what services the fee does and does not cover, ask yourself if you're getting enough bang for your buck. If your management company covers everything from marketing to maintenance, the fee may be worthwhile. If it only covers cleaning and all other services are a la carte, you should probably keep shopping for a better deal.

4. HOW DO YOU MARKET MY PROPERTY?

This is an important one. Ask them how and where they'll market your property.

Many vacation rental management companies prefer to market their clients' properties only on their own website. These days, that's not enough. You want to be on all the major websites with highly professional listings. No matter how popular a local manager's site is, it's never going to get the same amount of traffic as major online listing sites like Vrbo, HomeAway or Airbnb – which means you'll be missing out on a lot of potential guests if you're limited to one website. Make sure you understand their marketing plan.

Marketing is a big word that includes the photography of your rental, a high-converting property listing, framing your rental for current trends and the market, and how it is promoted.

A vacation rental manager's 25-50% ought to cover the cost of marketing your property on at least one major listing site in addition to any marketing efforts they make to raise the profile of their own site. Listen for words like "appear high in the search results" or "search engine marketing" – these are good indicators your manager has put effort into raising and maintaining their website's profile online.

Your manager should also actively solicit reviews from happy guests and follow up with guests who have already stayed at the property to see if they want to book again next year. Ask your vacation rental manager what they do to ensure repeat business and 5-star reviews to entice new guests to come and stay at your property.

5. WHEN AND HOW ARE GUESTS ABLE TO BOOK MY PROPERTY?

Vacation rental managers aren't awake around the clock, (which is just fine, because most guests aren't either) but they should be available when people are likely to be making their travel plans: before work, after work, and on weekends.

If your manager is only available to make bookings from 9-5 on weekdays, the odds are very good you'll be missing out on bookings from people who work standard office jobs at those hours. Believe it or not, the ideal response time for inquiries is 15 minutes, so the bar is pretty high for providing the kind of service that turns into bookings.

You should also ask if guests are able to book online and use a credit card. The vast majority of guests prefer to book online, and very few are willing to get on the phone or send a paper check in the mail. If your potential manager doesn't offer any way for those guests to book online, you'll again miss out on bookings.

6. HOW OFTEN CAN WE EXPECT UPDATES ON OUR PROPERTY'S CONDITION?

After every stay, you should confirm that your guests left your property in good condition and that any accidental damage was documented and addressed. Be sure to ask your potential vacation rental manager how they handle issues like broken dishes or missing items after a guest's stay.

You're looking for a manager who performs a post-stay walkthrough after every guest leaves, takes photos of any damages for your records, and takes steps to bring the property back up to good condition for the next guests.

Your property manager isn't expected to pay for damages out of pocket – that cost will come from the guest's deposit or a damage protection program like Property Protection Plus (included as part of Evolve's lightweight vacation rental management approach). However, your manager should notice the damage, report it, and speak to the guest about retaining their deposit to cover the damage if necessary.

7. CAN I SPEAK TO SOME OF YOUR CURRENT CLIENTS?

Always ask to speak with a few existing clients prior to signing a contract. Previous and current owners can share details about working with the vacation rental managers and exactly what to expect from your arrangement.

If a manager is reluctant to give you references or isn't enthusiastic about current clients speaking about their experience, that's a sign this manager isn't going to be a good fit for you. You should be able to hear or read success stories from customers who endorse the company.

On the other hand, if their current clients rave about this vacation rental manager and give you lots of insider tips they've learned since working with them on navigating the local market, full speed ahead! This manager may well be just the business partner you're looking for.

IT'S TIME TO RETHINK VACATION RENTAL MANAGEMENT.

The traditional models of vacation rental management are outdated. Doing it yourself is a LOT of work and, as we've covered, working with traditional property management companies means less control with fees that are hard to justify.

But there's a better way. You don't have to do it all yourself. And you don't have to sign a contract with an overpriced property manager. Evolve is different.

BOOK MORE NIGHTS WITH YOUR RENTAL

Evolve's lightweight management approach gives you total marketing, booking, and customer support, plus the power to choose your own "home team" to clean and monitor your property.

Basically, we drive more guests to your property for maximum income, while giving you more choices with fewer rules – all for an industry-low 10% booking fee.

We've helped 10,000+ homeowners earn more than $500 million in rental income. And we'd love to help you.

See if you qualify or call one of our Homeowner Consultants today at 877.881.7584 (and if you have more questions, take a quick look at this FAQ about Evolve).

"Aren't you just like Airbnb and Vrbo?"

We get that question a lot from people who haven't worked with us yet. It's easy to see why. We're all in the same industry, short-term property rentals. You can find and book great properties on our website or on theirs. And the fact that every Evolve property appears on Airbnb, Vrbo, and other online marketplaces just adds a little more to the confusion.
So let's clear things up and outline exactly how Evolve is NOT Airbnb, Vrbo, HomeAway, TripAdvisor, or any other online marketplace.
They're marketplaces. We're a management company.
Airbnb, Vrbo, and similar websites are online "marketplaces" where guests find properties and homeowners find guests. Essentially, they act as a distribution channel for owners or property managers, attracting potential guests to their website but leaving the management of the properties and listings to the owners (or whoever is representing the property) themselves.

Evolve is a vacation rental management company. That means we actively manage our properties on behalf of our owners, ensuring maximum bookings and eliminating the stress of the traditional vacation rental process.

Here's where it gets interesting. Evolve is a BIG customer of the online marketplaces. We have more than 11,000 properties listed on their sites, and we constantly take advantage of the latest strategies to ensure our owners' properties are always positioned for maximum traffic and conversion.

Behind the scenes, we have teams of specialists working on the hardest parts of managing a vacation rental: marketing, booking, and customer service. Our teams do everything from creating search-topping property listings to dynamically setting rates to answering guest questions and asking for online reviews. We even hire professional photographers at no cost to owners to show each property in the best possible light.

As a result of our approach, Evolve properties outperform most others on the online marketplaces. So we don't compete with Airbnb, Vrbo and the rest. We work with them–and everybody wins.
Our homes are different, too. Always perfect for vacation.
Unlike most marketplaces, we don't offer home sharing, extended stays, campsites, trailers, or other mobile structures. Each Evolve property has its own entrance and kitchen (typically a house or condominium). A lot of Evolve guests appreciate having the comforts of home when they travel, and our properties reflect that.
We take even more guesswork out of vacation rental by making sure our properties meet our four core standards. We believe guests simply won't have the experience they're looking for unless the property they've booked is:
Safe
Clean
Exactly as advertised
Ready for guests upon arrival
By focusing on properties ideally suited for vacationing and making sure each one lives up to our standards, we're building a brand that guests can trust to have the time of their lives.
A different experience for owners and guests.
Since Airbnb, Vrbo, and the like don't handle property management, homeowners have traditionally been forced to either hire a local company to do it or fend for themselves. Evolve is different.

We give homeowners performance-focused marketing and booking support, plus the flexibility to choose their own partner(s) to clean the property and greet guests. Evolve handles all guest inquiries, bookings, and pre-stay communications. We can also connect owners with hundreds of vetted partners nationwide that can handle cleaning and guests.

With Evolve's help, every guest enjoys a booking experience that feels as professional as the world's top hospitality brands. We handle all inquiries directly, resolve guest and owners questions, and communicate directly with cleaners to ensure the property is ready for every guest. Our unique approach makes vacation rental actually feel like vacation for owners and guests.

So we're not Airbnb or Vrbo. But we're all friends.
Once you work with Evolve, you quickly discover the difference between our service and all of the others. It starts with the way we charge owners nothing to join (plus an industry-low 10% management fee) and list properties on all the major online marketplaces––not just Evolve's site. It continues with the way we market your listing and promptly handle every query, seven days a week. And it becomes clear in all the ways we make vacation rental easy for everyone.

Owners should be able to relax, trusting that their property is living up to its potential. And guests should be able to relax with an experience that feels like a big hospitality brand. That's the Evolve difference.

Learn more about Evolve and how we can help you find success with Airbnb, Vrbo, and other online marketplaces.
Your Free Welcome Book Template is Here!
Sure, your property listing covers a lot of info about your home — but guests will still have some questions when they arrive. Like, which local coffee shop has the best ambiance? What's that one trick to getting the dishwasher started? How should they handle check-out?
Your welcome book is the perfect place to answer common questions, and it's also one of the most searched for vacation rental amenities. By providing essential info up front, you can free guests from encountering snags during their stay.
We think that putting together this important resource should feel easy — which is why we made you a free welcome book template. All you have to do is download it and plug in your home's info!
WHY MAKE A WELCOME BOOK?
Welcome books have a big impact on your guests' experience. Here are some reasons to block off a few minutes and fill in this template.
Welcome books help others navigate your rental property and treat it the right way.
Guests want to know how to watch a movie at night or adjust the temperature in your house. Giving them a resource on how to get comfortable living in your rental is sure to make their vacation stress-free for both of you.
Welcome books provide local highlights and a sense of your personality.
The reason many guests book vacation rental properties is to immerse themselves in the location. Recommending restaurants, coffee shops, stores, and more can turn a good trip into the best trip ever. Lead your guests to the most delicious slice in town — or teach them how to avoid crowds at a local attraction — and they'll want to book with you again in the future.
Welcome books show guests that you care.
Your advice on how to make the most of your property gives guests the friendly engagement they're looking for. It also protects their personal space and privacy by providing valuable information without requiring personal interaction.
Welcome books help you get great reviews.
Your guests are likely to reward your thoughtfulness in their reviews. Even better, you or your guest contact may get fewer questions during their stay, and you'll be sending new customers to your favorite local shops and restaurants, ensuring they thrive!
Sounds pretty great, right? But where should you start?
WHAT TO INCLUDE IN YOUR WELCOME BOOK
From a friendly "hello" letter to your home's policies, these are the sections you'll need to put together the most useful welcome book.
A PERSONAL WELCOME NOTE
Guests who choose vacation rental are looking for a unique home with a real person behind it. Writing a note to personally welcome them to your property is another way to separate yourself from a hotel — and reinforce their decision to stay with you.
HELPFUL LOCAL CONTACTS
Make sure your welcome book provides at least one name, telephone number, and email for a local contact near your property. This person can be you, a local property manager, or even a neighbor — but they should be easily reachable, and available to come to the home on short notice. Nobody wants unanswered guest complaints to derail a pleasant stay.
You'll also want to include contact details and addresses for the following emergency resources, just in case:
Nearest Medical Clinic or Hospital
Fire Department
Police Department
Remember, guests don't have all of the resources they'd typically have at home. They'll feel more at ease if they know you have their safety in mind.
YOUR PROPERTY'S POLICIES
Even if you send your policies in a pre-stay email, (Evolve does!) it's still important to reiterate them at the property. Including policies in your welcome book can help you resolve common vacation rental issues and complaints because guests will have a difficult time arguing that they weren't aware of the rules.
You should include all of the following information in your welcome book:
Check-In Procedures
House Rules (smoking policy, pet policy, quiet hours)
Parking Instructions
Check-Out Procedures
Subdivision/Complex/Community Rules
An in-home reference guide will help remind guests how best to enjoy your home and leave it in good shape for the next guests. Another perk of including your policies: you're way less likely to find broken or misused items after a stay!
HOW-TO INSTRUCTIONS
When your guests can't figure out simple things like how to turn on the hot tub, they can get frustrated and wind up taking out that frustration in their review of your property. Even if every appliance works perfectly, spending valuable relaxation time figuring out how to use it is no one's idea of a fun vacation.
Include helpful instructions for your:
Property Access (lockbox code, garage code, gate)
Thermostat
Hot tub or Fireplace
Washer and Dryer
Kitchen Appliances
Wireless Internet Access (including the password!)
TV or DVD Player Remote Control
This is also a good place to note any quirks of your property. For example, if the Wifi works very well all over the house, but not in the family room downstairs, make sure your guests know that. If they aren't expecting an issue, they'll be annoyed by it, but with a little forewarning, they'll feel like they know exactly what they can expect, and it's less likely to trouble them.
WHERE TO GO AND WHAT TO DO
You know all of the insights you've collected about your neighborhood? Now's the time to share your expertise — because everyone loves a good recommendation from a local! Try to suggest activities that would appeal to a range of guest types, such as family-friendly museums or romantic places for a dinner out.
Be sure to give addresses and phone numbers for each of your recommendations. Adding the amount of time it takes to get to the destination is a great idea, too. Include at least a suggestion or two in each of the following categories:
Grocery Stores
Restaurants
Shopping
Nightlife
Activities (hikes, golf, snorkeling, skiing)
Attractions (museums, monuments, parks, beaches)
Places of Worship
And share places where you personally enjoy going. This isn't to say you can't include popular attractions you haven't visited in person. Just let your guests know that you haven't tried them yourself, but you've heard good things and you hope they'll tell you how they liked them! You can then use the guest feedback to gauge whether that activity merits a mention in your Welcome Book.
HOW TO GET AROUND
Help guests explore your area by creating a section devoted to local transit. Be sure to include contact info, directions, schedules and any other details that guests might find helpful, like:
Taxi & Shuttle Services
Bus Routes
Car Rentals
Airports and Train Stations
Area Maps
READY TO CREATE YOUR BOOK?
Here's the good news: we've already created one for you.To make things easier for you and your guests we created a free downloadable template. Enter your email in the form below to get your free, customizable copy. Then, type your information into our template, print the completed welcome book, and display it in an obvious area of your rental property, such as the kitchen counter. And if you're looking to start booking more nights on your vacation rental, we can help with that, too.
Vacation rentals can be lucrative investments. They offer rental income in the short term and build equity in the long term. It's an exciting proposition attracting more investors, especially as travelers embrace vacation rentals as their preferred accommodations.
For the third year in a row, we're happy to share our list of the ten best places to buy a vacation rental. Our experience working with over 10,000 vacation rental properties across the United States has given us insight into more than 500 markets and how they perform.

This year, we're including our estimated capitalization rate (cap rate) to help with rankings. Cap rate compares the net rental income generated per year against the purchase price of the property. It's a good indicator of a property's earning power and a reliable way to determine where you might get a better return on your investment.

To calculate our cap rates, we started by looking at the median annual rental revenue for Evolve properties in 500+ markets. We also applied yearly expenses of 30% to reflect the costs associated with operating a vacation rental. We then divided that by the median home price on Zillow for properties in each market.

If you're looking to purchase a vacation rental property, make sure you take a closer look at these areas. Your numbers may differ based on operating costs, property values, and other factors, but this list helps shine a light on promising locations for investors.
1.Maggie Valley, North Carolina
Median annual rental revenue: $38,949
Median Home Price: $155,500
Cap Rate: 17.5%
A new addition to our list, Maggie Valley is in the Smoky Mountains area outside of Asheville, North Carolina.
It tops our list with a strong cap rate of 17.5%. Driven by low real estate costs with a median price of $155,500 and a median income of $38,949 per year, the Maggie Valley area presents an appealing investment option.
Proximity to the region's famed mountain range is the primary tourism draw in this area. And the natural resources provide year-round activities, with hiking in the summer, leaf peeping in the autumn, and skiing in the winter.
If you're looking at this area for a potential investment, shop around for a property that has a nice outdoor area where guests can enjoy the surrounding mountain views. Our data also shows that homes with hot tubs, fire pits, and decks typically perform better than average.

2. Saint Augustine, Florida
Median annual rental revenue: $50,989
Median Home Price: $209,100
Cap Rate: 17%
Consistently a top vacation destination for American and international travelers, Florida is an obvious frontrunner for short-term rentals. The warm weather allows for year-round tourism and lower real estate costs leave plenty of room to generate a sizable rental income.
But with so many beach towns, where is the best place to buy in Florida?
St. Augustine rises above the rest in our research with a cap rate of 17%. The median home price is $209,100 and you can earn an estimated median revenue of $50,989 in this area.
That's an attractive rate of return, and it has the potential to increase further when you have top amenities like a private pool, hot tub, and proximity to the beach.
Rich in history, outdoor recreation, and prime beach access, St. Augustine offers great vacation rental potential for investors.
3. Gatlinburg Area, Tennessee
Median annual rental revenue: $42,751
Median home price: $182,950
Cap Rate: 16.3%
Gatlinburg, Pigeon Forge, and Sevierville have been proving their weight in gold for years. These family-friendly vacation rental destinations have a high demand for accommodations ten months out of the year and they provide a steady source of rental income.
With relatively low housing prices and few restrictions for short-term rentals, it's no surprise that this area has become a top destination for vacation rental investors. Cabins are the preferred type of housing for regional visitors, and we found that the median home price ranges from $162,000 to $202,300 across Sevierville, Pigeon Forge, and Gatlinburg.

While the area is generally affordable, you might run into prices as high as $800,000 for larger (five bedrooms+) and more luxurious properties. Essential amenities for the Gatlinburg area are hot tubs, mountain views, and game rooms.

While the median for rental revenue is around $42,751, we do see six-figure revenue potential for larger properties in the area. If your rental is in good shape, with a desirable location and popular amenities, you stand a high chance of earning even more.
4. Surfside Beach, Texas
Median annual rental revenue: $29,321
Median Home Price: $136,500
Cap Rate: 15%
An hour down the coast from Galveston, this Texas town is known for beautiful beaches and a laid-back community. With few tourist traps or boardwalk shops, most Surfside Beach visitors spend their evenings cooking family dinners at home rather than hitting the town. That makes fully equipped vacation rentals all the more successful in this area.
We found the median home price for Surfside Beach was $136,500, which is a bargain compared to the stilted homes in the Galveston area that range from $200,000 to $400,000.
A median revenue of $29,321 gives this lesser-known area on the Gulf Coast an impressive cap rate of 15%.
If this coastal Texas town checks all the boxes for you, look for a property that offers ocean views and proximity to the beach. Fortunately, Seaside Beach is situated on a narrow tract of land, so beachfront real estate is not too hard to come by.

5. The Poconos, Pennsylvania
Median annual rental revenue: $25,058
Median Home Price: $118,300
Cap Rate: 14.8%
The Pocono Mountain region has been drawing tourists to its lakes and ski resorts for more than 100 years. With a strong demand for accommodations and a large inventory of real estate at affordable prices, it's easy to see why this region is one of our top five places to buy a vacation rental.
The median home price in the Poconos ranges from $118,300 on the low end to $144,300 on the high end. With a property that has an open calendar, the median rental income you can expect to generate ranges from $25,058 all the way up to $40,278 per year.
We found that results vary from town to town, but we see the strongest returns with properties in Tunkhannock Township, Tannersville, and Pocono Lake.
Large lakefront properties that can accommodate a group perform best in this market. It's also a good idea to look for houses that are updated or that you can renovate after purchasing. This traditional market has many outdated properties, and you can beat out the competition and charge a higher nightly rate with a home that has modern kitchens, bathrooms, and furnishings.

6. Pequot Lakes, Minnesota
Median annual rental revenue: $36,291
Median Home Price: $204,600
Cap Rate: 12.4%
Situated in the Brainerd Lakes area north of the Twin Cities, vacation rentals in the Pequot Lakes area are hugely popular in summer months. Even better, they get bookings during the slow winter season for holidays and weekend retreats.
This market provides advantages to buyers in the Midwest because it's a great investment opportunity where you can make strong returns, but it's also close to home. That makes regular maintenance easier and offers the added benefit of having a second home for your personal use when you don't have guests in residence.
While the median home price is $204,600 for properties in this area, larger homes that sleep eight or more people tend to see the best success. So it pays to invest in a larger property if you have the budget.
Something to consider with an investment in the Pequot Lakes area or a similar market is that rentals here tend to have a shorter season. With cold winter months, you face some pressure to hit your revenue goals during the high season, which requires smart pricing and aggressive marketing strategies.
7. Shenandoah Valley Area, Virginia
Median annual rental revenue: $37,763
Median Home Price: $227,500
Cap Rate: 11.6%
Spanning two hundred miles across the Blue Ridge and Allegheny Mountains, the Shenandoah Valley is an outdoor oasis. Visitors enjoy exploring National Parks and Forests, outdoor sports (skiing, fishing, golfing, canoeing and more) and a segment of the famed Appalachian Trail.
With an area that large, home prices and rental income will obviously vary. Still, the median home price in the markets that made our list is $227,500, earning $37,763 per year in estimated annual revenue.
To increase your income potential, look closely at the four-season resort areas of Massanutten and Wintergreen. They can expand your booking season via snow sports in the winter and water parks during the peak summer booking window.
Profit-driving amenities include hot tubs, a deck with a view (and a grill), and game tables like billiards and foosball. If you're looking to invest in this area, the closer a property is to Massanutten Resort or Shenandoah National Park, the better.

8. Branson, Missouri
Median annual rental revenue: $24,062
Median Home Price: $145,000
Cap Rate: 11.6%
With theme parks, specialty museums, shopping, and hundreds of shows per year, there's no shortage of things to do in Branson. This Ozark getaway is a family-friendly vacation spot that has caught the eye of investors who want reliable returns and a lower price point.
The median home price hovers around $145,000, making this an affordable place to buy a vacation home. Our data revealed that rentals in Branson generate $24,062 in rental revenue per year at the median for a 11.6% cap rate.
The tourism season spans from March to December, so you have the opportunity to book ten months out of the year and reach an impressive occupancy.
Another benefit of investing in this area is that there are few regulations standing in the way of vacation rentals. Some areas west of Branson may come with restrictions, but the area is generally friendly toward short-term rentals.
The vacation rental inventory is a mix of condos, cabins, and homes. So no matter your budget, you can find something in this market that will perform well. Amenities that can help you succeed include proximity to popular attractions (the Shows District, Table Rock Lake, and Silver Dollar City), decks, and lake or mountain views.
9. Myrtle Beach, South Carolina
Median annual rental revenue: $23,881
Median Home Price: $144,700
Cap Rate: 11.5%
For the third year in a row, Myrtle Beach makes our top-ten list. The seaside town is known for its 60-mile stretch of beaches, as well as theme parks, museums, and shopping. It's also home to festivals, bike rallies, car shows and other events that draw crowds and drive up demand for accommodations.
Yet, Myrtle Beach is a budget-friendly place to invest. Condos frequently sell for under $100,000, and Zillow data shows the median home price is around $144,700.
If you buy in this market, beach proximity is important. However, unlike Surfside Beach, you don't have to be on the water to be successful. Rental properties within one or two miles of the beach will also book and perform well.
When you're buying a condo in a resort or community, be careful with association fees and restrictions. Higher fees typically get you nice facilities, upkeep, pools, and other amenities that are attractive to guests, but you may pay a lot for those add-ons.
10. Hot Springs, Arkansas
Median annual rental revenue: $24,425
Median Home Price: $148,800
Cap Rate: 11.4%
Hot Springs, Arkansas is named for Hot Springs National Park, a treasured natural feature that draws visitors for its mineral-rich water.
A prime benefit of investing in this market is that your money stretches here. The median home price is $148,800 and generates a healthy $24,425 per year at the median for estimated annual revenue. That leaves plenty of flexibility to pocket the income or pay off your investment quickly.
For the best returns in this market, look for properties close to downtown Hot Springs or on Lake Hamilton. In our experience, waterfront homes tend to achieve higher occupancy rates and command better nightly rates than properties farther from the action.
Lake views, updated interiors, and dock access are additional amenities that can improve your performance in Hot Springs.
So, where should you invest?
As always, the answer depends on your budget, your revenue goals, and your personal preferences.
You might want to purchase in a proven market like Gatlinburg or Poconos even if that means stiffer competition to get bookings. Or, you might want to buy in an area that isn't as saturated, like Hot Springs or Surfside Beach, where you get more for your money.
We always encourage investors to think about where they'd like to visit. One of the key benefits you get from a vacation rental is that you get a second home for yourself. Where would you want to stay?
This list is a great place to start your consideration process, but it's by no means definitive. There are many popular destinations that didn't make our list. Think of this as a snapshot of the markets that you might want to explore if you're looking to get the biggest return on your investment.
If you want more information, Evolve is constantly updating resources like these to help you better understand the vacation rental market:
If you've already chosen a property and need to get your vacation rental off the ground, let us help.
With Evolve, you get everything you need to start a successful vacation rental: professional photos, a custom listing, competitive rates, vacation rental expertise, and full-time teams to support you.
There are no upfront costs and you pay just a low 10% fee per booking. Learn more about our services and contact us to see if your home qualifies.

Have you ever thought about investing in a vacation home to use a short-term rental? We asked Daniela Andreevska at Mashvisor to share some insight on why real estate investors are wise to consider this avenue as they get started with their first real estate investments.
Looking for the best way to make money outside your 9-to-5 job? How about real estate investing?
It can be intimidating to dive headfirst into the world of real estate investment, but buying a vacation rental home is one avenue that's gaining a lot of popularity. We think it might just be the best way to enter the real estate business and become a property investor.
There are many benefits to buying a vacation rental and we have put together a list of the top reasons that we think you should consider this as your first step in real estate investment.
1. Own a Dual-Purpose Property
If you're a first-time real estate investor, you are probably considering all the options and thinking about what's best for you.
Buying a vacation rental home has one clear advantage: It can serve dual purposes. You can use it as a second home and spend your own vacations there with your family, and then rent it out to guests the rest of the year.
Buying an investment property for the sole purpose of renting it out long-term does not give you this option.
2. Generate Rental Income
One of the major advantages of real estate investing in general, and investing in rental properties in particular, is the fact that you gain a source of steady income.
How? Through rental income.
The idea is that you will be renting out your second home to guests when you aren't using it. You'll be making money without having to necessarily buy an "investment" property. After all, your vacation home is your second home. It just happens to make money on the side.
When you buy a vacation home and use it as a short-term rental, the money you make from bookings actually helps you pay the mortgage and other expenses (property tax, insurance, maintenance, and repairs) for the place where you spend your vacations.
3. Build Value through Appreciation
In addition to making money in the short run, a vacation rental home also makes money – potentially a lot of it – in the long term.
A second home is a real estate property, and real estate generally appreciates in value over time. When you are ready to sell your vacation rental property, you can usually sell it at a higher price and cash in on the profit. The best part is that you don't have to do anything to enjoy this benefit. Natural real estate appreciation will take care of it.
If you want to make even more money when selling your property, you can make modifications and improvements to push up the market value of your vacation rental (known as forced appreciation).
4. Earn Tax Deductions
Similar to your primary home or an investment property, a second home also provides tax deductions. These apply to mortgage payments, property tax, rental income, insurance premium, utilities, and other rental expenses.
However, the situation with a vacation rental can get somewhat complicated depending on the number of days you live in your property and the number of days you rent it out to guests. So, if you decide to buy a vacation rental, we recommend that you work with a professional accountant and/or a real estate attorney to assure that you are taking maximum advantage of tax deductions without breaking any tax laws.
5. Take on Less Risk
Investing in vacation rental exposes you to lower risk than other types of real estate investment. First, vacation homes are in top tourist destinations, so you can attract lots of guests, reach high occupancy rates, and charge a high nightly rate.
The combined effect is high rental income. And rental income is how investors make money from their rental properties.
One way to reduce your risk even further is to choose a location and a property that works as either a traditional, long-term rental or as a short-term rental. If you find that you have a low occupancy rate, low rental income, and negative cash flow, you have the option to switch strategies and become a traditional landlord.
And in the worst case scenario, if a long-term rental strategy also fails to bring you a positive cash flow, you still have a second home to use with your family. This will save you the cost of renting hotels or other people's vacation homes until your property has appreciated enough in value to sell it. After all, if your vacation rental is located in a popular destination, appreciation should not take more than a few years to kick in.
6. Learn About Real Estate
No matter how many real estate books you read or how many real estate classes you attend, you will not become an expert real estate investor until you actually buy an income property and start managing it.
Buying a vacation rental home provides you with an easy entry into the world of real estate investment because it's often less stressful than other real estate investment strategies, such as becoming a full-time landlord, fix-and-flip, wholesaling, etc.
7. They're Easy to Manage
While some people take on vacation rental management as a full-time job, you don't have to do this in order to start making money in real estate. It's feasible to make owning a vacation rental a part-time job that doesn't take up too much of your time, especially if you use a vacation rental management service.
Management is a major concern for inexperienced investors, and it can potentially turn into a real nightmare for first-time vacation rental owners. Imagine having to clean your property, change the sheets, wash the towels, and refill the toiletries between each guest – sometimes multiple times a week – all the while working your 9-to-5 job.
Most owners don't have time for that. Instead of handling it themselves, they're hiring property managers or vacation rental management services to take over those time-consuming duties. Then they are free to oversee the aspects of vacation rental management they want, like talking to guests, making recommendations, and collecting rental income.
You're interested – now what?
Investing in a vacation rental home is an easy entry point to real estate investment that provides endless opportunities to learn and carries lower risk than other options. But if you are a beginner real estate investor, you might be wondering how to go about the whole process of buying a vacation home as an investment property.
Here's a list of the main factors you need to consider as you look for vacation rental properties:
Choose a popular location
Experts say that "location, location, and location" are the three most important factors in a successful real estate investment, and they are not mistaken. When buying a vacation rental home, choose places where other travelers – besides you and your family and friends – would enjoy. To check out some of the best places to buy a vacation home to start investing in real estate in 2018 based on data from Mashvisor, click here.
Learn local short-term rentals legislation
Regulations on short-term rentals have been tightening in many places around the U.S., so once you've chosen a location for buying your second home, make sure you will be allowed to use the property as a short-term rental and make sure you won't be taxed too heavily for it.
Conduct comparative market analysis
Before buying your income property, conduct some real estate market analysis to make sure you're not overpaying for your second home. Real estate comps are the only way to assure you can get positive cash flow from renting out your vacation home on a short-term basis.
Perform investment property analysis
Compare the rental property you're considering buying with other vacation rentals around the area to see how you can stay competitive while making money in real estate. Predictive analytics can also help.
Mashvisor's rental income calculator allows you to conduct all the necessary analyses you need in order to make the best real estate investment decisions quickly and easily.
More people are buying vacation rentals as their first real estate investments because it's a sound financial decision. The demand for vacation rentals is at an all-time high and continues to grow. There's low risk, because at the end of the day, you have a second home where you can vacation for free. And with new cost-effective vacation rental management systems, you have access to the help you maximize the return on your investment.
Daniela Andreevska is the Content Marketing Director at Mashvisor. Mashvisor helps real estate investors quickly find traditional and Airbnb investment properties.
Surrounded by four mountain ranges, the Palm Springs area encompasses nine cities and offers seemingly endless amounts of sun-filled days and picturesque desert views in Southern California.
Just as impressive as its landscapes is this region's lengthy list of things to do. Whether you're looking to soak up the country's culture at a music or film festival, explore the great outdoors with friends, or take your family on a memory-making adventure, Palm Springs is sure to satisfy.
Start your adventure by booking one of our vacation rentals (we recommend one with a pool for lounging), then fill your time with these top things to do.
The Best Arts & Culture Activities in Palm Springs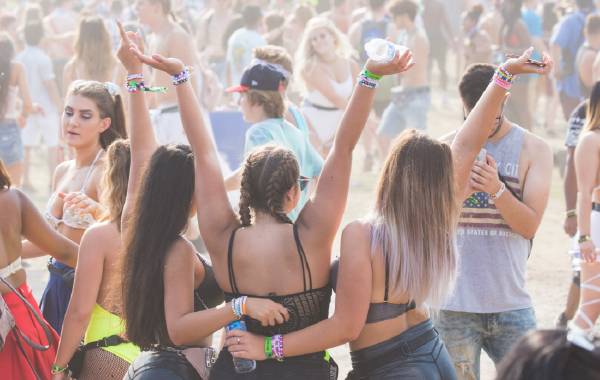 From its stunning architecture to one-of-a-kind experiential events, Palm Springs is brimming with a vast collection of art and cultural experiences. Step outside your private oasis and immerse yourself with one of these memorable activities.
1. Dance Your Feet Off at Famous Music Festivals
Undoubtedly one of the most iconic pop culture events, the Coachella Valley Music and Arts Festival takes place every April at Empire Polo Club, about 26 miles from downtown Palm Springs. Ticket holders step into a one-of-a-kind desert environment to enjoy world-famous music performances, incredible art installations, and the opportunity to bump elbows with celebs in the crowd. (The likes of Katy Perry, Will Smith, and Nina Dobrev have attended in the past.)
But Coachella isn't the only big music festival in town. While you'll find chart-topping indie rock, pop, and hip hop artists there, country music fans can get their fix at Stagecoach, Coachella's sister music festival held in the same desert location. It's common to see mainstream acts like Thomas Rhett and Carrie Underwood take the stage, but you'll also have the chance to discover lesser-known artists specializing in folk, bluegrass, roots rock, and alternative country.
Note: Coachella and Stagecoach have been reportedly postponed to 2022 due to the coronavirus pandemic.
2. Catch the Next Big Flick at a Film Festival
Founded in 1989 by Sonny Bono (yes, the Sonny of Sonny and Cher), the Palm Springs International Film Festival has become a cultural phenomenon. It's the first stop for many on the road to the Academy Awards, and has screened notable films including Bathtubs Over Broadway and Selma. With a variety of genres and lengths, this film event is one any movie buff will love.
There's also ShortFest to consider. Launched in 1995 and one of the most acclaimed short film showcases in the world, Palm Springs visitors can see films with a run-time of 40 minutes or less. Think of it as a sampler of Hollywood talent that's easy for everyone to enjoy.
Note: Palm Springs International Film Festival and ShortFest have been postponed to 2022 due to the coronavirus pandemic.
3. Admire Palm Springs Mid-Century Modern Architecture
Palm Springs is home to the world's largest collection of preserved mid-century modern architecture. Acclaimed architects such as Richard Neutra, John Lautner, and Donald Wexler have left their mark on the desert landscape, most famously captured by photographer Slim Aarons.
You can take in the city's stunning framework via an immersive architectural tour with Palm Springs Architecture Tours. You'll start in downtown Palm Springs either on foot or two wheels, and enjoy a two-and-a-half-hour peek into the architectural genius that inspires this iconic area.
The Best Outdoor Activities in This Desert Oasis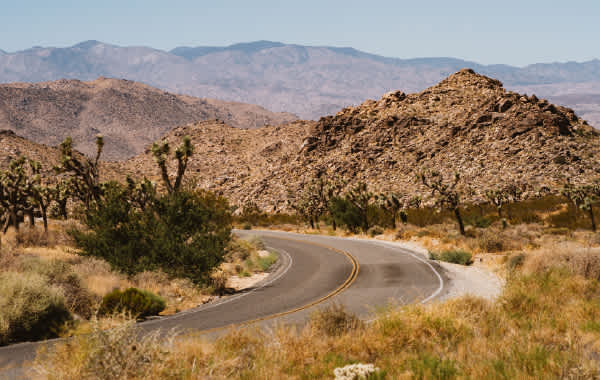 Resting on the western edge of Coachella Valley and at the base of the San Jacinto Mountains, Palm Springs offers a ton of opportunity for outdoor exploration. Whether you're hungry for laidback leisure or a wild adventure, these activities will feel like a breath of fresh air.
1. Enjoy Nature at Joshua Tree National Park
Known for its landscape of slow-growing trees by the same name, Joshua Tree National Park is the perfect place to explore Mother Nature. Those who like to venture on foot can take in the eye-catching wildflowers and southwestern birds on a variety of hikes, while those who prefer two wheels can enjoy the backcountry mountain biking trails.
Stick around for the evening, too: Joshua Tree boasts some of the darkest nights in Southern California — and it's one of only 11 International Dark Sky Parks in the U.S. — so it's ideal for a night of stargazing.
2. Soak Away Stress in Natural Hot Springs
Filled with mineral water from the warm- and cold-water aquifers beneath Desert Hot Springs, visitors flock to the area's abundance of natural pools, jacuzzis, and spas to enjoy holistic healing benefits and serious R&R vibes.
Enveloped in ancient palms and tamarisk trees (and historically known for hosting an array of celebs), Two Bunch Palms is arguably the most luxurious thanks to its expansive landscaped grounds and variety of pools to soak in. Those interested in a more simple-yet-intimate experience should visit Miracle Springs Spa, known for its eight mineral-rich pools and panoramic mountain vistas.
3. Take in Cliffside Views From the Palm Springs Aerial Tramway
Crowned the world's largest rotating tram car, the Palm Springs Aerial Tramway travels over the cliffs of Chino Canyon and offers stunningly wild views of Mt San Jacinto State Park. Once at the Tram's mountain station, you can enjoy cliffside views, hike over 50 miles of trails, or visit the natural history museum.
The Best Kid-Friendly Activities in Palm Springs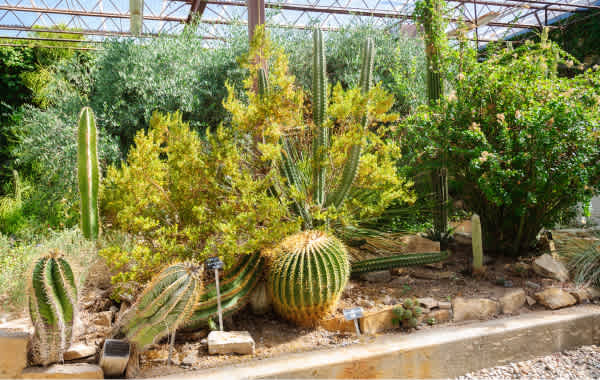 While known for its adult activities, Palm Springs also has a bunch of fun options for families traveling with kids. From venturing into the living desert to cooling off at a waterpark, these year-round activities make it easy to build lasting memories.
1. Explore Your Wild Side at The Living Desert Zoo and Gardens
Voted one of the 10 best zoos in the U.S., The Living Desert Zoo and Gardens is the ultimate kid-friendly experience with both wildlife and an abundance of flora and fauna to admire. You can learn about Australia's most treasured animals in the interactive Australian Adventures experience, feed giraffes, or hike the on-site nature trails while learning about the plants spotted along the way.
2. Kick Up Some Dust with Open-Air Jeep Tours
Safe and fun for visitors three years and older, this top-rated Palm Springs activity is great for families looking to get the whole crew outdoors. (It's a great alternative to hiking with little ones!) You can explore your desert surroundings on a tour (times range from 1.5 to 6 hours) of the San Andrea Fault, Indian Canyons, Painted Canyon, or even Joshua Tree National Park.
3. Go Back in Time Visiting the Cabazon Dinosaurs
Regarded as one of the most iconic roadside attractions and featured in cult-classic films like Pee Wee Herman's Big Adventure and The Wizard, the gigantic Cabazon Dinosaurs are all outfitted in famous paint-suits, ready to dazzle kids of all ages. You'll have a blast taking family photos here, and once tummies start to grumble you can visit the on-site 'Wafflesaurus Truck' for dino-themed ice cream treats.
Explore More of Palm Springs, CA
Whether you're looking to explore with the kiddos, immerse yourself in desert dreamscapes, or cultivate a cultural visit, Palm Springs will have you spoiled for choice when it comes to planning your visit. To learn more about visiting Palm Springs — including where to find a great vacation rental to serve as your home base — check out our vacation-made-easy guide to Palm Springs.
Rest Easy with Evolve
The moment you book your vacation, you should start looking forward to your trip — not worrying about the little details. When you choose Evolve for your Palm Springs vacation, you can feel confident that the home you book will live up to our standards.
Every Evolve vacation rental comes with a team of hospitality experts, and we're here to help make your stay comfortable 24/7. To help you feel even more confident, we created our Rest Easy Promise: if a stay doesn't match our standards, we'll make it right.
A visit to Scottsdale blends Sonoran Desert beauty with a bustling nightlife and an array of cultural activities — making it the perfect vacation destination for those craving an escape to the Southwest. You could spend your days enjoying the great outdoors, visiting historic landmarks (Frank Lloyd Wright had a winter home here!), or following your foodie instincts — either way, it really is a vacationer's paradise.
Plus, with nearly 300 days of sunshine each year — and Phoenix only a quick 12 miles away — Scottsdale promises to be an unforgettable trip. Begin prepping for leisurely days ahead by booking one of our vacation rentals (you could even go for one with a private pool) and packing your itinerary with the following top things to do.
The Best Outdoor Activities in Scottsdale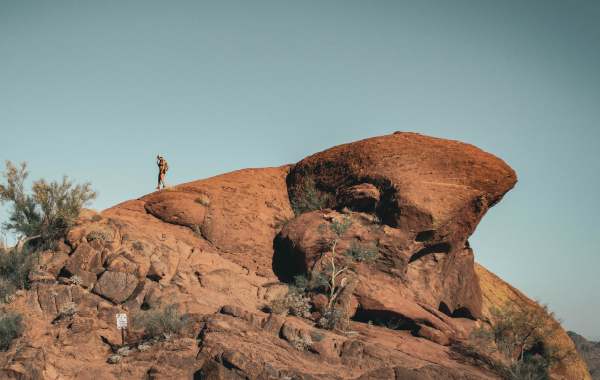 Scottsdale's rich desert landscape serves as the backdrop for a ton of outdoor adventures. Whether you want to discover hidden gems or hit the fairways, these are the activities worth trying.
1. Explore Camelback Mountain or McDowell Sonoran Preserve
A favorite pastime for locals and visitors alike, summiting Camelback Mountain is a must during your Scottsdale stay. With paths of varying difficulties and the option for guided hikes, you can climb to the 2,700-foot peak and take in panoramic views of the Salt River Valley.
Meanwhile, the McDowell Sonoran Preserve is the largest urban park in America and definitely worth a visit. Covering 30,500 acres and home to more than 225 miles of connected trails, there are stunning cacti forests and diverse wildlife to keep you constantly on the lookout for something new.
2. Visit the Botanical Gardens and Zoo at Papago Park
Resting just south of town and home to lakes, red butte rock formations, and the famous Hole-in-the-Rock, Papago Park is a great place to spend a day in the sun. To tack on some educational sightseeing, stop by the Phoenix Zoo or Desert Botanical Gardens: you can see more than 3,000 animals at the former, and more than 50,000 plants at the latter.
3. Golf at Scottsdale's Most Beautiful Courses
The Stadium Golf Course at TPC Scottsdale hosts the annual PGA Waste Management Open, a huge draw for all enthusiasts of the sport. But the world-class fairways don't end there: the We-Ko-Pa Golf Club puts you in the middle of unobstructed desert beauty as you play, while Troon North boasts some of the area's best 36-hole facilities.
How to Go Out on the Town in Old Town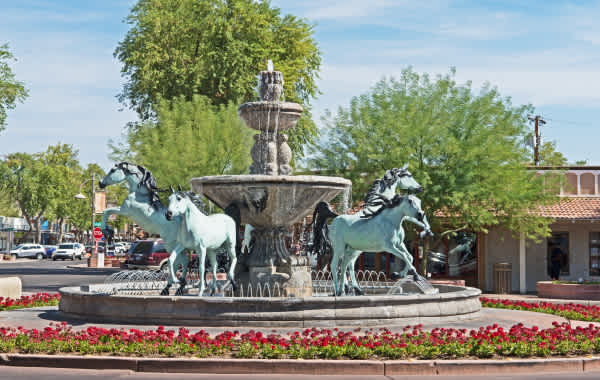 At the center of all local activity lies historic Old Town Scottsdale, home to entertainment and art districts, clubs, restaurants, shops, galleries, and more. With these top things to do, you can support small businesses, broaden your palate, and find new favorites.
1. Enjoy Gourmet Fare at Old Town Bars and Restaurants
Southwestern vibes and ethnic influences set the stage for your foodie endeavors, and there's no shortage of variety for your plate. If you're in the mood for New American cuisine, Citizen Public House has you covered. Olive & Ivy serves up Mediterraanean dishes, and the Canal Club offers Cuban-inspired food you won't soon forget.
2. Taste Your Way Through the Scottsdale Wine Trail
Designed to promote the growing wine production industry in Arizona, the Scottsdale Wine Trail is a cooperative of five wineries within walking distance of each other in Old Town. Aridus Wine Company, Carlson Creek, LDV Winery, Merkin Vineyards, and Salvatore Vineyards joined to organize this half-mile trail, and all offer tasty glasses of chardonnay, fumé blanc, syrah, grenache, and other varietals to suit your group's varied palates.
3. Peruse Premier Galleries in the Main Street Arts District
The internationally recognized Scottsdale art scene features collections from countries all over the world and across the genre spectrum: Modern, Abstract, Western, Impressionism, and more. Whether you're a professional art collector or a life-long amatuer, you'll love the Main Street galleries and weekly Art Walk, an open house-style event hosted for the public every Thursday evening.
The Best Cultural Activities in Scottsdale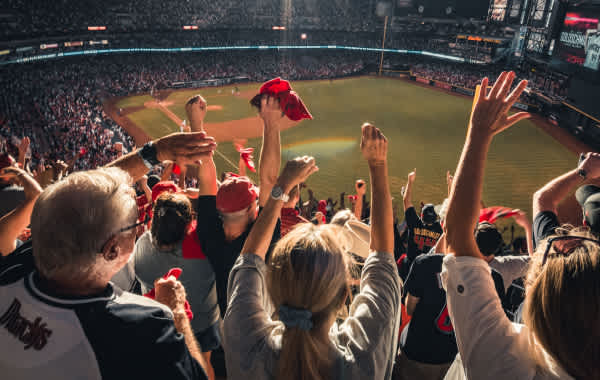 From live entertainment to historic sites and artsy events emblematic of the area, with these activities there's plenty of culture for you to soak up during a Scottsdale getaway.
1. Tour the Taliesin West Frank Lloyd Wright Foundation
Recognized as a UNESCO World Heritage site celebrating the renowned architect, Taliesin West curates a one-of-a-kind attraction for travelers with two different options for 60-minute tours. Purchase tickets for the 'Guided Insights Tour' to get a closer look at living quarters, the Garden Room, Drafting Studio, Music Pavillion, and Cabaret. Choose the 'Guided by Wright Tour' and you'll get a self-guided, multi-sensory experience with audio from both Frank Lloyd Wright himself and the professional tour guides.
2. Support Local Retailers at Old Town Boutiques
Native American jewelry, hand-crafted goods, indigenous plants, and much more fill the locally-owned stores on Fifth Avenue. Whether you're taking some time to window shop or seeking full-on retail therapy, the Old Town boutiques offer custom items for all tastes.
3. Catch a Live Show or Professional Sports Game
Fans of Major League Baseball flock to the area to watch Cactus League Spring Training games, as the San Francisco Giants play home games at Scottsdale Stadium while both the Colorado Rockies and Arizona Diamondbacks call Salt River Fields their home park.
If sports aren't your thing, Scottsdale also hosts annual events throughout the year, including concerts, races, plant sales, fine art celebrations, and more. Just check the city calendar for your travel dates and you're likely to find a variety of options to suit your interests.
Explore More of Scottsdale, AZ 
A vacation is everything you make it, and Scottsdale has all the desert recreation, local vendors, and eclectic culture you could ever want to create a fulfilling trip. To learn more about visiting, check out the Visit Scottsdale website.
Rest Easy with Evolve
The moment you book your vacation, you should start looking forward to your trip — not worrying about the little details. When you choose Evolve for your Scottsdale vacation, you can feel confident that the home you book will live up to our standards.
Every Evolve vacation rental comes with a team of hospitality experts, and we're here to help make your stay comfortable 24/7. To help you feel even more confident, we created our Rest Easy Promise: if a stay doesn't match our standards, we'll make it right.
Desert vacations offer an immersive way to connect with nature. Days in the desert bring scenic drives, otherworldly hikes, and afternoons beneath the sun. At night, you can marvel over dark skies and experience restorative, uninterrupted quiet.
Whether you're looking for a luxurious desert getaway or something a bit more rugged, you'll find it here.
The Peaceful and Pampered Desert Getaway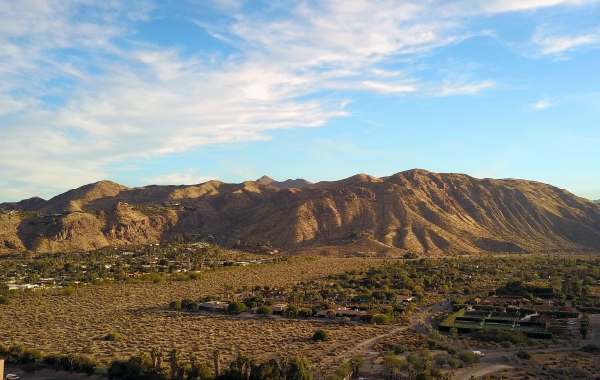 Head to a stylish luxury vacation rental in Joshua Tree or the Palm Springs desert area.
Find Serenity at Some of the Best Spas in Palm Springs
Luxurious desert vacations call for spa treatments in breathtaking settings — and that's just why Palm Springs is the perfect place to get a facial or a massage. Estrella Spa is one of the best spas in Palm Springs for a swanky treatment in a garden hacienda setting, and the Spring Resort & Spa offers a menu of elegant treatments that come with two hours of soaking time in desert hot springs.
If you're looking to try something unique (say, floatation therapy), head to Desert Serenity Float & Spa for a chance to turn your mind off and reset.
Marvel at Dark Skies With an Evening of Joshua Tree Stargazing
Joshua Tree National Park is a fitting adventure for pampered desert vacations — it's relatively flat, and you don't have to do a lot of hard work to enjoy a stunning view.
The gates at Joshua Tree are open all hours, inviting you to drive right in and roll the sunroof down (or step outside of the car) and view thousands of stars above you. Once you've finished up your Joshua Tree stargazing adventure, end the evening with a swizzle or a sidecar at the chic Seymour's in the Palm Springs desert area.
Indulge in Unforgettable Eats in Palm Springs
Beyond its posh facades, reveled haunts, and glistening pools, the Palm Springs desert is an oasis for foodies. Get dressed up and start the day with French fare surrounded by blooming flowers at FARM or grab decadent takeout at Wilma and Frieda's and eat churro waffles by your home's private pool.
Come afternoon, embark on a self-guided mid-century tour of the area (be sure to pick up a Stumptown roast at Ernest Coffee before you hit the road). When it's time for dinner, check out Workshop Kitchen + Bar, a 90-year-old movie theater retrofitted into a modern, al fresco dining hot spot.
Stay in This Palm Springs Desert Home for Sophistication and Stargazing: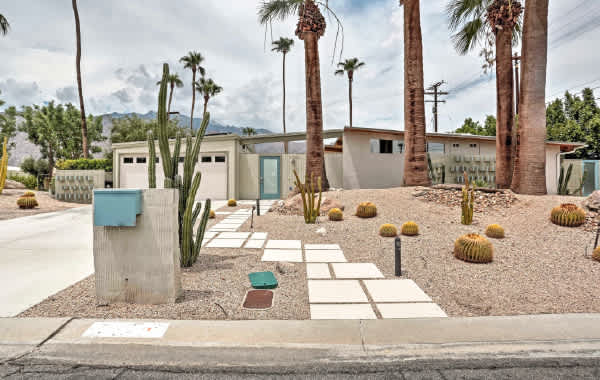 This inviting luxury Palm Desert vacation rental is made for laid-back days. Playful cacti immerse you in the setting, whether you're sitting by the resort-style private pool or in the private master suite soaking tub. Windows welcome the light in here and make it so that a postcard view is always on the horizon.
Want something that's upscale but still wallet-friendly? Head to this incredible mid-century Palm Springs vacation rental with a pool.
The Outdoor Adventure Desert Getaway
Surround yourself with the best Arizona views in Tucson, Phoenix, Scottsdale, or Sedona.
Experience an Awe-Inspiring Sunset at Saguaro National Park
Adventure into Saguaro National Park for some of the best Arizona views: classic desert terrain, gorgeous sunsets, and so many of the park's namesake cactus, the saguaro. The Valley View Trail (rated easy) is laden with seasonal wildflowers that make a dreamy backdrop.
If you're looking for a scenic drive, take the Cactus Forest Loop for an overview of the surroundings before diving deeper. For otherworldly photos, be sure to stop at Signal Hill's prehistoric petroglyphs. On your way out of the park, visit the Arizona-Sonora Desert Museum to see even more wildlife, reptiles, and breathtaking gardens up close.
Get a New Perspective With a Camelback Mountain Hike
Phoenix's Camelback Mountain hike is definitely a challenge you'll want to be prepared for — but it offers unbelievable 360-degree views of the Sonoran desert landscape at the top. There are a few different trails up the mountain if you're feeling brave (note, all of these hikes are rated hard), and you can also enjoy similar views without a sweat from one of the restaurants near the base of the hike, including the tasty Chelsea's Kitchen.
More manageable hikes await you at the McDowell Sonoran Preserve in Scottsdale, which lets you get up close with unique desert terrain on walks like Sunrise Peak (rated moderate difficulty) or Inspiration Point (rated moderate difficulty).
Fuel Your Adrenaline in Sedona
Desert vacations in Sedona let you fly through red rocks and feel the wind in your hair. Take an off-roading adventure through the Arizona desert along Schnebly Hill Road, tower above the area from a hot air balloon ride, or test your fear of heights at Devil's Bridge.
When you're ready to take things at a slower pace, hike up to Sedona's Snoopy Rock (which resembles the infamous Peanuts character) or wind your way through Oak Creek Canyon, a stunning gorge that feels like a less-visited Grand Canyon. Then, wind down with a peaceful, meditative moment at one of the area's infamous energy vortexes or spend golden hour admiring the views at the scenic Sedona Airport Overlook.
Stay in This Sedona Vacation Rental With the Best Arizona Views: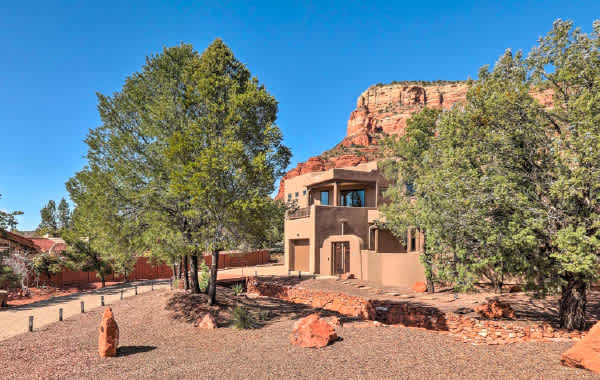 Sleep surrounded by scenery after a day of outdoor adventure. This pet-friendly Sedona retreat lets you rise to views of red rocks every day of your desert vacation, whether you're on the sprawling back patio or the secluded upstairs balcony.
If you're feeling glamorous, this oasis in Cave Creek, Arizona features a breathtaking pool and hot tub, as well as a private outdoor putting green.
The Photographer's Dream Desert Getaway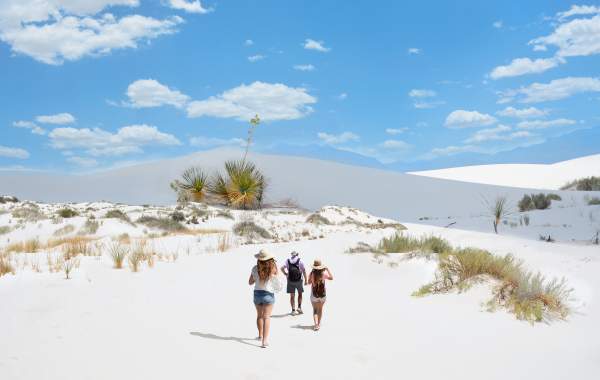 Head to the New Mexico desert for surreal hikes and adventure.
Wander Through New Mexico's White Sand Desert
Get lost in miles of pristine white gypsum sand at White Sands National Park, a mesmerizing setting for landscape photography or portraits. Take a 16-mile round trip drive on Dunes Drive and hop out for photos wherever inspiration strikes. Then, enjoy a more immersive view of the New Mexico desert by hiking into the sand dunes on the rolling Alkali Flat Trail (it's strenuous) or the Dune Life Nature Trail (moderate).
If you're looking to snap a dramatic action shot, spend some time sand sledding the dunes before nightfall. Once it's dark here, some of the brightest stars you'll ever witness come out over the surreal landscape.
Snap Photos of Incredible New Mexico Desert Art
Right in Las Cruces, you'll find art you might not be expecting: wild, bright murals. The water tanks in Las Cruces even get painted, which makes for a strong photo opportunity with vibrant color juxtaposed against the landscape — perfect for artistic desert vacations.
Go Underground at Carlsbad Caverns National Park
At Carlsbad Caverns National Park, you can venture beneath the ground of the Chihuahuan Desert and explore photogenic dissolved limestone caves. Take a walk around The Big Room here, where there are spectacular views around every corner, reminiscent of the formations found at the Grand Canyon.
If you're visiting in late summer, cozy up at the outdoor amphitheater and watch as thousands of bats take flight.
Stay Near White Sands on Your New Mexico Desert Vacation: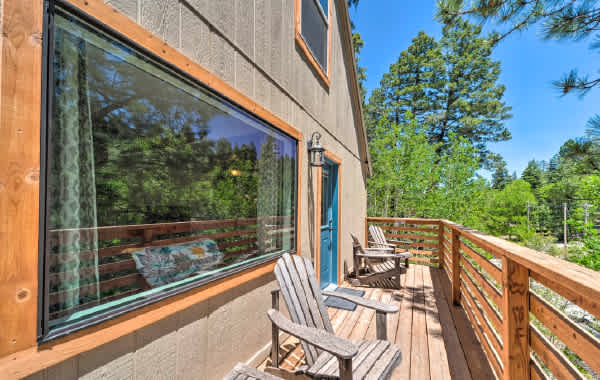 Desert vacations to New Mexico call for sweeping views. Stay at this gorgeous, modern home in Cloudcroft, New Mexico. At this affordable escape, you're also close to the slopes at Cloudcroft (which means if you time it right, you can see the white sands and enjoy a ski, too).
Looking to hit Santa Fe on your way driving out to the desert? Rest easy at this Instagrammable bohemian home where every room is luxurious and intentional, including an outdoor patio made for evening toasts.
Wild Sights. Dependable Places.
Stay in the moment on your trip, whether you're experiencing an unbelievable sunset or taking a dip in a desert hot spring. Every Evolve vacation rental is verified in person and backed by our Rest Easy Promise — meaning it will always be as great as what you booked online. If your plans change or you need support during your stay, we're here for you during your desert getaway.
Read this next: Explore more of the great outdoors by reading our feature on national parks. And if all of that desert heat makes you want to cool off, you can also check out our guide to vacation rentals with amazing pools here.
When it's time to plan the next family-friendly vacation, it's easy to think of popular destinations like Orlando, Fort Worth, or even Palm Springs. But nestled amidst the Ozark Mountains, you'll find everything you need for a five-star getaway in Branson, Missouri. From outdoor activities and theme parks to live entertainment and shows, there are plenty of fun things to do. (There are even options for those interested in a more romantic night out!)  
Start by booking one of our vacation rentals — the cabins in Branson are particularly dreamy — then plan your getaway to this Ozark city with these top things to do.
The Best Outdoor Activities in Branson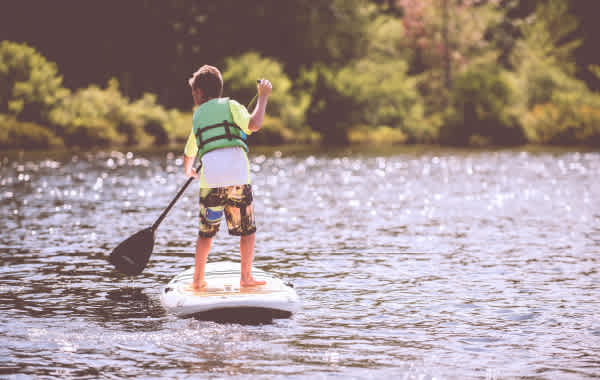 From dawn 'til dusk, you could spend the entire day enjoying the great outdoors while visiting Branson. Here are some of the most highly-recommended al fresco activities to work into your itinerary.
1. Splash Around Table Rock Lake
Lying on the west side of the city, Table Rock Lake features over 800 miles of shoreline and more than 43,000 acres of surface area. In other words, there's always a peaceful cove nearby for fishing, and true angling aficionados can check out popular events like the Kevin VanDam Big Bass Classic in April, or the Crappie Expo in October.
Of course, fishing isn't the only watersport to be enjoyed. From paddleboarding and boating to water skiing and even scuba diving, there are plenty of options for a day full of top-notch lake adventure. (P.S. If you're craving a more laid-back excursion, Moonshine Beach has a spot ready for your umbrella and lounge chair.)
2. Ride the Branson Scenic Railway
A blast from the past, the Branson Scenic Railway carries you over 40 miles through the foothills of the Ozark Mountains. You'll ride in unique, vintage passenger cars that have been beautifully refurbished, with panoramic windows that provide a clear view of scenic wilderness, local wildlife, and communities of yesteryear.
3. Hike Table Rock State Park
Known as Branson's outdoor recreation base camp, Table Rock State Park offers ample opportunity to lace up your hiking boots. You can take a leisurely stroll along Table Rock Lakeshore Trail for a more relaxed day of sightseeing, or trek the White River Valley Trail System (there are over 11 miles of terrain) for a more rugged adventure.
The Best Family-Friendly Activities in Branson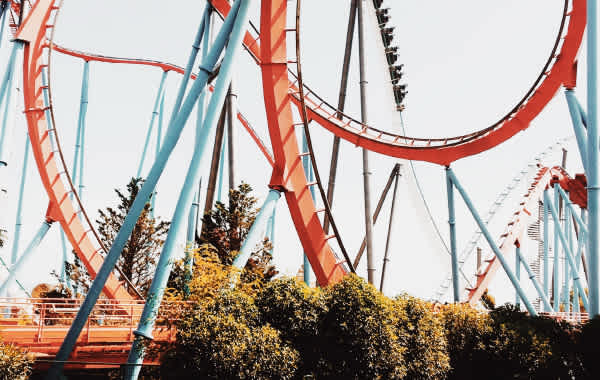 A tried-and-true family vacation destination, Branson offers a chance to reconnect with those closest to us. These are the best things to do with kids that facilitate non-stop fun.
1. Catch a Live Dinner Show
There's a reason Branson is nicknamed the Live Music Capital of the World: with over 100 live dinner shows along Highway 76, it's hard to go a night without entertainment. From Dolly Parton's Stampede and Branson's Murder Mystery Show to acrobatic performances and awe-inspiring magic displays, a different family member could choose a show each evening to guarantee happy smiles and full bellies all-around.
2. Ride Roller Coasters at Silver Dollar City
With 31 roller coasters to choose from, Silver Dollar City is the place to be for those seeking a day of thrills. Whether you like classic wooden roller coasters, multiple-loop hair raisers, or kid-friendly rides, there are options for all (not to mention a water park and other attractions for young ones) at this 1880s theme park.
3. Play With Animals at Promised Land Zoo
That's right: at Promised Land Zoo you don't just see some of your favorite animals — you get to play with them, too. The unique Live Animal Shows brings you up close and personal with five or six animals not on display, while the Parakeet Paradise experience is sure to make you one with the flock. Best part: both are included in your basic admission fee!
The Most Romantic Activities in Branson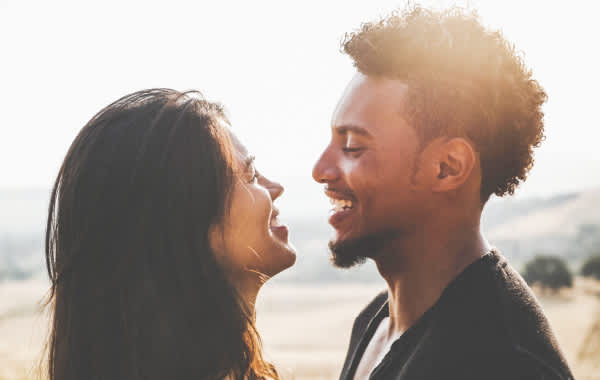 Branson isn't just for families — there are plenty of fun things for couples to do, too. With both rustic and luxurious cabins, breathtaking scenery, and unforgettable experiences, these date night ideas help infuse some romance into the air.
1. Visit the Underground Caverns
Aptly described as a "subterranean fairy land," glistening crystals serve as the backdrop for a romantic night out at Talking Rocks Cavern. It's perfect for couples who like to get off the beaten path, and you can continue your cave exploration at Marvel Cave (which just so happens to be accessible with standard admission to Silver Dollar City).
2. Take Control on Runaway Mountain Coaster
With a braking system that slows things down or speeds things up depending on the mood of your date, the uniquely designed Runaway Mountain Coaster is Branson's longest — and it lets couples be the master of their own adventure.
3. Catch the Sunset at Branson Landing
After a full day of shows, rides, and museums, head to Branson Landing for a sunset to be remembered. This 95-acre entertainment and retail destination features a waterfront boardwalk, where you can watch a water and fire show as the sun goes down over Lake Taneycomo.
Explore More of Branson, MO
From endless outdoor activities and family-friendly finds to romantic nights out with your loved one, Branson offers something for every type of traveler. To learn more about visiting — including where to find a great vacation rental to serve as your home base — check out our vacation-made-easy guide to Branson.
Rest Easy with Evolve
The moment you book your vacation, you should start looking forward to your trip — not worrying about the little details. When you choose Evolve for your Branson vacation, you can feel confident that the home you book will live up to our standards.
Every Evolve vacation rental comes with a team of hospitality experts, and we're here to help make your stay comfortable 24/7. To help you feel even more confident, we created our Rest Easy Promise: if a stay doesn't match our standards, we'll make it right.
Any time a guest is at your vacation rental's door, it's possible they're feeling exhausted from a long day of travel — and guaranteed they're hoping a stay in your home will feel both easy and safe.
One of the first tests to meeting that expectation: do you have the best door lock for your vacation rental? One that is both convenient and secure?
Something as simple as a keyless lock or rental lock box can either put that guest at ease or frustrate them before they're even inside. And for you, this moment can impact how positive or negative their review of your property might be.
That's why it's important you know how to navigate the keyless entry landscape. From why it's essential to your vacation rental business to all the considerations you should make before selecting a product, here's how to narrow down the options and give your guests a safe and simple vacation rental check-in.
Why Is Keyless Entry Important for Vacation Rental?
There are three big reasons to consider making the switch from old-school key handoffs to keyless locks and entry systems.
1. It Improves Guest Experience
When vacationers reach their getaway home, they want to travel the path of least resistance. Guaranteeing a seamless entry process — one where they can simply punch in a code and get through the door — helps them feel at ease more quickly.
It also means you (or your on-site Guest Contact) don't have to coordinate a physical key hand-off. This limits unnecessary interaction and offers flexibility on check-in time. These elements of convenience and respect for privacy boost guest satisfaction, and can help you guarantee five-star reviews (not to mention avoid bad ones).
2. It Streamlines Homeowner Responsibilities
Not only will you no longer need to coordinate and meet with your guests before every stay, but you'll also eliminate needing to meet up with maintenance staff and cleaning crews. With keyless locks in place, all guests and personnel can enter your property before, during, and after bookings without you having to constantly worry about the logistics.
3. It Provides Added Security
Keyless entry technology allows you to program codes from afar and gives you the ability to track every single entry on your smartphone. It's a simple way to stay in the loop on who comes and goes, and can quickly raise the red flag if you see someone's gone in when it isn't expected.
These systems also reduce the likelihood that keys will get lost, and minimize fear of intruders picking the lock. And if you were to be confronted with unauthorized individuals trying to gain access to your home, changing a key code is a lot faster (and less expensive) than changing a lock.
How to Make Keyless Entry Easy for Guests
To keep the guest experience front and center when implementing a keyless entry system, homeowners should:
1. Opt for Smart Locks with Code Punches or Touchscreens
Some keyless locks have combination dials rather than keypads, but those can increase the risk of human error when attempting to enter a code. Touchscreen and code punch models keep this possibility low, and they often light up when in use to make it easier for a guest to successfully open the door at night.
2. Avoid Options Requiring an App Download
This comes down to guest satisfaction. If vacationers need to download an app they'll only use to enter your property, it adds an inconvenient step. Guests should feel like you've taken all unnecessary tasks off their plates, so they can get to the fun and relaxation faster.
3. Have a Backup Plan in Place
Keyless entry systems are hugely beneficial, but they aren't foolproof. There's always a chance you'll run into technological difficulties upon guest arrival, which is why our Guest Experience team recommends having a lock box as a backup. You should also let guests know about the backup plan prior to their arrival to prevent any last-minute messages or frustrated late-night phone calls.
4. Make Sure Doors and Lock Boxes Are Well-Lit
While many entry systems glow when used, it's still important to provide ample lighting so guests don't struggle to see what they're doing. Have on-site service teams check the lightbulbs of your front door fixture between each guest stay as part of their cleaning and maintenance to-dos, and put the backup lock box in a well-lit area.
How to Choose the Right Keyless Entry System
Along with the best practices for creating a five-star guest experience, here are a few additional considerations for zeroing in on your smart lock of choice.
1. Look for Multiple Code Programming Capabilities
Many keyless entry systems on the market allow you to program unique code combinations for a variety of authorized users — housekeeping, inspectors, maintenance providers — to be sure the right people are entering at the right times. (You can also input emergency backup codes in case users have trouble gaining access.)
2. Consider Geography and Climate
Where your home is located could have an impact on the functionality of your system. The salt air at a beachfront property, for example, may interfere with some keypad technologies, while extreme cold can freeze code punch buttons or cause touchscreens to glitch. And if your vacation rental is located in a remote area with spottier connection, you may want to reconsider Bluetooth-powered models. Before making any shopping selections, our Partner Development team recommends checking in with the vendor to raise any location-based concerns.
3. Balance Quality with Expense
There are some very fancy security systems out there that can cost thousands of dollars, but that high cost doesn't necessarily equate to an increased security benefit. While it's important to do ample research to understand the ins and outs of every option, you can rest easy knowing that a more modest investment can be just as effective in securing your vacation rental and guest satisfaction — rather than making a huge dent in your income for the year.
4. Find Local Vendors Who Can Service Your Lock
A lot of homeowners purchase locks from national companies online, but don't actually have technicians in the area who could service the lock if something goes wrong. Make sure local locksmiths have the ability to fix your smartlock of choice in the event that it breaks or glitches. Otherwise, you could be looking at a much more costly — or frustratingly delayed! — solution.
Evolve Can Help Deliver Five-Star Guest Experiences with Ease
Here at Evolve, our mission is to continue providing you with all the tips and tricks possible to make vacation rental easy for everyone. That's why we've created our Vacation Rental Success Guide, a downloadable resource packed with intel and instruction that helps you turn expert insights into action.
From details around keyless entry to tips for flawless guest communication, our guide has everything you need to champion hospitality, outshine your competitors, and boost your vacation rental's performance. Sign up below and you'll be one step closer to having the best money-making vacation rental in town.
Orlando is most famous for being home to "The Most Magical Place on Earth," but its ties to Disney World are just one part of what makes this central Florida city a top tourism destination year after year.
Whether you're theme park-hopping with kids, hitting the links at year-round golf courses, or visiting the city's plethora of restaurants and shopping malls with friends, Orlando has a whole world of excitement just waiting to be explored. Start by booking one of our top-rated vacation rentals, then plan your adventure-filled days with these top things to do.
The Best Family-Friendly Activities in Orlando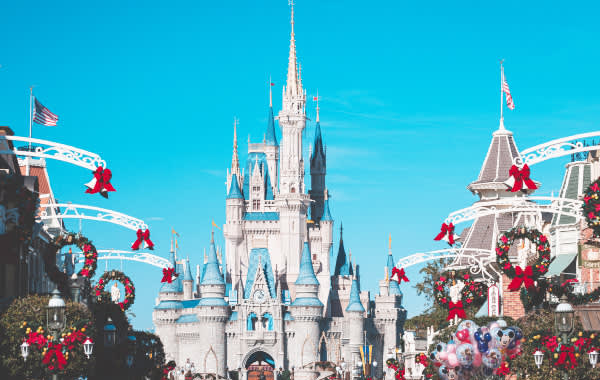 Orlando is a dream vacation for so many children, and a wonder for adults. These world-class, kid-friendly attractions are best for creating lasting memories with the whole family.
1. Feel the Magic at Disney World
It's nearly impossible to imagine an Orlando family vacation without picturing Disney World. There are four theme parks to choose from: you can visit Cinderella's castle at Magic Kingdom, hop around the world at Epcot, go on a Safari ride at Animal Kingdom, or experience the Star Wars galaxy at Hollywood Studios. If you have a longer vacation on the calendar, you can always thrill the kids and visit all four, basically guaranteeing a trip no one will soon forget.
2. Experience Thrills at Universal Orlando Resort
Designed for adventure-seeking, movie-loving members of the family, Universal Orlando Resort is a whole other world full of rollercoasters, live shows, and other fun activities to explore. Aside from its own themed resort and CityWalk entertainment area, there are two theme parks worth visiting: Islands of Adventure and Universal Studios.
In the first, you'll find adventures around top films like Jurassic Park, The Cat in the Hat, and Spider-Man. The second hosts thrills for fans of kid-friendly flicks like Despicable Me, Transformers, and Shrek.
For many visitors, however, the top attraction at both parks is The Wizarding World of Harry Potter. You'll find an abundance of rides, shops, and restaurants to immerse yourself in the popular book and film series, and can even travel between the two parks via the Hogwarts Express.
3. See Actual Alligators at Gatorland
Florida is famous for its alligators, so while visiting Orlando you might as well see them in a safe, family-friendly environment. Claiming to be "The Alligator Capital of the World," Gatorland has alligators and crocodiles of all sizes, and is Florida's leader in alligator safety and education. But admiring the toothy creatures isn't the only kid-friendly activity available: you can also see the free-flight aviary, ride the Screamin' Gator Zip Line, or catch one of the live animal shows.
4. Cool Off at Family-Friendly Water Parks
Beat the humid Florida weather with a trip to one of the many water parks Orlando has to offer. Whether it's Universal's Volcano Bay or one of Disney's themed water parks like Blizzard Beach or Typhoon Lagoon, you and the kids will have a blast floating in the lazy river or screaming down a water slide. (P.S. If you're craving a swim in the ocean, Orlando isn't too far from several beaches on the Florida coast — including Tampa and Daytona.)
The Best Adult Activities in Orlando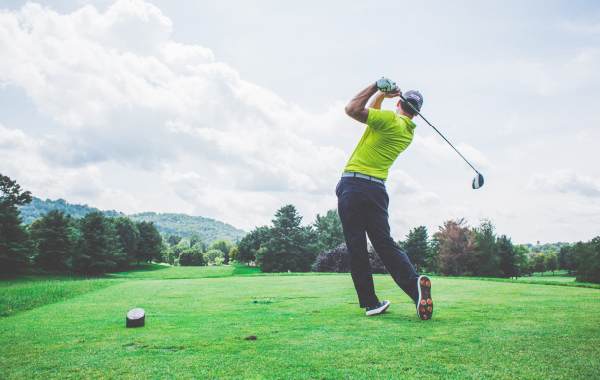 While Orlando is a famous destination for the younger ones, "The City Beautiful" is a top vacation spot for adults, too. If you're looking for things to do in Orlando besides theme parks, these are some of the top attractions worth trying.
1. Experience Orlando's Nightlife
Those looking for a hip place to visit shouldn't miss out on a night at Wall Street Plaza on Orange Avenue. A favorite among locals, it's one big street party in the middle of downtown featuring affordable drinks, tasty food, and plenty of music to keep your feet moving.
For a classier feel, venture over to Mather's Social Gathering on nearby Magnolia Avenue. You'll feel like you've been transported back in time thanks to their speakeasy vibes and 20s-inspired cocktails (the Mather's Fizz is a must-try).
2. Schedule Tee Time at a Top Golf Course
It's true: Orlando is a bit of a golfers' paradise, as it's home to an impressive list of courses. One of the most legendary: Arnold Palmer's Bay Hill Club & Lodge. (Arnold's Palmer's Bay Hill Invitational takes place here every March.) While it can be difficult to find a tee time — and you may be required to stay at the lodge to book — aficionados will find the course well worth it, thanks to its prestigious history of PGA golfers and world-famous 18th finishing hole.
In case you need a Plan B, Celebration Golf Club and the Waldorf Astoria Golf Club are two other top-rated courses in the area. Both capitalize on Florida's natural wetland environment and offer unique challenges, like the lakes and creeks that come into play.
3. Indulge in World-Famous Retail Therapy
One of Orlando's biggest perks is its sweet shopping deals found at the Orlando International Premium Outlets. Whether visiting alone, with a group of friends, or a partner, the city's largest outlet mall is where you'll find great prices on top brand items — think Tory Burch, Coach, and Marc Jacobs — to show off when you return home.
4. Catch Live Entertainment at Dr. Phillips Center
When Broadway shows or popular musicians come through town, Dr. Phillips Center for the Performing Arts is the place for a big night out. So after you've scooped up a new outfit from the Outlets, snag tickets for a play or concert here. Be sure to sip on a pre-show cocktail at the Grand Bohemian Lounge right across the street for a total "treat yourself" experience.
The Best Outdoor Activities in Orlando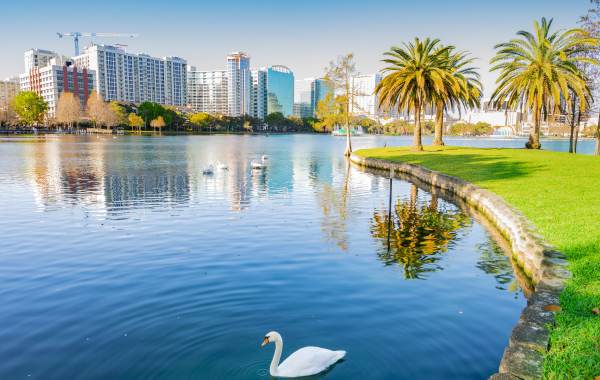 While theme parks certainly take the cake for the most common of Orlando's outdoor activities, there are plenty of experiences for nature lovers who prefer to take the path less traveled. Take a breath from Disney's spinning teacups and enjoy the warm Florida air with one of these attractions.
1. Explore Lake Eola Park
To get a true sense of "local Orlando," take a stroll around Lake Eola. The area is not only bustling with more restaurants and bars, but there are also swan boats, a Japanese garden, and a farmer's market open every Sunday for stocking your vacation rental's fridge.
2. Discover the West Orange Trail in Winter Garden
Get some exercise and a change of scenery about 20 minutes west of downtown Orlando, where you'll discover Winter Garden, a small town lined with moss-covered live oaks and small brick storefronts. You can soak in the area's "old Florida" charm by taking a bike ride or stroll along the West Orange Trail, then treat yourself to refreshments on Plant Street Market's pet-friendly patio. (P.S. For even more vacation ideas, check out some of the best pet-friendly destinations across the U.S.)
3. Take a Stroll at Leu Gardens
Minutes from Downtown Orlando is an awe-inspiring 50-acre botanical oasis that's sure to put your plant appreciation in full bloom. Take a leisurely walk around Leu Gardens and visit the historic home onsite, donated to the City of Orlando by Mr. Harry P. Leu and his wife, Mary Jane, in 1961.
4. Sip Wine at Lakeridge Winery & Vineyards
Escape to the rolling countryside about 25 miles west of downtown Orlando, where you'll find a picturesque winery waiting for you to indulge under the sun. Once the center of Florida's grape industry, Lakeridge Winery & Vineyards overlooks more than 80 acres of planted vineyards, and claims to be pioneering the production of native muscadine grapes (known for its role in delicious sparkling wines). The vineyard green also hosts a variety of food trucks, so there are plenty of food options while sampling different varietals.
Explore More of Orlando, FL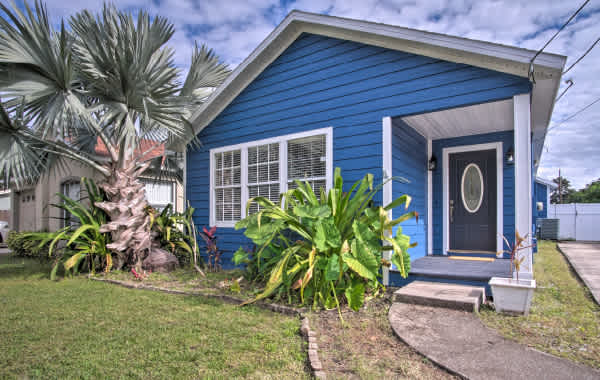 Orlando is a mecca for entertainment, and there's something to offer for every type of traveler. Whether you plan to go for a theme park thrill, explore the nightlife, or discover the area's more natural side, you can enjoy Florida's warmth and sunshine through it all.
To learn more about visiting Orlando — including where to find a great vacation rental to serve as your home base — check out our vacation-made-easy guide to Orlando.
Rest Easy with Evolve
The moment you book your vacation, you should start looking forward to your trip — not worrying about the little details. When you choose Evolve for your Orlando vacation, you can feel confident that the home you book will live up to our standards.
Every Evolve vacation rental comes with a team of hospitality experts, and we're here to make your stay comfortable 24/7. To help you feel even more confident, we created our Rest Easy Promise: if a stay doesn't match our standards, we'll make it right.
Of all the travel trends for vacation rental homeowners to pay attention to, sustainable tourism may be one of the biggest: not only did a recent global study reveal that 69 percent of participants "expect the travel industry to offer more sustainable travel options," but Evolve homeowners with sustainable properties made eight percent more in 2020 than non-eco homes.
Catering to these shifting traveler priorities and finding ways to make your second home more environmentally-friendly opens up a massive window of opportunity to capture extra income and five-star reviews. And while it might feel like a steep hill to climb — particularly for vacation rental owners who don't live nearby — it's actually not as complicated as it all may seem.
There are a bunch of adjustments you can make that not only reduce your carbon footprint, but also help differentiate your property from its competition, lower expenses, and potentially make you more money in the long run.
Whether you're looking for easy ways to build more sustainable practices at your vacation rental, or you're ready to back bigger conservation projects with long-term financial benefits, we've outlined a range of ideas for making your home more eco-friendly — and the important cost-benefit analysis of tackling each.
Focus on Water Conservation
Fun fact: according to the Environmental Protection Agency (EPA), the average American household uses more than 300 gallons of water a day. In your vacation rental, it's likely that number goes up, as guests aren't necessarily thinking about fully loading the dishwasher before running a load. And they might trade a shower for a long soak in the tub because, well, it's vacation!
The good news? There are eco-friendly solutions that won't break the bank:
1. Invest in Low-Flow Faucets, Showerheads, and Aerators
Investing in low-flow faucets, showerheads, and aerators can save more than 2,700 gallons of water a year. (That's the equivalent of doing 88 loads of laundry, per the EPA.) Best part: they go for as little as $10 to $20 each, making a significant contribution to your sustainability efforts at a wallet-friendly price.
2. Replace Toilets with WaterSense-Labeled Models
If you're willing to spend a bit more upfront (typically between $150 and $300) these energy-efficient, EPA-backed toilets can save 13,000 gallons of water and $130 annually. Pair 'em with other bathroom upgrades (faucet, showerhead, aerator, and toilet) and you'll not only conserve an extraordinary volume of water, but the expense will pay for itself in a year.
3. Conduct a Water Audit
If you're not exactly sure where to invest in new products, a water audit can help you zero in on which part of your home could benefit the most from a revamp first. Since water usage can change with the seasons (and across the country), conducting one quarterly can help identify discrepancies and plan out your eco-friendly-upgrades timeline.
Pump Up Your Paper Conservation
On average, the U.S uses more than 70.6 million metric tons of paper a year. While that figure accounts for business, consumer, and at-home use, the bottom line is that there's a paper problem to solve. Transform the role your vacation rental plays in paper consumption by making a few simple-yet-effective operational adjustments.
1. Buy Recycled Paper Products
While slightly more expensive, 100 percent recycled paper towels and toilet paper are designed to reduce waste and are an easy way to hand guests the eco-friendly reins. Just be sure not to compromise on the quality of these amenities; there are sustainable options out there that also keep the guest experience at a five-star level.
2. Take Business Operations Entirely Online
Leave paper checks, mailed invoices, and printed instructions behind and make your booking and guest communications digital. Not only is it an easy eco-friendly idea to implement, but it's also a more seamless experience for on-the-go vacationers. (P.S. Evolve homeowners have this taken care of on their behalf. Our team communicates with travelers 24/7 to ensure they have all necessary trip details, and every homeowner's account houses a digital calendar of bookings, automatic payment processing, and consolidated view of cumulative earnings.)
Buy Energy-Efficient Products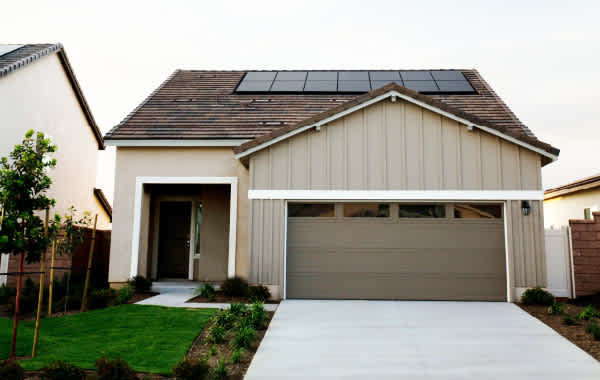 Switching to energy-efficient products makes heat and electricity consumption more sustainable, and can significantly reduce utility costs. Here's how to make smart swaps in your vacation rental.
1. Purchase ENERGY STAR-Certified Light Bulbs
CFLs or LEDs can reduce energy usage by 20 to 25 percent and last 15 to 25 times longer than your old incandescent bulbs. At just $2 to $5 a bulb, they pay for themselves in a short span of time.
2. Install Motion-Activated Sensors
These lights only turn on when a presence is detected, shutting off in the absence of movement. They're great for outdoor spaces and bedrooms, saving you a bit extra on energy bills and lowering the odds that guests will accidentally leave the lights on.
3. Invest in Smart Thermostats
A great way to keep heating and cooling costs low, many models connect to your smartphone so you can regulate remotely. (Some can even sense which rooms are occupied and adjust appropriately.) Smart thermostats also provide a great opportunity to impress guests on first impression: in hot summer months, you can make sure your home is cool upon arrival. When the winter chill sets in, you can warm up the home in time for a toasty reprieve.
4. Upgrade Appliances
While more costly upfront, opting for dishwashers, refrigerators, air conditioners, washing machines, and furnaces with the ENERGY STAR rating can have a significant impact on your home's long-term savings potential. These EPA-approved appliances use 10 to 50 percent less energy annually than their traditional counterparts, and can shave over $500 off your annual bills (a number that experts expect to climb above $800 in the next decade.)
5. Purchase Energy-Efficient Windows and Glass Doors
ENERGY STAR-certified options can cost anywhere from $270 to $800 per window, and can set you back about $350 per door on average. But these upgrades keep heat in during winter months and out during summer, cutting your energy bill in the long run. In fact, data suggests you can save as much as $583 a year by replacing single-pane windows, and up to $197 a year for double-pane.
When shopping for replacements, the EPA says to consider the U-factor (a window's ability to insulate) and the solar heat gain coefficient (the fraction of solar heat a glass pane transmits into your home), then adjust for your needs based on climate.
6. Invest in Solar Panels
This is by far the biggest splurge, but it's one with comparative long-term gains. The average individual racks up over $3,000 in yearly energy costs, and installing solar panels can entirely eliminate this cost over the course of their lifetime. And since solar panels last for about 25 years, homeowners utilizing this powerful green technology can expect to generate free electricity for about 20 years, and might even turn a profit by selling electricity back to local power companies.
The great news: for both big kitchen appliance upgrades and solar panel installation, the government offers noteworthy federal income tax credits to make initial costs more manageable. (Solar panels can cost up to $25,000 before these incentives are applied, but are about $12,000 out of pocket afterward, meaning you'll recoup your investment in as little as four years.)
Hire and Source Locally
Nixing traditional water and energy solutions is only part of how to make your home more eco-friendly. You can also promote economic sustainability by aligning with local goods and service providers who share your green initiatives.
For example, you could provide unique touches to your vacation rental by sourcing locally-handmade furniture, decorations, and products to put in your welcome baskets. You could even shout out sustainable businesses in a digitally-shared welcome book. Eco-conscious travelers appreciate knowing that the makings of your home were thoughtfully curated, and it's always fun to provide easy opportunities for them to engage in local sustainability.
Make It Easy for Guests to Be Environmentally-Friendly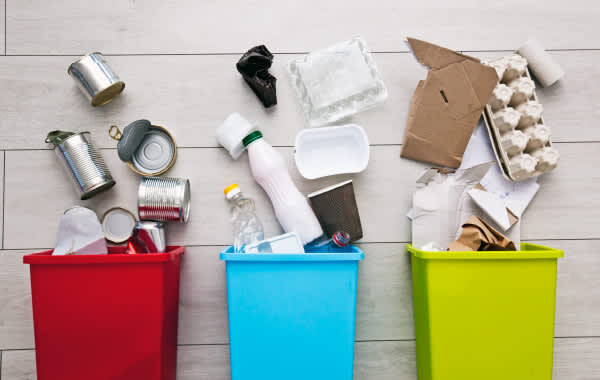 Cutting costs and saving money is a major benefit of making your home more sustainable, but you can also pay it forward (and satisfy rising sustainable tourism demands) by giving your guests easy ways to be green during their stays.
1. Put Out Easily-Marked Recycling Bins
Make them easy to spot, providing clear instructions for what gets recycled and what doesn't. Give guests info about if and when recycling is picked up locally, so they can participate without any hassle. (This is particularly useful if guests are staying long-term.)
2. Stock Reusable Water Bottles and Bags
For guests on the go, these items are much-appreciated green alternatives to disposable paper and plastic. Stock your kitchen cabinets, and be sure to task your cleaning teams with washing reusable water bottles and laundering totes in between guest stays.
3. Provide Bikes or Scooters
Whether guests need to make a quick run to the market or want to explore the neighborhood, having a few modes of non-motorized, emissions-free transportation is both environmentally-friendly and fun. They're convenient for couples, solo travelers, or families with kids. 
4. Consider a Compost Bin
If you're interested in reducing food waste at your vacation property, you can set up a compost bin in the backyard and leave clear instructions for what guests can throw inside. There are even countertop options available to make composting an easy thing to do as guests cook or clean up after a meal.
5. Create a Backyard Garden
Gardens require a considerable time investment, but if you live close to your vacation rental and are up for the ongoing upkeep — or you're willing to throw a gardener into your service mix — you can plant flowers to cut for fresh and fragrant decor. You could also grow fruits, vegetables, and herbs to fill your welcome baskets, or encourage guests to pick from it themselves. This gives them a unique at-home experience to help stimulate those five-star reviews, not to mention a tasty way of staying green.
The Grass Is Greener with Evolve
Tackling eco-friendly initiatives is great for the planet and a major positive for sustainable travelers. But remember: it's okay to start small. There are easy steps you can take to conserve energy, water, paper, and resources. If you're feeling inspired to think bigger, upgrade kitchens and bathrooms. Plant a garden. Go solar!
When it comes to taking your vacation rental to the next level, our eco-friendly insights are only the tip of the iceberg. We're constantly analyzing our homes' performance and current market trends to curate an array of essential tips and industry intel for our community of homeowners.  
Sign up for our newsletter today and instantly gain access to more of these expert insights that can help boost your vacation rental success.
Vacation rentals with amazing pools offer an escape worthy of daydreams. In these places, you can cool off, bask in the sun, and spend golden hour al fresco, sipping a cocktail and enjoying the good times.
We've rounded up our most-loved vacation rentals with amazing pools, sorted by the experience you're seeking. Whether you're booking a bachelorette party or family trip, we've got you covered on what to look for in a home. Pack your biggest shades, your favorite swimsuit, and a page-turner — then dive on in.
Evolve Tip: Looking to explore all of our vacation homes with private pools? You'll find them right here.
The Poolside Family Reunion Trip
No matter the size of your reunion, reconnecting with your out-of-state relatives at a private pool is a memorable way to escape. Lounge by the water together, show off the recipes you've each mastered since your last gathering, and spend evenings playing board games with a view. If you choose an especially scenic place (like one of our oceanfront vacation rentals with a private pool), you won't even want to leave the house.
Evolve Tip: When you're browsing family vacation rentals with private pools, look for inviting decor that will appeal to the whole group. Knowing that you each have your own routines and travel styles, we recommend finding a place with activities to do right out your door. We also recommend looking for escapes with multiple bedrooms and bathrooms so that everyone can stick to their own routine.
Take a Dip at This Oceanfront Vacation Rental with a Private Pool
This glamorous Cozumel vacation home sleeps twelve, giving each of you some private space (with a total of four bedrooms and six bathrooms). The Caribbean Sea is the backdrop of your time here — and you can drink it in from the private oceanfront pool or the elegant patio, complete with hammocks. When night rolls around, fire up the gourmet grill that sits right on the sea and enjoy the quiet of having your own private pier. Those looking for fresh air can use the bicycles this owner provides. The home even features family-friendly touches like a fountain show in the pool and rafts for the kids.
The Curated and Cultured Poolside Trip
Shop for local treasures, wind your way through offbeat museums, and savor gourmet eats on a cultured escape with fellow design-lovers. Choose an interior that evokes your surroundings — including a tasteful pool that fits the aesthetic — and experience the destination you've chosen every moment of your stay.
Evolve Tip: If you're looking to blend quiet, lazy afternoons by the pool with legendary eats and shopping, Palm Springs is a must-see destination. From retro-chic homes complete with pristine kidney pools overlooking the mountains to renowned bites (like any of The Infatuation's ideas), it's all here. To explore a little more, check out our Palm Springs page, filled with stunning homes and ideas of what to do while you're in town.
Take a Dip at This Retro Vacation Rental With a Heated Pool in Palm Springs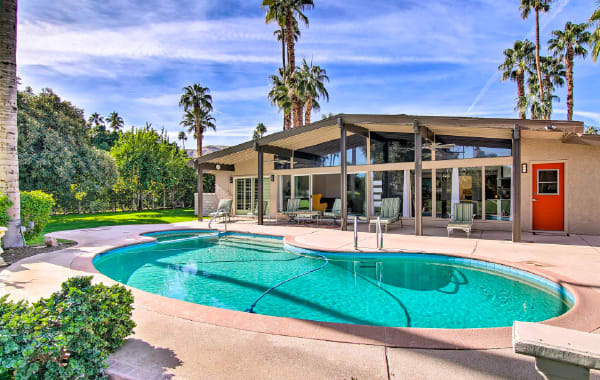 Listen to Nancy Sinatra and nurse manhattans by the heated pool from a secluded, mid-century haunt in Palm Springs. You'll know that you've arrived in an upscale desert hideaway as soon as you unpack and light the fire in the living room. Bright color splashes its way throughout the home, with furniture shapes that harken back to Palm Springs's early days. When you're ready to adventure out, tower over the area by tram, take a modern architecture tour, or shop your heart out.
The Winter Holiday Poolside Trip
Vacation rentals with amazing pools offer a luxurious chance to restore — and there's no reason they should be limited to summer months. If you're interested in traveling in winter or putting a unique spin on the holidays, an indoor pool lets you splash around in any season. For bonus points, search for amenities like a hot tub and fire pit that let you stay warm with a different view.
Evolve Tip: If you're booking a family vacation rental with a private pool over the holidays, you might want some time to yourself to wrap presents or cozy up with a good book. Choosing a place that has a game room gives the kids a place to spread out that's a bit more private where they can watch movies and play.
Take a Dip at This Family Vacation Rental With a Private Indoor Pool in Liberty Lake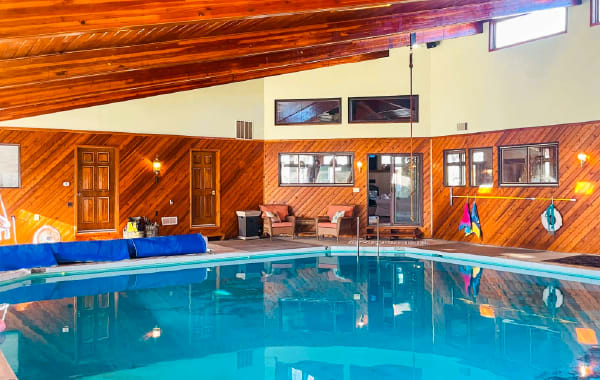 Liberty Lake, WA, is an oasis for families. In less than an hour, you can drive to Mt. Spokane, where skiing, tubing, and winter play await. Hit the slopes together, then sip cocoa back at this stunning 5,000 square-foot vacation rental that sleeps ten people. Let the kids swim in this incredible indoor pool complete with toys, sit by the fire in the sophisticated farmhouse living room, or enjoy access to the lake just a block away. And yes, there's even a game room with foosball.
The Special Occasion Poolside Trip
It's just about time to catch up on the big occasions that last year made it challenging to celebrate — birthdays with your high school friends, the overdue bachelorette party, or an anniversary where you want to do something you'll never forget. When you're celebrating a special occasion by the pool, you'll want a special home. Look for an immersive setting that will make for great photos, ideally with plenty of outdoor seating and places to spread out. This trip is less about going out and more about staying in and splashing around.
Evolve Tip: Make memories by cooking something new together, right outside. We recommend finding a vacation rental with an amazing pool that also has an outdoor grill set up. This way, you can grab local snacks and drinks before you arrive, then grill up burgers on the grill in between your afternoon and evening swim.
Take a Dip at This Texas Vacation Rental With a Private Outdoor Swimming Pool on Pilot Point Ranch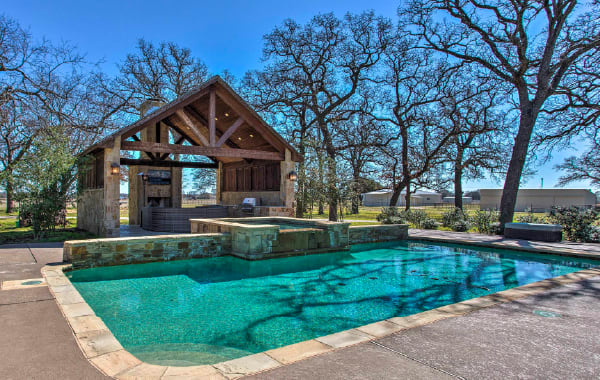 Every new room of this house is a photograph waiting to happen — from the outdoor/indoor seating gazebo with a grill overlooking the pool to the enormous couch by the fire in the living room. No matter what you're toasting to here, it's sure to feel festive as you admire eight acres of private ranchland.
The Pet-Friendly Poolside Trip
Embark on a tranquil, poolside getaway where everyone is included — even your pet. Let them nap in the sun while you swim, knowing that they're able to relax too. Then, curl up together after dark for a night that feels just like being at home (without the mess or responsibility).
Evolve Tip: Many poolside escapes sit high on a hill (with landscaping that isn't exactly pet-friendly). When you're booking a pet-friendly vacation rental with a private pool, be sure to look for a place that has a grassy area where they can go outside or stretch their legs. Also, note the home's specific pet-policy to find out if it matches your travel situation — the owner will often specify the number of pets allowed. You'll also want to choose a place without the clutter that could become a problem for a pet guest. Luckily, all of Evolve's homes are pristine and 100% ready for your arrival.
Take a Dip at This Pet-Friendly Vacation Rental With a Private Pool in Galveston, TX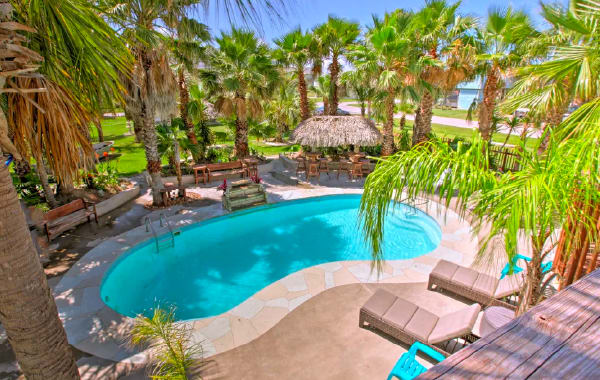 A serene tropical paradise awaits you at this palm-tree-laden Texas vacation rental with a private pool. Swims have a full resort feel here with an outdoor bar, palapa huts that invite you to retreat into the shade, and an outdoor hammock — and if you want to get out of the house, a long walk, you're by the beach. This place welcomes up to two pets.
The Girls' Poolside Trip
Arrive at a posh place in awe as you take in the gorgeous surroundings from enormous windows. Relive your favorite memories together and make new ones by the pool. Get a little silly by evening by having a dance party with a view — then enjoy a grown-up sleepover filled with popcorn, comedy classics, and some self-care.
Evolve Tip: When you're splitting your trip several ways, it gives you the freedom and flexibility to splurge on something glamorous. Opt for a breathtaking location and choose a house that will become a memory in itself. Think: beautiful scenery, impeccable interiors, and enough square footage that you can each have your own space.
Take a Dip at This Lakefront, Modern Vacation Home With a Private Outdoor Swimming Pool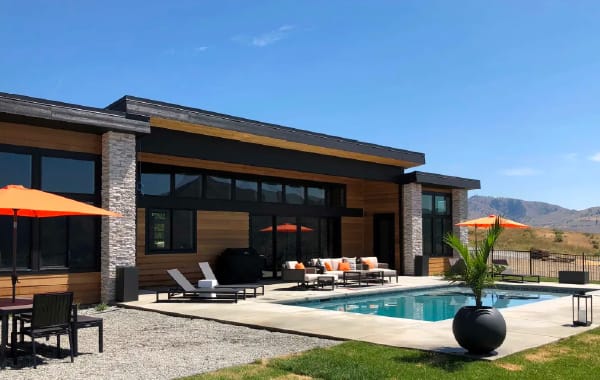 Have that "wow moment" as soon as you walk into this unbelievable modern property with a sophisticated pool overlooking the mountains and Lake Chelan — which is home to its own wine valley, perfect for a midday tasting. From the top of the bluff, you can swim all day long, cook a family-style dinner in the beautifully appointed kitchen, and wind down in a bedroom that has a view.

Rest Easy by the Pool
Master your butterfly stroke without a care in the world. All of these vacation rentals with amazing pools are verified in person and backed by our Rest Easy Promise — meaning they'll always be as pristine as you saw on our site. If your stay isn't up to our standards, we'll make it right.
SEE MORE VACATION RENTALS WITH AMAZING POOLS
Read Next: For more private getaways with unique scenery, check out this feature on our favorite tiny houses for rent. Or, find sun on an adventure to one of America's best national parks.
Everyone loves to book vacation rentals that are truly one-of-a-kind, be it a trend-setting tiny home or hygge hideaway. And after the year that was 2020 — one filled with an unprecedented number of Zoom calls, baking bonanzas, and TikToks on repeat — there are plenty more trends filtering their way into people's vacation homes.
That's why we're unveiling Evolve's 2020 Tribute Collection. These, eh-hem, eccentric additions* are all inspired by last year's biggest trends. So go on — choose your escape style and find a vacation home you won't soon forget.
For Aspiring Influencers: TikTok Treehouse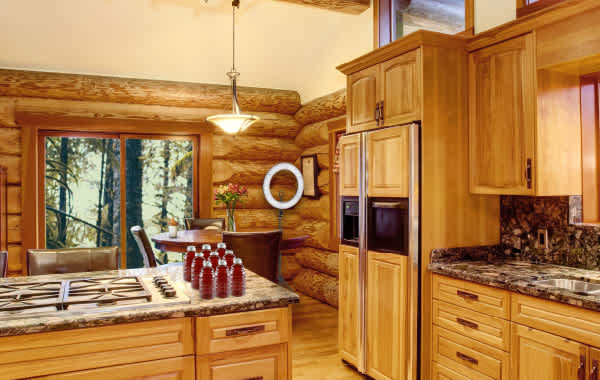 Make scroll-stopping content in the rare aesthetic of Evolve's TikTok Treehouse. Set high among the treetops, this unique home is sure to make you feel like the main character upon arrival. Perfect your rendition of "Blinding Lights" with a view, nibble on pre-made charcuterie boards, and drink Ocean Spray cranberry juice to your heart's content. Every booking comes with the promise of 200 followers and limitless FYP potential, so you know that content will always find a great home.
For Baking BFFs: Sourdough Starter Home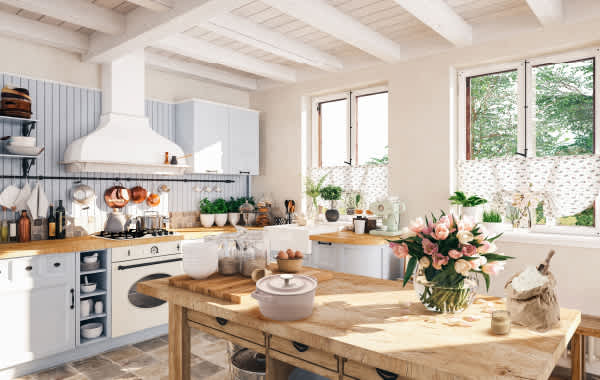 Rise to the occasion at this unparalleled baker's haven that's specifically tailored for sourdough breadmaking. This carb-laden paradise has been tested for fermentation conditions, and it comes with a dutch oven, bread ingredients, and a large table for tastings. You can even enjoy the smell of mouthwatering boules and baguettes as you unpack and stream the virtual baking class provided with the property! (Please note that this owner has a strict policy on store-bought bread — so if you happened to bring some along, it's best to leave it in your car.)
For (Virtual) Social Butterflies: Zoom Haus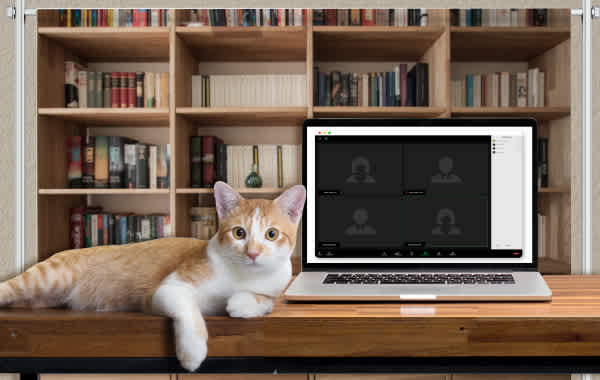 Bad lighting, begone! Make a splash on your video calls with Evolve's Zoom Haus. Every room is a photo-ready background that was created to impress the other people on your call (and, let's be honest, make them a little jealous). Complete with limitless indoor plants, statement wallpaper, and warm, flattering lighting, you'll love how you look on camera during your stay. This imaginative property also comes with a cat actor to help you escape from any awkward calls, and you'll find mute buttons in every room so you can gracefully ghost from wherever you are.
For Paranormal Lovers: Traveling Monolith Mansion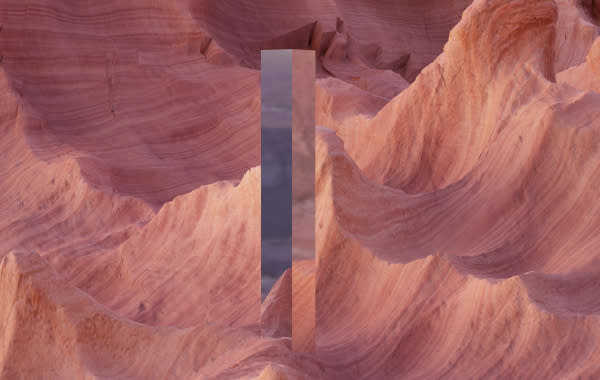 Set your eyes on a home that might soon be levitating at a location near you. Embark on a strange, surreal adventure to this extraterrestrial-chic getaway that's conveniently located near the International Space Station. You can dial out to other planets free of charge, and contemplate your place in the universe while looking up to infinite desert stars (a stone's throw from Area 51).
Rest Easy with Evolve
OK, OK — you can't actually book any of these homes. (April Fools!) But we do have 14,000+ real vacation homes ready for your memory-making adventures. And when you choose Evolve for your vacation, you can count on the property being just as incredible as the listing you saw online.
*The property listings featured in the 2020 Tribute Collection are not actual properties available for booking.
While maybe not the most enjoyable use of time, filing vacation rental taxes is an essential part of running a healthy business with your second home.
It's also a really complex subject, as vacation rental tax rules shift from state to state and even county to county. This makes it difficult to navigate varying requirements with confidence.
That's why we've compiled some of the most common questions homeowners want answered. From the different types of tax you may be responsible for remitting, to the nuances of jurisdictions, we cover it all — and provide a few easy ways to make it all feel like less of a headache — so you can get back to prioritizing five-star hospitality.
What Kind of Taxes Do I File?
According to Evolve's Tax Team, there are three main categories of taxes vacation rental owners need to think about each year.
1. Income Tax
Filed once a year by the April 15th deadline, income tax is what you pay the federal and/or state government based on short-term rental earnings, minus possible deductions (more on deductions later). It's just like any other job you hold; you report alongside other sources of income and get taxed accordingly.
2. Business Taxes
Business taxes are levied on owners for the "privilege" of conducting business. They have a myriad of names, including gross receipts tax, business and occupation (B&O) tax, business privilege tax, and more. These taxes are the owner's responsibility as the provider of goods or services, and are paid to states, counties, and/or cities.
3. Vacation Rental Taxes
Oftentimes called short-term rental taxes, these are levied by states, counties, and cities. Depending on your taxing jurisdiction, they can also be referred to as a number of other names. Lodging tax, occupancy tax, and transient tax are a few common terms that, at a high level, are synonymous. The rates and rules that apply to each, however, could look very different from jurisdiction to jurisdiction.
Sales tax also falls under this umbrella of vacation rental taxes you may be responsible for. In some areas, lodging tax is collected but sales tax is not, while in others sales tax is collected instead of lodging tax (leading many homeowners to mistakenly think they're interchangeable). Some homeowners may even have to collect and remit both. It's best to work with a tax expert to understand the type(s) charged in your area, and to familiarize yourself with the corresponding verbiage.
What's more, vacation rental taxes differ from income and business taxes because they're technically paid by your guests — it's the add-on everyone always sees on the bill. But as the owner, you're responsible for registering for all taxes you are required to collect, identifying the tax rate(s) for your property (the Avalara MyLodgeTax tool can help), collecting those taxes, and then remitting the totals to your local and state governments.
How Do Vacation Rental Tax Laws Differ By Location?
The short answer: a lot. And unfortunately, there's no simple way to explain just how widely vacation rental tax rules vary because there aren't just state-by-state discrepancies. There may also be differing county, city, and special district tax regulations to take into consideration, our Tax Team says. (Again, it's important to talk to an expert who can help you identify your property's tax requirements.) 
Here are a few other components of vacation rental tax laws that aren't standardized:
1. Licensing Regulations
On both state and municipal levels, authorities set specific standards for the types of licenses and permits you need to run a vacation rental business. You may need a general business license, a short-term rental license, or more from your state and/or local government. (Avalara MyLodgeTax can help you identify, obtain, and maintain what's needed for your property.)
2. Filing Periods
While many assume April is tax season across the board, the reality is that the timing around vacation rental tax filing can depend on your tax registration, the types of taxes you must collect, and regulations enforced by state and/or local jurisdictions. Our Tax Team says some homeowners need to collect and remit lodging or sales taxes annually, but others must do so on a quarterly or even monthly basis. It's important to understand what your personal tax calendar looks like to ensure you hit the appropriate deadlines and establish a well-oiled system for remittance.
3. Taxable Fees and Charges
Are cleaning fees subject to tax? What about pet fees, extra guest charges, parking costs? No plot twist here: taxable fees and charges differ depending on your property's location.It's typical to find standard cleaning fees and nightly rates taxable, but less universally-applicable charges like pet or parking fees might not be. That's why, once again, it's important to be clear on your local laws so you can charge the correct rates (more on that below).
How Do I Collect Vacation Rental Taxes From Guests?
Once you've worked out the lodging and/or sales tax rates, filing periods, and taxable charges for your property, it's time to start collecting vacation rental taxes from guests. Here's a step-by-step guide for getting organized so you can accurately fulfill all requirements.
1. Get Your Paperwork in Order
Apply or register for the licenses and permits you need with your state and local governments. Organize a calendar for filing period reminders, and create a centralized location to keep track of tax records.
2. Collect on Each Booking
In addition to charging standard nightly rates and fees, our Tax Team says an appropriate tax rate should be applied as an added percentage on a guest's payment. In your financial records, it's important to keep the tax rates you charged clearly marked as a separate line item, so it's easier to calculate totals at the end of a filing period.
3. File and Pay
Whether you have to file vacation rental taxes monthly, quarterly, or annually, stay on top of deadlines. With a clear understanding of your jurisdiction's expectations, this part of your process should become operationally streamlined.
4. Renew Licenses When Necessary
Most licenses and permits have expiration dates — our Tax Team notes some jurisdictions require renewal on an annual basis, while others have multi-year terms — so make note of any corresponding deadlines, along with any updated stipulations for eligibility. (Some state and local governments send reminders ahead of time; others may not.) Renewal is ultimately the responsibility of the homeowner, so mark your calendar with enough leeway to ensure you remain in compliance.
Are There Applicable Deductions or Exemptions?
Great news: you are allowed to claim deductions on your federal and/or state income tax. Homeowners can write off expenses like mortgage interest, travel costs, and the maintenance fees of home improvements. Familiarize yourself with all of your deduction options before you file income tax returns.
Vacation rental taxes, however, are a different story. Our Tax Team says there are typically no deductions applicable to the tax you charge guests and then remit on state or local levels. But there may be exemptions available based on a longer length of stay by your guest. 
Same goes for business taxes: while there are typically no exemptions available, deductions may or may not be possible.
The grey area of it all is why — and we really can't emphasize this enough — it's best to consult with a tax professional to understand your options further.
Get Organized with Evolve
Understanding the complexities of vacation rental tax rules is quite the undertaking, and there's a lot a homeowner is responsible for keeping track of. That's why, first and foremost, we recommend utilizing the Avalara MyLodgeTax tool for guidance, and/or hiring a tax professional who can help you master the details.
To learn more about other strategies that help transform homeowners into vacation rental superstars, grab a copy of our comprehensive Success Guide below. It has all the expert insights you need, from creating the perfect five-star guest experience to upping your profits year after year.