When you visit Hawaii's Big Island, you can stand at the base of waterfalls that tower above you. You can drink it all in as you walk the shoreline on beaches lapped by milky blue water. And when you're ready to wind down, you can look up into a sky of more stars than you've ever seen.
The Kona Coast is the drier side of the Big Island, made for serene beach days. Find a vacation home here and spend mornings sipping Kona coffee and evenings looking out over the shore. Here's how to make the most of your time in this tropical paradise.
Find Deep Relaxation on the Kona Coast's Beaches
Kona Coast is home to some of the most famous beaches in the world — from accessible white-sand beaches, to remote hideaways near lava fields that can only be reached with a winding drive. You can experience a unique coast made up of black sand at Punalu'u Beach. Beaches such as Kika'ua Point, located on a still lagoon, are great for families, while others, such as Kuki'o Beach, are home to resident sea turtles. Kua Bay Beach, also known as Manini'owali Beach, offers some of the most breathtaking white sands. Whichever Kona beach you choose, don't miss the sunset — this is the best part of the day to sit in the sand and take in the views.
Play in Perfect Waters Along the Kona Coast
Snorkeling in the Kona Coast is a good excuse to dip into the ocean and peer below its surface. Watch colorful fish dance at your feet at Kealakekua Bay, an underwater marine sanctuary known as one of the best places to go snorkeling in the islands. You can also see a monument to Captain Cook, who died here in 1779. The best snorkeling spots in the bay can be hard to reach unless you want to hike, kayak, or join a snorkeling tour. Honaunau Bay and Kahaluʻu Bay also offer exceptional snorkeling. Needless to say, the Kona Coast is a diver's paradise as well.
You can choose to either snorkel or dive for one of the Kona Coast's most iconic experiences: manta ray night dives. The manta rays, whose wingspans can reach up to 20 feet or more, are attracted to the light from divers' flashlights, and you can join them for a swim.
This side of the island is more protected from trade winds, which makes for calm waters, ideal for kayaking. It's a great way to go where bigger boats can't and experience the beauty of the Kona Coast up close, from black lava fields to quiet coves, pristine beaches, colorful coral reefs and green cliffs plunging into the ocean.
If you'd rather have someone else drive, a variety of boat tours are available, from whale-watching to deep-sea fishing, parasailing, and more.
Explore Kona's Rainbow Falls and Beyond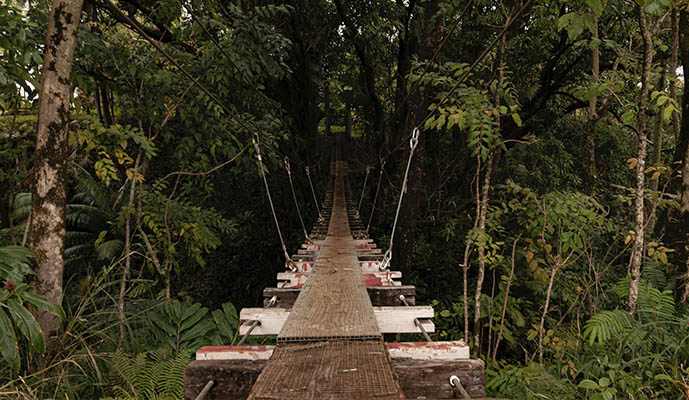 On the Big Island of Hawaii, waterfalls plummet down into crystal pools as rainbows reflect around them. You'll want to explore these natural wonders, but they are a bit of a drive as most of them are on the other side of the island (just under two hours away). Pack a lunch and make your way to Rainbow Falls, which is just a five minute drive from downtown Hilo. Akaka Falls State Park also makes for an incredible photo opp — be sure to snap this dramatic water feature from all angles. If you're feeling up to the adventure, find an adrenaline rush as you soar over a 250-foot waterfall on a Skyline Hawaii Adventure.
Embark on a Volcanic Adventure at Hawai'i Volcanoes National Park
The Big Island is home to the otherworldly Hawai'i Volcanoes National Park, which is a day trip from the Kona Coast. While there's not currently a lava flow, there's still so much to see at the park, including a cave-like lava tube you can walk in called Thurston Lava Tube. For a sweeping overview of the park, hop in the car and take Crater Rim Drive, with plenty of scenic stops along the way. When you're in need of a break, taste wine inspired by your surroundings at Volcano Winery.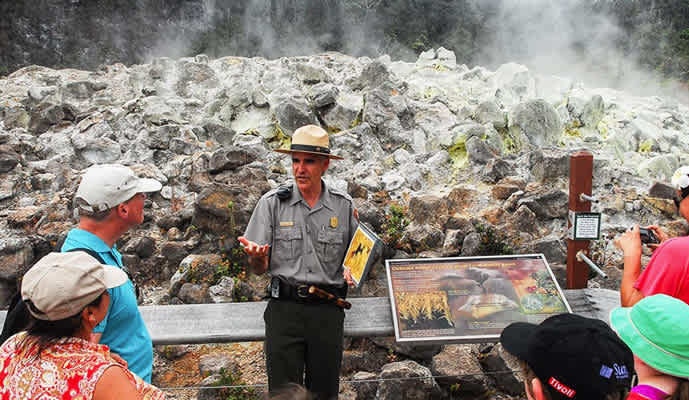 Drink Kona Coffee from the Source
Find new appreciation for your morning cup when you visit a Kona coffee plantation like Heavenly Hawaiian, where vibrant red coffee cherries line the lush green valley. Take a tour to pick up insights on the drying, processing, and roasting process. Then, enjoy a cup overlooking the scenery and feel the even, calm buzz this smooth brew brings. You'll come out of your afternoon with new expertise on how coffee is made, and hopefully a few bags to bring home — the showrooms sell bags of coffee varieties and local snacks like macadamia nuts.
Stargaze at the Mauna Kea Observatory
On the Big Island, you're an ocean away from light pollution, which makes for uninterrupted night skies. Make your way to the Mauna Kea Observatory, the highest point on the island. The Visitor's Information Center sits at 9,200 feet (below the summit of 14,000). You can park here, grab a snack, and let your eyes adjust to layers and layers of stars. Be sure to pay attention to the roads as you wind up the mountain — cows like to sit on the roads here at night.
Dive into Paradise with this Trip Planner
Whether you want to walk on a black sand beach, explore botanical gardens, or anything in between, you can find your own paradise on the Kona Coast. For more details on visiting, get The Hawaiian Islands Travel Planner.