Proof that travelers are choosing vacation rentals like never before.
Evolve Vacation Rental was founded nine years ago on the simple idea that renting private, clean, and fully-equipped homes is the best way to travel. All that was needed was a better approach to helping owners manage their homes and support their guests. Fast forward to today and travelers are agreeing wholeheartedly, booking Evolve homes at a furious pace as the country reopens for the summer.
It's not surprising that people would prefer private homes in response to an outbreak. What is surprising, though, is the speed of recovery. At our low point in March, no one would have predicted that trips would be up more than 700% by the end of May. In just two months, Evolve has moved from rock-bottom to a record-breaking volume of bookings.
As always, thank you to everyone on the front lines of the COVID-19 crisis and essential workers everywhere. Special thanks to the professional cleaning companies we work with every day to help keep our homes clean and our guests safe. We appreciate you and hope that the data below reinforces how vital your efforts are and how quickly we all may recover from this crisis.
All-time booking records shattered in May
As April ended, we saw promising growth in traveler inquiries and gross bookings while cancellations continued to decrease. The May numbers leave no doubt that we've turned it around, at least for the foreseeable future.
Traveler inquiries have stayed elevated throughout the month of May. It's no surprise based on the growth in demand, but the acceleration has been challenging. We're already shifting some of our existing team members to help with traveler inquiries and will be adding new hires to traveler and guest teams so we can help everyone as quickly as possible.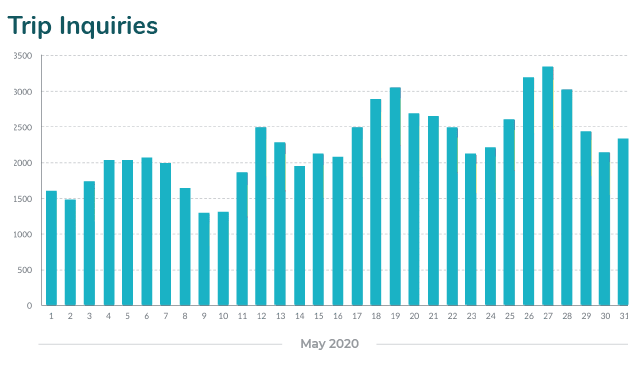 We've already broken the all-time record for gross bookings in a week by more than 25% and every week builds on the previous success. Our peak was May 15 when bookings were up 218% compared to the same date last year.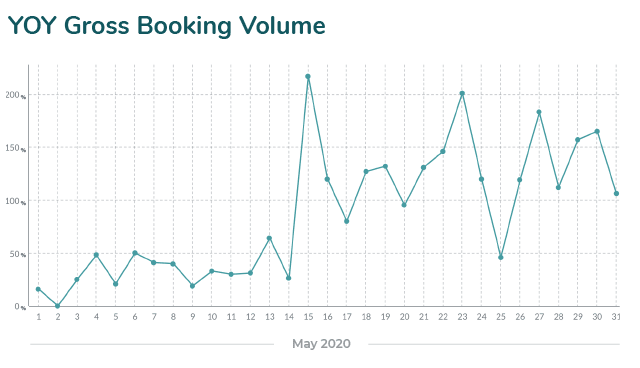 As cancellations continue to decline (especially for trips booked after March 14, which are at normal cancellation levels), we expect more records to be broken as summer bookings increase.
And the bookings are widespread, as we see a huge increase in bookings per property overall compared to the same time frame last year. We're now seeing twice as many bookings per property as we did at this time in 2019.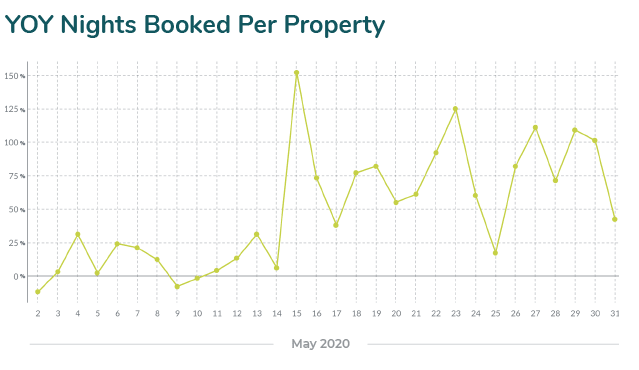 Best of all, average daily rates for Evolve homes are actually up 3% compared to a year ago. As we tell all of our new owners, higher rates follow higher demand; this trend happily proves it.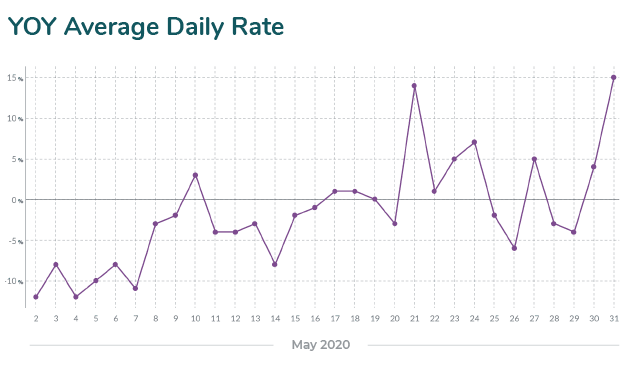 More trips, less time: How behaviors are changing
The other clear changes we've seen are the length of time before booking and the length of the stay. Basically, travelers are booking shorter stays in a more last-minute fashion.
Shorter booking windows may be due to simple cabin fever as people are allowed to finally venture out after staying at home. Also, a lot of uncertainty surrounds the opening of the country, so travelers may not want to book too far ahead and, as a result, are asking for more flexibility for canceling and/or changing plans than ever before. Part of the trend is seasonal, too, but overall the average booking window continues to drop and is already 45% shorter than it was in 2019.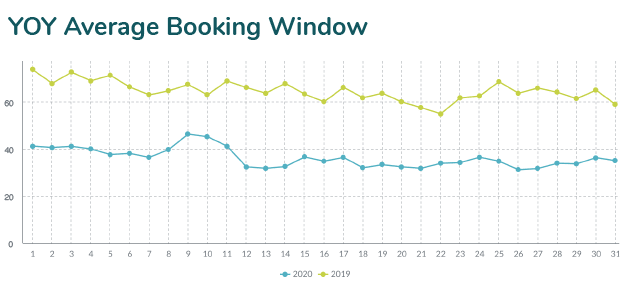 The reasons for shorter stays are less clear. We've all heard of city dwellers escaping for long-term sheltering, but the trend we're seeing supports shorter stays than usual.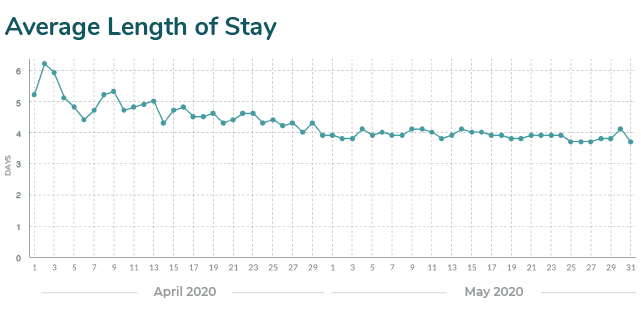 Lastly, cancellations are finally stabilizing. As we mentioned earlier, trips booked after March 14 (with full awareness of COVID-related restrictions being implemented), have been at relatively normal rates for a while, but cancellations of trips booked before March 14 are still elevated. Overall, our average cancellation rate is now around 30% which is still higher than normal, but it's a far cry from March's punishing 80%+ cancellation rates.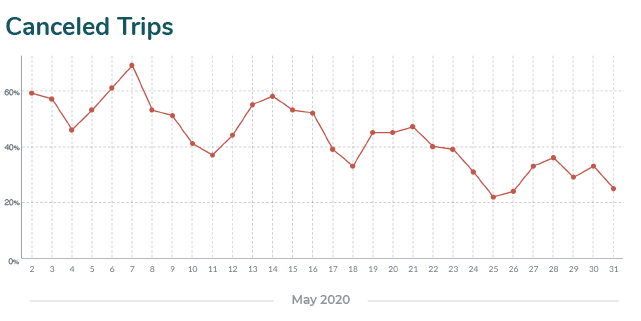 What's next? How Evolve is taking action
It's clear now that our focus on offering only fully-equipped, private vacation homes will speed recovery for our owners in the second half of the year. Here are some of the ways we're helping:
With a spike in last-minute demand, we're still asking owners to opt-in to next day bookings (where allowed and appropriate). This policy change has been an instant success with more than 1,000 next-day trips booked in May.
To address the spike in demand, we're shifting more existing staff toward traveler and guest inquiries and hiring more team members to increase our capacity.
We continue to use our proprietary SmartRates technology to monitor and instantly adjust to ever-changing circumstances in any given area. As demand returns, owners should begin to notice a steady increase in their nightly rates.
To say that our company has been stress-testing over the last few months would be an understatement. But the late April to May time frame has shown that our business strategy is the right one. More than ever, people want to escape to private, professionally cleaned homes that are fully-equipped for their stay. And everyone at Evolve is still working every day from their homes to make that happen for our owners and guests.
If you're an existing Evolve owner, rest easy knowing that we're proactively working on your behalf to make the most of this surge in demand. If you're thinking about partnering with Evolve and have questions about this or any other aspect of managing your rental property, feel free to schedule a call with one of our Vacation Rental Advisors to learn more. There's no pressure at all and we genuinely want to help you if we can.
Stay well and let's take care of each other.