As a short-term rental management company (and not just a short-term rental listing site), Evolve Vacation Rental is uniquely positioned to understand how both owners and guests are doing in this crazy time. The last four months have been a learning experience, to say the least, and we're happy to share what we've learned each step of the way with these updates.
The short story is that volume of inquiries and bookings in June stayed extremely elevated, causing some delays in response time. On the other hand, the record-breaking weeks we've had mean we're still outpacing 2019 performance overall. We've created demand for our properties, raised rates, and more owners are benefiting. Here are the biggest takeaways from June for Evolve homeowners.
1. Despite the cancellation crush, booking value is outpacing 2019
The quick recovery in our category has been fortunate–and necessary. Many of our homeowners rely on their vacation rentals for income and couldn't afford to have a depressed summer. So while early spring was an unpredictable and harrowing time, the continued rise in demand means that gross booking value for our properties is now 60% higher than last year.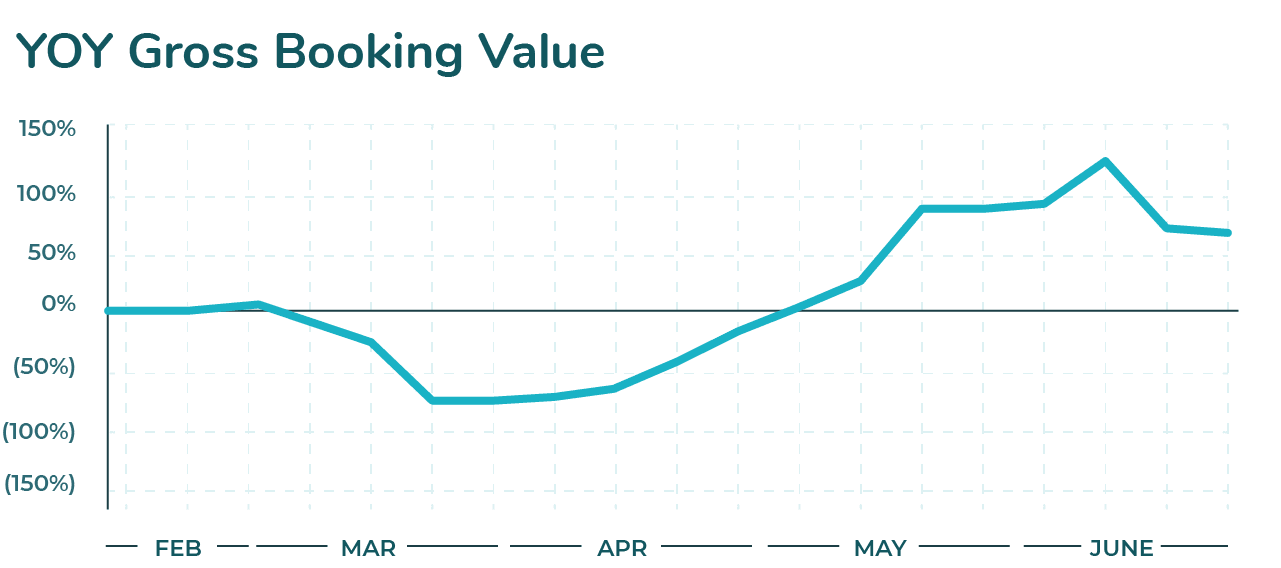 That kind of activity is more than the simple desire travelers have for private, professionally cleaned homes. It also speaks to our brand promise, our pricing strategy, and our strong relationships with our partners like Airbnb, Vrbo, and Booking.com. Everything we do for our owners, we do for ALL of our owners, so everybody wins.
2. Our SmartRates strategy has raised average rates for our homes
When it comes to short-term rental income, rates follow demand. The idea is that you'll be more successful in the long run if your listing performs well on the top marketplaces. More bookings equal better online rankings for your property listing, which in turn attracts even more bookings. Eventually, you can raise your rates to take full advantage of that demand.
The past few months have proven this beyond a doubt. We lowered rates to attract whatever bookings we could, then once the bookings started coming in, we knew our properties would be ranked higher. Eventually, we could charge higher rates based on the popularity of our listings. The biggest enabler of that strategy is SmartRates. The biggest enabler of that strategy is SmartRates and we do a deeper dive into our unique approach here.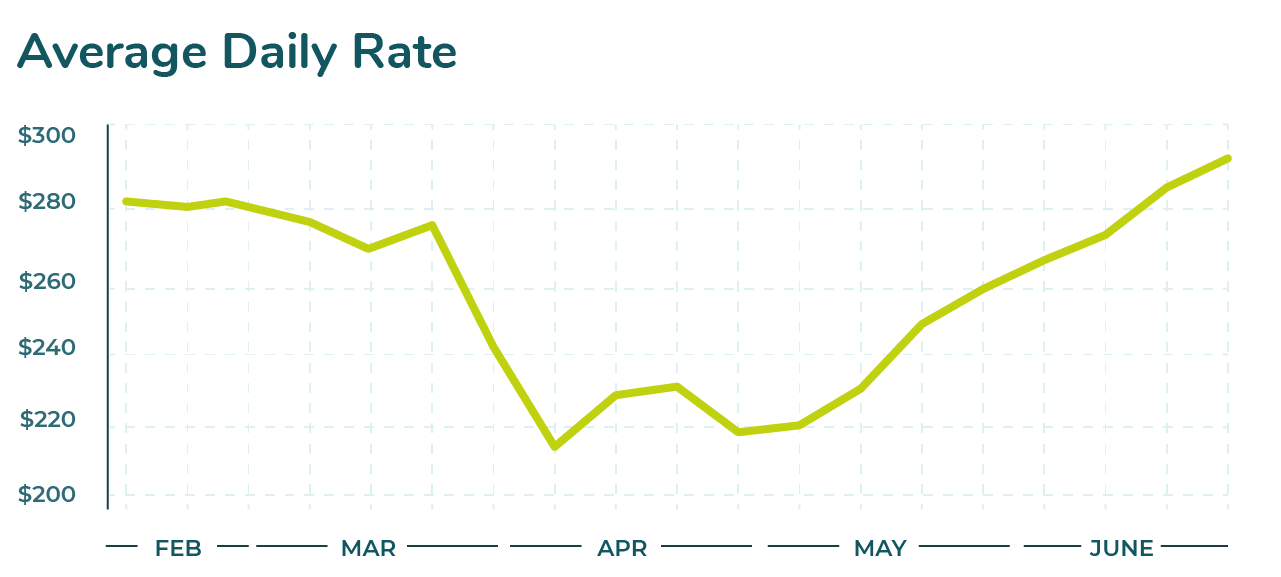 As you can see, we ended the month with average daily rates for our homes up 17% compared to last year. While SmartRates can look confusing on a day-to-day basis since pricing constantly changes, it's all in service of building enough booking momentum to justify higher daily rates. As you can see from the consistent increase in June rates, it works.
3. 10,000 check-ins in one week with no end in sight
Eventually, all of those earlier bookings in late April/May were going to turn up in our data as check-ins and stays. It looks like that time has arrived.
Toward the end of the month, more than 10,000 guests checked in to Evolve properties, the most ever. Usually, the weekend before a holiday weekend is slower, but this year the weekend before July 4th is just as busy as the holiday weekend. Clearly, more and more guests are arriving to Evolve homes ready for a stress-free summer escape, thanks to the combined efforts of Evolve, our homeowners, and our cleaning partners.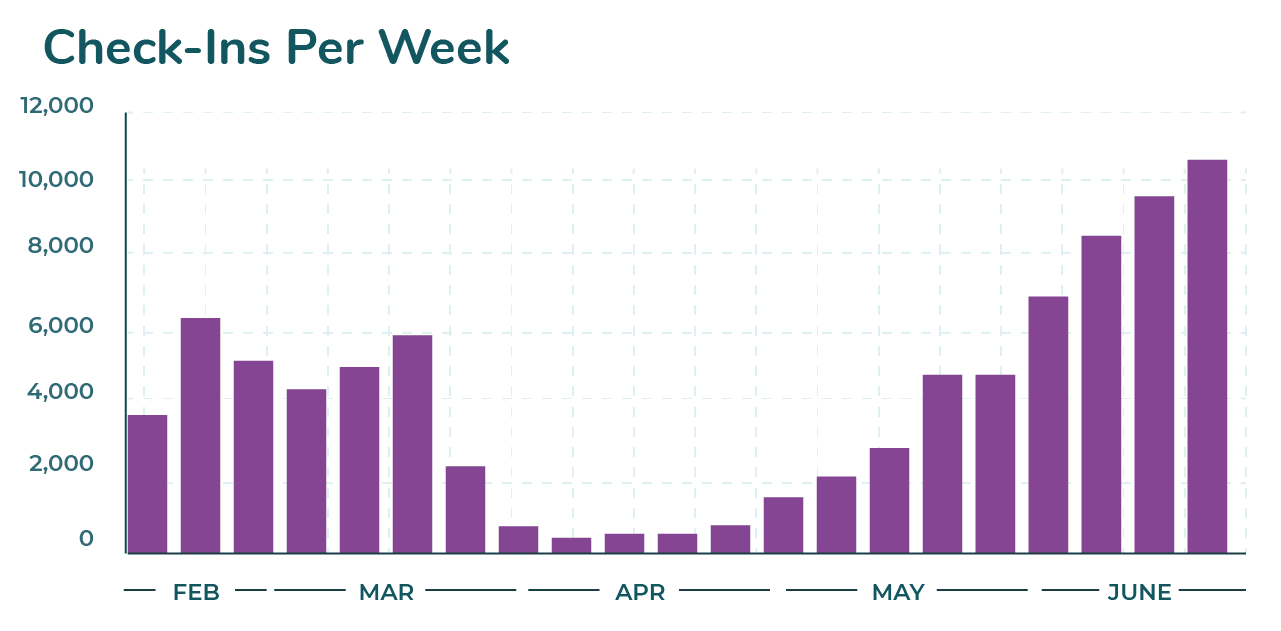 Even better, we see the demand for our homes in summer 2020 already exceeding the summer of 2019 right through the end of August. This is more than a single month bump. This is the summer, depending on circumstances related to COVID-19.
Yes, there is good news. But we know we have more to do.
While we're grateful for our current business successes, we know that we've fallen short on service. Even beyond the complete cratering of demand for short-term rentals in March, cancellations are still up 500% and we're fielding significantly more inquiries per booking as guests try to better understand the homes and areas they want to visit. None of this is an excuse; it simply illustrates how even a swift recovery can be challenging.
This crisis has shown us how we can do better in the short-term—growing our teams, more automation in our systems, etc.—but also in the long run. We're committed to not only solving today's service problems, but to building a better company that can truly live up to our mission to make vacation rental easy, no matter the circumstances.
If you're an existing Evolve owner, know that we're proactively working on your behalf to make the most of this surge in demand. If you're thinking about partnering with Evolve and have questions about this or any other aspect of managing your rental property, feel free to schedule a call with one of our Vacation Rental Advisors to learn more. There's no pressure at all and we genuinely want to help you if we can.
Stay well and let's take care of each other.