Real estate is an ever-popular — and largely safe — investment route.
While buyers have options around what type of investment property they'd like to own (long-term versus short-term rental is a common question second homeowners ask), recent traveler trends suggest investing in vacation rentals is the clear frontrunner for earning more income.
In the wake of the coronavirus pandemic, travelers are getting back on the road in staggering numbers. And in a recent survey of over 8,000 travelers, 82% of participants said they plan to book a vacation rental for their 2023 adventures.   
Experts also believe these new traveler preferences are here to stay, making short-term rental an impressive investment in the long run.
That said, breaking into the market might be a fleeting opportunity. With demand exploding, competition among investors is growing, too — and inventory is waning.
"You'll have to get in now or risk not getting in at all," says Louis Olds, Evolve's senior manager of Real Estate Services.
If you're still unsure about the opportunity, here are six major benefits to investing in vacation rentals that underscore exactly why it's your best option as a homebuyer.
1. Vacation Rental Creates Unmatched Income Potential
Not only is the vacation rental industry showing unprecedented income opportunity right now, but it's also always boasted what our Real Estate Services (RES) experts consider a "high-reward profile."
Most investors look at cap rate — the ratio between a property's net income and its market value — as a key measure of success, because it indicates return on investment. Our RES team says long-term rental cap rates can hover around an average of 4 to 5 percent in metro markets (where investors are typically drawn), but short-term rental cap rates can frequently come in at 10% or higher. (In hot markets like the Poconos, for example, a whopping 14% cap rates isn't out of the question.)
This means your ceiling for profitability is significantly higher when investing in vacation rentals than it is with other property options — opening up the chance for a whole lot more money to land in your pocket.
2. Market Opportunity Is Vast and Varied
While finding success in long-term rental generally requires a purchase near a major metro area, homeowners can find vacation rentals with major profit potential in virtually any market. (Evolve owners, for example, are successfully doing business in over 700 destinations across the U.S.)
And since vacationers' favorite travel locations are scattered in every corner from coast to coast, that means your scope of opportunity extends into more areas, wider price ranges, and bigger profit margins.
So whether you're interested in beachfront property, a ski rental, or a cozy cabin, you're absolutely spoiled for choice.
3. Owning Vacation Rental Property Offsets Homeowner Costs
Creating sizable revenue streams and growing an income property portfolio are the main investment goals for many second homeowners. But there's also massive value, particularly for first-timers, in offsetting homeowner expenses from the start.
From mortgage payments and utilities to insurance fees and maintenance costs, solid rental income can cover monthly expenses and help your home pay for itself in a shorter time frame. Vacation rental owners are also eligible for certain tax deductions, which could help close the gap between income and expenses.
Bonus benefit: partnering with a vacation rental management company that has especially low fees (ahem, hi there) helps owners break even and start earning profit faster, because you'll streamline the process and gain access to professional resources at a fraction of the cost.
4. Five-Star Hospitality Drives Even More Revenue
The best part about investing in vacation rentals is that great guest feedback makes your home more lucrative over time.
When new listings hit the marketplaces, they have to compete with established competitors for visibility and bookings. But the more five-star experiences you deliver, the more sites like Airbnb and Vrbo will show your property to browsing travelers — making it more likely you'll earn additional income.
Second-to-none hospitality standards also allow you to raise your nightly rates, increasing your profit margins on any given stay as you establish the value and superiority of your vacation rental.
5. Your Investment Property Can Serve Dual Purposes
Unlike long-term rental investments, a vacation rental is a place where you, the owner, can also escape. It gives you the luxury of carving out time to spend with family and friends, or to switch up your work-from-home space.
In other words, you earn rental income to boost profits when you're not there, but then save money when you'd like a change of scenery or time off.
6. Your Home Appreciates in Value
As with all good real estate investments, you can expect your vacation rental's market value to appreciate over time. So if and when you become ready to sell, you'd likely earn more than the previous owners did when you purchased it.
Take the Next Step Toward Investing in Vacation Rental
Getting started might feel like a big undertaking. From how much you can afford to what style and location of home you're after, there are a number of questions to answer.
And once you've actually closed on a home, there are a ton of components to vacation rental management you'll need to start thinking about for long-term success.
That's why we've put together a ton of resources to help you achieve your investment goals:
• Peek at our list best places to buy a vacation rental and our Vacation Rental Performance Reports to help find the exact right market for you.

• Explore our listings for sale page to look into buying a vacation rental that's already proven to be successful.

• Use our vacation rental income calculator to understand all your income and expense variables, and confidently estimate your property's success.
But above all else, remember that our real estate service experts are here to guide you. If you have questions about investing in vacation rentals or want to learn more about the process, our consultative approach can help you get the ball rolling with ease.
We'll partner with you on defining your personal and financial goals, and take the stressful parts of the process off your plate — like choosing the right market and local real estate agent — so you can move right into a thriving vacation rental business.
When you're first starting out as a vacation rental owner, there's one big question: how much money can I expect to make?
Short-term rental properties can give second homeowners solid revenue returns, and are often more profitable than long-term rentals. But that additional income doesn't come without costs. From vacation rental taxes and insurance to cleaning and management fees, it's important to factor a number of expenses into your income calculations to help paint an accurate picture of your home's profit potential.
That's where our vacation rental income calculator comes in. Simply plug in your monthly revenue and expenses below, then watch our tool automatically churn out an annual income estimate — all factors considered.
Not sure where to pull all those numbers? Take a peek below our tool to understand your income and expense variables in more detail, and check out our bonus resources that can help you make confident estimates.
Your Income Variables, Explained
The first step in accurately predicting income? Defining each term properly. Here's a quick-reference glossary of what each variable used in our vacation rental income calculator means.
Nightly Rate
Avg rate you expect to charge/night
Nights Booked
Avg # of nights you expect to book/month
Mortgage
Your monthly mortgage payment
Utilities
Monthly costs for heat/hot water, electricity/AC, wifi & cable
Insurance & Property Taxes
Monthly costs for homeowners insurance, liability insurance & property protection plan + your state's property tax rate

Other Expenses
Monthly sum of HOA & maintenance costs + avg cost of stocking/upgrading your short-term rental
Management Costs
Monthly % of income set aside for management/marketing fees (dependent on how you choose to run your property)
Understanding Income and Expenses
Let's be real: calculating an accurate income for your investment property can be confusing. Certain elements — like mortgage and utility payments — have fairly standard numerical values you can enter into the calculator without much math. But other components require more contextual consideration, so let's walk through each step of the process in more detail.
Step 1: Calculating Monthly Revenue
To accurately estimate nightly rate and expected nights booked, it's important to understand the current market in your area.
The good news: we've analyzed thousands of listings across North America to aggregate the most influential performance metrics for you. From nightly rate and nights booked to average lengths of stay and prime booking windows throughout the year, all of the results can be found in our library of vacation rental market analyses. Each gives you a data-backed gauge of how direct competition performs — and, in turn, how much you can expect to charge and book.
You can pull the nightly rate and nights booked averages from those performance reports, then plug them into the vacation rental income calculator above to provide a solid foundation for estimating monthly income (and, ultimately, overall revenue).
But owners who work with Evolve also get the benefit of our proprietary SmartRates algorithm. It adjusts dynamically each night to guarantee your home always paces alongside rival listings — and outperforms in the long run. Case in point: SmartRates has earned our owners 24% more than traditionally-static pricing methods!
Step 2: Calculating Monthly Expenses
From taxes to marketing fees, your expense estimate relies heavily on custom quotes and individual choices.
First, add up the monthly costs of your different types of insurance — like homeowners insurance, liability insurance, and a property protection plan. (Evolve owners are automatically covered for accidental damages with our Property Protection Plus program.)
Then comes property taxes. How they're applied varies by state, so be aware of your particular municipal requirements. If you're not sure, you can plug your rental property's address into this complimentary tool to receive the right rate.
Once you have an estimate for both, combine the numbers and enter the sum into our vacation rental income calculator.
Next, input your monthly mortgage payment and utilities.
To incorporate what we've deemed other expenses, first combine monthly HOA and maintenance costs, cleaning fees, and the average expense of keeping your short-term rental well-stocked for guests.
If you need to make furniture or decor upgrades, put a price to those overarching updates and divide by 12 before adding to your total monthly view of those additional expenses.
Finally, there are management costs to consider. This figure will look different depending on how you choose to run your vacation rental.
If you run a vacation rental without any help:
Select the "I plan to manage my property on my own" option in our vacation rental income calculator
Add up the varying percentage costs of the marketing fees for the marketplaces you plan to use (listed below)
Move the marketing fee slider to match the sum of those percentage fees
If you use a property manager:
Select the "I plan to hire a manager" option in our vacation rental income calculator
Slide the bar to account for an average 30-50% fee
If you use Evolve as your property manager (P.S. we list your home on all the top short-term rental marketplaces at no additional cost):
Select the "I plan to hire a manger" option in our vacation rental income calculator
Slide the bar to our industry-low 10% fee
Maximize Your Income Potential with Evolve
Between the steep fees of traditional property managers and the overwhelming responsibility of a DIY approach, it's hard to strike a cost-benefit balance that guarantees your success. At least, it was until Evolve came into the picture.

For an industry-low management fee (that's backed by our Risk-Free Guarantee), we'll apply a data-proven marketing and booking strategy to your vacation rental, boosting your revenue potential while keeping costs (and stress levels) down.

See if you qualify or call one of our Vacation Rental Advisors today to learn more at 877.881.7584.
Digital nomads, rejoice: Work and play no longer have to be separate. While you're still remote, get some fresh air without using all of your vacation days. Switching up your routine a little can inspire new thinking and deepen your focus — all while you enjoy all the luxuries of vacation on your off-time.
Ready to get out of the house? Pick one of these places based on how you like to feel at work and change up the scenery.
Bust Stress: Vacation Rentals with a Pool
Make your co-workers jealous by joining the company meeting poolside. Lounge in the sun while you knock projects off your list, then enjoy a crisp plunge in the water. Bonus: all of our homes are vetted in person, which means these pools are as good as they look.
Private Swimmer's Paradise in Goodyear, AZ
Soak in the desert sun from this Goodyear home with a resort-style hot tub and pool combo. Work on your tan while you work from the sprawling patio, complete with a fully shaded outdoor area. The interior's open layout and farmhouse furnishings are so beautiful that you'll want to stay in and make meals at home — but when you're ready to get out, grab ice cream at The Frozen Monkey and take a stroll around South Lake Park.
Palatial Luxury Home In Homestead, FL
If you're feeling fancy, this Florida short-term rental is like stepping into a palace you can call your own. Here, 6,500 square feet of space is yours — meaning you can find a new place to work remotely every day. Sit al fresco in the expansive outdoor cabana or lounge by the palm tree-lined pool worthy of a magazine shoot. On weekends, day trip to the Florida Keys or take it easy with a bottle of local wine from Schnebly Winery.
Modern Poolside Oasis In Austin, TX
The moment you set your bag down, the cerulean waters of this backyard pool will invite you to take a dip. Catch up with your group beneath the pergola, then swim laps in this sophisticated marvel as the sun goes down. Enormous windows let the light in here and make it feel like you're by the pool, even when you're hard at work inside. When you need to get out, experience the big city feeling by taking a walk through downtown Austin.
Honorable Mentions: Enjoy views of your own private lake and private pool at this luxurious vacation rental in Norman, OK, visit this meticulously decorated home with its own mini golf putting green and awe-inspiring pool in the Coachella Valley, or swim by day, stream movies in the home theater by night from this Pigeon Forge vacation rental.
Get Energized: Vacation Rentals With A Gym
Exercise helps mental health and increases productivity — and companies are encouraging their teams to work out more than ever. These vacation rentals are perfect for a getaway that blends work-life balance, with a home gym to break up your day.
Enchanting Log Cabin In Sonoma County, CA
Redwoods and red wine are waiting for you in Sonoma County. This charming cabin is the place to go glamping in the woods while still keeping a wi-fi signal. Nature is your gym here in a home that's surrounded by trails and a few minutes from the beach, but if you want a more traditional place to exercise, hit the cabin's small home gym. After a long work week, hop in the car, soak in ocean views, and savor wines from famous vineyards.
Private Forest Mansion In Acworth, GA
Turn your workday into a fairytale at this welcoming Acworth mansion, complete with a pool and its own movie theater. Take your lunch break in the home gym, catch up on emails from the gazebo, and toast to the day by the outdoor fire pit once five o'clock hits. There are so many ways to clear your head — whether it's playing billiards, or cooking a meal for your group and enjoying it in the sprawling dining areas.
Honorable Mentions: This budget-friendly vacation home in Glendale, AZ offers all the perks of a private resort, including a pool and a putting green. Or, go big and work remotely from this enormous vacation home sitting over the lake in Kaiser, MO. You can also sit out by your own private creek and access some of Colorado's most pristine trails from this home amid the treetops in Evergreen, CO.
Find Quiet: Vacation Rentals with an Office
Evolve only rents homes with private entrances, which means that every place on our site is perfect for finding focus. But if you're looking for a getaway where you can separate your 9-5 from your night of relaxation, these picks come with a home office and the bliss of complete quiet.
Enormous Retreat In Erie, CO
This vacation rental is made for remote work retreats with multiple offices, plenty of separate seating areas, and a boardroom-style table. Travel with friends and tackle the workday separately from your own private spaces, then reconnect over a game night in the living room. Wind down while strolling downtown Boulder (just a short drive away) with the Flatiron mountains as your backdrop.
Upscale Cabin In Show Low, AZ
Enjoy a life of luxury from this scenic cabin equipped with its own lofted office for working remotely. Catch up about the day around the outdoor fire pit or sip wine on the sprawling wood patio immersed in the forest. If you feel like getting outside, explore the easy Show Low Bluff Trail on foot or spend a leisurely day fishing at Fool Hollow Lake.
Honorable Mention: Work remotely from this vacation rental in Fairplay, CO, and enjoy a cozy, log cabin exterior with a clean, modern interior.
Cozy Up: Vacation Rentals with a Fireplace
Good books are meant to be enjoyed next to a crackling fireplace. After a long day at the (virtual) office, sink into the couch at one of these places and find your cozy. All you need to bring is hot cider and groceries — each of our homes comes fully equipped with all the amenities you need to stay in for the night.
Dreamy Dome House In Idyllwild, CA
Hit the road and head to Idyllwild, which sits in California's San Jacinto mountains. Pets are welcome at this airy dome house that's a theater to thousands of night stars. Once you've closed up your laptop for the day, hit the trails at Mount San Jacinto State Park, then bring home a mountain pie to share from Idyllwild Pizza.
Spacious Modern Hideaway In Incline Village, NV
Rise to the sound of trees rustling out this bright property filled with natural light. Kick your feet up in the loft to get some focus, then spend happy hour in the hot tub before cooking up a feast in the gorgeous, modern kitchen. When you're ready for fresh air, take an evening bike ride along Lake Tahoe, or just sit out and enjoy the lake.
Cabin In Breckenridge, CO
Breckenridge is an outdoor paradise — and this enormous cabin that sleeps 14 is just the place to enjoy it. Take your calls from the quiet porch, indulge in a midday break to shoot some hoops in the in-home basketball court, and wind down by the fire after an evening of exploring the area's sites. Window shop along Main Street and grab takeout, or find a hike like Hoosier Pass you can do as the sun goes down over the mountain.
Honorable Mentions: Sip a nightcap on a porch overlooking the creek at this vacation home in Frisco, CO, or soak your bones in the hot tub surrounded by trees in this Alto, New Mexico cabin.
Fuel Creativity: Vacation Rentals with a View
Get some new perspective on what you're working on from one of these places with a view. Find yourself thinking in new ways as you walk along the beach or sit out on the lake, free to let your mind wander. Just be sure to bring a notepad with you as you roam these houses for the moment a great idea strikes.
Hilltop Haven In Bay City, OR
If you've ever had the dream of looking out to the shoreline from a hot tub, this is just the place for you. This hilltop home in the Pacific Northwest is a destination for remote work, with several cozy seating areas, an unbelievable porch view looking over the coast, and a hot tub where you can dip and drink it all in. After work, take a scenic, slow drive along the Tillamook Bay and end the evening with scoops at the iconic Tillamook Creamery.
Lakeview Retreat In Albion, MI
A lake with a private dock is yours at this calming escape in Albion, MI. This home is filled with windows so you never miss the view, even when you're inside. There are so many places to work at this home on the golf course — whenever you need some fresh thinking, just pick a new room. The spacious kitchen opens right up into the living room, so you can share stories as you prepare the dinner to share. Days off can be spent on the course, dipping in the lake, or curling up next to a roaring fire while keeping the view.
Beachfront Home In Topsail Beach, NC
Creativity is often sparked by a long walk, and here, you can take that walk out on the beach. Sit out on one of the two decks facing the waves, then step out onto the sand when you need a break. Sunsets here look like a postcard, and you can enjoy them from a bright, cheerful house that is decorated to feel like vacation in every room. Spend the weekend grilling up porch on the outdoor barbecue and catching up your beach read in the pristine sand.
Honorable Mentions: Get out into the mountains at this Jefferson, CO cabin with a verdant view of the mountains and its own game room and treehouse. Or, book this cheerful beachfront home in New Smyrna Beach, FL with ocean access and take your morning coffee in the sand.
Enjoy the freedom to work remotely from a vacation rental anywhere, with all the comforts of home. Find your perfect place to get some fresh air and rest easy knowing that it'll be professionally cleaned and ready for your arrival.
"Aren't you just like Airbnb and Vrbo?"

We get that question a lot from people who haven't worked with us yet. It's easy to see why. We're all in the same industry, short-term property rentals. You can find and book great properties on our website or on theirs. And the fact that every Evolve property appears on Airbnb, Vrbo, and other online marketplaces just adds a little more to the confusion.
So let's clear things up and outline exactly how Evolve is NOT Airbnb, Vrbo, HomeAway, TripAdvisor, or any other online marketplace.
They're Marketplaces, We're a Management Company
Airbnb, Vrbo, and similar websites are online "marketplaces" where guests find properties and homeowners find guests. Essentially, they act as a distribution channel for owners or property managers, attracting potential guests to their website but leaving the management of the properties and listings to the owners (or whoever is representing the property) themselves.

Evolve is a vacation rental management company. That means we actively manage our properties on behalf of our owners, ensuring maximum bookings and eliminating the stress of the traditional vacation rental process.

Here's where it gets interesting. Evolve is a BIG customer of the online marketplaces. We have more than 16,000 properties listed on their sites, and we constantly implement cutting-edge strategies to make sure our owners' homes are positioned for maximum traffic and bookings.

Behind the scenes, we have teams of specialists working on the hardest parts of managing a vacation rental: marketing, booking, and customer service. Our teams do everything from creating search-topping property listings to dynamically setting rates to answering guest questions and asking for online reviews. We even hire professional photographers at no cost to owners to show each property in the best possible light.

As a result of our approach, Evolve properties outperform most others on the online marketplaces. So we don't compete with Airbnb, Vrbo and the rest. We work with them–and everybody wins.
Our Homes Are Different, Too: Always Perfect for Vacation
Unlike most marketplaces, we don't offer home sharing, extended stays, campsites, trailers, or other mobile structures. Each Evolve property has its own entrance and kitchen (typically a house or condominium). A lot of Evolve guests appreciate having the comforts of home when they travel, and our properties reflect that.
We take even more guesswork out of vacation rental by making sure our properties meet our four core standards. We believe guests simply won't have the experience they're looking for unless the property they've booked is:
Safe
Clean
Exactly as advertised
Ready for guests upon arrival
By focusing on properties ideally suited for vacationing and making sure each one lives up to our standards, we're building a brand that guests can trust to have the time of their lives.
A Different Experience for Owners and Guests
Since Airbnb, Vrbo, and the like don't handle property management, homeowners have traditionally been forced to either hire a local company to do it or fend for themselves. Evolve is different.

We give homeowners performance-focused marketing and booking support, plus the flexibility to choose their own partner(s) to clean the property and greet guests. Evolve handles all guest inquiries, bookings, and pre-stay communications. We can also connect owners with hundreds of vetted partners nationwide that can handle cleaning and guests.

With Evolve's help, every guest enjoys a booking experience that feels as professional as the world's top hospitality brands. We handle all inquiries directly, resolve guest and owners questions, and communicate directly with cleaners to ensure the property is ready for every guest. Our unique approach makes vacation rental actually feel like vacation for owners and guests.

So We're Not Airbnb or Vrbo, But We're All Friends
Once you work with Evolve, you quickly discover the difference between our service and all of the others. Soon you'll book — and earn — more for an industry-low fee that's backed by an unmatched Risk-Free Guarantee.

Owners should be able to relax, trusting that their property is living up to its potential. And guests should be able to relax with an experience that feels like a big hospitality brand. That's the Evolve difference.

Learn more about Evolve and how we can help you find success with Airbnb, Vrbo, and other online marketplaces.
Your Free Welcome Book Template Is Here!
Sure, your property listing covers a lot of info about your home — but guests will still have some questions when they arrive. Like, which local coffee shop has the best ambiance? What's that one trick to getting the dishwasher started? How should they handle check-out?
Your welcome book is the perfect place to answer common questions, and it's also one of the most searched for vacation rental amenities. By providing essential info up front, you can free guests from encountering snags during their stay.
We think that putting together this important resource should feel easy — which is why we made you a free welcome book template. All you have to do is download it and plug in your home's info!
Why Make a Welcome Book?
Welcome books have a big impact on your guests' experience. Here are some reasons to block off a few minutes and fill in this template.
Welcome Books Help Others Navigate Your Rental Property and Treat It the Right Way
Guests want to know how to watch a movie at night or adjust the temperature in your house. Giving them a resource on how to get comfortable living in your rental is sure to make their vacation stress-free for both of you.
Welcome Books Provide Local Highlights and a Sense of Your Personality
The reason many guests book vacation rental properties is to immerse themselves in the location. Recommending restaurants, coffee shops, stores, and more can turn a good trip into the best trip ever. Lead your guests to the most delicious slice in town — or teach them how to avoid crowds at a local attraction — and they'll want to book with you again in the future.
Welcome Books Show Guests That You Care
Your advice on how to make the most of your property gives guests the friendly engagement they're looking for. It also protects their personal space and privacy by providing valuable information without requiring personal interaction.
Welcome Books Help You Get Great Reviews
Your guests are likely to reward your thoughtfulness in their reviews. Even better, you or your guest contact may get fewer questions during their stay, and you'll be sending new customers to your favorite local shops and restaurants, ensuring they thrive!
Sounds pretty great, right? But where should you start?
What to Include in Your Welcome Book
From a friendly "hello" letter to your home's policies, these are the sections you'll need to put together the most useful welcome book.
A Personal Welcome Note
Guests who choose vacation rental are looking for a unique home with a real person behind it. Writing a note to personally welcome them to your property is another way to separate yourself from a hotel — and reinforce their decision to stay with you.
Helpful Local Contacts
Make sure your welcome book provides at least one name, telephone number, and email for a local contact near your property. This person can be you, a local property manager, or even a neighbor — but they should be easily reachable, and available to come to the home on short notice. Nobody wants unanswered guest complaints to derail a pleasant stay.
You'll also want to include contact details and addresses for the following emergency resources, just in case:
Nearest Medical Clinic or Hospital
Fire Department
Police Department
Remember, guests don't have all of the resources they'd typically have at home. They'll feel more at ease if they know you have their safety in mind.
Your Property's Policies
Even if you send your policies in a pre-stay email, (Evolve does!) it's still important to reiterate them at the property. Including policies in your welcome book can help you resolve common vacation rental issues and complaints because guests will have a difficult time arguing that they weren't aware of the rules.
You should include all of the following information in your welcome book:
Check-In Procedures
House Rules (smoking policy, pet policy, quiet hours)
Parking Instructions
Check-Out Procedures
Subdivision/Complex/Community Rules
An in-home reference guide will help remind guests how best to enjoy your home and leave it in good shape for the next guests. Another perk of including your policies: you're way less likely to find broken or misused items after a stay!
How-To Instructions
When your guests can't figure out simple things like how to turn on the hot tub, they can get frustrated and wind up taking out that frustration in their review of your property. Even if every appliance works perfectly, spending valuable relaxation time figuring out how to use it is no one's idea of a fun vacation.
Include helpful instructions for your:
Property Access (lockbox code, garage code, gate)
Thermostat
Hot tub or Fireplace
Washer and Dryer
Kitchen Appliances
Wireless Internet Access (including the password!)
TV or DVD Player Remote Control
This is also a good place to note any quirks of your property. For example, if the Wifi works very well all over the house, but not in the family room downstairs, make sure your guests know that. If they aren't expecting an issue, they'll be annoyed by it, but with a little forewarning, they'll feel like they know exactly what they can expect, and it's less likely to trouble them.
Where to Go and What to Do
You know all of the insights you've collected about your neighborhood? Now's the time to share your expertise — because everyone loves a good recommendation from a local! Try to suggest activities that would appeal to a range of guest types, such as family-friendly museums or romantic places for a dinner out.
Be sure to give addresses and phone numbers for each of your recommendations. Adding the amount of time it takes to get to the destination is a great idea, too. Include at least a suggestion or two in each of the following categories:
Grocery Stores
Restaurants
Shopping
Nightlife
Activities (hikes, golf, snorkeling, skiing)
Attractions (museums, monuments, parks, beaches)
Places of Worship
And share places where you personally enjoy going. This isn't to say you can't include popular attractions you haven't visited in person. Just let your guests know that you haven't tried them yourself, but you've heard good things and you hope they'll tell you how they liked them! You can then use the guest feedback to gauge whether that activity merits a mention in your Welcome Book.
How to Get Around
Help guests explore your area by creating a section devoted to local transit. Be sure to include contact info, directions, schedules and any other details that guests might find helpful, like:
Taxi & Shuttle Services
Bus Routes
Car Rentals
Airports and Train Stations
Area Maps
Ready to Create Your Book?
Here's the good news: we've already created one for you. To make things easier for you and your guests we created a free downloadable template. Enter your email in the form below to get your free, customizable copy. Then, type your information into our template, print the completed welcome book, and display it in an obvious area of your rental property, such as the kitchen counter. And if you're looking to start booking more nights on your vacation rental, we can help with that, too.
Between strolling through lush botanical gardens at the Biltmore, hiking in the Pisgah National Forest, and sipping along a renowned brewery trail, there's no denying Asheville is brimming with adventure and mountain charm.
Nestled in the stunning Blue Ridge Mountains, this booming tourist destination attracts nearly 12 million annual visitors. Pair this travel demand with the city's thriving real estate market and there's clear opportunity for an Asheville investment property to become a high-performing purchase for potential buyers.
To help you understand the investment opportunity this top vacation rental market presents, we created a free, downloadable vacation rental market analysis. Inside you'll find: 
Rental income potential by property size
Average occupancy by property size
Average daily rate by property size
Average days booked in advance
Average length of stay
Vacation rental inventory by property size
Occupancy rate by month
The findings in this analysis are based on Evolve's Asheville market averages in the last year and provide a general baseline for performance potential. They're designed to help inform smart buying decisions on your search for an Asheville investment property.
Download Our Complete Asheville Vacation Rental Investment Analysis
Why Asheville Is a Great Place to Own Vacation Rental Property
Asheville boasts stunning scenery and easy access to endless outdoor activities. Hiking, biking, golfing, rafting, and fishing attract travelers of all ages and interests to this southern hotspot.
But the draw doesn't stop there — the city offers a variety of urban adventures to explore, too. Asheville's downtown area is home to many all-season attractions, like cultural museums, historic shopping boutiques, local art galleries, and a famous winery. Add in popular family-friendly to-dos, like the Pinball Museum and WNC Nature Center, and Asheville can deliver an adventure fit for families, business travelers, and couples alike.
Though the area presents year-round travel demand, Asheville's climate is most appealing in the spring, summer, and fall — with summer months typically seeing the busiest season for guests. Honorable mention goes to fall, though, thanks to the city's incredible leaf-peeping.
It's also worth noting that Asheville is less than an hour drive away from the popular Cataloochee and Wolf Ridge ski resorts. So while travel to the area tends to quiet during the winter, top-performing homes can still see strong occupancy with resort proximity.
According to Zillow, the median list price in Asheville currently hovers around $452,000. Our Real Estate Services (RES) team notes this as moderately competitive — though it does present more affordable options than other popular nearby spots, like Gatlinburg. So for buyers hoping to capture mountain demand in this part of the country while saving upfront costs, Asheville. could be a good real estate investment opportunity to explore.
How Much Money Can You Earn with an Asheville Vacation Rental?
With lower market entry costs and so much variety in what visitors can come to experience, it's easy to see why Asheville has solid earning potential for investors. But figuring out if Asheville, NC is a good real estate investment for you requires a look at some important factors:
Property Size
Potential buyers seeking that just-right property are in luck: according to our data, Asheville's inventory includes a pretty balanced mix of one-, two-, and three-bedroom homes.
What's better? These varied home sizes all pull in the most nights booked on average each year at a near-identical number. That gives investors a uniquely wide range of inventory with strong booking opportunity. It also provides a leg up when searching for a property that fits within your budget.
If you're willing and able to go bigger, five-bedroom properties in Asheville pull in the most yearly revenue. This is likely because they can serve larger groups of guests and therefore carry higher daily rates. Be prepared, however, to encounter fewer options on your hunt, as five-bedroom properties are rarer to find.
Property Location
Given the popularity of outdoor adventure in the Asheville area, properties in the mountains — or with easy access to nature — are often top performers. You can even consider making a cabin investment to double-down on income opportunity, as Asheville is one of the best places to buy a cabin this year.
If the downtown scene better suits your style, a central and convenient location is key. In Asheville, there are a few different hotspots you'll want to focus on when exploring properties. The River Arts District is prime for its arts and culture, Biltmore Village for its family-friendliness, and the Montford Area Historic District for its thriving nightlife.
You'll also find heavily-visited destinations like Pack Square Park and entertainment venues like The Orange Peel and Harrah's Cherokee Center in Asheville's downtown area. Buying a property specifically near one or more of these draws can increase your chances for more bookings and more annual income.
Property Amenities
When outdoor adventure is the name of the game, who wouldn't want to bring their favorite furry companion along? Asheville is one of the most pet-friendly vacation destinations in the U.S., making pet-friendly vacation rentals super desirable for travelers. So making your property pet-friendly with amenities like treats, toys, and pet beds could help give you the edge over your competition.
Our RES team says decks, patios, and outdoor spaces of any kind are also key amenities, since they give guests the ability to enjoy the area's natural beauty from their home base. Add patio furniture, a grill, and a fire pit to provide the level of comfort and hospitality needed for consistent five-star reviews.
Another undeniable asset to your Asheville investment property: a view. Having forest or city skyline out your window can be valuable in Asheville, but our RES team says homes with views of the scenic Blue Ridge Mountains are a huge bonus amongst bookers.
Download Our Full Asheville, NC Vacation Rental Market Analysis
With all-season demand and consistently growing tourism, buying an Asheville investment property poses the perfect opportunity for smooth entry into the vacation rental market.
Whether you're looking to buy an investment property or make the most of an existing second home, download our full Asheville Vacation Rental market analysis today. It's full of useful insights that can set you up for success, including:
Average daily rate by property size
Expected seasonality in vacation rental demand
Average length of stay in high and low seasons
Inventory breakdown based on property size
Uncovering your next investment opportunity should feel as breezy as a scenic drive along the Blue Ridge Parkway. Use this exclusive performance intel to explore whether Asheville, NC is a good real estate investment for you, and reach your vacation rental goals with ease.
Anytime we're bombarded with a long list of to-dos and stress-ridden schedules, there's a wave of relief that comes when we take the time to unplug and get cozy, especially when friends or family are around. And it's no coincidence that finding joy in these simple things is a lot of what taking a vacation — especially a hygge vacation — is all about.
The historic (yet very trendy) Danish art of hygge (pronounced hoo-gah) is all about embracing a feeling of coziness and connection. But in order to really live a hygge lifestyle, you need the right environment and scenery. These cozy cabin rentals put you in the right space and frame of mind. Their unique features open up the opportunity to reconnect with loved ones, enjoy the calming elements of nature, and really lean into the concept of hygge.
Cozy Cabin Rentals That Bring in the Outdoors
A big part of the hygge lifestyle is connecting with nature both indoors and outdoors. Book any of these vacation rentals to see just how delightful it is to relax in a cabin that really surrounds yourself with Mother Nature's beauty.
1. Spacious Colorado Haven
Nature has a way of inviting you to slow down and put your devices away. You can relax more, breathe the fresh air, and soak in your surroundings — all  important parts of how to live a hygge lifestyle. This beautiful log cabin in Fairplay, CO has giant windows that peer into the forest, a spacious layout for relaxing with family, and a luxurious hot tub so you can soothe sore muscles while outside.
2. Modern Washington Retreat with Mountain Views
Another place that has just the right setup for indulging in quality time together is this luxury getaway in Winthrop, WA. Its large windows immerse you in mountain and river views, and the wood interior really brings the outside in. Add in the open layout with plenty of snug seating nooks and you may never want to leave this modern cabin rental.
3. Quaint, Secluded Log Cabin Near Yellowstone
This log cabin rental in Livingston, MT lets you watch wildlife and admire the surrounding peaks from the comforts of inside, thanks to massive windows that look out on the landscape. (It's also just a short drive from Yellowstone National Park.) And while some cabin rentals are fit for gathering groups of your favorite people, this space is perfect for two. Some of the most hygge homes are known for being small, as the lack of clutter paired with simple interior design encourages a feeling of contentment.
Cozy Cabin Rentals Offering a Fire-Burning Ambiance
Is there anything more cozy than a log-burning fireplace? Experience all of the warmth these vacation rentals have to offer in your pursuit of a more hygge lifestyle.
4. Rustic Fleetwood Log Cabin
The warm, charming layout of this secluded log cabin in Fleetwood, NC creates the perfect space for movie nights alongside the wood-burning fireplace. Large windows draw in refreshing, natural light, and there's plenty of outdoor space for wildlife-watching (not to mention a hot tub). When you think "cozy," imagine yourself curled up with a soft blanket in front of the fire and nothing but time to be present and enjoy the perfect hygge setup.
5. Family-Friendly Sevierville Cabin
This gorgeous mountain home in Sevierville, TN offers a warm wood interior, high ceilings, and to-die-for views of the Smoky Mountains. Spend your days soaking in the gorgeous views from the screened-in hot tub (maybe after a leaf peeping adventure or two), then cuddle next to the fireplace for a night of playful board games with the family.
Cozy Cabin Rentals with Soft, Light Interiors
A hygge vacation should bring uplifting feelings of contentment. Book these soft-interiored homes and let the light brighten your mood each day.
6. Bright A-Frame in the Black Hills
A wide open, A-frame cabin with expansive windows makes this modern rental in Lead, SD the perfectly-illuminated retreat. Whether you're sharing a meal around the huge dining table or cozying up around the outdoor fire pit, this home is all about connecting to yourself, your group, and your surroundings. It invites you to stay immersed in the sights and history of the Black Hills — from the warmth of the gas stove all the way up to the soft textures and stunning scenery of the loft.
7. Calming Indiana Cabin
There couldn't be more charm found in this Bloomington, IN home that's fit for a memorable family holiday. Pets are welcome in the cozy cabin rental, and you can watch the snow fall as you bake cookies or sip a warm mug of tea. The light interior makes it easy to settle in, and the enchanting bistro lights outside add a picturesque touch.
How to Hygge at Your Vacation Home
If you don't want to wait for your hygge vacation to start living the hygge lifestyle, here are a few things to try from the comfort of your personal space.
"LIGHT" FLAMELESS CANDLES: Candles can make your home feel like a different world — and flameless options are an easy, safe way to keep the hygge aesthetic for hours. You can also achieve a similar effect with fairy lights.
BRING OUT SOFT TEXTURES: The physical feeling of something soft and comfortable lends itself to cozy conversations. Treat yourself to a handmade sweater or throw, since hygge celebrates items and pieces with a story behind them.
DECORATE WITH PLANTS: Inviting the outside in is key to creating a hygge setting. One of the simplest ways to do this: plants. Succulents or Pothos will do the trick, and come winter you can always bring home a real tree.
SET UP A "HYGGEKROG": A hyggekrog is a small reading nook perfect for opening a new book. Remove all clutter, grab blankets, add a soft cushion, and make sure you've got a view.
HOST A SMALL DINNER PARTY: Have two to four friends over for dinner and cook something new together. Choose a dish that takes a while to simmer to create a comforting fragrance.
ENGAGE WITHOUT TECHNOLOGY: Set your phones aside and dive into real conversations. Ask your family or friends questions, play a board game, read a book out loud, or try a winter craft together.
Create Your Perfect Hygge Vacation with Evolve
When you book with Evolve, you can find the perfect hygge vacation home and know it'll be professionally cleaned and ready for your arrival. Our Rest Easy Promise helps you stay in the moment and travel without surprises.
Check out our other travel blogs for inspiration on where to explore next. From tiny houses and unique vacation rentals to the best wine regions and U.S. destinations with an international feel, your dream trip is just a few clicks away.
The charming mountain town of Big Bear offers a little something for everyone.
Home to two ski resorts with thrilling alpine terrain and can't-miss lake activities like paddle sports, boating, and jet skiing, it's fit for outdoor lovers and families alike. And with A-frame cabins, rustic boutiques, and a friendly downtown atmosphere in The Village, this welcoming California hideaway invites travelers to slow down and relax.
This blend of laid-back, small-town feel and year-round access to outdoor recreation is why roughly 7 million visitors flock here annually. It's also why a Big Bear investment property is such an appealing opportunity for interested buyers.
To help you understand the earning potential in this top vacation rental market, we created a free, downloadable vacation rental market analysis. Inside, you'll find:
Rental income potential by property size
Average occupancy by property size
Average daily rate by property size
Average days booked in advance
Average length of stay
Vacation rental inventory by property size
Occupancy rate by month
The findings in this analysis are based on Evolve's Big Bear market averages in the last year and provide a general baseline for performance potential. They're designed to help inform smart buying decisions when searching for a Big Bear investment property.

Download Our Complete Big Bear Vacation Rental Investment Analysis
Why Big Bear Is a Great Place to Own Vacation Rental Property
Big Bear's calming presence serves as a constant reminder to get out and explore nature. Year after year, weekenders hit the trails in San Bernardino National Forest, glide down the slopes at Big Bear Mountain Resort, and go fishing on Big Bear Lake. That's part of what makes the area one of the best places to buy a lake house or a ski property, as investors can earn year-round Big Bear rental income in either scenario.
Vacation rental owners here can expect high demand during two seasons. Occupancy rates skyrocket during the winter holidays and remain high until the ski season ends in March. Then, demand picks back up in early summer before peaking in July — when city dwellers look to beat the heat and escape the urban bustle with a mountain and lake retreat.
The median home value around Big Bear Lake is around $654,000, which is higher than the national average. However, when you look at the actual city of Big Bear — just east of the lake — prices drop to around $434,000. This means there's ample opportunity to find an investment property within your price range and still maximize your profits.
But keep in mind: the city requires specific licenses for short-term rentals. While this is not uncommon in the vacation rental industry, investors may have more red tape to get through when entering the market. Be informed prior to buying a Big Bear investment property, and tap local real estate professionals who can help you move through the process more seamlessly.
How Much Money Can You Earn with a Big Bear Vacation Rental?
As a highly sought-after California hotspot, the Big Bear vacation rental market presents strong income potential for buyers. In order to gauge just how much you can earn, there are a number of important factors to consider:
Property Size
There are plenty of reasons to think big when searching for your perfect Big Bear investment property. According to our data, six-bedroom homes earn the most revenue on average. This is likely because they cater well to large groups of friends and multi-generational families. Give travelers the gift of space and boost your Big Bear rental income potential by finding as much room as possible.
Of course, larger homes come with higher price tags. So if you're looking for a lower upfront cost, you're also in luck. Three-bedrooms averaged the highest number of nights booked last year. Plus, they have the most available inventory across both Big Bear Lake and Big Bear City. This gives investors more room to play within their budgets without sacrificing returns.
Property Location
Our Real Estate Services (RES) team says lakefront cabins are prime purchases if you can swing it. Not only are these homes often the most scenic, but they generally provide easy access to Big Bear Village, popular hiking trails, and the Snow Summit base.
However, our RES team notes an investment away from the water can be just as valuable (and in some cases, earn faster returns on investment). That's because prices are lower, but proximity to local attractions remains a huge draw — especially if you buy close to Bear Mountain Ski Resort or near the three local bus routes with shuttle services to the slopes. Wherever you zero in on homes for sale, consider these kinds of conveniences that might turn a looker into a booker.
Property Amenities
While a Big Bear getaway is sure to be filled with exciting adventures, you'll want to outfit your vacation rental with all the top amenities and provide that home-away-from-home feel. To accentuate the area's charm and double-down on comfort, go the extra mile by upping your interior design efforts, too.
Since Big Bear visitors are often looking to connect with nature, create outdoor spaces that allow your guests to revel in the scenery and spend more time outside. Grills, fire pits, and hammocks are great additions to any property. Spacious decks are especially valuable for homes that overlook the lake or mountains. And a hot tub can be a great investment, giving guests the chance to soothe achy muscles after a day of hiking or skiing.
When your guests do head out for an adventure, it's likely they'll have some gear. So make sure your home has space to easily store skiing, hiking, and fishing gear. A mudroom or other finished space with built-in shelves and hooks can help the whole group stay organized. Plus, this added space makes it easy to de-layer and unload when they return.
Download Our Full Big Bear, CA Vacation Rental Market Analysis
Big Bear's cozy mountain town charm, stunning lakefront, and variety of year-round outdoor activities draw in visitors year after year. And this major travel demand presents a strong opportunity for vacation rental investment.
To get a more detailed look at how you can perform with a Big Bear property investment, download our free Big Bear Vacation Rental Market Analysis today. Inside, you'll find tons of helpful insights like:
Inventory breakdown based on property size
Average daily rates based on property size
Expected seasonality in vacation rental demand
Average length of stay in high and low seasons
With our report, you can steer clear of ending up head over skis on your Big Bear investment property and start your rental journey with confidence.
While maybe not the most enjoyable use of time, filing taxes is an essential part of running a healthy (and legal!) vacation rental business.
It's also a really complex subject. Vacation rental tax rules vary greatly from state to state, and even in different counties or cities. This can make it difficult to navigate the many requirements with confidence.
That's why we've compiled some of the most common tax questions vacation rental owners want answered. Though Evolve cannot advise you on how to file taxes, our dedicated team of tax experts share valuable tips and tools to help make the process easy. From the different types of taxes you may be responsible for remitting to the nuances of jurisdictions, here are the vacation rental tax guidelines you should consider.
What Kind of Taxes Do I File As a Vacation Rental Owner?
There are three main categories of taxes vacation rental owners need to think about each year.
1. Income Tax
Income tax is what you pay the federal and/or state government annually based on short-term rental earnings, minus possible deductions (more on deductions later). It's just like any other job you hold; you report alongside other sources of income and get taxed accordingly.
2. Business Taxes
Business taxes are imposed on owners for the "privilege" of conducting business, and typically cannot be passed on to your guests. They have a variety of names, including gross receipts tax, business and occupation (B&O) tax, business privilege tax, and more. These taxes are the owner's responsibility as the provider of goods or services, and are paid to states, counties, and/or cities.
3. Vacation Rental Taxes
Often called short-term rental taxes, these are imposed by states, counties, and cities. Depending on your taxing jurisdiction, they can also be referred to as a number of other names. Occupancy tax, lodging tax, and transient tax are a few common terms that, at a high level, are synonymous. The rates and rules that apply to each, however, could look very different from jurisdiction to jurisdiction.
Sales tax also falls under the umbrella of vacation rental taxes. In some areas, lodging tax is collected but sales tax is not, while in others sales tax is collected instead of lodging tax (leading many owners to mistakenly think they're interchangeable). Some owners may even have to collect and remit both. It's best to work with a tax expert to determine which vacation rental tax rules apply in your jurisdiction, and the local terminology used to describe them.
What's more, vacation rental taxes differ from income and business taxes because they're technically paid by your guests — it's the add-on everyone always sees on the bill. But as the owner, you're responsible for registering for all taxes you are required to collect, identifying the tax rate(s) for your property (the Avalara MyLodgeTax tool can help), collecting those taxes, and then remitting the totals to your local and state governments.
How Do Vacation Rental Tax Laws Differ By Location?
The short answer: a lot. And unfortunately, there's no simple way to explain how widely vacation rental tax rules vary because there aren't just state-by-state discrepancies. There may also be differing county, city, and special district tax regulations to take into consideration. (Again, it's important to talk to a professional who can help you identify your specific property's tax requirements.)
Here are a few other vacation rental tax rules and regulatory considerations that our tax experts say aren't standardized:
1. Licensing Regulations
On both state and local levels, authorities set specific standards for the types of licenses and permits you need to run a vacation rental business. You may need a general business license, a tax license, a short-term rental permit, or more from your state and/or local governments. (Avalara MyLodgeTax can help you identify, obtain, and maintain what's needed for your property.)
2. Filing Periods
While many assume April is tax season across the board, the reality is the timing around vacation rental tax filing can depend on your tax registration, the types of taxes you must collect, and regulations enforced by state and/or local jurisdictions. Our team of vacation rental tax experts say some owners need to collect and remit lodging or sales taxes annually, but others must do so on a quarterly — or even monthly — basis. It's important to understand what your personal tax calendar looks like to make sure you hit the appropriate deadlines and establish a well-oiled system for remittance.
3. Taxable Fees and Charges
Are cleaning fees subject to tax? What about pet fees, extra guest charges, or parking costs? No plot twist here: taxable fees and charges differ depending on your property's location. It's typical for standard cleaning fees and nightly rates to be subject to lodging tax, but less universally-applicable charges like pet or parking fees might not be. That's why, once again, it's important to be clear on your local vacation rental tax rules so you can charge the correct rates (more on that below).
How Do I Collect Vacation Rental Taxes From Guests?
Once you've worked out the lodging and/or sales tax rates, filing periods, and taxable charges for your property, it's time to start collecting vacation rental taxes from guests. Here's a step-by-step guide for getting organized so you can accurately fulfill all requirements.
1. Get Your Paperwork in Order
Apply for the licenses and permits you need with your state and local governments. Organize a calendar for filing period reminders, and create a centralized location to keep track of tax records.
2. Collect on Each Booking
In addition to charging standard nightly rates and fees, the correct tax rate required by relevant vacation rental tax rules should be applied to guest charges accordingly. In your financial records, keep the tax rates you charged clearly marked as a separate line item, so it's easier to calculate totals at the end of each filing period.
3. File and Pay
Whether you have to file vacation rental taxes monthly, quarterly, or annually, stay on top of deadlines. With a clear understanding of your jurisdiction's expectations, this part of your process should become operationally streamlined.
4. Renew Licenses When Necessary
Most licenses and permits have expiration dates — some jurisdictions require renewal on an annual basis, while others have multi-year terms — so make note of corresponding deadlines, along with any updated conditions for eligibility. (Some state and local governments send reminders ahead of time; others may not.) Renewal is ultimately the responsibility of the owner, so mark your calendar with enough leeway to make sure you remain in compliance.
What Deductions or Exemptions May Apply to My Vacation Rental?
Great news: you are allowed to claim deductions on your federal and/or state income tax. Owners can write off expenses like mortgage interest, travel costs, and the maintenance fees of home improvements. Familiarize yourself with all of your deduction options before you file income tax returns, and keep in mind that personal use of your vacation rental may impact expense claiming.
As a whole, vacation rental taxes are a different story. Our tax experts say there are rarely any deductions applicable to the tax you charge guests and then remit at state and/or local levels. But there may be exemptions available based on a longer length of stay by your guest.
Same goes for business taxes: while there are typically no exemptions available, deductions may or may not be possible.
The gray area of it all is why — and we really can't emphasize this enough — it's best to consult with a tax professional to understand your options further.
Get Organized with Evolve
Understanding vacation rental tax rules can be tricky, and there's a lot an owner is responsible for keeping track of. That's why, first and foremost, we recommend hiring a tax professional who can help you nail the details.
Mastering vacation rental taxes is just one part of reaching vacation rental stardom. To help make your property a five-star success, grab our free downloadable guide, The 6 Biggest Secrets to Making Thousands More with Your Vacation Rental.
It's full of must-have insights and tips for achieving success, from getting more eyes on your rental with top-notch marketing and a dynamic pricing strategy to creating unforgettable guest experiences.
Whether you want to visit the soft, sandy beaches of the Florida coastline or see the snow-capped Rocky Mountains in Colorado, vacation rentals continue to rise in popularity as they deliver unique and authentic experiences for adventurers.
In fact, we recently surveyed over 9,000 travelers and found 82% plan to book a vacation rental this year.
Unfortunately, this means there's opportunity for scammers to take advantage of unsuspecting travelers. From understanding the different types of cons to learning how to avoid vacation rental scams entirely, these expert tips can give you peace of mind when booking amazing homes — so you can kick back, rest easy, and enjoy vacation worry-free.
Types of Vacation Rental Scams
Although there are thousands of legitimate vacation rental homes on the market, there's also no shortage of scammer creativity when it comes to fraud. Here are common types of vacation rental scams to be aware of.
1. The Copycat Property Listing
With the copycat approach, scammers steal the photos and description of a legitimate listing to create what looks like a carbon copy of a property you could find elsewhere online. Copycat listings aren't typically found on major marketplaces like Airbnb and Vrbo. Rather, they're most common on minimally-regulated sites, like Craigslist. (One traveler even lost $20k with this type of vacation rental scam.)
2. The Entirely Fake Vacation Rental
This scam involves an imposter creating a property listing for a home that is either not actually for rent, or doesn't even exist. These types of scams are most common on the same sites where you might find copycats. However, they occasionally sneak their way onto major marketplaces, too.
If a listing looks funny (one giveaway: a Google search of the address shows a different street view than what's in the listing), someone may be trying to fool you.

3. The Real Listing with a Stolen Email Address
In some cases, scammers hijack the email accounts of real owners to intercept communications with guests. A phisher may have collected personal login information from an owner directly, or found another way to hack their accounts.
This type of vacation rental scam is potentially the most sophisticated and near-impossible to identify at the listing level. Instead, the alarm bells may sound when chatting with the faux owner (more on this below).
If you fall victim to any of these types of vacation rental scams, it's important to report it immediately to either the site you are on (or the authorities) to help identify the scammer and seek resolution.
How to Know If a Vacation Rental Is Legitimate
Now that you're aware of different types of fraudulent listings, here's exactly how to avoid vacation rental scams and book a real, authentic home.
1. Compare Listing Information Across Reputable Sites
It's not uncommon for vacation rental owners to list on multiple marketplaces. (For example, Evolve-managed homes are listed on sites like evolve.com, Airbnb, Vrbo, Booking.com, and Google.) Because of this, you can search a home across multiple platforms and make sure the listing is consistent on each one. You should look at:
Contact information
Property photos
Per night pricing (Note: Pricing can vary slightly site to site, but there shouldn't be wild swings across them)
You also want to watch out for a heavy presence of typos or odd sentence structures. Poor language skills and repetitive or nonsensical messages are common with scammers.
2. Be Wary of Abnormal Communications or Requests
When evaluating whether the vacation rental you're interested in is legitimate, pay attention to any communication you have with the owner. Again, typos and odd sentence structures are red flags. Any direct requests for personal information (like your credit card or social security number) outside of a secure payment system is also likely the work of a scammer.
3. Only Pay Using Secure Methods
You should never send a wire transfer, check, or use cash to pay for your reservation. The safest and most effective way to pay for a vacation rental is through a secure payment system offered in an app or on the website. These methods are typically encrypted and equipped with fraud monitoring.
When booking through Evolve, you can also rest easy knowing your payment does not get released to the owner until 48 hours after your check-in. We also use Stripe, a payment processing software that assigns a score to each payment method and calculates the likelihood of fraudulent activity. Any payments given a fraud-detection score above a specific threshold are flagged in our system and investigated.
In other words, booking a vacation rental with Evolve means you can confidently use your credit card to make a secure payment.
4. Read Recent Property Reviews
On well-known vacation rental marketplaces, you must have first been a guest to leave a review. (Guests can have anywhere from 14 days to several months following check-out to leave a review.) For this reason, it's smart to sift through the reviews section of a listing and look for feedback on both the property itself and the host.
Proceed with curiosity — but not necessarily caution — if a listing has no reviews. The vacation rental industry is growing quickly, so it's not uncommon for a new listing to have just entered the market. When this is the case, there should be indicators in the listing's headline or description. All Evolve listings, for example, use the phrase "New!" in the headline for the first six months of their launch (or until the property has received five or more reviews).
Avoid Vacation Rental Scams with Evolve
The best way to steer clear of fraudulent vacation rentals and get the best nightly rates is to book directly on evolve.com. All of our homes are vetted and verified, so scams are never an issue for guests. You can rest easy knowing your peace of mind is our priority, and the home you booked is the home you'll soon enjoy.
That means the only questions you really need to ask are how many bathing suits you should pack for your beach-lounging, or which book would pair nicely with your cozy, cabin escape. 
Not sure where to travel next? From tiny houses and luxury dream homes to charming small towns and the best star-gazing spots, we've got plenty of ideas to inspire your next adventure.
Daytona Beach attracts tons of sunshine-lovers every year for its 23 miles of coastline. And they're serious about their sand time: in a recent survey of out-of-state visitors, a whopping 93% of participants said they came just for the beach (locally dubbed the "World's Most Famous").
Add that to coastal cuisine, family fun, home-run history, and the annual Daytona 500 that hosts more than 100,000 people alone — it's clear the area's 9.9 million annual visitors checks out. That makes a real estate investment in Daytona Beach as appealing to buyers as the glistening Atlantic Ocean.
To help you understand the investment opportunity this beloved Florida hotspot's market presents, we created a free, downloadable vacation rental market analysis.
Inside you'll find:
Rental income potential by property size
Average occupancy by property size
Average daily rate by property size
Average days booked in advance
Average length of stay
Vacation rental inventory by property size
Occupancy rate by month
The findings in this analysis are based on Evolve's Daytona Beach market averages in the last year. They provide a general baseline for performance potential and they're designed to help inform smart decisions when making a real estate investment in Daytona Beach, FL.
Download Our Complete Daytona Beach Vacation Rental Investment Analysis
Why Daytona Beach Is a Great Place to Own Vacation Rental Property
Daytona Beach's popularity may start with the beaches and year-round warm weather, but it doesn't end there. Cue the Jackie Robinson Ballpark, the Smithsonian-affiliated Museum of Arts and Sciences, and the legendary Daytona International Speedway, and this Floridian oasis becomes a well-rounded destination for couples, families, and business travelers alike.
Not-so-coincidentally, vacation rental occupancy starts climbing in February, largely in thanks to the Daytona 500. Demand reaches its peak around spring break, and stays up through the summer for all those sun and relaxation chasers. Although travel slows in the cooler months, our data shows top properties still tend to see strong booking calendars until January.
For real estate investors in Daytona Beach, this can translate to a diverse population of multi-season travelers looking for the perfect place to stay — ones who are willing to spend for it. In 2021, Volusia County visitors spent $5.5 billion locally. So diving into the real estate waters could help you reel in some of that revenue for yourself.
If that's what you're looking for, Zillow's median home value is on your side at around $272,000. While beachfront properties will likely be pricier, Daytona Beach generally offers a more affordable real estate investment than other Florida hotspots like Miami, Tampa, or nearby Jacksonville.
How Much Money Can You Earn with a Daytona Beach Vacation Rental?
As travelers of all kinds discover the delights of Daytona Beach's sunny sands, short-term rental owners have the opportunity to earn big. But before you dive into Daytona Beach real estate investment, consider these important factors.
Property Size
Four-bedroom properties earn the most annual nights booked on average, which matches traveler data revealing an average party size of four for all visitors surveyed. However, larger homes make up a much smaller portion of available Daytona Beach inventory. So if a four- or five-bedroom property piques your interest, your property search could be a bit more limited.
But with one-bedroom homes following close behind in average nights booked, their much larger inventory pool could make a smaller property a more feasible real estate investment in Daytona Beach. Similarly, two- and three-bedroom homes show larger inventories and still see strong performance. Opting for either could help you accommodate bigger groups looking for that local sunshine.
Property Location
According to our Real Estate Services (RES) team, travelers look to book homes right on the shoreline or within walking distance to the beach — so start your property search there to help secure a strong performance opportunity.
Our RES team also says condos do very well in Daytona Beach, especially when located on Atlantic Avenue with beach access. So while a standalone beach house investment could produce a high return on investment, a beachfront condo could also be profitable while offering access to the market at lower upfront costs.
Property Amenities
From the sunniest spring and summer days to the city's quieter winter season, owners can stand out in Daytona Beach's thriving travel market by investing in the amenities travelers look for.
Because the majority of top-performing rentals in Daytona are located on or near the water with an ocean view, consider adding popular beach amenities. Air conditioning and an updated outdoor space can also create the perfect environment for relaxing after a long day in the sun.
When rain and cooler temps keep people inside, your home can attract even more guests and earn five-star reviews with all-weather entertainment. Smart TVs, gaming consoles, and a pool table are great for turning up the fun — particularly for groups seeking family-friendly options.
Download Our Full Daytona Beach, FL Vacation Rental Market Analysis
A world-famous beach, year-round warm weather, and a variety of popular events and activities add up to major travel demand in Daytona Beach — along with a promising real estate investment for buyers to explore.
Whether you're fishing for an investment property purchase or hoping to reel in more revenue with your current home, our free Daytona Beach Vacation Rental Market Analysis has what you need. It's full of important insights, including:
Average daily rate by property size
Average days booked in advance
Average length of stay in high and low seasons
Revenue potential by property size
The right tools for real estate investment in Daytona Beach, FL can get you your day in the sun — while your guests spend theirs at the beach.
There's a lot to get in order when turning a second home into a vacation rental for the first time.
But let's say you've done all the pre-work. The place is upgraded with key amenities, furnished to perfection, fully inventoried, and deep-cleaned. Now it's ready to hit the internet and start accepting bookings.
The question is: where exactly should you list the property?
It's no secret that putting your home on a major marketplace is a must to get in front of travelers. But when so many are considered top-tier, it can be overwhelming — not to mention time-consuming — to decide what's best for you.
Now, you can consider your research handled. Below is a short list of the absolute best vacation rental sites for owners. It has everything you need to know, from the unique benefits each site gives you to how much it costs to list.
1. Airbnb
A longtime giant in the vacation rental industry, Airbnb is a household name that gives owners access to more than 150 million users around the world. Our Distribution team says they tend to serve younger, tech-savvy travelers looking for more affordable accommodations.
How Does Airbnb Work for Owners?
Airbnb is truly a DIY, be-your-own-boss experience for owners. You can rent out anything from a single room in shared space to a private house or a totally unique vacation home.
This makes Airbnb a catch-all for nearly any type of accommodation. Signing up as a host takes seconds, and while you need to meet basic requirements to do so successfully (and establish a positive review rating to stay on the site), the rest is in your hands.
Owners are in charge of creating their listing, responding to guest inquiries, and managing reviews. Airbnb offers help via standard 24/7 support lines and a community forum. (You can post your property listing to the group for feedback, for instance.) But they also incentivize owners to create the best possible experiences for guests by reserving priority support resources for Superhosts.
Behind the scenes, Airbnb is constantly evolving their interface, and they frequently launch new features to improve how the site runs for owners. (For example, there's a "Today tab" for upcoming check-ins and a "Description starter" for listing help.)
With over 4 million hosts across the globe and nearly 6 million homes to date, Airbnb is certainly one of the best listing sites for owners. But if you're new to vacation rental and hoping for more guidance around what it takes to build your business successfully, Airbnb's hands-off approach is something to keep in mind.
How Much Does It Cost to List on Airbnb?
Airbnb charges a 3% commission on every booking you secure, though there are some circumstances that might increase this percentage. When a reservation is confirmed, Airbnb sends you a price breakdown email detailing the fees and taxes they collect, what your guests pay (including a variable service fee), and what money ultimately lands in your pocket.
2. Vrbo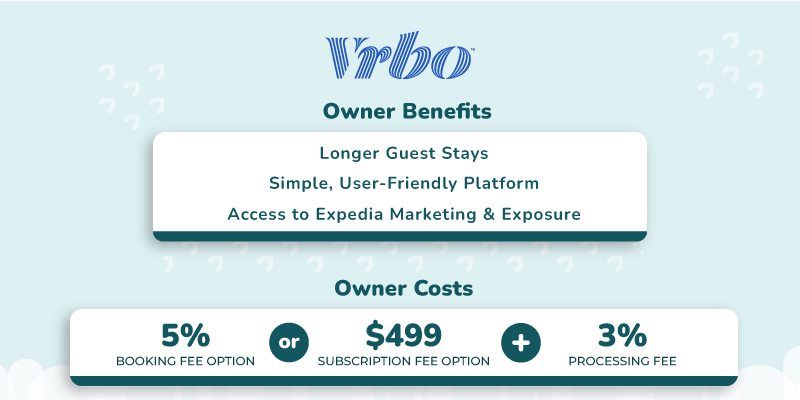 Founded in 1995 and the oldest player in the game, Vrbo has made a recent surge in vacation rental popularity with more than 48 million active monthly users, according to our Distribution team. They heavily market over 2 million listings around the world to families, encouraging group getaways that inspire connection.
How Does Vrbo Work for Owners?
Much like Airbnb, Vrbo gives owners fairly free rein to make their hosting experience what they want it to be. Unlike Airbnb, though, Vrbo doesn't allow any accommodations in shared spaces.
To get started, you need to answer a few quick questions about your home before plugging in account creation information. From there, you can build your listing and jump into the scene.
Vrbo offers standard 24/7 support and helps guide owners toward different software you can integrate to manage all the brass tacks of your business. Vrbo also lives under the Expedia parent company, so owners get the marketing and exposure benefits that come with the influence of Expedia and their affiliates.
Our Distribution team says Vrbo is a great marketplace option for owners wanting a more simple and familiar interface. Stays tend to be longer than they are on Airbnb, which translates to less frequency in turnarounds (and potentially fewer cleaning and maintenance bills).
How Much Does It Cost to List on Vrbo?
If Vrbo feels like a good fit, there are two base cost options. You can opt to pay a 5% service fee on every confirmed booking, or you can choose an annual subscription of $499. Our Distribution team says the best route for you will come down to how quickly your revenue might hit a $499 fee threshold, as well as your personal preference around payment frequency.
Whichever option you choose, Vrbo also charges a 3% processing fee on total payment and taxes for their owners. You can find a Payout summary in your Vrbo account to see net income after a reservation is complete, which also accounts for the service fee guests pay. (Much like Airbnb, our Distribution team says that figure consistently varies based on a number of factors.)
3. Booking.com
An industry heavyweight offering vacation rentals and hotels — among other bookable travel needs like flights and car rentals — Booking.com has the broadest audience of all the best vacation rental sites for owners, clocking over 100 million monthly users, our Distribution team says.
How Does Booking.com Work for Owners?
Booking.com considers owners their partners, and it's arguably the most direct-to-traveler channel. Like Airbnb and Vrbo, you fill out a quick profile to register, set your house rules, build a listing, and dive in.
But with Booking.com, the prices you set are the prices your guests pay. There's no service fee tied to how Booking.com operates for consumers, which may be why 75% keep coming back.
Owners on Booking.com have access to the expected 24/7 support that all the best vacation rental listing sites provide, can chat with guests through their on-site portfolio, and can report any issues or request payment from guests if an incident occurs.
Booking.com also offers its hosts a much wider range of commercial products than Airbnb or Vrbo (at a discount), helping maximize your marketing and booking abilities if managing your home as a DIYer.
One thing to be aware of: Booking.com owners do not have the freedom to review guest inquiries and potentially deny bookings. All reservations made through this marketplace are automatically confirmed, much like they would be for a hotel stay.
How Much Does It Cost to List on Booking.com?
Booking.com charges an average 15% fee on confirmed stays in the U.S., though it may vary slightly if you're in a different country. Our Distribution team also notes that while there's no standard processing fee for owners with Booking.com, there may be additional processing fees based on your bank or financial service.
4. Google Vacation Rental
A recently-launched feature, Google showcases vacation rental options on the first page of results when you make a relevant search. With Google's near-monopoly on internet searches, having your property surface here has massive potential to attract eager travelers.
How Does Google Vacation Rental Work for Owners?
Google's travel feature is not a DIY situation because it's not technically a marketplace in the traditional sense. Owners must work with a management company that's partnered with Google Vacation Rental (like Evolve) for inclusion; you cannot be featured through Airbnb, Vrbo, or Booking.com.
It's also important to note that, while selecting a property management company with a Google partnership gives you access to a broader audience, it doesn't mean you'll automatically pop up in results. Your listing needs to be highly optimized for search terms that help Google identify it as the best content for your most qualified travelers, and professional photography is a must. (These are topics we go into detail about in our free e-book, The 6 Biggest Secrets to Earning Thousands More.)
With that in mind, make sure the property management solutions you consider have professional photography standards and search engine optimization (SEO) experts monitoring your listing's performance.
How Much Does It Cost to List on Google Vacation Rental?
Only good news here: since Google uses their search functionality to surface vacation rental listings rather than a dedicated platform, there's no additional cost to owners who are featured. Instead, you need to find a property management company that can maximize your home's potential.
5. Hopper Homes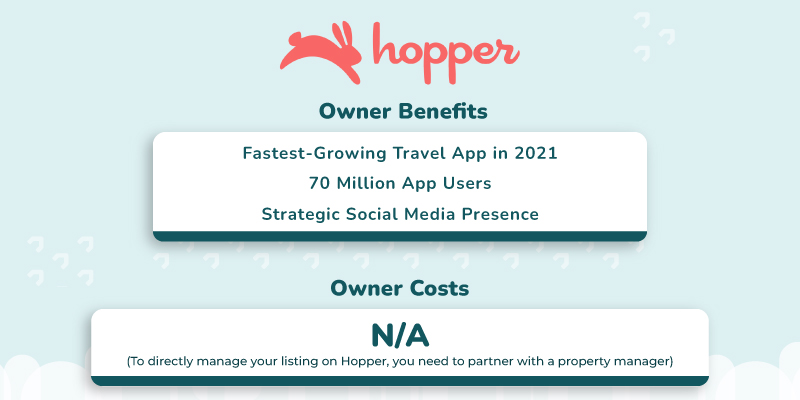 Named one of the fastest-growing travel apps, Hopper recently launched a vacation home vertical — offering a hub of top short-term rental inventory across the world.
How Does Hopper Homes Work for Owners?
Much like Google Vacation Rental, Hopper Homes is not directly available to owners. Instead, you need to partner with a property management company (like Evolve) to gain exposure to their 70 million users.
Hopper takes a unique marketing approach to gain those users: they heavily encourage people to download their app through social media platforms like TikTok and Instagram. Because of this, they grab the attention of mobile-first generations (like Gen Y and Gen Z), putting an owners' home in front of a customer demographic that has a high lifetime value.
How Much Does It Cost to List on Hopper Homes?
This site isn't entirely free marketing in the way Google Vacation Rental is, since Hopper collects a commission for listing. But that's covered by a partnering property management company — so the only cost to owners is that management company's standard fee. Given the access Hopper Homes can unlock, it's important to work with someone who's in touch with the latest marketing trends and can showcase your home on all the right vacation rental sites.
6. Homes & Villas by Marriott Bonvoy™
Marriott is already a massive name in travel, and now their trusted hospitality extends beyond traditional hotel accommodations with Homes & Villas by Marriott Bonvoy™. The booking potential for owners here is huge, since their curated collection of vacation rentals is promoted to millions of Marriott Bonvoy™ loyalty members.
How Does Homes & Villas by Marriott Bonvoy™ Work for Owners?
This is another platform that can't be accessed by owners unless you're working with a professional property management company that partners with Marriott Bonvoy™.
That said, if your property management company does grant you listing access, your home can be seen by more than 169 million engaged Marriott Bonvoy™ members — an exclusive audience of frequent travelers dedicated to a brand they trust. Guests can earn and redeem their loyalty points when they book vacation rentals through Homes & Villas, which means they're more likely to keep coming back.
All homes listed by Marriott Bonvoy™ must also meet the brand's high standards for five-star service, so each home is hand-selected for the site based on quality and aesthetic. That means having your vacation rental featured here signals to travelers that your property is in premium condition — something that can continue to boost your reputation in the long run.
How Much Does It Cost to List on Homes & Villas by Marriott Bonvoy™?
Just like Hopper Homes, owners listed on Homes & Villas by Marriott Bonvoy™ have costs covered by their property management company — and pay no out-of-pocket commission fees. Be sure to choose a property management company that works with the brand and knows how to help you hit the five-star standards you need to succeed.
How to Not Choose Between the Best Vacation Rental Sites for Owners
Settling on one site is often a necessary task for a DIYer — it's just not realistic to juggle communications and bookings through all of them alone, nor is it cheap to cover the sum of their fees.
But listing on just one site is not what's best for your business. Getting on as many as you can means more marketing exposure, more bookings, and more revenue. That's why we advocate a different approach: put yourself on every single one of the best vacation rental sites for owners by working with Evolve.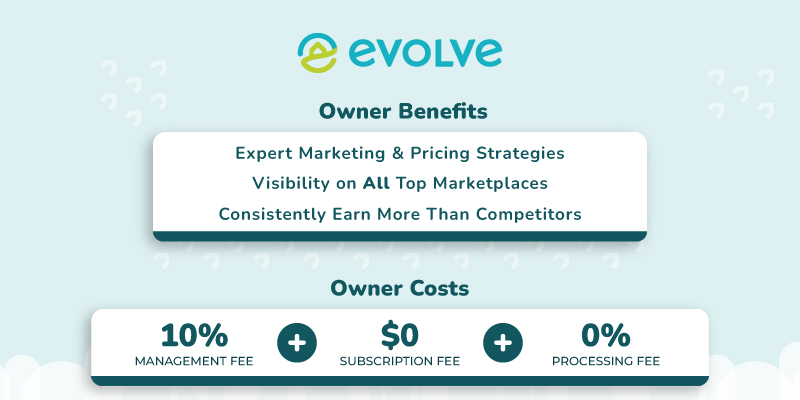 We start by creating a professional listing in a search engine-friendly format that also comes with professional photography. Then, we put your listing on Airbnb, Vrbo, Booking.com, Google Vacation Rental, Hopper Homes, and evolve.com — not to mention Homes & Villas by Marriott Bonvoy™ and a few other listing sites if your home qualifies — partnering with each to continuously adapt as the market does.
Here's the great news: the fees typically imposed on DIY owners by listing sites are factored into our proven-to-work revenue optimization strategy, so you'll reap the benefits without ever having to worry about those costs yourself.
Of course, we also have expert revenue analysts who leverage our exclusive dynamic revenue management tool and in-house specialists who handle guest communications on your behalf — meaning Evolve works for you in a way an individual marketplace can't, and it's all done for an industry-low fee.
If you're interested in learning more, hop down to the form below to see if you qualify for our services and kickstart a conversation with one of our vacation rental pros.
Keeping an up-to-date vacation rental inventory checklist is one of the most important tasks for an owner.
Why?
In between stocking your rental, standardizing a cleaning process, and collecting five-star guest reviews, there's a lot you need to do to manage your home. Staying in the know about everything you own is critical to making sure all of those tasks are carried out successfully.
The great news: taking inventory doesn't need to be daunting. Our free, easy-to-use vacation rental inventory checklist helps you take stock of important household items in every room.
Inside you'll find recommended essentials that can help you deliver on seamless guest experiences, plus free space for documenting anything additional that's specific to your home. Consider it a foundational step in enhancing your vacation rental performance.
Download Our Vacation Rental Inventory Checklist
What Is a Vacation Rental Inventory Checklist?
Simply put, this resource is used to document important items in your home. It allows you to take stock of what you have, what you're running low on, and what you need to buy or replace.
An inventory checklist for vacation rental should cover every room in your house, making it easy to track everything from pantry items to pieces of furniture. There should also be space to note the quantity and condition of each item (think: six coffee mugs in fair condition).
From there, just how in-depth your inventory gets is up to you. You can write down every last trinket if it provides peace of mind, or you can choose to cover only the supplies, amenities, and decor that contribute to your guest experience. Either way, you'll have a robust frame of reference for maintaining a top-tier environment.
While you can fill out a fresh checklist as often as you'd like, our experts say it's best to do a full inventory when you do your bi-annual deep clean and maintenance inspection. Quick spot checks for dwindling supplies can happen more frequently to keep up with guest stays.
Why Is a Vacation Rental Inventory Checklist Important?
Keeping an accurate home inventory is key to smooth business operations. Having a checklist makes it easy to do a thorough job. It can also help:
1. Deliver Five-Star Guest Experiences
A list of existing items is the first step in providing for your guests. It exposes supply gaps and creates a baseline for upgrading the amenities that help your home stand out to travelers.
It can also make it easy to answer inquiries from eager vacationers. If a potential guest wants to know whether you have a hair dryer in the primary bedroom, you can quickly scan your Airbnb's inventory checklist and provide accurate info. When an item isn't available, you'll spend less time digging for an answer and more time finding a fix.
2. Streamline Collaboration with On-Site Teams
Having an inventory checklist for cleaning crews and other maintenance professionals gives them a great reference point for their work. Housekeepers can make sure items are returned to their designated locations. Repair staff can track an appliance's condition prior to the request. And your pre-organized checklist can also help familiarize new team members with your home and ensure consistency across the board.
3. Provide Reliable Documentation
With guests and crews filtering in and out of your home, keeping inventory establishes a reliable system to track valuable items and their condition. We can't rely on memory alone to confirm everything is how it should be — and where it belongs. This becomes even more difficult if you're a remote owner who can't regularly pop in and assess. Having your up-to-date inventory checklist on hand eliminates the what if and gives you peace of mind.
Plus, in the rare event that something does go missing or appears damaged, having clear documentation can help with filing an insurance claim. Our Partner Development team says supplementing with photos of valuable items (taken every six months as part of your full inventory update) can also help resolve issues faster.
Get Organized with Our Free Vacation Rental Inventory Checklist
We created our inventory checklist for vacation rental because we want to help you check "success" off your to-dos.
Inside you'll find:
A room-by-room breakdown of essential vacation rental items
Recommended quantities of items for guest satisfaction
Free, templatized space for logging individual items in every room
Organized fields for noting details like condition and exact location
Additional pages to suit the layout and special areas in your home
And that's not all we have. From cleaning checklists and dynamic revenue management to earning five-star reviews from your guests, Evolve has tons of resources to help your vacation rental thrive.
With miles of pristine coastline for beach-goers and a vibrant downtown scene, it's no wonder nearly 22 million visitors flock to Jacksonville every year.
Between upscale shopping at St. Johns Town Center, kayaking around Little Talbot Island, or taking the kids to the local Zoo and Gardens, there's truly something for everyone in this southern hotspot. And that's what makes a Jacksonville investment property such a lucrative opportunity for potential buyers.
To help you understand the investment opportunity this top vacation rental market presents, we created a free, downloadable vacation rental market analysis.
Inside you'll find:
Rental income potential by property size
Average occupancy by property size
Average daily rate by property size
Average days booked in advance
Average length of stay
Vacation rental inventory by property size
Occupancy rate by month

The findings in this analysis are based on Evolve's Jacksonville market averages in the last year and provide a general baseline for performance potential. They're designed to help inform smart purchase decisions when buying a Jacksonville investment property.
Download Our Complete Jacksonville Vacation Rental Investment Analysis
Why Jacksonville Is a Great Place to Own Vacation Rental Property
Jacksonville's sandy beaches, cultural attractions, and countless kid-friendly activities help attract all kinds of visitors throughout the year. So, think solo adventurers, business travelers, and families alike.
The first surge in occupancy peaks around spring break, and that momentum continues through July. Bookings taper off a bit in the fall, but pick back up for the holiday season (where snowbirds might find some cold weather relief). For investors, that translates to consistent earnings — plus a bit of seasonal downtime to conduct annual maintenance and deep-cleaning tasks to guarantee ongoing five-star reviews.
When it comes to getting into the market, lower home prices in Jacksonville give buyers with a variety of budgets the chance at success. The average list price here continues to trend below the national average at around $313,000. That said, prices are on the rise (having risen roughly 20% in the last year), so now is the perfect time to pounce on a property.
How Much Money Can You Earn with a Jacksonville Vacation Rental?
With travelers chasing all this Southern hotspot has to offer, investors have the potential to earn big. But before buying rental property in Jacksonville, FL, it's important to consider these top factors.
Property Size
Four- and five-bedroom Jacksonville investment properties tend to earn the most, since their spacious layouts serve a higher guest capacity and can typically secure higher average daily rates. (Larger properties also tend to remain booked for a much larger percentage of the year.) However, it's tougher to find bigger homes for sale in this market.
The good news: smaller rentals can also be a valuable investment. One-bedroom units are more budget-friendly for guests, boosting your chances of attracting last-minute bookings from small groups and solo travelers. (Plus, our data shows a one-bedroom Evolve home topped the charts for most nights booked in Jacksonville.) This means investors with the just-right property can offset lower nightly rates with strong annual occupancy. 
One- and two-bedroom homes also make up the majority of local inventory. This gives buyers more options, helping to potentially break into the Jacksonville vacation rental market at a good price.
Property Location
Sun and sand are classic ingredients for any Florida vacation, and Jacksonville is no exception. While the city is located inland, our Real Estate Services (RES) team says waterfront properties are a huge draw for travelers — so looking for homes on the St. Johns River can boost your earning potential.
As a bonus, the area sits less than 10 miles from popular sand stops — including Jacksonville Beach and Neptune Beach. Guests will appreciate proximity to the shoreline, as well as easy access to other local attractions. (Specifically, treasures like Sweet Pete's, the Jacksonville Zoo, and the Museum of Science and History.)
Property Amenities
Like most Sunshine State destinations, private pools and popular beach amenities are a huge draw for guests. Our RES team also recommends investing in an updated outdoor space. This gives travelers a great place to unwind after a long day of exploring, and ultimately could be the difference between browsing and booking.
It's important to provide the key amenities travelers search for, too. A fully-equipped kitchen, complimentary toiletries, and central air conditioning help create a comfortable space for all. Not to mention these amenities set the foundation for grabbing more five-star reviews.
Download Our Full Jacksonville, FL Vacation Rental Market Analysis
Sunny days, sought-after attractions, and beach-forward activities make Jacksonville an ideal opportunity for vacation rental investment.
Whether you're looking to make your first investment property purchase or want to earn extra with your current home, download our free Jacksonville Vacation Rental Market Analysis today. It's full of helpful insights, including:
Average daily rate by property size
Expected seasonality in vacation rental demand
Average length of stay in high and low seasons
Inventory breakdown based on property size
Buying a Jacksonville investment property should feel as exciting as a day on Atlantic Beach. Use our report to equip yourself with the industry knowledge you need to become a successful vacation rental owner.
With a brand new year comes 365 days of opportunity to adventure — and that should include visiting some (or all!) of the best places to travel in 2023.
Whether you want to go on a family vacation, a pet-friendly escape, or a road trip with your best pals, these are some of the best places to travel each month. Organized by season so you can plan early — and book the perfect vacation rental — these U.S. destinations are sure to get you excited to pull out the suitcase this year.
2023 Spring Break Picks
From March through June, spring vacations are all about new beginnings and self-renewal — especially when surrounded by Mother Nature. There are a ton of places across the U.S. that can help you fully catch that breath of fresh air (national parks, anyone?), but there's one that rises above the rest for travel in 2023: Phoenix, AZ.
Why you should visit Phoenix: Vacation days can start in a variety of ways — take a swing at one of eight golf courses in the area, head out to hike iconic Camelback Mountain, or explore the Desert Botanical Garden before the heat sets in. Just remember to lather up the sunscreen: the area boasts around 300 days of sunshine per year, with temps averaging around 68 degrees in spring (climbing near 105 in summer).
To make the most of each afternoon, guests visiting Phoenix love to lounge by a private pool, admire over 20,000 pieces of artwork at the Phoenix Art Museum, or learn about wildlife at the Odysea Aquarium in nearby Scottsdale. As the sun sets, it's easy to channel your inner competitor at a sporting event before strolling the always vibing streets of downtown Phoenix. There you'll find fine-dining, entertainment, and maybe a local brew or sweet treat to top off the night.
Other Top Places to Travel This Spring:
2023 Summer Vacation Ideas
Summer is best spent outside, and that's what makes Blue Ridge, GA one of this season's best places to travel in 2023. Nestled in the mountains, it's a popular destination because, well, it's a little like Goldilocks — with temps averaging in the 80s from June through September, it's not too hot, not too cold, but just right for a sunny summer vacation.

Why you should visit Blue Ridge: Mornings can start slow and easy, perhaps with a hearty breakfast in your vacation rental, or a hike to a nearby waterfall while you breathe in the crisp alpine air. Once the appetite kicks in, there's nothing like a legendary Cuban sandwich and cafe con leche at Rum Cake Lady Cuban Cafe.
The Blue Ridge Mountains are home to a handful of small towns that make for charming day-trip destinations. A top spot: Helen, GA. About an hour from Blue Ridge, this Bavarian-style village is home to about 545 residents and is the perfect place to rent inner tubes for a refreshing river float. You can also visit the awe-inspiring Anna Ruby Falls, or sip your way through local tasting rooms.
Making the most of long summer nights in Blue Ridge comes with a hit of nostalgia. You can grab a cold pint at Grumpy Old Men Brewery and pick up candy at Huck's General Store. Then head down the street to Swan Drive-In, where you can awaken the past as you turn on the radio, let the headlights dim, and experience what a visit to Blue Ridge might've been like back in 1955 when the theater opened.
Other Top Places to Travel This Summer:
Where to Travel in Fall 2023
Oh, autumn. September to December is the time for cozy sweaters, warm cider, and brilliant colors for fall foliage chasers. Slow down, reconnect with nature, and experience a leaf-peeping palette that rivals them all in The Poconos, PA.

Why you should visit The Poconos: Guests visiting this area should grab a camera and venture out on a tour of local waterfalls. A short and easy hike takes you to the base of Hawks Falls at Hickory Run State Park. Or, you can head to the immersive Bushkill Falls, where eight cascading waterfalls paint the side of the rock. When midday sets in, heat some cider at your home base and pick one of these seven scenic drives to continue basking in the natural beauty around you.

As for evening, there's nothing quite like relaxing on the porch during this time of year in The Poconos. After a tasting at Three Hammers Winery (where you can bring a bottle home), grab dinner to-go — maybe some locally-loved pho — and curl up to watch the leaves shift colors in the fading light. Once the sun disappears and temperatures start to drop, venture back inside to get the fireplace roaring, play board games, or watch a movie.
Other Top Places to Travel This Fall:
2023 Winter Vacation Destinations
Cooler weather invites us to embrace the holiday season, find inner joy, and maybe even make a snowman or two. Leavenworth, WA offers all of that and more come December, earning its spot as one of the best places to travel in 2023.
Why you should visit Leavenworth: Half a million holiday lights twinkle around the town's authentic German restaurants, quaint shops, and quiet natural wonders at this time of year. So head out from your cozy cabin rental and grab a warm cup of Joe at local J5 Coffee before really getting into the seasonal spirit. Then you can explore over 7,000 wooden toy soldiers at the one-of-kind Leavenworth Nutcracker Museum, or visit Leavenworth's Reindeer Farm — a perfect place to befriend caribou and take a fairytale sleigh ride.
When it's time to warm up, grab a pizza at Blewett Brewing or head over to The Gingerbread Factory to pick out decorated — you guessed it — gingerbread cookies. As night falls, take a walk to experience why Leavenworth is called the Village of Lights. You could also ski the Cascade Mountains — Stevens Pass invites adventure-lovers to night-ski with six lifts that stay open late.
Other Top Places to Travel This Winter:
Count on Perfect 2023 Escapes with Evolve
You know exciting plans are in the works when you book a vacation rental in one of the best places to travel in 2023. And that excitement should come without fear: our verified homes are backed by our Rest Easy Promise, so you'll always arrive at a clean, private place that's 100% ready for you.
Whether you end up in a tropical beach house, a luxury home fit for royalty, or an unforgettably unique vacation rental, you can kick back, relax, and enjoy your well-deserved 2023 vacation.